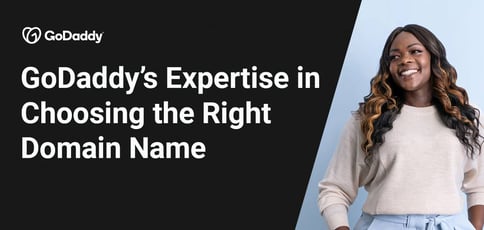 TL; DR: Your domain name acts as the cover of your book. Yes — we're taught not to judge a book by its cover, but the truth is that we often do. And in the competitive business world, sometimes it's necessary. That's why we sat down with Joe Styler, GoDaddy's Aftermarket Product Manager and Customer Evangelist. He shared some priceless insights and advice on how to kick-start your journey with the perfect domain name.
It's finally time: You're ready to establish your business's online presence and showcase your services or creations to the world. As you sit in front of your computer screen, the blinking cursor in the textbox that says "Type the domain you want" taunts you.
For many small businesses, selecting the right domain name is as crucial as creating the company itself. Take a wedding caterer in Atlanta, Georgia, for example: Imagine coming across two domain names, atlantaweddingcatering.com and atlantaweddingcatering.biz. Which one would you trust more?
Most likely the former because of the .com top-level domain (TLD).
But try not to take the concept of ".com is king" too seriously: Other TLDs are also growing in popularity. It ultimately comes down to your goal, who you're reaching, and your location.


Don't take my word for it — take Joe Styler's. Joe is the Aftermarket Product Manager and Customer Evangelist at GoDaddy, the most popular domain registrar in the world. And when it comes to domain names, nobody knows better than the experts at GoDaddy.
GoDaddy started in 1997 and now has more than 76 million domains. It began as a marketplace to buy and sell domains but has since become a comprehensive platform for all domain-related things.
Today there's GoDaddy Pro, a membership platform that streamlines your workload and makes managing clients' websites easier than ever before. You can also join the Discount Domain Club, which gives you access to the Domain Academy, a community aimed to help educate web experts and developers on how to successfully evaluate, buy, and sell domains. Plus, you get up to 60% off on 400+ TLDs for $239.88 a year.
How Important Is Your Domain Name — Really?
You know domain names are important…but how important are they, really?
As your website's first point of reference, domains can help make or break a visitor's impression of your business. Joe advises seeking input from friends and local business owners: Ask them for their initial impression of the domain name and learn about any challenges they may have faced.
"Bouncing your ideas off different people is helpful," said Joe. "Just networking and talking with friends and family can help you get some ideas about your domain name."
For instance, breadbakery.com's domain name may give the impression that it only offers bread and not delicious pastries.
Finding the "Right" Domain Name for Your Business
As a 17-year veteran at GoDaddy, Joe walked us through a few other main points every business owner should consider before biting the domain-buying bullet.
Pass the "Radio Test"
The "radio test" refers to whether a person can find your domain name simply by hearing it. While you can spell out the name in instances, the best thing you can do is stick to a domain name that's easy to remember and spell.
"Homonyms make it more confusing," explained Joe. "And the more confusing it is, the harder it is for people to have word-of-mouth recommendations or come back to your business."
For example, kars4kids.com might be mistyped as carsforkids.com.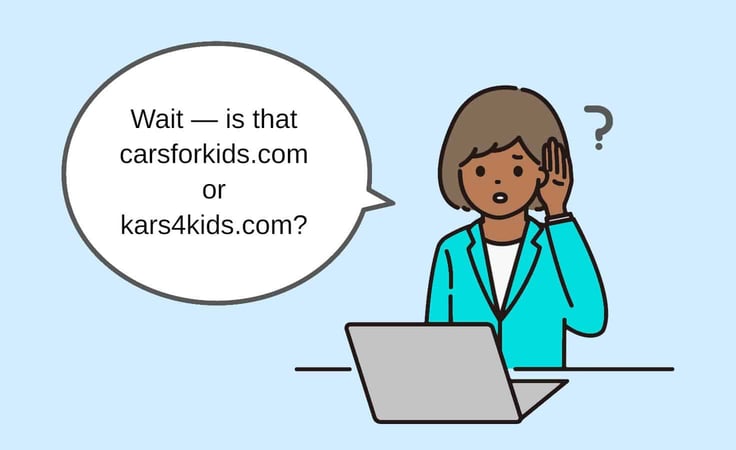 You also may want to stick to generic domain names if you're an eCommerce business.
"At first, Facebook didn't really mean much — but it takes a lot of advertising for you to be able to use a name like this," said Joe. "So you can think about more generic names, which might be a better starting point."
If you were going to sell cologne, you could have menscologne.com as your domain name so people remember the name better, suggested Joe. "The other thing is that a domain name like menscologne.com would give you some credibility and authority in the cologne space."
Stay Relevant to Your Area
Although he lives on the West Coast now, Joe remembers East Coast business fondly because every single name was personalized — whereas on the West Coast, companies advertise solely based on the profession.
"A lot of East Coast stores have personal names, where you'd go into a shopping center and see something like Bob's Plumbing," said Joe. "But if you're on the West Coast, you'll see stores that say 'plumbing' on the side. You don't see the company's name — you see what they do. It's less personal but helps people remember and understand your service."
In other words, look at what the businesses around you are doing. Whether you live on the West, East, or Gulf Coast, you can emulate the same naming style others have for their businesses. This way, you can align yourself with the market and communicate your business to customers in a way they're most familiar with.
Choose the Proper TLD
When it comes to selecting the right TLD, .com has been number one since the 1990s in the US. But there's a whole world of alternative TLDs that are gaining popularity, giving you a chance to showcase your relevance and uniqueness:
.ai: Perfect for businesses in the field of artificial intelligence
.vc: Venture capitalists can reflect your investment expertise and attract potential partners
.io: A go-to choice for tech startups and innovators, this TLD screams tech-savvy and forward-thinking
.shop: This TLD immediately tells customers that you mean business (and offer an eCommerce store)
"The new TLDs are important. If my domain is flower.vc, you know that I'm not selling flowers: I'm a venture capital company called Flower," said Joe. "I encourage anyone starting a business to research their competitors in the space and see what they're using. Let your TLD be what sets you apart from the competition."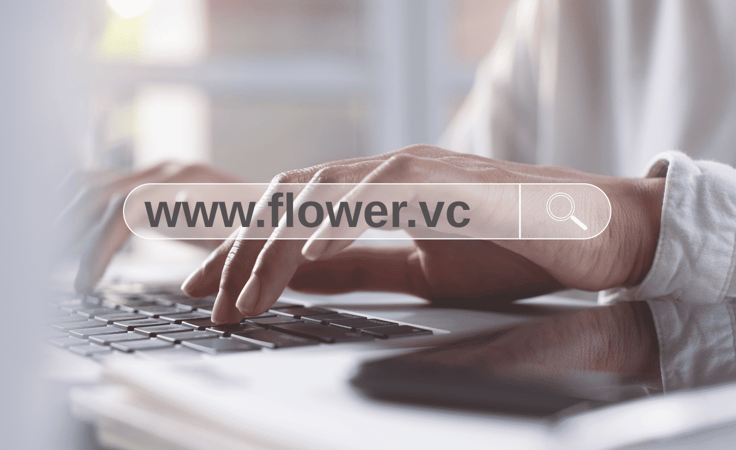 So, when it's time to choose your domain's TLD, think beyond the traditional .com and consider the alternative TLD that best aligns with your brand and captures your niche.
Limit Explanations
You don't want to have to explain your domain name repeatedly. Joe suggests limiting your explanations to one, if any.
"If you have to present two explanations to people about your domain name, then it becomes tough for them to remember," said Joe. "So even if plumbing.com is taken, try plumbing.co — not plumbin.co. Your single explanation could be that it's .co and not .com."
Plumbin.co can be seen as too complicated to remember because of the intentional misspelling and unique TLD. But a domain name like plumbing.co is easier to remember because it follows the standard spelling, even though it uses a less-popular TLD.
In other words, don't misspell plumbing to be clever or punny. Instead, opt for a straightforward and easily memorable domain name, even if it requires using a different TLD.
The Domain World is Changing For the Better
In February, GoDaddy released a new feature called Online Pay Links as part of its GoDaddy Payments tool. It allows businesses to receive customer payments while maintaining their brand identity.
"A lot of people who start businesses or side hustles don't know the best way to get paid," explained Joe. "There's CashApp and Venmo, but that's not very professional. You don't want to ask a customer to pay you at @joes_venmo_123."
The best part is you don't need an online store to use it. When you sign up for a new domain with GoDaddy, you automatically get your personalized pay link to share with your customers. (And if you already have a domain with GoDaddy, you can start using it immediately.)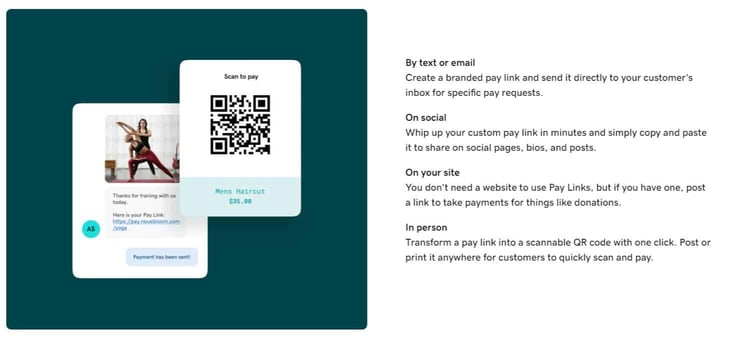 "Ultimately, our goal was to make it easier for small businesses to get online and receive payments," said Joe.
This may be why GoDaddy's transaction fees are among the lowest in the industry.
In addition to the need for easy online payment, Joe also foresees a change in the trend of TLDs.
Trends come and go, but the best products learn to evolve — and the internet is no different. As it continues to grow, with more than 250,000 websites created daily, the future of domain names is undergoing a major shift.
While .com domains have long been dominant, there will come a time when all the most-coveted .com options are taken. This reality is driving the rising popularity of newer TLDs…which actually works to our advantage.
"The new extensions give people a lot more opportunity to get a good brand-name," said Joe. "So you could get phoenix.photography if you're a photographer in Phoenix because phoenixphotography.com is probably already taken."
These TLDs — think .ai for artificial intelligence, .vc for venture capitalists, or .shop for eCommerce stores — immediately inform the customer of your niche.
(Not to mention, unique TLDs that match your business's intent are more likely to pass the radio test.)
Whatever it may be, find your perfect domain with GoDaddy or consider diving into its super-informative Domain Academy. Discover how to score the best domain for your business or snag domains at a bargain and skyrocket your earnings by selling them at a premium price. GoDaddy truly has it all.