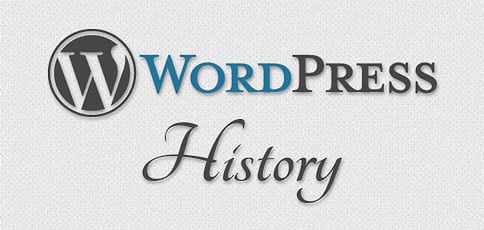 When someone talks about a free blogging and content management tool based on MySQL and PHP, the first thing that comes to mind is WordPress. For that matter, when people talk about a content management system or website at all the subject of WordPress rears its head.
Playing mommy to more than 60 million websites, WordPress is the #1 blogging system in the world. In fact, WordPress runs more than 22% of the websites in the entire world.
That 'Hit the Button' Moment
In 2003, WordPress was first released as a fork and official successor of cafelog, more commonly known as b2, by Mike Little and Matt Mullenweg.
It was first written by Michel Valdrighi in PHP to use along with MySQL. After only a year, Valdrighi stopped updating the blog b2, which prompted the then 18-year-old Mullenweg, who used b2 at the time, to start his fork.
Since b2 was GPL, Mullenweg was able to fork the b2 software to bring it up to date and accommodate his own blogging needs, thereby eliminating the challenges which were faced by web publishers.
The rest, as they say, is WordPress history.
Working with CNET
In October 2004, Mullenweg dropped out of college and moved from Houston to San Francisco to work for CNET and help them with blogs and various other new media offerings.
A few days later, Mullenweg announced bbPress, a software program he wrote from scratch.
Mullenweg and the WordPress team released WordPress 1.5 Strayhorn in 2005. The release introduced along with it new themes, moderation features, and a new frontend and backend design. Mullenweg later left CNET in October 2005.
The Launch of Automattic Inc.
Automattic Inc. was founded by Mullenweg in 2005.
The idea behind the web development foundation Auttomatic Inc. was mostly to create an umbrella group that would support lots of open-source developers; however, it wouldn't be a non-profit because it would have more impact on the world as a for-profit.
In short, the vision of one man (Matt Mullenweg), to have a setup as easy as Blogger, parsing similar to TextPattern, along with the flexibility and hackability of MovableType and b2, transformed the world of web publishing as we know it.
Marketing and Traction
The importance of tech support can never be undermined.
The reason Mullenweg has been successful thus far is because he believes in doing tech support himself, literally, and was the only support representative on the WordPress forums at the early stages of WordPress's development.
This, in turn, allowed him access to the users who would give their input on the service, which allowed him to prioritize its development, making it better and better each time.
Talking to users, watching them use the service, listening to them, and then working on helping them are all crucial to building traction. This strategy was and is Mullenweg's strategy, and it bodes much better results than just considering ideas in the abstract.
Matt Mullenweg spends a huge chunk of his time engaging with the users in his own way, which is why he has been able to pick up on issues of concern and deal with them. This is why he is considered one of the pioneers of the Web.
How is it Maintained?
WordPress first started out solely for blogging purposes, but it has since evolved into a content management system. With its countless themes, widgets, and plugins, WordPress seems to be limited only to a person's imagination.
As a free and open-source platform, the software relies only on peer support from its dedicated online community, which also includes WordPress testers and group volunteers, apart from its primary support being WordPress.org.
Matt Mullenweg and Mike Little were co-founders of the project. The core contributing developers or lead developers at WordPress include Matt Mullenweg, Ryan Boren, Mark Jaquith, Andrew Ozz, Andrew Nacin, and Peter Westwood.
Apart from them, there are teams of designers, contributing developers, documentation and support, and also a group of senior developer emeriti among others.
The Reach of WordPress
There is no denying WordPress has taken over the world of blogging and CMS. To get an idea of its popularity, WordPress version 3.8 has been downloaded more than 16 million times as of January 2014.
Some of the more popular websites that use WordPress are WordPress.com, WordPress.org, Outbrain.com, Zedo.com, Naver.jp, Clickbank.com, Clicksor.com, Techcrunch.com, Getresponse.com, Goodgamestudios.com, Pcmag.com, India.com, and Indianexpress.com.
This only goes to show the extended reach of WordPress as a complete blogging, CMS, and web hosting service. WordPress VIP is the default digital publishing tool of major publishing companies such as Forbes.com.
If you like numbers, WordPress powers one in every six websites, which touches nearly 60 million people, with an estimated 100,000 new websites popping up every day.
WordPress now attracts more than 330 million visitors. Yes, that's 330 million visitors each month who view a total of 3.4 million web pages.
Photo Sources: telegraph.co.uk