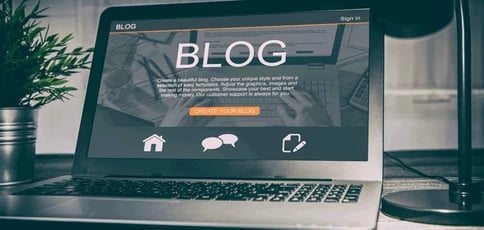 Signing up for anything free online can often seem like a misguided leap of faith, but fortunately, the best free blogging sites really do come loaded with tons of features to publish your content.
When I was a kid, I remember how excited my parents were when they discovered they were eligible to become the proud owners of a brand-new sailboat. It was a free giveaway — with one hitch. They had to buy a timeshare in the undeveloped swamplands of Central Florida to become captains of the vessel.
It was a hard-learned life lesson to read the fine print. But, when it comes to choosing a blogging platform, free options abound — with fewer gotchas. Let's take a look at some of the best blogging sites for the budget-minded blogger.
Cheapest Blog Hosting Provider (Recommended)
You've heard the phrase: "The best things in life don't come free." Hosting is no exception.
We caution any visitor, particularly hosting newbies, against zeroing in on the price tag. When choosing a host, the monthly cost is one of many deciding factors. Consider the advantages of plans tailored to your interests — such as performance boosts and security features for WordPress — and the time you save when your hosting provider's support team is on their game.
Keeping prices low and customer experience supreme, Hostinger wipes the floor with the cheap hosting competition.
$1/month for 12 months
No hidden fees, pay just $12 at checkout
Easy setup and 24/7 expert support
FREE domain or transfer, plus FREE SSL certificate
Unlimited storage and databases with most plans
CHEAP
RATING 4.8 ★★★★★ Our Review
1&1 IONOS: Our Expert's Review
Alexandra Anderson (HostingAdvice.com): If budget is the main factor on your mind when searching for your next web host, search no more. 1&1 IONOS has an impressive range of robust web hosting and website building packages for what may be the best price we've ever seen in the world of hosting. Go to full review »
| Money Back Guarantee | Disk Space | Domain Name | Setup Time |
| --- | --- | --- | --- |
| 30 days | 10 GB – Unlimited | FREE (1 year) | 4 minutes |
Compare with other value hosts »
Best Blog Hosts Overall (Best Value)
Free blog hosting sites are great for beginners to get their feet wet in the blogosphere, but they may not be the best bet – especially if you're looking for complete customization and a brand-specific site. Instead, we've traversed the web to discover premiere hosting packages at monthly rates similar to the cost of a cup of coffee.
The feature-rich packages these hosts provide include everything a blogger needs to transmit their words to the masses, including one-click installations of popular blogging platforms, such as WordPress, Joomla, and Drupal, along with the hardware and infrastructure needed for those content management systems to perform at top speed.
Beyond your blogging platform, broader SEO functionalities, eCommerce solutions, and marketing capabilities are just some of the added perks users enjoy with these affordable plans. Affordable plans don't have to be bare bones, as these hosts will show you. Save money and get your brand noticed by your audience by taking a look at some of the best hosts out there:
Recommended by WordPress since 2005
Automatic WordPress installation and updates
FREE themes and plugins in Bluehost Marketplace
Upgrade for managed WordPress or design help
FREE domain and content delivery network
BLOG
RATING 4.9 ★★★★★ Our Review
Bluehost: Our Expert's Review
Ryan Frankel (HostingAdvice.com): Bluehost's WordPress hosting packages are aimed at first-time site owners and personal bloggers. These services come at a premium compared to the standard Bluehost web hosting (basic shared hosting) plans, but the WordPress optimization and platform-specific resources are arguably worth the cost. Go to full review »
| Money Back Guarantee | Disk Space | Domain Name | Setup Time |
| --- | --- | --- | --- |
| 30 days | 50 GB SSD – 100 GB SSD | FREE (1 year) | 7 minutes |
Feature-rich WordPress hosting for your blog
Runs on LiteSpeed, Google Cloud, and CloudFlare
Design with a FREE themes and plugins
99.9% uptime guarantee
Enjoy 75% off when you sign up today
BLOG
RATING 4.7 ★★★★★ Our Review
Hostinger: Our Expert's Review
Laura Bernheim (HostingAdvice.com): As a beginner-friendly hosting provider, Hostinger brings all the blogging basics to the table. Begin with a free domain name and enjoy WordPress-optimized features and publishing tools to help your words reach wider audiences. Go to full review »
| Money Back Guarantee | Disk Space | Domain Name | Setup Time |
| --- | --- | --- | --- |
| 30 days | 50 GB SSD – 200 GB SSD | FREE (1 year) | 4 minutes |
$1/month for 12 months — pay just $12 at checkout
Blazing-fast WordPress with custom updates
100% SSD storage and caching from OPcache
Upgrade to WP Pro for dedicated resources
99.98% uptime guarantee and unlimited traffic
BLOG
RATING 4.6 ★★★★★ Our Review
1&1 IONOS: Our Expert's Review
Alexandra Anderson (HostingAdvice.com): Not only does 1&1 IONOS invest the time to innovate faster and more secure WordPress hosting, but the company proudly allocates 5% of its resources to contributing back to the leading content management system. 1&1 IONOS is a great choice for affordable, scalable blog publishing. Go to full review »
| Money Back Guarantee | Disk Space | Domain Name | Setup Time |
| --- | --- | --- | --- |
| 30 days | 25 GB SSD – 75 GB SSD | FREE (1 year) | 5 minutes |
FREE domain, plus WordPress pre-installed
Host unlimited WordPress sites on one account
Unlimited bandwidth, plus FREE data backups
Easy 3-step wizard for Google apps integration
SPAM Safe™ email with IMAP support
BLOG
RATING 4.6 ★★★★★ Our Review
InMotion: Our Expert's Review
PJ Fancher (HostingAdvice.com): What could be a more perfect fit for blog hosting than a host that offers pre-installed WordPress. InMotion allows users to host unlimited WordPress sites on a single account, along with unlimited storage, transfers, and bandwidth…. Go to full review »
| Money Back Guarantee | Disk Space | Domain Name | Setup Time |
| --- | --- | --- | --- |
| 90 days | 100 GB – Unlimited NVMe SSD | FREE (1 year) | 5 minutes |
Best Blog Hosting Free Trial
If you're looking to build a professional-looking, beautifully crafted website on which to launch your blog at no cost, Wix tops our list. More than 100 million people employ the platform to create and host sites for various use cases, including business, eCommerce, and — for our purposes here — building blogs.
Wix offers an intuitive drag-and-drop web builder and designer-created templates that allow sites to be up and running in a matter of moments. Bloggers taking advantage of Wix's free plan enjoy access to the platform's huge stock art collection to illustrate their sites. And Wix's templates are all mobile responsive, so your site will be presented in its best light no matter the device on which it's being viewed.
No coding skills needed with drag-and-drop builder
100s of templates with niche-specific designs
Add features via the App Market and Wix Events
Easily create ecommerce functionality easily
Great way to build small sites on a budget
WEBSITE BUILDER
RATING 4.9 ★★★★★ Our Review
Alexandra Anderson (HostingAdvice.com): Website building is where Wix shines. The thousands of templates, the intuitive editor, the industry-leading designs that cater to a variety of specific fields and use cases — all these facets represent a platform that excels at facilitating easy web design for the non-tech-savvy user. Go to full review »
| Money Back Guarantee | Disk Space | Domain Name | Setup Time |
| --- | --- | --- | --- |
| 14-day FREE trial | 2 GB – Unlimited | FREE (1 year) | 4 minutes |
A free site from Wix also includes a Wix.com subdomain, 500MB of storage, up to 500MB of bandwidth, and unlimited access to support tutorials. In addition, the platform offers an app market with hundreds of plugins to enhance your blog and customize it to fit your brand.
Free Blog Hosting for Life
If you haven't heard of WordPress, you're either very new to the web development game or have been blogging from underneath a rock on Mars. The most popular CMS on this planet, WordPress powers 40% of the internet.
WordPress offers free open-source software millions of bloggers employ to develop stunning websites to house their content. WordPress's designs can make your vision a reality, whether it's a text-centric theme that brings your words front and center or a graphically charged photo blog that showcases your portfolio.
More than 45,000 plugins built for WordPress allow site owners to customize sites to their exact specifications. All of the platform's responsive designs come complete with built-in SEO. After using the free software to develop your blog, consider moving to the value-added hosting packages many hosts offer for next to nothing.
Host simple websites — FREE FOR LIFE
Build off of dozens of FREE themes
Enjoy Jetpack essential features
FREE SSL certificate pre-installed
Unlock premium features for $4/month
A web-building platform with a funny name, Weebly's free hosting package is a great starting place for the blossoming blogger on a mission to push a point of view. Weebly offers an easy-to-use, drag-and-drop editor so site owners without any coding knowledge can build compelling, eye-catching blogs.
With the platform's free tier, users are given 500MB of storage and a Weebly.com subdomain. Weebly also provides its site owners with search engine optimization and lead capture functionalities at no additional cost. As an added bonus, bloggers hosting sites on Weebly benefit from a community forum to discuss blogging best practices and chat and email support if they run into any issues.
For site owners looking for a richer feature set, the perks go up for just a few dollars per month. Weebly's paid plans offer advanced analytics, eCommerce tools, and an array of solutions to help market your brand.
All-in-one hosting and drag-and-drop builder
Start designing for FREE, upgrade whenever
Easily build a blog, personal site, or online store
100s of FREE templates for websites
$100 credit toward Google advertising
CHEAP
RATING 4.6 ★★★★★ Our Review
Weebly: Our Expert's Review
Alexandra Anderson (HostingAdvice.com): Weebly is a well-known name in the cheap shared hosting space — not necessarily due to competitive pricing but because several of the web's leading low-cost hosting providers have opted to include Weebly software for free, adding value to their existing offerings. It's worth noting Weebly does offer a free plan, but websites are found on a Weebly subdomain and display Weebly advertising. Go to full review »
| Money Back Guarantee | Disk Space | Domain Name | Setup Time |
| --- | --- | --- | --- |
| 30 days | 500 MB – Unlimited | FREE (w/ paid plans) | 3 minutes |
Honorable Mentions: Other Free Services for Bloggers
In 1994, Justin Hall created what would become known as the world's first blog, Links.net, which chronicled his life. And, by 2004, the aptly named Blog would be honored with Merriam-Webster's Word of the Year award. Since the early days of the internet, blogging has caught on as a way for individuals to express their passions and for businesses to communicate to consumer bases.
As of 2022, an estimated 572 million blogs are blasting information to audiences globally. And the J-shaped curve of exponential blogging growth has continued its upward trajectory, with Tumblr alone containing more than 350 million blogs on its platform. Today, many online tools exist to help people transmit ideas digitally, and many are free. Let's take a look at the top blog hosting sites you can leverage at no charge.
Creative expression is an important part of what makes us human. It also carries health benefits that increase brain function, relieve stress, nurture a rich social life, and even prevent ailments such as Alzheimer's.

Medium's free blogging platform offers an ideal venue for creatives to express themselves and blast their work to the masses. Thousands of users publish their thoughts on Medium with stories ranging from current events and news to quirky personal stories and politics.
Easy-to-use editor
Reader response/comment functionalities
Popular blog spotlights
Include photos, audio, and video
Interactive
Blog topic/category spotlights
Medium's content management system makes it simple for bloggers to add their words and illustrate them with photos, audio, and video. The free-to-get-started, membership-based site provides an interactive experience where readers can leave comments and highlight the content they most enjoy. Medium's homepage also highlights popular blogs, promotes handpicked articles from its staff, and presents the best blogs in categories, including technology, entrepreneurship, politics, and culture.
Ghost provides open-source blog creation software that was built to specifically zero in on the needs of journalists and writers. More than 1.4 million people worldwide have downloaded the free software to build custom sites with a focus on the written word.

Developers who download Ghost have full access to everything the open-source software provides to build a site, including APIs and strong templates that make it simple to develop a blog's foundation. Ghost's setup guide makes installing and running the software easy, and developers are invited to give back and contribute to Ghost's open-source tools.
Fully customizable
Foundational templates
APIs available
Built for bloggers and journalists
Open-source
Community-driven
While Ghost's software is available for free download, the organization does offer fully managed plans at a premium. The paid plans come with a suite of publishing tools to make content entry a breeze; however, these packages come with large price tags, so bloggers may be better off downloading the software and seeking a better hosting package with a more cost-effective host.
Established in 1999, Blogger is one of the oldest blogging platforms on the market. Blogger sites are easily recognizable with the popular blogspot.com subdomain the platform provides its users for free.
No matter the subject you undertake, Blogger offers compelling templates that are compatible with your brand. The layouts are flexible and offer hundreds of stock background images from which to choose.
Free blogspot.com subdomain
Versatile templates
Access to stock imagery
Google storage
Flexible layouts
Content monetization
The platform also allows bloggers to monetize their content through Google AdSense. Site owners have complete insight into their audiences with an effective analytics suite. This lets bloggers know who they're writing for and where their readers are from, and they can gauge what visitors are interested in. And, with storage provided by Google for free, you can house thousands of posts and multimedia content with the peace of mind you won't lose them.
With Jekyll, writers can turn their words into fully functional blogs that showcase their stories. Jekyll's static site generator provides a template directory of raw text files and converts text through Markdown and its proprietary Liquid renderer into presentable websites.
The platform's quick start guide walks users through the installation process, which only takes minutes for those who are already employing a Ruby development environment. Even though Windows isn't an officially supported platform for Jekyll, a cheat sheet offered on its site gives detailed instructions on how to run it on the OS by installing Bash on Ubuntu.
Quick installation
Template directory
Free hosting with GitHub
Compatible with Windows
Free development software
Developer-friendly
The software is developer-friendly, but those with little or no coding knowledge may find it more complicated than the drag-and-drop environments other web builders provide. However, the templates simplify site development and offer vast customization options for developers. Jekyll is free to use and is compatible with many hosts offering free hosting, including its partner GitHub.
Most people who've browsed the internet have stumbled upon a Tumblr page. The blogging platform hosts more than 350 million blogs covering almost any topic you can think of.

Tumblr is kind of a mashup between a social media site and a blogging platform. Users can create their own blog pages and follow others. All of the blogs you follow and the comments readers make on them show up in your dashboard. It's bloggers mingling with other bloggers.
Social blogging
Simple content entry
Multiple post capabilities
Interactive
Customization options
Audio and video hosting available
When setting up your page on Tumblr, a simple content entry system and a choice of styles and themes are available. Once you're up and running, the platform allows you to post text, photos, quotes, links, audio, and video, and you can chat with other users. It's free, easy to use, and a lot of fun.
What is a Blogging Platform?
Blogging platforms are software that allows users to create and manage web content, specifically blog posts. WordPress, Blogger, and Tumblr are all examples of popular blogging platforms.
You'll find blogging platform services range wildly in price ($0 to upward of $30 per month), and the feature sets follow suit. Choose a blogging platform based on your budget, design preferences, and comfort with new technologies.
Is Free Blog Hosting a Good Idea?
As we regularly discuss, free web hosting is an undeniably attractive offer that is often wrought with peril. The services are best when used temporarily — for example, if you want to try out a new design or technology. Beyond testing and development, though, we recommend finding a more permanent solution.
The limitations of some of the free platforms include:
Lack of unique domain names
Limited storage space
Finite bandwidth
Inadequate eCommerce solutions
Narrow marketing functionalities
Host-specific, branded advertisements
Restrictions on certain media (audio/video)
Lessened access to security features
These are just a few of the drawbacks of opting for some of the free plans. But, for just a few dollars per month, bloggers can gain access to an array of features and site functionalities.
Choose Your Platform & Start Blogging Today
While my family missed out on a free sailboat and wasted a few hours listening to a salesman pitch the benefits of spending time in mosquito-infested swamps, we learned to read the fine print to see just what "free" entailed. The free blog hosting services offered by the platforms mentioned above are pretty straightforward. The benefits of the free packages are all written in black and white, and the plans really are available at no cost.
However, with the free plans come some limitations on storage, bandwidth, security, and marketing solutions, among others. Serious bloggers may be better served by one of the "almost free" hosts. For just a few dollars per month, these hosts will help get your blog online and blast your words to the world.
See Our Full Review of 1&1 IONOS
Whatever type of hosting plan you're looking for, 1&1 IONOS is a solid choice no matter the scale. Our reviewer Alexandra Anderson recently took 1&1 IONOS for a spin, and rated the popular host a 4.8 in the Cheap Hosting category out of a perfect score of 5.0. Here's what Alexandra had to say about 1&1 IONOS:
A leading web host across the board, 1&1 IONOS offers solutions to meet the needs of all customers. Following a 2018 rebrand, the company focused its priorities on customer support and transparent pricing. Thanks to dedicated personal consultants, numerous site builder options, and a variety of cloud offerings, customers can trust 1&1 IONOS for the long haul.
Before signing up for 1&1 IONOS, it's a good idea to read through Alexandra's full review to learn about all the features 1&1 IONOS offers. You can also compare it to other web hosts to ensure you're getting the best deal possible:
If you decide 1&1 IONOS is the right choice, keep in mind that it takes just minutes to deploy your 1&1 IONOS server space. And at $1.00 per month, it's a bargain considering the many great features that come in any 1&1 IONOS plan.
Advertiser Disclosure
HostingAdvice.com is a free online resource that offers valuable content and comparison services to users. To keep this resource 100% free, we receive compensation from many of the offers listed on the site. Along with key review factors, this compensation may impact how and where products appear across the site (including, for example, the order in which they appear). HostingAdvice.com does not include the entire universe of available offers. Editorial opinions expressed on the site are strictly our own and are not provided, endorsed, or approved by advertisers.
Our Editorial Review Policy
Our site is committed to publishing independent, accurate content guided by strict editorial guidelines. Before articles and reviews are published on our site, they undergo a thorough review process performed by a team of independent editors and subject-matter experts to ensure the content's accuracy, timeliness, and impartiality. Our editorial team is separate and independent of our site's advertisers, and the opinions they express on our site are their own. To read more about our team members and their editorial backgrounds, please visit our site's About page.