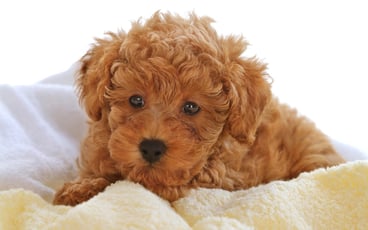 Some web-enabled applications, like WordPress, need little introduction. Powerful and easy to use, many blogging and eCommerce applications have become immensely popular. Of course, there's still that small matter of their installation.
In WordPress's own description of its "Famous 5-Minute Install," users are instructed to unzip the WordPress package, create a database with a MySQL user with correct privileges, rename and edit a .php file, upload the WordPress files to the right web directory, create a blog directory, and (finally) run a WordPress installation script.
And that (says WordPress) is the quick version!
Isn't there a less painful option to get applications like this installed?
Enter 1-Click Application Installation:
That is what Softaculous sets out to do. Softaculous automates the installation of web applications to a website through the use of predefined scripts.
Installations are launched from the website administration area. Softaculous runs within the cPanel control panel for example, as well as other website control programs, such as DirectAdmin, H-Sphere, Interworx, and Plesk.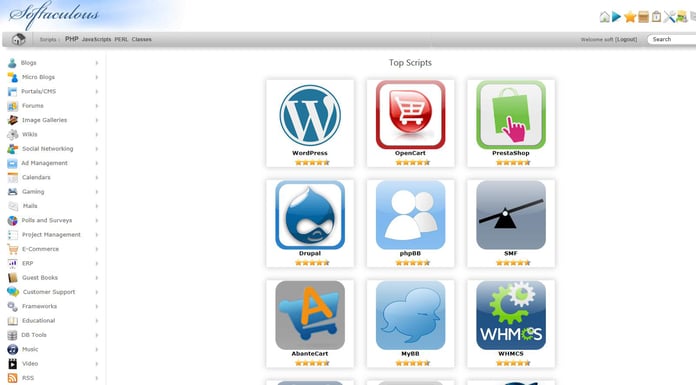 Softaculous installation scripts cover a wide range of web applications. Categories include ad management, blogging, content management, CRM, customer support, eCommerce, ERP, and more. Currently, 325 scripts are available.
Installation of a web application through Softaculous is designed to be a 1-click process, after filling in any necessary information on the install tab for the application concerned. Softaculous then automatically organizes database configuration, user permissions, web server files, and installation.
Getting Started:
Does that also mean Softaculous itself is easy to install? Ah, if only Softaculous itself could use the 1-click installation it offers for everything else…
We'll give credit where credit is due, though: Softaculous has made efforts to make its own installation relatively straightforward.
If you're doing this yourself, a little basic knowledge of Linux system administration will help. Installation can then be as simple as typing in three one-line commands.
On the other hand, if your web hosting provider already provides Softaculous, you won't have to worry about installation.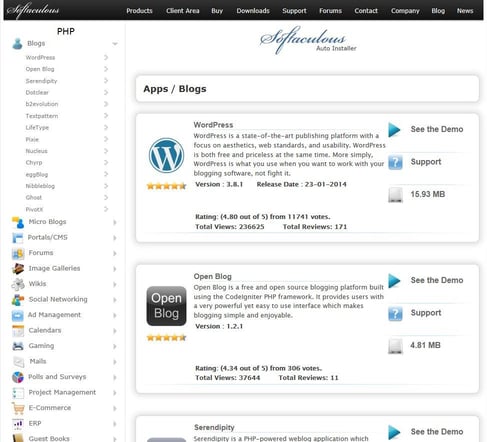 Using Softaculous to Install Applications:
To start installing with Softaculous, first log into the Softaculous application via cPanel, as an example. Then, choose an application from the list on the left-hand side of the screen.
Softaculous policy is to update its application options to reflect the latest stable versions. User options in Softaculous allow the language to be changed, the screen display of side menus to be adjusted, and the default time zone to be redefined.
Many of the applications are associated with scripts written in standard PHP, although Softaculous also offers some JavaScript, Perl, and PHP class functionality for the more technically-minded.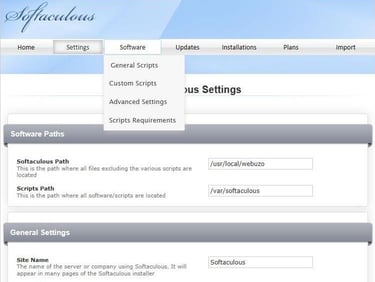 Tell Others What You Think:
This quick and easy installation of web applications is already a good thing, but Softaculous goes further. They provide demo screens ("See the Demo") of the different applications, so users can get an idea of what the web application looks like. Secondly, users can rate and review the different applications to provide additional information to help future customers choose.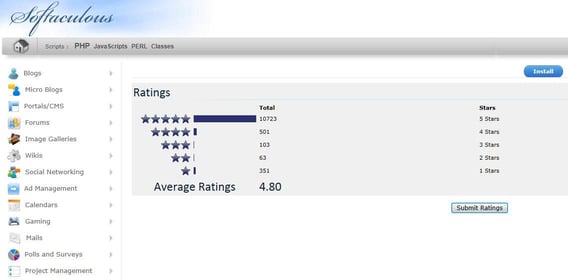 As a final note, Softaculous isn't the only web application installer available. Installatron and Fantastico, for example, also offer installation capabilities. Comparing functionality or independent user reviews should help you decide which solution suits you best.
(Softaculous 4.4.1)
Photo Sources: zebrapp.com