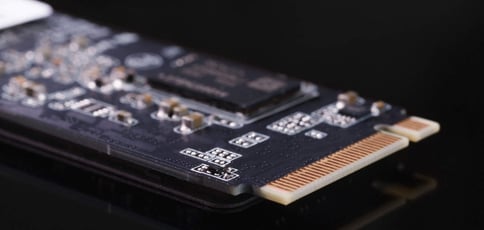 I built my first WordPress website eager to launch a blog about email marketing for writers. All went well except for one thing: The site was slow. People had mentioned that hosting makes all the difference for WordPress speed, but I rarely heard any information beyond that.
Well, it turns out that you need to look deeper than a host's marketing jargon to learn about site speed. You must actually find out which types of drives, like HDD or SSD, the web hosting company uses and which communication interface gets used on those drives, such as NVMe or SATA.
It all sounds complicated, right? Here's the good news. You only need to know SSDs (solid state drives) ‌offer faster speeds than HDDs (hard disk drives) because of fewer moving pieces and more advanced technology. NVMe (non-volatile memory express), a communication interface for SSDs, also serves as the most advanced data storage and transport protocol for hosting, beating out older options like SATA (serial advanced technology attachment) and non-NVMe SSDs.
So, for the fastest speeds on WordPress, you want a host that offers NVMe SSD drives. Our research shows an abundance of options that we've whittled down to the absolute best NVMe WordPress hosting on the market. Keep reading to see what makes them all stand out.
1. Hostinger
Hostinger provides SSD storage for each pricing plan, making it a faster option than competitors with HDD technology. However, only the Business, Cloud, and VPS (virtual private server) plans include NVMe storage, making those ideal if you require top speeds for your website.
For most sites, the shared Business plan works well, considering you receive increased performance when compared to the Single and Premium plans — along with support for 100 websites and daily backups. Other features that help improve site speed with Hostinger include its free CDN (content delivery network) and unlimited bandwidth.
1-click WP install, PHP 7+, HTTP/2, and NGINX
All-in-one security protections from BitNinja
WordPress optimizations boost performance
No price markup for WordPress services
Daily backups and FREE SSL certificate
WORDPRESS
RATING 4.9 ★★★★★ Our Review
Hostinger: Our Expert's Review
Laura Bernheim (HostingAdvice.com): As much as we love WordPress, one of our biggest pet peeves is when hosting providers exploit the popularity of the world's most-used content management system by offering so-called WordPress hosting that, in reality, is exactly the same as the host's shared server plans. Fortunately, Hostinger's ultra-fast infrastructure and easy access to SSL certificates and backups sets up the company to outperform the vast majority of the violators of our admittedly made-up rule. Go to full review »
| Money Back Guarantee | Disk Space | Domain Name | Setup Time |
| --- | --- | --- | --- |
| 30 days | 50 GB SSD – 200 GB SSD | FREE (1 year) | 4 minutes |
More about Hostinger:
A completely managed WordPress suite with free website migrations, WordPress updates, and WordPress Acceleration to boost speeds
Object caching to improve page load times
Drag-and-drop Hostinger website builder with hundreds of beautiful templates to get started
Marketing integrations such as Facebook Pixel, Google Analytics, and Google Tag Manager
Solid security that uses DDoS protection, firewalls, and malware scanning
An option for free hosting and a Hostinger free trial for premium plans
Our Hostinger review found respectable speed across all of its hosting plans. It all starts with the NVMe drive, then gets fortified with global datacenters and various other features for sending data between the servers and the browser in record time.
2. InMotion Hosting
InMotion Hosting packages NVMe drives into every one of its WordPress hosting plans. An interesting part about InMotion's WordPress hosting involves its offerings of two unique hosting interfaces: WordPress on the traditional cPanel dashboard and WordPress on "Platform InMotion," a custom dashboard for VPS hosting.
Either works well, but it depends on your interface preferences. Besides that, InMotion WordPress hosting offers optimization for WordPress performance and options for multiple datacenter choices in select plans.
Up to 12x faster WordPress hosting
FREE SSL certificate and SSD storage
Automatic WordPress plugin, theme, and core updates
Features a FREE drag-and-drop WP page editor
Premium themes and plugin subscriptions
WORDPRESS
RATING 4.9 ★★★★★ Our Review
InMotion: Our Expert's Review
PJ Fancher (HostingAdvice.com): InMotion Hosting, long known for affordable and high-performance shared hosting options, entered the WordPress space with a solid option built upon the company's reputation for great support and reliability. Build on an all-SSD infrastructure, InMotion's inherently quick speeds make the infrastructure a perfect fit for delivering rapid WordPress page loads. Go to full review »
| Money Back Guarantee | Disk Space | Domain Name | Setup Time |
| --- | --- | --- | --- |
| 90 days | 100 GB – Unlimited NVMe SSD | FREE (1 year) | 5 minutes |
More about InMotion Hosting:
Free email account with all WordPress hosting plans
Security features like malware protection and DDoS (distributed-denial-of-service) protection
Automated backups for keeping multiple versions of your website
A website builder that comes with custom management tools
Support for advanced coding languages like Python, Ruby, and NodeJS
Options to create multiple WordPress websites on every hosting plan
InMotion's hosting plans come with just about everything you need to launch a speedy WordPress site. Advanced users receive Git version control and advanced caching, while standard users can take advantage of the free domain names and email addresses on any device.
3. A2 Hosting
Known for its myriad of hosting solutions, such as dedicated, Windows VPS, and shared hosting plan options, A2 Hosting specializes in WordPress hosting as well. You can choose from managed WordPress hosting or WooCommerce hosting, both of which have high-storage NVMe SSD disks included in all plans.
A2 Hosting also provides optimized speed and security options and WordPress-specific installations, such as a pre-installed Jetpack plugin, making it one of the best WordPress NVMe hosting options out there.
FREE Cloudflare CDN and 1-click WP installs
Turbo Server, SSD speed, and optimized caching
A2-optimized plugins for performance and security
FREE SSL certificates and 24/7 support
FREE HackScan and KernelCare
WORDPRESS
RATING 4.9 ★★★★★ Our Review
A2 Hosting: Our Expert's Review
Alexandra Anderson (HostingAdvice.com): As experts in performance optimization, A2 Hosting is a top choice for powering resource-heavy WordPress websites. The company offers shared or managed plans for the ultra-popular content management system, with the benefits extending to Joomla, Drupal, and other platforms. Go to full review »
| Money Back Guarantee | Disk Space | Domain Name | Setup Time |
| --- | --- | --- | --- |
| 30 days | 50 GB NVMe SSD – Unlimited NVMe SSD | New or Transfer | 4 minutes |
More about A2 Hosting:
Simple cloning and staging for building site concepts
Expert site migrations for all new customers
On and offsite backup options
Higher than usual storage when compared to other WordPress hosts
Complete WordPress optimization including SEO tools, WP-CLI, performance enhancement, and quick domain registration
We can't deny that A2 Hosting offers an impressive collection of features for WordPress users. Each plan allows you to choose deluxe WordPress features ranging from mass updates to one-click site hardening and security rollbacks to easy website cloning. Due to all that — and its NVMe SSD storage — WordPress hosting from A2 looks like a winner.
4. Cloudways
When you first look at Cloudways, it may appear slightly confusing. That's because it provides a separate hosting interface for you to connect with some of the world's most robust cloud hosting platforms. We mean Amazon Web Services, Google Cloud Platform, and DigitalOcean; those cloud hosting options have reputations for unprecedented speed.
The only issue is a steep learning curve. Cloudways fixes that, allowing you to pick your cloud hosting service and manage everything with an intuitive dashboard. Plus, every cloud hosting package comes with NVMe drives and one-click WordPress installs.
Migrate unlimited WP sites using Cloudways plugin
FREE CDN and WordPress staging areas
Caching plugin, Breeze, comes pre-installed
SSD storage for 3x faster WordPress hosting
25% OFF with code HOSTINGADVICE
WORDPRESS
RATING 4.8 ★★★★★ Our Review
Cloudways: Our Expert's Review
Alexandra Anderson (HostingAdvice.com): Cloudways makes it simple to kick-start a WordPress site or app hosted in a cloud environment. During the initial setup, we were given a choice of a single- or multi-site installation of the latest WordPress version — complete with Cloudways optimizations — or a no-frills WP install. Go to full review »
| Money Back Guarantee | Disk Space | Domain Name | Setup Time |
| --- | --- | --- | --- |
| 3-day FREE trial | 20 GB SSD – 4 TB SSD | New or Transfer | 8 minutes |
More about Cloudways:
Quick installation buttons for both WordPress and WooCommerce
WordPress managed hosting solutions for powerful caching, CDNs, and enterprise-grade security
Options to pick your favorite and most affordable cloud hosting provider; options include Google Cloud, AWS (Amazon Web Services), and DigitalOcean
Quick backup and restore tools
WordPress staging interfaces
Support for unlimited WordPress sites on dedicated servers
We encourage you to explore each cloud hosting service when using Cloudways. DigitalOcean, for instance, offers the lowest pricing but limited RAM and processing options compared to the starter plans from AWS and Google Cloud. Otherwise, NVMe drives come standard regardless of the cloud hosting service, and you have far more granular control over elements such as bandwidth, storage space, and CPU.
5. ScalaHosting
ScalaHosting sells shared, Windows VPS, and email hosting, but we're mainly interested in its WordPress hosting. ScalaHosting provides a form of managed WordPress hosting, which includes a no-downtime migration service, auto-updates, and staging.
The daily offsite backups give you peace of mind, and its NVMe support (on every WordPress hosting plan) makes it a top contender for the best WordPress NVMe hosting.
FREE managed services with WordPress support
Automatic WP updates, plus staging and cloning
FREE site migration with zero downtime
Unlimited emails, databases, and bandwidth
SEO tools and analysis available on most plans
WORDPRESS
RATING 4.7 ★★★★★ Our Review
ScalaHosting: Our Expert's Review
Laura Bernheim (HostingAdvice.com): A WordPress hosting service typically falls in one of two camps: a specially tailored plan optimized specifically for the world's most popular content management system, or essentially a repackaged version of the company's standard shared hosting offering. ScalaHosting bridges the gap by offering shared hosting simplicity and a platform inherently optimized for the speed and security WordPress users need to be successful. Go to full review »
| Money Back Guarantee | Disk Space | Domain Name | Setup Time |
| --- | --- | --- | --- |
| 30 days | 10 GB SSD – 2 TB SSD | FREE (1 year) | 6 minutes |
More about ScalaHosting:
Server security for every hosting plan, with high-security options like real-time protection and isolated servers
A free SSL certificate
Support for SSH, GIT, and WP-CLI
An intuitive staging feature for WordPress
Unique premium features like blacklist monitoring, sub-users, and white labeling
By default, nothing fancy stands out about ScalaHosting, but we actually like it that way. It offers a straightforward proposition: NVMe SSDs with all hosting plans and unlimited databases and email accounts.
6. UltaHost
The WordPress hosting plans from UltaHost include the most recent version of WordPress pre-installed and an easy-to-manage hosting dashboard customized for WordPress users. Each WordPress hosting plan provides significant storage on UltaHost NVMe SSDs. This means that even the Ulta WordPress plan (the cheapest hosting available from UltaHost) supports around 10,000 visitors monthly.

More about UltaHost:
Multiple databases with every plan (even the Ulta WordPress plan allows for two databases)
Free email accounts to go along with the potentially free domain name (depending on your hosting plan)
Free site backups and domain transfers
Regular security patching and dedicated firewalls
A WordPress staging feature to build out your site before publication
Free SSL certificates
Everything about UltaHost screams "managed." From its managed WordPress infrastructure to managed PHP support, users gain access to a simplified WordPress environment meant to help site owners forget the mundane details of website hosting.
7. NameHero
The marketing copy from NameHero talks about how its hosting makes for fast WordPress websites. After our research, we agree. NameHero includes unlimited NVMe storage with each of its WordPress hosting plans. The Starter WordPress package allows you to manage one WordPress website, but the support for sites goes up from there. In fact, the Turbo and Business WordPress hosting plans allow for an unlimited number of sites.

More about NameHero:
WordPress LiteSpeed technology for smoother performance on all sites
A security suite that includes real-time virus scanning and a firewall
Automated WordPress backups and software updates
Free email addresses, SSL certificates, and domain names
Advanced site caching with cloud-supported acceleration
PHP version control
We recommend NameHero as one of the best WordPress NVMe hosting options for its superior suite of WordPress essentials. No longer must you worry about daily backups, updates, or caching. All of that gets installed on your WordPress website right from the start.
8. MilesWeb
We consider MilesWeb one of the best WordPress NVMe hosting companies for a few reasons. First, the web host provides NVMe SSDs with all WordPress hosting plans. Users also receive free email accounts and daily backups. Its free website builder comes in handy for constructing your site from scratch, and the WordPress options range from simple migrations to advanced WooCommerce controls.

More about MilesWeb:
Unlimited free SSL certificates
Fully managed hosting for WordPress sites (with a one-click WordPress installation)
Automated WordPress updates and website migrations
Staging tools
Object caching and a premium CDN to improve page load times
Firewalls, malware scanning, and a WordPress vulnerability scanner to keep your site secure
The WordPress options seem endless with the MilesWeb hosting packages. From WP-CLI and SSH support to WordPress Acceleration, you can't beat the simplicity and accessibility of WordPress tools from MilesWeb. Speed and storage get handled nicely, too, considering you never have to think about whether your plan has an NVMe (because they all do).
9. FastComet
FastComet sells managed cloud hosting, and every WordPress plan includes NVMe solid-state drives, claiming seven times faster file access and queries than standard SSDs. Along with that, FastComet boasts something called WordPress LiteSpeed, a server that delivers packages faster than HTTP2 and Apache servers. Pair those impressive speeds with the one-click website builder, and FastComet starts looking like an excellent host for any WordPress website.

More about MilesWeb:
WordPress toolkit, which features an integrity check, automatic WordPress updates, and website scanning
One-click password management
One-click staging and site cloning
Git support and SSH access
Advanced tools like version selectors for Node.js, Ruby, and PHP
Free SSL certificates, off-site backups, and CDN integrations
FastComet manages servers in North America, Europe, and the Asia-Pacific region, meaning that the speed of your website should improve due to its NVMe servers and the control you have over the server location.
What Is WordPress?
WordPress offers a content management system to users of all skill levels who want to build, launch, and manage various types of websites. As an open-source system, people can download WordPress for free and maintain full control over their website data and hosting.

Although it has a learning curve, WordPress ‌offers an intuitive interface for beginners willing to learn — especially when using its themes, plugins, and drag-and-drop site builders.
For advanced users, WordPress allows for custom coding and data control. WordPress gets installed on a hosting company's servers, and then the user can create and manage content, including blog posts, webpages, and media. You can build anything with WordPress, from an online store with thousands of products to a simple blog.
What Is NVMe Hosting?
NVMe (non-volatile memory express) web hosting refers to the communication protocol used on storage drives by a web hosting service. Designed for SSDs (solid state drives), NVMe circumvents the usual bottlenecks caused by older technologies, such as SATA, by directly linking to a server's motherboard during data transfer and storage. Because of this connection, data transfer speeds happen much faster on NVMe when compared to alternatives such as SATA.
NVMe hosting uses SSD drives since HDDs (hard disk drives) lack the functionality to support NVMe. As a result, any hosting plan with NVMe SSD storage should perform quicker database queries in the background, leading to a smoother experience for the end user.
Pro tip: When you see a web hosting plan without NVMe, you should know the web hosting service may use older disk technology on that server.
What Is the Difference Between NVMe and SSD in WordPress Hosting?
Although related, NVMe and SSD offer two distinct purposes in WordPress hosting. They're not necessarily comparable because they complete separate tasks. When you see a host providing SSD storage, you know its servers run on solid-state drives, a faster modern drive when compared to HDDs (hard disk drives).
That, however, tells you nothing about the data storage and access protocol installed on the drive. Why? Because an SSD is simply the hardware part of a disk. NVMe comes into the picture when the host decides which data retrieval protocol and interface to implement. SSD and NVMe, therefore, can work in tandem.

The only difference you may see between the two — from a WordPress hosting perspective — is when a host offers a non-NVMe drive with its pricing plans. In that case, the host opted for a less modern data storage and access protocol (like SATA) over NVMe.
The SSD by itself should make your website faster, but combining it with NVMe ensures top speeds. Another difference between non-NVMe SSDs and NVMe SSDs pertains to price; pricing for NVMe has dropped in recent years, but you still might see a slight upcharge for SSDs with NVMe.
Is NVMe Worth It Over SSD?
NVMe and SSD function as two different types of technology. SSD offers the actual solid-state hardware behind a disk drive, while NVMe is simply a data storage and access protocol that a web hosting provider can opt to add to their drives. Therefore, an SSD can have NVMe technology.
However, older and more traditional solid-state drives (SSDs) often lack NVMe and use a slower protocol such as SATA instead. In that case, an NVMe SSD drive is worth it over a non-NVMe SSD drive.
Pro-tip: NVMe has become affordable and readily available through many hosts and significantly affects your website's performance.
Use NVMe SSDs to Supercharge Your WordPress Site
The increasing affordability and accessibility of NVMe WordPress hosting makes for an appealing proposition, particularly for high-traffic websites and data-heavy applications.
Rapidly growing eCommerce stores, for instance, should choose the best NVMe WordPress hosting every time. Yet, smaller blogs and low-volume business websites can rest easy knowing that non-NVMe WordPress hosting, the type that still uses solid-state drives, provides more than enough power to run your site.
Hopefully, my recommendations and descriptions of web hosting storage options will help you decode hosting jargon better. The main thing to remember: You want to host with an SSD; if that also includes NVMe technology for a reasonable price, consider it a tremendous bonus for the performance of your website.
See Our Full Review of Hostinger
Whatever type of hosting plan you're looking for, Hostinger is a solid choice no matter the scale. Our reviewer Laura Bernheim recently took Hostinger for a spin, and rated the popular host a 4.9 in the WordPress Hosting category out of a perfect score of 5.0. Here's what Laura had to say about Hostinger:
A champion of affordable hosting, Hostinger is a popular pick for site owners looking for beginner-friendly shared servers. More than 29 million customers call Hostinger home as they scale websites through site builder, VPS, and WordPress hosting plans. When searching for a new plan, Hostinger is among the best at balancing high quality with low prices.
Before signing up for Hostinger, it's a good idea to read through Laura's full review to learn about all the features Hostinger offers. You can also compare it to other web hosts to ensure you're getting the best deal possible:
If you decide Hostinger is the right choice, keep in mind that it takes just minutes to deploy your Hostinger server space. And at $2.99 per month, it's a bargain considering the many great features that come in any Hostinger plan.
Advertiser Disclosure
HostingAdvice.com is a free online resource that offers valuable content and comparison services to users. To keep this resource 100% free, we receive compensation from many of the offers listed on the site. Along with key review factors, this compensation may impact how and where products appear across the site (including, for example, the order in which they appear). HostingAdvice.com does not include the entire universe of available offers. Editorial opinions expressed on the site are strictly our own and are not provided, endorsed, or approved by advertisers.
Our Editorial Review Policy
Our site is committed to publishing independent, accurate content guided by strict editorial guidelines. Before articles and reviews are published on our site, they undergo a thorough review process performed by a team of independent editors and subject-matter experts to ensure the content's accuracy, timeliness, and impartiality. Our editorial team is separate and independent of our site's advertisers, and the opinions they express on our site are their own. To read more about our team members and their editorial backgrounds, please visit our site's About page.