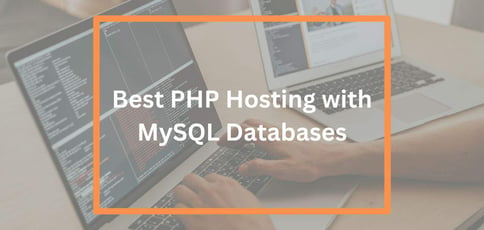 The mid-90s were an exciting time for us internet folks. The World Wide Web emerged, web browsers like Netscape Navigator and Internet Explorer were introduced, and dot-com companies were just about to take the world by storm. Amidst all these developments, PHP and MySQL were created — two fundamental building blocks for web development today, particularly for dynamic and data-driven websites.
Over time, they complemented each other perfectly. PHP provided the scripting capabilities to create dynamic webpages, while MySQL handled the database aspects, allowing sites to store and retrieve data efficiently. Even with newer tech springing up left and right, the two remain widely used in web hosting and development due to their open-source nature, which makes them a cost-effective development option.
It's no wonder that PHP MySQL hosting is becoming the go-to choice for many, particularly businesses in the eCommerce domain. If you're looking to go in the same direction hosting-wise, here are the best PHP MySQL hosting services.
1. Hostinger
Achieving the perfect balance between price and performance is a challenging task, but Hostinger does it with style. Speedy performance, round-the-clock support, 99.9% uptime guarantee, unlimited MySQL database and bandwidth, along with SSH and GIT access, are just some of the boons you get right out of the gate. The hosting provider supports PHP versions 5.2 to 8.1, while you can use MySQLi (enabled and fully supported on servers by default) and PDO to connect a PHP script to MySQL, with a detailed tutorial to boot.
Unlimited databases with generous 3GB maximum
Support for remote MySQL access and InnoDB
Custom control panel for easy database oversight
GitHub integration plus phpMyAdmin
LiteSpeed caching and WordPress acceleration
MYSQL
RATING 4.9 ★★★★★ Our Review
Hostinger: Our Expert's Review
Laura Bernheim (HostingAdvice.com): Although Hostinger's low prices make it seems the company is best serving beginners and site owners without advanced requirements, developers will be impressed with the level of advanced features available on most plans. Hostinger gives users tons of administrative access to perfectly tailor their database hosting plan as needed. Go to full review »
| Money Back Guarantee | Disk Space | Domain Name | Setup Time |
| --- | --- | --- | --- |
| 30 days | 50 GB SSD – 200 GB SSD | FREE (1 year) | 3 minutes |
More about Hostinger:
Unlimited bandwidth and databases
NVMe SSD-based infrastructure
Cheap web hosting
Hostinger also takes time to explain how to create a MySQL database from scratch via cPanel, as well as how to connect a remote MySQL database. As a bonus, the Auto Installer feature allows the automatic installation of PHP-powered applications such as PHP-Fusion, phpBB, CakePHP, and phpMyAdmin where you can perform database management, to name a few.
2. Bluehost
Offering one of the most well-rounded services, Bluehost is a web host that will suit almost every type of user, whether they are looking for a shared hosting plan, dedicated server, VPS, or WordPress hosting. One-click installs and updates, snappy performance supported by a few open-source technologies for that extra oomph, comprehensive online store support — you get all of this and more at competitive prices, with a few freebies like free domain and SSL thrown in for good measure.
MySQL support via enhanced cPanel interface
Unmetered bandwidth and storage on most plans
Access controls and FREE SSL certificate
WordPress experts and optimized infrastructure
FREE Cloudflare CDN and marketing credits
MYSQL
RATING 4.8 ★★★★★ Our Review
Bluehost: Our Expert's Review
Ryan Frankel (HostingAdvice.com): Because WordPress websites come hand-in-hand with MySQL databases, where else to turn than one of the best WordPress hosts in the land. Bluehost leads the way with hosting plans containing first-class features at a price that won't break the bank. Go to full review »
| Money Back Guarantee | Disk Space | Domain Name | Setup Time |
| --- | --- | --- | --- |
| 30 days | 10 GB SSD – 100 GB SSD | FREE (1 year) | 5 minutes |
More about Bluehost:
Customize your PHP version with PHP handlers
Unlimited bandwidth and storage on most plans
Resource protection on shared hosting
All of Bluehost's web hosting plans offer MySQL, with the option of using a desktop application or phpMyAdmin in cPanel to manage your database. The provider's servers support PHP 7.4 and higher, up to 8.2, and its knowledge base is one of the best in the business, so you'll have no trouble finding a how-to guide, instructions, and answers in case you get stuck on anything PHP or MySQL-related.
3. A2 Hosting
One of the pioneers of PHP support on a shared hosting plan, A2 Hosting supports several versions of PHP, from 5.1 to 8.1. The company's claim to being one of the best PHP MySQL hosting services largely rests on its impressive performance, thanks to its Turbo hosting platform that boasts fewer users per web server, pre-configured caching options, and double the allocated physical memory.
Unlimited databases on high-class servers
FREE cPanel license for easy management
Optimized configurations for WordPress
All-SSD solution for your files, OS, and databases
FREE HackScan, SSL, and 99.9% uptime guarantee
MYSQL
RATING 4.5 ★★★★★ Our Review
A2 Hosting: Our Expert's Review
Alexandra Anderson (HostingAdvice.com): A2 Hosting caters to performance-minded folks across all hosting disciplines. The provider's MySQL-focused plans allow users to host five databases on the most basic package — up to unlimited DBs for just a few dollars more. Go to full review »
| Money Back Guarantee | Disk Space | Domain Name | Setup Time |
| --- | --- | --- | --- |
| 30 days | 100 GB SSD – Unlimited SSD | New or Transfer | 4 minutes |
More about A2 Hosting:
Unlimited databases on high-class servers
SSDs and TurboServer for 20x faster page loads
Expert 24/7 customer support
Users can enjoy free SSL security and SSH access, while phpMyAdmin comes pre-installed. InnoDB storage engine for MySQL is supported, while Server Rewind backups are included at no extra cost for database recovery. A2 Hosting's expert Guru Crew team has your back in case you have any questions or concerns about your PHP application, MySQL support, or any other related matter.
4. SiteGround
What PHP fans will undoubtedly find great about SiteGround is its fully managed PHP hosting service (which you can turn off if you prefer a hands-on approach) that automatically updates your PHP once there is a newer stable and safe version. There's more to the story, as SiteGround also offers Ultrafast PHP, a performance-boosting server setup that enhances website speed by up to 30%, uses less server memory, and increases server capacity.
MySQL hosting crafted for superior performance
Separate disk for MySQL and in-house query cache
Support for unlimited databases
Easy management with cPanel and phpMyAdmin
Custom optimizations for performance and security
MYSQL
RATING 4.5 ★★★★★ Our Review
SiteGround: Our Expert's Review
Alexandra Anderson (HostingAdvice.com): SiteGround sets the standard for MySQL server hosting with support for unlimited databases, a free cPanel license, and hardware and software optimizations that deliver excellent performance and security. All MySQL files are housed on a separate disk. Go to full review »
| Money Back Guarantee | Disk Space | Domain Name | Setup Time |
| --- | --- | --- | --- |
| 30 days | 10 GB SSD – 40 GB SSD | New or Transfer | 6 minutes |
More about SiteGround:
Google Cloud infrastructure with SSDs
Managed WAF and AI Anti-Bot tool
Unlimited MySQL database on every hosting plan
When using MySQL, one of the most important things is to have a MySQL-specialized host, and SiteGround does the trick. With advanced caching mechanisms (pre-enabled static and dynamic options), daily backups, and proactive server monitoring, the provider safeguards the integrity of MySQL databases, assuring data availability and security. Plus, you get lots of free MySQL tools like CMS systems, forums, galleries, blogs, and shopping carts.
5. IONOS
A commendable choice for PHP MySQL hosting, IONOS offers a robust blend of reliability and scalability, ultimately distinguishing itself through its high-performance infrastructure and feature-rich plans replete with free goodies. As part of the PHP Extended Support, the company's security experts ensure that any vulnerabilities affecting older PHP versions continue to be closed. Versions 4.4, 5.2 to 5.6, and 7.0 to 7.4 are supported.
Pay just $1/month for 12 months
Unlimited databases available on most plans
2GB of storage per MariaDB or MySQL database
Upgraded PHP memory and up to 19 GB RAM
Georedundant ISO-certified datacenters
MYSQL
RATING 4.4 ★★★★★ Our Review
1&1 IONOS: Our Expert's Review
Alexandra Anderson (HostingAdvice.com): Offering full support for MySQL, MariaDB, and even Microsoft SQL Server, 1&1 IONOS takes data management seriously. The company will automatically set up MariaDB for you, but enables you to manually control MySQL databases if you choose. Go to full review »
| Money Back Guarantee | Disk Space | Domain Name | Setup Time |
| --- | --- | --- | --- |
| 30 days | 10 GB – Unlimited | FREE (1 year) | 4 minutes |
More about IONOS:
PHP 8.2 with JIT compiler
Unlimited databases available on most plans
Georedundant infrastructure
IONOS offers Linux and Windows solutions for MySQL. You start with 2 GB of storage per MySQL (or MariaDB that's set as a default) database and optimization for up to 100 website visitors per minute. If that's not enough, you can easily scale up to keep up with demand, as each additional performance level costs $2/month. And in the event you're not sure about your needs, every IONOS user gets a dedicated contact person for personalized advice, help, and technical support.
6. HostGator
Let's start with what HostGator sets you up with for free: unmetered bandwidth and storage, SSL, domain registration, one-click installs. Then, you get cPanel access, $100 in Google AdWords credit, a free website builder, and website building tools. Aimed primarily at the semi-technical user, the web hosting provider has numerous configuration options to set the server to your liking, although beginner-friendly tools are also part of the package so that nobody feels left out.
Highly compatible LAMP stack with MySQL support
FREE website transfer from WordPress or cPanel
Zero-downtime MySQL migration when you start
Unmetered bandwidth and a FREE SSL certificate
Automatic weekly off-site data backups
MYSQL
RATING 4.4 ★★★★★ Our Review
HostGator: Our Expert's Review
Ryan Frankel (HostingAdvice.com): We love HostGator for its flexible, modern support of important technologies customers use as foundations of their online presence. MySQL hosting is no different, evidenced by the company's expert-level support and assistance with migrations and setup. Go to full review »
| Money Back Guarantee | Disk Space | Domain Name | Setup Time |
| --- | --- | --- | --- |
| 30 days | Unlimited | FREE (1 year) | 4 minutes |
More about HostGator:
Unlimited MySQL databases with phpMyAdmin
Unlimited disk space and bandwidth
45-day money-back guarantee
Speaking of configuration, there is a PHP configuration plugin (available on Shared and Reseller server cPanels) that allows setting the PHP version for specific directories and domains. Each web hosting plan offers MySQL (available on Linux and Windows), with zero-downtime MySQL migration when you kick things off. An above-average 45-day money-back guarantee allows plenty of time to try out HostGator and make sure it can serve your needs.
7. HostPapa
In addition to affordable pricing plans, the small-business-oriented HostPapa features servers optimized for PHP hosting, MySQL support, and more storage space than many (unlimited once you upgrade to the Pro plan) — plus free domain registration. For questions or emergencies (not that you can expect them), live chat and phone assistance are available at any time of day or night. As a bonus, you can enjoy one-on-one video training sessions with a HostPapa expert.
FREE drag-and-drop HostPapa website builder
Host unlimited WordPress sites on one account
24/7 support via phone, email, and live chat
FREE domain registration and email accounts
99.9% uptime guarantee and unlimited bandwidth
MYSQL
RATING 4.4 ★★★★★ Our Review
HostPapa: Our Expert's Review
Laura Bernheim (HostingAdvice.com): Where HostPapa shines is with shared hosting, which offers affordable and feature-rich plans geared toward helping both website and small business owners grow their online presence. HostPapa wants to be more than just a web host, according to CEO Jamie Opalchuck, who told us that the company aims to be a 1-stop shop for small businesses looking for a seamless and simple experience to help them grow. Go to full review »
| Money Back Guarantee | Disk Space | Domain Name | Setup Time |
| --- | --- | --- | --- |
| 30 days | 100 GB SSD – Unlimited SSD | FREE (1 year) | 5 minutes |
More about HostPapa:
PHP-optimized servers
Limitless MySQL databases and phpMyAdmin
Unlimited storage and bandwidth
Every HostPapa plan comes equipped with a set of essential features, and then some, including an SSL certificate, cPanel access, WordPress hosting installation with upgrades, rounded off with a 99.9% uptime guarantee. Upgraded plans throw in some extras like automated backups and website monitoring, a built-in, fully managed web application firewall, SiteLock, Cloudflare, and Office 365, among others.
8. InterServer
InterServer has a few standout features, including its robust infrastructure. The route-optimized servers are quite speedy with SSD storage and caching. InterServer's in-house developed security solution, InterShield, is in charge of keeping everything tidy. InterShield includes an automatic virus scanner and machine learning firewall, compliments of the house.
Blazing-fast MySQL databases on Intel SSDs
Wide support for a range of database systems
Unlimited storage, bandwidth, and databases
NO long-term contracts and NO price increases
$0.01 for the first month, then $5 monthly after
MYSQL
RATING 4.3 ★★★★★ Our Review
InterServer: Our Expert's Review
Laura Bernheim (HostingAdvice.com): With tons and tons of in-house expertise on hand, InterServer can help you install, troubleshoot, and optimize seemingly any type of database. As a hosting company created by tech geeks for tech geeks, InterServer gives experienced users all the components needed to succeed while still appealing to newbies with user-friendly services. Go to full review »
| Money Back Guarantee | Disk Space | Domain Name | Setup Time |
| --- | --- | --- | --- |
| 30 days | Unlimited SSD | New or Transfer | 4 minutes |
More about InterServer:
Unlimited storage and bandwidth
Independently owned datacenter
Price-lock guarantee and no contracts
Virtual servers come with the latest versions of PHP and MySQL pre-installed, along with Python, Ruby, and a few others. Users can take further control through full root access and InterServer's web-based control panel. It's worth pointing out that you can expect to pay the same price when you sign up for the remainder of your account. What's more, InterServer won't lock you up with lengthy contracts, which is a bonafide rarity in the hosting landscape.
9. InMotion Hosting
Affordability, reliability, performance, and ease of use are all trademarks of the web hosting service that InMotion Hosting provides. That's not to say the web hosting company skimps out on features. Expect high-tier performance and protection with NVMe SSDs and SSH access on every account, as well as free backups, SSL, and DDoS protection. Developers will be happy to learn that support for backend tools such as Python, Node.JS, Ruby, and GIT version control are also included.
Up to unlimited MySQL & PostgreSQL databases
FREE website transfers and data backups
SSH access and FREE SSD storage
Unlimited emails, disk space, and data transfer
US-based support available 24/7/365
MYSQL
RATING 4.2 ★★★★★ Our Review
InMotion: Our Expert's Review
PJ Fancher (HostingAdvice.com): InMotion Hosting excels at niche hosting services — from SSD-powered managed WordPress to MySQL hosting on enterprise-grade hardware. Customers enjoy free perks, including a cPanel license with tons of free apps, an SSL certificate, and support for unlimited email accounts, data transfer, and disk space…. Go to full review »
| Money Back Guarantee | Disk Space | Domain Name | Setup Time |
| --- | --- | --- | --- |
| 90 days | 100 GB SSD – Unlimited | FREE (1 year) | 5 minutes |
More about InMotion:
UltraStack technology for speed and performance
Unlimited emails, disk space, and data transfer
90-day money-back guarantee
InMotion Hosting is tailor-made for PHP thanks to UltraStack, a custom tech stack with advanced layered caching that is fine-tuned for speed. You can easily switch between PHP 7.4 and PHP 8.3 to host your PHP application. You can choose from MySQL, PostgreSQL, and MariaDB, with support for up to unlimited databases on most plans.
10. DreamHost
All DreamHost hosting plans are configured with a shared MySQL server by default. Hence, the VPS plans that incorporate scalable RAM and SSD storage are of particular interest here as they highlight the provider's speedy SSD-based architecture, custom control panel, and general ease of use. Dreamhost also offers MySQL VPS, a premium MySQL database service aimed at those who require more resources than a shared MySQL server.
Blazing-fast NVMe solid-state drives
Unlimited databases, bandwidth, and storage
Maximize performance with VPS MySQL hosting
Support for PHP 7.4, 8.0, and 8.1
Regularly contributes to open-source communities
MYSQL
RATING 4.1 ★★★★★ Our Review
DreamHost: Our Expert's Review
Laura Bernheim (HostingAdvice.com): DreamHost promises high-powered hosting, thanks to modern SSD storage, cutting-edge infrastructure, and highly optimized servers. The company also offers an upgraded service that dedicated a separate VPS to your database to ensure the fastest processing. Go to full review »
| Money Back Guarantee | Disk Space | Domain Name | Setup Time |
| --- | --- | --- | --- |
| 97 days | Unlimited | FREE (1 year) | 4 minutes |
More about DreamHost:
Highly scalable VPS hosting
Unlimited databases, bandwidth, and storage
Industry-leading 97-day money-back guarantee
DreamHost pre-installs PHP 8.0, 8.1, and 8.2, though you can pay extra for PHP Extended Support to run unsupported versions of PHP. Shared MySQL servers, MySQL VPS, and DreamPress run MySQL version 8, while other database servers, such as private MySQL and dedicated servers, run 5.7.29. In a rare move, DreamHost offers a 100% uptime guarantee followed by a 97-day money-back guarantee.
11. GoDaddy
GoDaddy has a compelling PHP MySQL hosting package that will intrigue developers and web enthusiasts. Thanks to the use of PHP OPCache, PHP scripts get up to 33% faster server response times, complemented by server NVMe SSDs. Its notable features include no cap on data transfers, 24/7 network security, daily backups, and Microsoft 365 mailboxes (for the first year of hosting), all managed from the usual cPanel dashboard.
MySQL or MS SQL databases for Linux and Windows
1GB of database storage on every plan
24/7 security monitoring and DDoS protection
1-click purchase of additional computing resources
FREE Office 365 for your first year of hosting
MYSQL
RATING 4.1 ★★★★★ Our Review
GoDaddy: Our Expert's Review
Ryan Frankel (HostingAdvice.com): The world-renowned registrar and hosting provider understandably excels with database hosting services and support. GoDaddy's affordably priced shared hosting plans come in either Linux or Windows configurations, with at least 10 MySQL databases available with either option. Go to full review »
| Money Back Guarantee | Disk Space | Domain Name | Setup Time |
| --- | --- | --- | --- |
| 30 days | 25 GB – Unlimited | FREE (1 year) | 4 minutes |
More about GoDaddy:
Unmetered bandwidth
1GB of database storage on every plan
24/7 security monitoring & DDoS
GoDaddy's affordably priced shared hosting plans come in either Linux or Windows configurations, with at least 10 MySQL databases available with either option. You can create MySQL databases without breaking a sweat by using cPanel's MySQL Database Wizard. Every plan comes with a free domain, SSL certificate, and 1-click WordPress install and purchase of additional computing resources should you decide to beef up your online presence.
What Is PHP MySQL Hosting?
PHP MySQL hosting is a platform for the deployment and operation of dynamic web applications and websites using PHP in conjunction with MySQL. In this environment, PHP acts as the server-side scripting language responsible for generating and processing web content, while MySQL serves as the database engine for storing and managing structured data efficiently. In other words, a PHP script "chats" with a MySQL database to fetch, arrange, and serve up data dynamically.

Due to its ability to support any data-driven and interactive web app, PHP MySQL hosting is a rather popular choice for developers seeking to create dynamic, content-rich, and user-friendly online experiences. Whether you're running a travel blog, an eCommerce empire, or the next big thing in social media, it's the perfect combination for a website that needs to store, retrieve, and display information on the fly.
Which Hosting Type Is Best for PHP and MySQL?
There is no clear-cut answer because the best hosting type for PHP and MySQL depends on your specific needs and the scale of your site or application. At HostingAdvice, we're not the ones to leave you hanging, so here are the pros and cons of the main types of servers to get a clear picture.
Shared servers
Pros: Shared hosting is the most affordable type of hosting because you're sharing a server with other websites, thus minimizing the server's total operating costs as they are distributed across multiple users. This makes shared hosting ideal for beginners and small websites with low traffic. Many favor it because it's easy to set up and manage and doesn't require a lot of technical skills or maintenance.
Cons: The aforementioned cost-effectiveness comes with a caveat in the form of shared resources (hence the name shared hosting) with other users, which can impact uptime and performance during traffic spikes. In addition, there are usually fewer security features compared to other hosting options.
Virtual private servers
Pros: You get a dedicated portion of a server's resources, thus minimizing the impact of other users. There's also more control over server settings and configurations than shared hosting, as well as flexibility. You can easily scale up resources when your site grows.
Cons: Customization and scalability come at a higher price tag than shared hosting, and you need to possess some technical expertise for server management. As a result, you are responsible for server maintenance and updates, which may not be everyone's cup of tea.
Dedicated servers
Pros: A dedicated server gives you complete control over server resources and configurations, plus you get the benefit of high performance and the most comprehensive security features. In other words, this is the best you can get for your money.
Cons: It stands to reason that such an ample offering will set you back quite a few bucks. Besides that, you'll also need advanced technical knowledge to optimize management, not to mention that server maintenance and security fall on your shoulders.
In a nutshell, if you are just starting out with PHP and MySQL, shared hosting is a good option to get things going. However, if you have a high-traffic or resource-intensive website or need more resources and control, you may want to consider VPS or dedicated hosting.
Can I Host a PHP and MySQL Website for Free?
Yes, you can. Free web hosting is a limited experience, but it will check all the boxes if you're a student or a budding developer looking to try out a certain MySQL host or experiment with a new software or project. We've already covered free PHP hosting providers and free MySQL hosting providers, so you'll definitely want to check those out.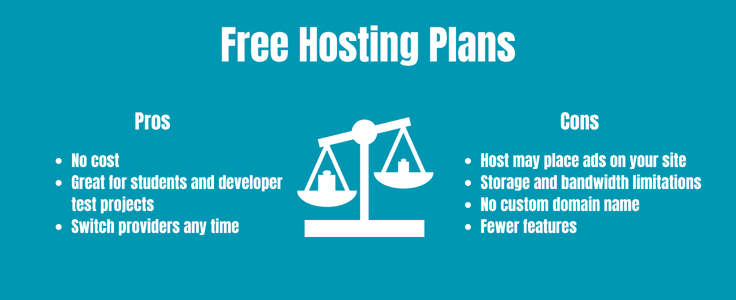 All in all, free hosting can provide the spark to kick-start your site's journey, but you don't want the flame to go out. As time goes by and your website expands, a paid plan will look like a better option than the best free web hosting. Paid hosting will provide consistency in performance and uptime, as well as more of the superb stuff that makes paying for a PHP hosting plan worth it.
How Do I Host a PHP Site Locally?
Much like PHP web hosting, hosting a site locally for development or testing purposes is a fairly straightforward process. Here's what you need to do:
Set up a local server environment with MAMP (it's free of charge, easy to install, and works on both Windows and MacOS). Download and install the app based on your operating system.
Open MAMP, it should automatically start the MySQL and Apache web server. If that's not the case, click on 'Start Servers' to start your localhost.
Click 'Open WebStart Page' to access the MAMP configuration screen via the browser (http://localhost/MAMP/).
Open a text editor (Visual Studio Code, Dreamweaver, Zend Studio, etc.) and put whatever code you want your site to have.
Save the file as C:\MAMP\htdocs\first\index.php or whatever name you want to use for the .php file. You'll have to create the folder 'first' (or any other name) within the htdocs folder when you save the file.
Once you have saved this file, navigate your browser to http://localhost/first/index.php.
Your webpage should be there. You can refresh your browser to view real-time changes as you code.
Embark on a Seamless Web Journey with Confidence
The formidable combination of a PHP server and a MySQL database opens a world of options to create just about any kind of website, be it a small portfolio or a large corporate portal. This type of seamless integration is rare, so it's no surprise you'll see countless websites and applications that are responsive, adaptable, and capable of handling complex tasks thanks to PHP and MySQL.
For any type of user, approaching PHP MySQL hosting should begin with a clear understanding of their project's requirements. Novice users can explore shared hosting solutions that are budget-friendly and user-friendly, making it easy to get started. As their needs grow, they can seamlessly transition to more advanced hosting types like a VPS or a dedicated server.
After all, the best PHP hosting with MySQL is the one that aligns with your objectives and empowers you to unlock your full potential, not suffocate you with all the bells and whistles.
See Our Full Review of Hostinger
Whatever type of hosting plan you're looking for, Hostinger is a solid choice no matter the scale. Our reviewer Laura Bernheim recently took Hostinger for a spin, and rated the popular host a 4.9 in the MySQL Hosting category out of a perfect score of 5.0. Here's what Laura had to say about Hostinger:
A champion of affordable hosting, Hostinger is a popular pick for site owners looking for beginner-friendly shared servers. More than 29 million customers call Hostinger home as they scale websites through site builder, VPS, and WordPress hosting plans. When searching for a new plan, Hostinger is among the best at balancing high quality with low prices.
Before signing up for Hostinger, it's a good idea to read through Laura's full review to learn about all the features Hostinger offers. You can also compare it to other web hosts to ensure you're getting the best deal possible:
If you decide Hostinger is the right choice, keep in mind that it takes just minutes to deploy your Hostinger server space. And at $1.99 per month, it's a bargain considering the many great features that come in any Hostinger plan.
Advertiser Disclosure
HostingAdvice.com is a free online resource that offers valuable content and comparison services to users. To keep this resource 100% free, we receive compensation from many of the offers listed on the site. Along with key review factors, this compensation may impact how and where products appear across the site (including, for example, the order in which they appear). HostingAdvice.com does not include the entire universe of available offers. Editorial opinions expressed on the site are strictly our own and are not provided, endorsed, or approved by advertisers.
Our Editorial Review Policy
Our site is committed to publishing independent, accurate content guided by strict editorial guidelines. Before articles and reviews are published on our site, they undergo a thorough review process performed by a team of independent editors and subject-matter experts to ensure the content's accuracy, timeliness, and impartiality. Our editorial team is separate and independent of our site's advertisers, and the opinions they express on our site are their own. To read more about our team members and their editorial backgrounds, please visit our site's About page.