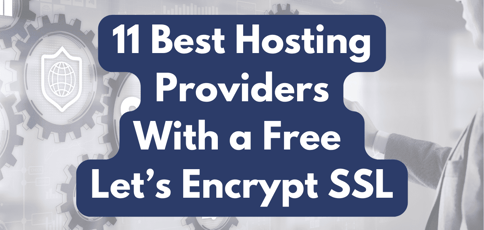 You may have noticed that some website URLs begin with http:// while others start with https://. The extra "s" in https:// signifies security. Think of HTTPS as a private communication line, like those used by secret service agents in spy movies to send encrypted messages. SSL is one of the security technologies that makes this happen (the other technology is TLS).
SSL is used to create an encrypted link between a web server and your web browser. An SSL certificate is a small data file connected with a website that authenticates its identity and ensures it is safe to use and share private information. If you plan on starting a blog, building a website for your business, or setting up an eCommerce store, you must invest in an SSL certificate.
An SSL certificate is given to you by a certificate authority (CA) and usually amounts to hundreds of dollars annually. This is where Let's Encrypt comes into the frame; Let's Encrypt issues free SSL certificates. If you're a website owner, you are at the right place.
Here are the best hosting with free Let's Encrypt SSL providers.
Built with speed and security in mind, SiteGround is a remarkable web hosting provider. Each SiteGround hosting plan offers a free Let's Encrypt wildcard SSL certificate. A wildcard SSL certificate is an SSL/TLS certificate that allows you to secure a primary domain name and unlimited subdomains. Access the Let's Encrypt interface in the SiteGround control panel to install the wildcard SSL certificate in a few clicks.
It should be noted that a standard Let's Encrypt SSL certificate is automatically installed on every hosted domain (but not on subdomains). That said, a standard SSL certificate must be manually installed on each subdomain, making wildcard SSL certification more attractive. In 2016, SiteGround was one of the first web hosts to back up the Let's Encrypt initiative. The hosting service is easily one of the best hosting with free Let's Encrypt SSL providers.
Bluehost offers a free shared Let's Encrypt SSL certificate for all assigned and parked domains and subdomains. According to the free SSL certificate provider, the certificate should automatically assign and install itself to each new and existing domain. However, new customers may have to install the certificate manually. You can enable the free SSL certificate through the Bluerock interface (Bluehost's original control panel) or the Account Manager control panel.
We recommend the Bluerock control panel, as it is easier to use. Once you have toggled the free SSL certificate on through the Bluerock interface, it may take a few hours to install and activate the certificate. You may be required to take a few actions to complete the process. If so, you will receive an email with further instructions.
While the process of installing and activating an SSL certificate might not be as simple on Bluehost as it is on SiteGround, it is among the best hosting with free Let's Encrypt SSL solutions.
InMotion Hosting's shared hosting plans include cPanel's free AutoSSL. This SSL certificate is auto-enabled forever. An AutoSSL certificate keeps your website secured with minimal custom configuration. It makes it easy to manage your SSL, especially on shared servers. The security certificate automatically renews every three months.
Until recently, InMotion Hosting did not support Let's Encrypt SSL. Now, you can install a Let's Encrypt SSL certificate on shared servers. This is ideal for personnel who swear by the Let's Encrypt SSL standard. To install the SSL certificate, you'll need some technical know-how to manage root access and run a series of commands. Here is a detailed guide to help you through the installation process.
Hostwinds' shared hosting plans offer cPanel's automated AutoSSL tool. Note that this tool provides the same type of SSL certificate as Let's Encrypt; the only difference is that AutoSSL certification is issued by cPanel (powered by Sectigo). Unfortunately, Hostwinds shared hosting plans do not offer a Let's Encrypt certificate. This provision is only available on their VPS hosting and dedicated server plans.
You can easily manage your AutoSSL certificates through WebHost Manager (WHM) on the AutoSSL configuration page. If you are on a VPS or dedicated hosting plan, you can enable Let's Encrypt in WHM by following a few steps. Although Hostwinds does not offer free Let's Encrypt SSL for shared hosting, it is worth exploring.
Hostinger is one of the best hosting with free Let's Encrypt SSL providers. Each Hostinger web hosting plan offers unlimited free Let's Encrypt SSL certificates. These certificates are automatically enabled and renewed, adding ease to your website hosting experience. Hostinger's overall hosting feature set makes it a phenomenal option for businesses of all sizes.
If Let's Encrypt SSL is not activated for your hosting plan, do not fret; you can effortlessly install Let's Encrypt SSL in cPanel by clicking on Let's Encrypt SSL. Follow this guide if you are facing an installation error in cPanel. Both of these situations are anomalies — Let's Encrypt SSL should be automatically activated for your hosting plan.
DreamHost offers a free Let's Encrypt SSL/TLS certificate for your domain. A Let's Encrypt SSL/TLS certificate is automatically enabled for your domain name upon purchasing a shared hosting plan. This certificate automatically renews every 60 days, taking the burden off system administrators to manually renew certification.
DreamHost recommends purchasing a Sectigo certificate if your business processes credit card information or transmits sensitive data. Don't worry though, as Let's Encrypt SSL incorporates modern security techniques and best practices to offer a secure website experience.
DreamHost does not offer automatic certification for subdomains. This means that you must enable Let's Encrypt SSL for your subdomains manually through the secure hosting section of your control panel. This process is technically complicated, and you may need to seek the help of a professional. Here is a guide to help you through the process.
IONOS offers a DigiCert wildcard SSL certificate for your free domain name and up to 10,000 subdomains. DigiCert is a partner of IONOS and one of the world's most-renowned SSL providers. With DigiCert SSL security, you can enjoy additional security features such as daily malware scans. Log in to your IONOS account to activate your DigiCert SSL certificate or to change its settings if it is already activated.
IONOS only offers an option to obtain a Let's Encrypt SSL certificate for your website if you have purchased a cloud hosting plan. You can easily create and deploy a Let's Encrypt certificate for your domain through the Plesk interface. Follow the steps listed in this guide to proceed.
If you are looking for dedicated server hosting or a cloud hosting provider, there are few better options than Liquid Web. While Liquid Web offers advanced security with Server Secure as part of its dedicated hosting plans, there is no direct mention of a free Let's Encrypt SSL certificate or any other SSL certificate for your domain or subdomains.
This is strange given the high pricing of Liquid Web's hosting plans and the hosting provider's emphasis on security. After some digging, we discovered that Liquid Web supports using Let's Encrypt for SSL encryption, but you must manually install and renew your SSL certificates on your cPanel or Plesk server. You can configure Let's Encrypt SSL as an AutoSSL provider to save the hassle of renewing your certificate after every 90 days. Here is a guide to help you through these processes.
Nexcess is a Liquid Web brand offering free Let's Encrypt SSL certificates with its managed WordPress hosting and WooCommerce hosting plans. A Let's Encrypt certificate may have to be installed manually if it was not automatically installed when your website went live. This is a rarity, and Nexcess is an excellent WordPress hosting platform highly rated by TrustPilot (as advertised on its website).
To enable Let's Encrypt SSL for your WordPress or WooCommerce hosting plan, log in to the Nexcess website portal and follow these steps. The simple SSL installation process should not take much time. Your SSL certificate will automatically renew every three months. If you seek a secure WordPress hosting plan, Nexcess is one of the best hosting with free Let's Encrypt SSL solutions around.
ScalaHosting is among the best hosting with free Let's Encrypt SSL solutions on the market. Each ScalaHosting web hosting plan features easy access to Let's Encrypt SSL through an automated process. A Let's Encrypt certificate will be installed within 24 hours of your domain pointing to a ScalaHosting web server. Your certificate will be automatically renewed after three months.
If, for some reason, your Let's Encrypt SSL certificate is not put in place within 24 hours, you can reach out to the ScalaHosting service team for an update on the situation or manually install the SSL certificate through your web hosting control panel. The three-step SSL installation process takes no more than a few minutes to complete. Here is a guide for the same.
HostArmada is a new-age cloud web hosting provider and a Let's Encrypt partner. The website hosting solution provides eight hosting services with free SSL certificates for all domains that point to HostArmada's cloud servers.
A free SSL certificate from Sectigo/Cloudflare SSL is automatically issued on your domain name when you purchase a HostArmada cloud hosting plan. Oddly, despite being a Let's Encrypt partner, there is no mention of Let's Encrypt SSL certificate issuance on HostArmada's website.
If you opt for a cloud WordPress hosting plan, you must activate your already-installed SSL certificate. Take note that this holds for all WordPress hosting plans, as WordPress is a domain-sensitive application. This means that you must configure your website to open through HTTPS. Luckily, it is easy to enable SSL on your HostArmada WordPress website. Simply follow these steps.
Let's Encrypt is an automated and open SSL certificate provider that issues free SSL/TLS certificates to enable HTTPS for websites. HTTPS encryption protects against man-in-the-middle attacks, eavesdroppers, and hijackers who try to spoof trusted websites. The service is run by the Internet Security Research Group (ISRG).
The nonprofit certificate authority aims to "create a more secure and privacy-respecting web." With the advent of Let's Encrypt, more than 95% of web traffic across Google is HTTPS encrypted. Countries like Belgium, India, the United Kingdom, Germany, and the United States have more than 93% of encrypted traffic.

While activating an additional layer of security is the primary goal of HTTPS encryption, websites that use HTTPS are given a search ranking boost by Google, so take advantage of the free Let's Encrypt SSL service.
No, SSL is not always free with hosting. It depends on the certificate authority your hosting provider offers and could cost more than one hundred dollars each year. If the hosting plan you have purchased offers Let's Encrypt, you do not have to pay an additional fee, as Let's Encrypt offers free SSL certification.
Some hosting providers include SSL certification as part of their hosting plans and may prevent you from opting for an alternative solution such as Let's Encrypt. GoDaddy is one such hosting company that does this. We recommend opting for a hosting plan with free SSL, regardless of whether the certificate authority is Let's Encrypt.
Web hosting with free SSL certificates >>
SSL certificates issued by Let's Encrypt are valid for 90 days. The 90-day validity term is not a dealbreaker, as you can easily activate automatic renewal. Let's Encrypt SSL only offers Domain Validation (DV) certificates, simply securing your domain. The CA does not offer Organization Validation (OV) certificates or Extended Validation (EV) certificates.
An OV certificate validates the organization running the website rather than the domain, and an EV certificate simply displays your business name in the URL bar. For most people, there is no point in purchasing a fancy, paid SSL certificate. To put it into perspective, Amazon, one of the world's largest companies, does not have an EV certificate.
There are no notable disadvantages of Let's Encrypt SSL.
Many shared hosting providers offer automatic Let's Encrypt SSL installation upon purchasing a hosting plan. Others require you to perform manual SSL installation. If your cPanel or other hosting panel instance does not provide a one-click install feature for Let's Encrypt SSL, you may need some technical expertise to do it yourself. Unfortunately, many shared hosting providers do not offer this feature for free.

This does not mean you have to shell out hundreds of dollars to purchase an SSL certificate through your web hosting provider. These shared hosting providers often publish guides to help you through the process of manual Let's Encrypt SSL certificate installation. Additionally, the SSL For Free website makes installing Let's Encrypt SSL on shared hosting relatively easy.
Here are the steps:
Visit the SSL For Free website.
Type your website domain name in the enter your website to secure input box and click on Create Free SSL Certificate.
You can add a subdomain by clicking on Add / Edit Domains.
Verify your domain/subdomain through Automatic FTP Verification, Manual Verification, or Manual Verification (DNS).
Once SSL For Free creates an SSL certificate (domain/subdomain), you may opt into receiving an email notification a week before your SSL certificate expires.
For a comprehensive understanding of the process, here is an in-depth guide to secure your website with HTTPS.
Until recently, purchasing an SSL certificate was a costly affair. Let's Encrypt changed that by introducing a free SSL protection service. Unless you need an OV or EV certificate, it makes no sense to fork out money for an SSL certificate. Each of the mentioned hosting providers offers free SSL with their hosting plans.
Select a hosting plan according to your business requirements and proceed accordingly. We believe SiteGround, Hostinger, Nexcess (if you are looking for a feature-packed, managed WordPress hosting plan), and ScalaHosting are the best hosting with free Let's Encrypt SSL providers. If you are unable to install Let's Encrypt SSL on your hosting plan, feel free to reach out to the hosting provider's customer support team for guidance.
You can also hire a professional in the short term to guide you through the process.
Whatever type of hosting plan you're looking for, SiteGround is a solid choice no matter the scale. Our reviewer Alexandra Anderson recently took SiteGround for a spin, and rated the popular host a 5.0 in the Best Overall Hosting category out of a perfect score of 5.0. Here's what Alexandra had to say about SiteGround:
With a reputation for reliable customer support and the leading-edge tech innovations, SiteGround needs to be near the top of your list of potential hosting providers. The premium host enables site owners and WordPress users to operate with performance and reliability in fluidly scalable cloud-powered environments.
Before signing up for SiteGround, it's a good idea to read through Alexandra's full review to learn about all the features SiteGround offers. You can also compare it to other web hosts to ensure you're getting the best deal possible:
If you decide SiteGround is the right choice, keep in mind that it takes just minutes to deploy your SiteGround server space. And at $2.99 per month, it's a bargain considering the many great features that come in any SiteGround plan.
Advertiser Disclosure
HostingAdvice.com is a free online resource that offers valuable content and comparison services to users. To keep this resource 100% free, we receive compensation from many of the offers listed on the site. Along with key review factors, this compensation may impact how and where products appear across the site (including, for example, the order in which they appear). HostingAdvice.com does not include the entire universe of available offers. Editorial opinions expressed on the site are strictly our own and are not provided, endorsed, or approved by advertisers.
Our Editorial Review Policy
Our site is committed to publishing independent, accurate content guided by strict editorial guidelines. Before articles and reviews are published on our site, they undergo a thorough review process performed by a team of independent editors and subject-matter experts to ensure the content's accuracy, timeliness, and impartiality. Our editorial team is separate and independent of our site's advertisers, and the opinions they express on our site are their own. To read more about our team members and their editorial backgrounds, please visit our site's About page.