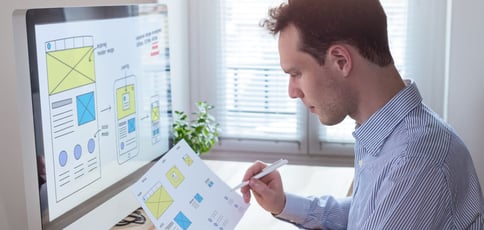 We've come a long way in the world of website building. Take a look at the first-ever website, launched on August 6, 1991, for perspective.
If you're seeing it for the first time, you'll think someone copy-pasted the reference section of a Wikipedia page into the website. Nothing inspiring about it. Just plain text and a bunch of hyperlinks.
Today, anyone can build a beautiful, dynamic website with the help of a website builder. Years ago, only web designers and developers had such skills.
Thanks to drag-and-drop website builders, building a site is as easy as clicking and dragging your mouse across your screen. In this article, I'll review some of the best website builder free trials, hoping you'll find one that will bring your web design ideas to life.
The Best Website Builders with Free Trials
The beauty of a free trial lies in your ability to test a platform risk-free. And with so many options available, of course, you want to try every platform you can.
These website builders are known for giving users access to customizable website templates and eCommerce solutions for a range of online stores, personal websites, and professional portfolios.
What's better: These platforms allow you to test their services for free.
1. Wix: 14-Day Free Trial
During the first year of the pandemic, eCommerce sales increased by 43%. Almost everyone I knew was selling something online and making good money, for that matter.
You probably saw Wix commercials all over the internet and on TV around that time, screaming, "Enjoy the world's easiest drag-and-drop website builder" or "Build a beautiful website within minutes!"
Wix delivers ease-of-use and functionality. The platform walks you through each step of building a custom, dynamic site. With so many templates to choose from, you're certain to find a design that suits you.
No coding skills needed with drag-and-drop builder
100s of templates with niche-specific designs
Add features via the App Market and Wix Events
Easily create ecommerce functionality easily
Great way to build small sites on a budget
WEBSITE BUILDER
RATING 4.9 ★★★★★ Our Review
Alexandra Anderson (HostingAdvice.com): Website building is where Wix shines. The thousands of templates, the intuitive editor, the industry-leading designs that cater to a variety of specific fields and use cases — all these facets represent a platform that excels at facilitating easy web design for the non-tech-savvy user. Go to full review »
| Money Back Guarantee | Disk Space | Domain Name | Setup Time |
| --- | --- | --- | --- |
| 14-day FREE trial | 2 GB – Unlimited | FREE (1 year) | 4 minutes |
As a professional website designer, I was initially worried about losing my job to this website-building platform called Wix, which helps users create websites within minutes.
But you've got to give credit where it's due. This wasn't just another overhyped web host taking advantage of the lockdown to promote its service.
Since then, Wix has become one of my favorite drag-and-drop website builders. It's easy to use and has numerous clean retina-ready templates for almost every niche. The best part? You'll get a 14-day free trial when you sign up. No credit card required.
2. Weebly: 14-Day Free Trial
I knew about Weebly before the pandemic. But like most eCommerce website builders, Weebly commercials thronged our screens even more during the pandemic when everyone was trying to find ways to sell products or services online.
New York-based multinational tech company Bloc, Inc., formerly Square, acquired Weebly in 2018 and transformed it into one of the most popular website builders today. More than 40 million people, myself included, use this web builder to build eCommerce websites.
Design your site with the popular drag-and-drop site builder
Fully hosted, drag-and-drop site-building and marketing
Choose from 100s of customizable, professional themes
Add contact forms and take RSVPs via apps
eCommerce-ready and SEO-friendly with built-in tools
WEBSITE BUILDER
RATING 4.8 ★★★★★ Our Review
Weebly: Our Expert's Review
Alexandra Anderson (HostingAdvice.com): Weebly is in the elite clique of drag-and-drop website builders that includes WordPress and Wix. com. Go to full review »
| Money Back Guarantee | Disk Space | Domain Name | Setup Time |
| --- | --- | --- | --- |
| 30 days | 500 MB – Unlimited | FREE (w/ paid plans) | 3 minutes |
The easy-to-use drag-and-drop feature aside, Weebly also offers free hosting with a high performance and uptime guarantee. But what I like the most about it is that it is reasonably priced compared to what most eCommerce website builders charge.
Finally, Weebly is a great choice if you're always on the go. You can build and manage your website directly from the Weebly mobile application for iOS (iPhone and iPad) and Android.
See our full review of Weebly >>
3. Squarespace: 14-Day Free Trial
Squarespace will give you a 14-day free trial and won't ask for your credit card information when you sign up. That means you'll have all the time in the world to explore its features without worrying about being billed for something you don't need or like.
Speaking of features, I'll start with the free templates. I like how it has diversified its website templates to suit many industries. So whether you're an interior designer, a wedding planner, a consultant, or travel blogger, there's a website template for you at Squarespace.

Squarespace's no transaction fee policy is the ultimate game changer. If you've ever sold anything online, you're probably familiar with how transaction fees work. In most cases, the amount you sell the product or service for isn't usually what appears in your bank account. But that's not the bank robbing you; it's the transaction fees you didn't consider when billing your clients.
A few transactions down the road, you'll realize how much money you're losing. To fix this problem, Squarespace lets you pay one predetermined monthly or annual fee for eCommerce plans, and it won't add transaction fees on each sale.
See how to build your website with Squarespace >>
4. GoDaddy: 7-Day Free Trial
Rumor has it that GoDaddy could survive the apocalypse, and I believe it. This web host has been around since 1997 and boasts of being the world's largest domain registrar.
With more than 21 million customers and 7,000 employees, GoDaddy's survival in the competitive world of web hosting is impressive to say the least. Some web hosts that started around the time GoDaddy came into existence are no longer relevant today.
Get started for FREE, no credit-card required
Easy-to-use interface with tons of customization
GoDaddy InSight™ provides tailored action plans
99.9% uptime with an award-winning support team
Built-in marketing tools and expertise
WEBSITE BUILDER
RATING 4.8 ★★★★★ Our Review
GoDaddy: Our Expert's Review
Ryan Frankel (HostingAdvice.com): GoDaddy uses a custom website builder and easy access to dozens of content management systems to offer a user-friendly site-building solution to customers. Most of GoDaddy's hosting plans include these options at no additional cost. Go to full review »
| Money Back Guarantee | Disk Space | Domain Name | Setup Time |
| --- | --- | --- | --- |
| 30 days | Unlimited | New or Transfer | 5 minutes |
What makes this host unique is that it always keeps its wheels turning with new technology. The drag-and-drop GoDaddy website builder, for example, is powered by Artificial Intelligence, making the website-building process easier.
GoDaddy also won't ask for your credit card information when signing up. If you're just a beginner trying to learn the basics of web building using a web host that's survived the test of time and outlived many competitors, GoDaddy should be your destination.
5. Shopify: 3-Day Free Trial
When three friends, Tobias Lütke, Daniel Weinand, and Scott Lake, started selling snowboarding equipment online in 2004, they didn't know they were on course to creating the most popular eCommerce platform. Only two years later, Shopify was born, and it didn't take too long to sprout beyond its limits.
Fast forward to 2023, Shopify has more than 5.6 million stores worldwide, at least 70% of which are in the United States. This eCommerce platform has transacted more than $444 billion in sales. The astronomical growth, which accounts for at least 10% of total eCommerce businesses in the United States, tells you everything you need to know about this now-famous online shopping platform.
Plans include a website builder with tons of Shopify themes
Get help with your name, logo, and online presence
Sell unlimited items via social media, a button, or POS
Developers can easily build on the platform via the API
Shopify experts available 24/7 to assist you
WEBSITE BUILDER
RATING 4.5 ★★★★★ Our Review
Shopify: Our Expert's Review
Toby Sembower (HostingAdvice.com): Shopify is a fully hosted web building platform that specifically serves the ecommerce niche. All plans include a free site builder tool and you can browse the Shopify theme store for a design that most closely matches your brand. Go to full review »
| Money Back Guarantee | Disk Space | Domain Name | Setup Time |
| --- | --- | --- | --- |
| 3-Day FREE Trial | Unlimited | FREE Subdomain | 5 minutes |
But before you commit to Shopify, be aware that its free trial is significantly shorter than those of other website builders I've reviewed. But you can choose to look at it from a different perspective; the short free trial period shows how in-demand this platform is.
That's totally justifiable. On top of the easy-to-use drag-and-drop builder with tons of templates to choose from, this host also offers a suite of eCommerce applications designed to streamline the overall online shopping experience and a vast community of eCommerce experts to help you if you get stuck.
See our full review of Shopify >>
Best Cheap Website Builders — $$1.00 to $$2.99/Month
Being on a budget shouldn't stop you from creating the kind of website you and your users will love. Below, I've shared some cheap website builders worth checking out.
These site builders offer a nice balance between price and quality. You'll get all the essentials to build a responsive website with a professional look and feel for less than a few dollars each month.
That's a small price to pay for so much value.
No coding skills necessary with MyWebsite Creator
Free domain name or transfer your existing site
FREE social media and marketing widgets
Pro templates with pre-filled text and images
Multilingual support and tools for SEO
WEBSITE BUILDER
RATING 4.8 ★★★★★ Our Review
1&1 IONOS: Our Expert's Review
Alexandra Anderson (HostingAdvice.com): If you're in need of a one-stop shop for designing and launching a website, you should be pleased to hear that 1&1 IONOS offers its own custom website building tools for both desktop and mobile devices. In addition to a free domain and email address, along with unlimited storage space, the 1&1 IONOS MyWebsite platform includes all the essentials for starting a site from scratch. Go to full review »
| Money Back Guarantee | Disk Space | Domain Name | Setup Time |
| --- | --- | --- | --- |
| 30 days | 10 GB – Unlimited | FREE (1 year) | 5 minutes |
FREE Weebly site builder or WordPress setup
Worry-free, automated webiste migrations
User-friendly cPanel interface and staging area
Custom ticket and chat systems for 24/7 support
SuperCacher with static and dynamic caching
WEBSITE BUILDER
RATING 4.4 ★★★★★ Our Review
SiteGround: Our Expert's Review
Alexandra Anderson (HostingAdvice.com): Do you know you need to build a website but don't know where to begin. Well, SiteGround will give you not one, but two extremely popular and user-friendly options to create the online presence of your dream. Go to full review »
| Money Back Guarantee | Disk Space | Domain Name | Setup Time |
| --- | --- | --- | --- |
| 30 days | 10 GB SSD – 40 GB SSD | New or Transfer | 5 minutes |
Dedicated expert support helps you get started
Social media scheduling and email marketing
100s of templates for sites, blogs, and online stores
Unlimited storage for photos, videos, and music
FREE domain name registration
WEBSITE BUILDER
RATING 4.0 ★★★★★ Our Review
Web.com: Our Expert's Review
Ryan Frankel (HostingAdvice.com): Aimed at first-time users and customers seeking simplicity, Web. com offers a very quick and easy solution for getting a website online. Go to full review »
| Money Back Guarantee | Disk Space | Domain Name | Setup Time |
| --- | --- | --- | --- |
| N/A | Unlimited | FREE (1 year) | 5 minutes |
Our internal team of web hosting experts has tested and approved each website builder I've listed above. That's because we know that sometimes cheap is expensive, and it takes a little digging through the pile to find hosts worth spending your money on.

See the best website builders in 2023 >>

What Is Included in a Website Builder Free Trial?
Each site builder is unique, and with the stiff competition in the web hosting industry, these hosting companies always try to outdo themselves. That said, in a typical website builder free trial, you'll find essential features such as:
Website themes and templates
Drag-and-drop interfaces
Email marketing tools
SEO analysis and eCommerce functionality
It's not uncommon to see these web builders going out of their way to provide more advanced features for users. For example, Squarespace has partnered with Unsplash, a stock photography platform, to provide high-quality photos for websites.
GoDaddy, on the other hand, harnesses the power of AI to help users build beautiful websites using its platform. Some will even throw a free SEO tool in there.
Whether you're working on a personal website for your portfolio or a business website for a client, using a popular website builder makes website creation a breeze.
Once your free trial ends, the site builder will likely present you with a range of pricing plans to keep your site online. Although you may not get an entirely free website builder, we find that most are ultra-affordable.

And if you're building a professional site, paying a small monthly price is worth the feature-rich experience many popular website builder platforms can give you.
What Is the Easiest Website Builder for Beginners?
GoDaddy and Wix are neck and neck if you're looking for a beginner-friendly website builder. As mentioned, the use of AI is what makes GoDaddy special. And if you've used platforms like ChatGPT, you're probably already familiar with AI's power and influence.
To start, you'll answer some questions about what kind of site you're building (a personal website, business website, online store, or another kind), and the AI site builder will generate template suggestions.

But overall, I'd go for Wix. The signup process for both site builders is easy, but Wix's templates are more beautiful, and the platform allows for greater personalization. The customization options make it easier to get the exact look and feel you want.
And with more than 900 templates to choose from, you won't get stuck in the design process with a template that's not right for you.
How Do I Make an Online Store with a Website Builder?
The first thing you need to know is that website builders are never the same. In other words, the process of building a website with Wix isn't the same as GoDaddy's.
With that out of the way, most web builders have made this process easy, and that's because they know that half of the time, when people use these tools, they need help building a website.
The other half, which often makes up web designers or developers, is probably trying to work smart, not hard. Whichever way you look at it, we all have the same goals, whether you're a web designer, developer, or beginner. The goal is to build a beautiful and interactive website.
The building process typically begins with signing up for a web hosting plan, usually offered by the web builder. That's the only way you can publish your website once you're done building it.
Pro tip: If you're on a budget or want to learn the ropes before committing to a particular plan, consider Weebly's free plan.
Back to the building process, after signing up, you'll:
Choose a hosting plan, provide your custom domain name, and then access the website builder. You'll likely need to answer a few questions about the kind of website you want to build. Is it a personal blog, an eCommerce website, a portfolio, or anything else?
Whatever answer you provide will prompt the web builder to generate themes or templates that align with your specific niche or industry.
From there, all you'll need to do is drag and drop additional features, delete what you don't want or like, add some text, throw in some photos or videos, spice it up with some cool features like effects for animation, scrolling, transitions, or your own custom code.
The best part about the site builders on this list is that they come with web hosting, so you don't need to take additional steps to put your site online. When you're done building your site, click "Publish," and you're all set.
What Is the Best Free Website Builder?
Outside of a free trial, which many website building platforms offer, some also offer entirely free plans. A free website builder is ideal for students and those who are new to the world of website building.
Free plans typically don't come with a custom domain name or tons of resources, but if you're just starting out and you prefer to save money over having those features, you're in luck.
One of the best free website builders is Weebly.
All-in-one hosting and drag-and-drop builder
Start designing for FREE, upgrade whenever
Easily build a blog, personal site, or online store
100s of FREE templates for websites
$100 credit toward Google advertising
CHEAP
RATING 4.6 ★★★★★ Our Review
Weebly: Our Expert's Review
Alexandra Anderson (HostingAdvice.com): Weebly is a well-known name in the cheap shared hosting space — not necessarily due to competitive pricing but because several of the web's leading low-cost hosting providers have opted to include Weebly software for free, adding value to their existing offerings. It's worth noting Weebly does offer a free plan, but websites are found on a Weebly subdomain and display Weebly advertising. Go to full review »
| Money Back Guarantee | Disk Space | Domain Name | Setup Time |
| --- | --- | --- | --- |
| 30 days | 500 MB – Unlimited | FREE (w/ paid plans) | 3 minutes |
Although your website will have some storage and bandwidth limitations, the platform offers basic eCommerce functionality, social media marketing tools, and beautiful templates for responsive websites.
Weebly's free plan is perfect for personal websites or small blogs. But if you need a professional website, we recommend upgrading to its premium plan for better performance, more customizable designs, and SEO tools.
Finding the Best Website Builder Just Got Easier
Years ago, website builders didn't offer free trials. That was back when the competition wasn't that stiff. As a result, users had limited options. But things have changed.
Web hosting companies know that you have many options to choose from if you're looking for the best website builder. That's one reason they offer a free trial in the first place to grab your attention and hopefully convince you to try their services risk-free. Some have sweetened their offers by not asking for your credit card information.
So, what's your excuse? You should consider taking advantage of these options I've covered. That way, you'll find a website builder that matches your skill level, budget, and needs.
Further Reading: "5 Best: Website Builder Free Trials (Oct. 2023)"
Hopefully, our recommendation of Wix fulfills all your web hosting needs. Starting at just $0.00 per month and rated 4.9 overall, Wix gives users plenty of bang for the buck. Among our favorite features:
No coding skills needed with drag-and-drop builder
100s of templates with niche-specific designs
Add features via the App Market and Wix Events
Easily create ecommerce functionality easily
Great way to build small sites on a budget
If you'd like recommendations similar to Wix and others in 5 Best: Website Builder Free Trials (Oct. 2023), check out these popular guides. You'll find comparisons of Wix to other hosts on pricing, features, support and more:
And of course, if Wix is your top choice, you can get started now at just $0.00/month. Wix is easy to set up and scale, no matter the size of your next project.
Advertiser Disclosure
HostingAdvice.com is a free online resource that offers valuable content and comparison services to users. To keep this resource 100% free, we receive compensation from many of the offers listed on the site. Along with key review factors, this compensation may impact how and where products appear across the site (including, for example, the order in which they appear). HostingAdvice.com does not include the entire universe of available offers. Editorial opinions expressed on the site are strictly our own and are not provided, endorsed, or approved by advertisers.
Our Editorial Review Policy
Our site is committed to publishing independent, accurate content guided by strict editorial guidelines. Before articles and reviews are published on our site, they undergo a thorough review process performed by a team of independent editors and subject-matter experts to ensure the content's accuracy, timeliness, and impartiality. Our editorial team is separate and independent of our site's advertisers, and the opinions they express on our site are their own. To read more about our team members and their editorial backgrounds, please visit our site's About page.