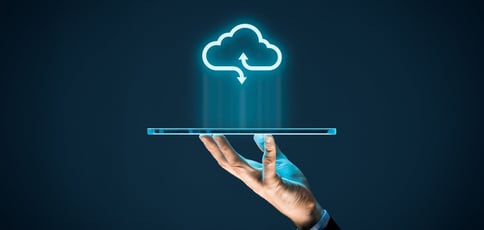 Cloud hosting makes up 15% of the web hosting industry and is poised to grow its market share. But unlike shared hosting, which is simply plug-and-play, cloud hosting can be complex to navigate and maintain, especially if it's unmanaged.
Businesses and individuals opting for unmanaged cloud hosting typically have an IT associate or team to handle all server-related tasks. But not all businesses can afford an in-house IT team that could cost around $15,000 a month. That's where managed cloud hosting comes in.
If that's what you're looking for, we've put together this guide covering some of the best managed cloud services on the market. Let's take a quick tour.
Best Managed Cloud Services for Hosting Websites
Managed cloud services come in different forms. Whether you need web hosting, collaboration, storage, databases, computing, or anything in between, they all fall under the umbrella of cloud hosting. We'll start with the best cloud services for web hosting.
Cloud VPS that's more flexible and affordable
Load balancer, firewall, and managed services
Premium Intel CPUs with 300% more power
Choose between monthly or hourly billing
Sign up today for a 30-day FREE trial
MANAGED
RATING 4.9 ★★★★★ Our Review
Kamatera: Our Expert's Review
Laura Bernheim (HostingAdvice.com): Backed by cutting-edge cloud computing technology, Kamatera adds instant and limitless scalability to the VPS hosting marketplace. Each cloud or virtual server is equipped with blazing-fast SSD storage and Intel Xeon Platinum CPUs. Go to full review »
| Setup Time | Disk Space | CPU | RAM |
| --- | --- | --- | --- |
| 5 minutes | 20 GB SSD – 4 TB SSD | 1 – 104 cores | 1 GB – 525 GB |
Kamatera invests heavily in enterprise-grade infrastructure but still offers affordable cloud hosting services. With this managed service provider, you can choose a simple hosting package or build one from scratch. Here are some other reasons you'll love it.
Has datacenters in North America, Europe, the Middle East, and Asia
Monitors server activity to guarantee uptime and top-notch security
Conducts regular backups (per your preferred schedule) to protect your data
Grants you access to expert support instantly or within an hour, depending on your hosting package
Easy to scale up and down, even mid-contract
Kamatera also allows you to try its services for 30 days risk-free. The free trial comes with 1TB of cloud storage and full access to all features on the cloud hosting platform, including its world-class technical support via phone, email, and live chat.
$2/month with no hidden fees
Try it FREE via 30-day money-back guarantee
Full root access and API
10GB to 240GB SSD, Linux or Windows
No throttling or traffic restrictions, ever
MANAGED
RATING 4.9 ★★★★★ Our Review
1&1 IONOS: Our Expert's Review
Alexandra Anderson (HostingAdvice.com): For an all-star player in the game of web hosting flexibility, look no further than the low-cost options from 1&1 IONOS. The company's vServers are a powerful VPS option that includes dedicated resources and unlimited traffic. Go to full review »
| Setup Time | Disk Space | CPU | RAM |
| --- | --- | --- | --- |
| 6 minutes | 80 GB SSD – 240 GB SSD | 1 – 8 cores | 512 MB – 24 GB |
If you plan to host a resource-intensive website or application, finding an affordable cloud host is a must. That's what IONOS offers. Beyond affordability, here's what to expect from this top cloud hosting provider.
More than 13 cloud hosting packages to choose from, each curated to your unique needs (you can also customize them)
Powerful Intel Xeon processors for maximum performance and fast speeds
Supports unlimited traffic, keeping your website or application running without interruption
Uses VMware virtualization technology to boost performance
Has datacenters in at least 10 locations in North America and Europe
IONOS also offers a 99.9% uptime guarantee, a free SSL certificate, and support for both Windows and Linux operating systems.
Managed cloud hosting with 24/7/365 monitoring
Choose from 5 popular cloud providers
Auto-healing cloud servers with FREE backups
1-click server cloning and easy management
Host unlimited apps with no contract lock-in
MANAGED
RATING 4.5 ★★★★★ Our Review
Cloudways: Our Expert's Review
Alexandra Anderson (HostingAdvice.com): Managed hosting affords the customer total peace of mind. Cloudways makes the hands-off cloud hosting experience affordable and accessible to all. Go to full review »
| Setup Time | Disk Space | CPU | RAM |
| --- | --- | --- | --- |
| 8 minutes | 20 GB SSD – 4 TB SSD | 1 – 96 cores | 1 GB – 384 GB |
Cloudways describes itself as a cloud hosting provider for developers, agencies, and businesses, and rightfully so. The cloud provider partners with Google Cloud, Amazon Web Services, and DigitalOcean, some of the top providers in the industry, to bring you the best of managed cloud hosting services. Other highlights of Cloudways service include:
24/7 real-time cloud monitoring and automated backups to protect your data
Provides free migration
Conducts regular security patching
Uses auto-healing technology, eliminating the need for human intervention when there's a change in the cloud environment
Offers a reliable and knowledgeable customer support team that is available 24 hours a day, seven days a week
The server management aspect aside, cloud managed service provider also uses a consumption-based pricing model, allowing you to pay for only what you use. And because it uses powerful hosting infrastructure from some of the top hosting providers, I recommend it for resource-intensive websites or applications, including agencies and businesses.
Choice of Debian, Ubuntu, Fedora, and CentOS
Cloud VPS hosting with hourly or monthly billing
Impressive 99.9999% uptime guarantee
Real-time monitoring and instant scalability
Full management and nightly backups
MANAGED
RATING 4.5 ★★★★★ Our Review
Hostwinds: Our Expert's Review
Laura Bernheim (HostingAdvice.com): As a managed VPS hosting provider, Hostwinds gives site owners tons of advanced options. Customer can choose from several Linux operating systems, including Debian, CentOS, Ubuntu, and Fedora. Go to full review »
| Setup Time | Disk Space | CPU | RAM |
| --- | --- | --- | --- |
| 6 minutes | 30 GB SSD – 750 GB SSD | 1 – 16 cores | 1 – 96 GB |
Hostwinds doesn't allow you to build your own cloud hosting environment from scratch. To compensate for that, it breaks down its hosting packages into smaller chunks so you can choose one that works for your needs. Let's take a look at what its managed service covers:
Regular server snapshots to help with troubleshooting problems and reporting performance status
Nightly backups to protect your data (also lets you keep your backups for as long as you want)
24/7 server monitoring to check for issues
Real-time, automated reporting to submit support tickets on your behalf
Load balancing technology to distribute traffic across multiple cloud servers and guarantee uptime
With the amount of work Hostwinds does in the background, you won't have to lift a finger to manage your server. That should provide all the time you need to focus on your website or application.
Best Managed Cloud Services for Collaboration and Storage
Not everyone who opts for cloud hosting wants to host a website or application. This type of hosting can also help those who store large files or significant amounts of data. If that's what you are looking for, you have many options to explore.
5. Sync
I once worked with a local photography and videography business that used Sync to host a large number of images, videos, and audio files. The business already had a website, so all it needed was a place to store files, whether for editing, presentation, or anything else. Sync didn't disappoint.

Here's what I loved the most about this cloud host, particularly regarding server management:
Conducts real-time backup and synchronization (hence the name)
Lets you recover files within a particular period (180 days to a year, depending on your hosting package)
Offers a 99.9% uptime guarantee
Creates activity logs that allow you to track footprints on the server, which helps with troubleshooting and collaboration
Allows database sharing and collaboration, perfect for teamwork
Sync is also great for compliance (think of HIPAA, GDPR, PIPEDA, and other regulations). So, if you're working with sensitive files and data, Sync is an ideal cloud server option. It also offers two-factor authentication, remote account lockout, and restricted access for added protection.
6. NordLocker
NordSecurity, the brains behind NordVPN, NordLayer, NordPass, and now NordLocker, offers secure cloud storage for businesses. Its security mechanisms are so tight that not even Nord can access your data or files.

On top of that, it offers fully managed cloud storage services, which come with the following perks:
Automatic backups with one-click file restoration
Unlimited end-to-end encryption to protect your data in transit and at rest
24/7 priority customer support regardless of your hosting package (some hosts will charge you extra for priority support)
Custom-made cloud storage plans to suit your unique business needs
A dedicated account manager with everything you need to seamlessly run your cloud storage environment
The first thing that may come to mind when hearing about enterprise-level hosting is the cost. Despite offering enterprise infrastructure, NordLocker is incredibly affordable. That's probably because it offers a per-user pricing model.
7. Google Drive
Google Drive needs no introduction, particularly because it is one of the company's most popular products. This giant managed cloud service provider offers a free cloud storage plan of up to 15GB of storage capacity and a premium version with at least 2TB of storage for each user.

The managed cloud storage service comes with the following features and functionalities:
Integration with top applications and software such as DocuSign, Salesforce, Slack, and Adobe
24/7 online customer support (only for premium plans) and community forums
Access to Google's suite of tools and applications, such as Google Docs, Google Sheets, Google Slides, and Google Forms, among others
Centralized admin panel where you can manage your cloud storage environment in one place
Saves Google Meet recordings to drive and hosts up to 150 participants (premium version only)
2TB of storage per user is quite a lot. To give you some perspective, the free cloud storage from Google only comes with a 15GB storage capacity, which is enough to hold up to 3,750 songs or 15 hours of high-definition video. On the other hand, with 2TB of storage, you can host up to 423,750 songs. Not even professional DJs or radio stations need that amount of storage space.
8. Internxt
If privacy is your priority when choosing a cloud storage provider, Internxt has you covered. This host comes with a powerful infrastructure to maintain and manage your data privacy.

Here are a few of its features:
Zero-knowledge technology ensures that the web host provider has no access to your files or data
Does not store passwords or user data in transit or at rest
Compliance with GDPR standards
Accessible on all devices, including mobile and desktop
Allows instant and automatic file backup
While Internxt is perfect for storing different files and data, it is particularly good for photo storage. It allows you to create folders, set permissions, back up what matters most, and even sync your files with different devices.
9. Dropbox
Dropbox is one of the world's most popular cloud storage providers with more than 700 million registered users. This is the cloud storage service you need to store large files (you can upload files as large as 2TB).

It has plenty of other perks, including:
Allows you to transfer large files of up to 100GB to anyone
Compatible with top productivity tools and applications such as Asana, Zoom, Slack, Microsoft Office, and Google Workspace
Offers hosting plans for individuals, families, and businesses
Automatically backs up and restores your data with Dropbox Backup
Allows unlimited device access with its premium packages
Dropbox's free hosting plan is perfect if you want to try out this service and store less than 2GB of files. Anything more than that will require a premium subscription.
Best Managed Cloud Services for Databases and Computing
Now, let's venture into the world of public cloud service providers. Here, we're looking at the likes of Amazon Web Services (AWS), Microsoft Azure, and Google Cloud Platform (GCP). Public cloud providers offer scalable and cloud-managed services rather than managing dedicated servers or virtual machines. Businesses using this hosting type can focus on developing applications, not dealing with the underlying server infrastructure.
10. Amazon Web Services
Amazon Web Services has the largest cloud market share as of 2023, estimated at around 32%. Amazon boasts the most powerful cloud hosting infrastructure anywhere in the world, and it has many big clients, including Netflix, Facebook, LinkedIn, and Twitch. But we will focus on simple cloud computing and storage platforms for the average consumer, most likely a small business.


Here's what to expect from AWS:
Flexible payment options, including a pay-as-you-go pricing model to help cut costs and avoid overextending your budget
Airtight security powered by the AWS Nitro system to protect your files and data
World-class customer support that lets you focus on managing your business as they manage your hosting infrastructure
Advance planning to help you meet future traffic demands
Access to a wide pool of highly trained engineers and subject-matter experts
Contrary to popular belief, AWS isn't only for enterprise clients, and you don't have to be a Fortune 500 company to experience its power; AWS is accessible to beginners and startups, as well.
11. Microsoft Azure
Azure is yet another powerful managed cloud hosting provider. It ranks second in the list of cloud service providers by market share in 2023.

With Azure, you can:
Test and deploy mobile and web-based applications
Experience high availability and scalability thanks to its load-balancing technology
Analyze user data to make informed decisions
Access a plethora of free applications and tools to power your project
Enjoy pay-as-you-go pricing with no maintenance fees or upfront commitments
Azure also provides top-notch security, which is not surprising given that Microsoft invests up to $1 billion annually in cybersecurity and employs more than 3,500 security experts.
12. Google Cloud Platform
Thanks to its powerful cloud computing service and storage features, Google finds its way into this countdown again with its cloud platform. It is also third on the list of the world's most popular cloud service providers.


Regarding storage and computing, GCP offers the following:
Scalable virtual machines, perfect for running huge workloads
Managed Kubernetes service, ideal for container orchestration and management
Google app engine for deploying applications
Google Cloud SQL for managing popular databases such as MySQL and PostgreSQL
As with AWS and Azure, you don't have to be an enterprise client to access GCP's computing and storage infrastructure. Google Workspace, a part of Google Cloud, offers cloud services for individuals and businesses at a small fee.
What Are Managed Cloud Services?
A managed cloud service is a third-party provider that manages and maintains various aspects of a client's cloud infrastructure and services. This service helps relieve organizations of the operational burdens associated with setting up, configuring, securing, monitoring, and optimizing their cloud environments.

Managed cloud services vary depending on your needs. For example, you may need help managing the following aspects of your cloud hosting environment:
The hosting infrastructure, which includes provisioning, scaling, and maintenance of virtual machines, servers, storage, and networking components
Database setup, optimization, backups, patch management, and security
Security management, including threat detection and response, firewall management, vulnerability assessments, and compliance
Data backup and recovery
Server monitoring to track performance, resource usage, and costs
IoT management, including device management, data ingestion, analytics, and security
Machine learning to support artificial intelligence and workloads
One thing to note: Since the hosting provider takes care of server management, this type of hosting is typically more expensive than unmanaged cloud hosting.
Which Is the Best Cloud Management Platform?
Recent data places Amazon Web Services at the top of the list. The cloud-hosting giant has a 32% grip on the cloud market as of 2023. In the last calendar year alone, Amazon made more than $80 billion off of its cloud services division.

Azure, Google Cloud, and Alibaba Cloud are some of the other top cloud management platforms worldwide. It's worth noting, however, that certain providers are more popular in different regions. For example, Alibaba Cloud is the most popular in the Asia Pacific region, with a market share of 36%. If you want to learn more about cloud service market share, you'll find more details here.
What Are the Top Three Cloud Service Providers?
Regarding the three best cloud service providers, the race is pretty close. Using percentages to demonstrate the extent of market share, AWS takes gold (33%), Azure takes silver (23%), and Google Cloud gets the bronze (11%).

Outside the top three, you'll find Alibaba Cloud (4%), IBM Cloud (tied with Salesforce at 3%), and Oracle Cloud (tied with Tencent Cloud at 2%). After that, the market share dips dramatically. The cloud service market share distribution proves how influential the top three cloud providers are.
What Is Private Cloud Hosting?
Private cloud hosting is a type of cloud hosting service dedicated exclusively to a single organization or business. It's like the dedicated server version of cloud hosting.
All the computing resources, including servers, storage, and networking, belong exclusively to that particular organization. That gives the owner complete control of the entire cloud process.
Private cloud environments are best suited to organizations that require a lot of security and privacy. This includes hospitals that store patient information, banks that deal with personal financial data, and other highly regulated industries.
Reach Cloud Nine With the Best Managed Cloud Services
With the options we covered, you'll find a cloud hosting provider that can help propel you to greater heights up there in the cloud. And because the topic of cloud hosting is expansive and growing rapidly, we'll leave you with some useful resources to help you learn even more.
Head here if you're interested in the cheapest cloud hosting plans. And if you want to try out cloud hosting, but aren't ready to commit, you may be interested in these free trials. And finally, here's a detailed guide on managed private cloud hosting for further reading.
See Our Full Review of Kamatera
Whatever type of hosting plan you're looking for, Kamatera is a solid choice no matter the scale. Our reviewer Laura Bernheim recently took Kamatera for a spin, and rated the popular host a 4.9 in the Managed Hosting category out of a perfect score of 5.0. Here's what Laura had to say about Kamatera:
Offering an astounding 30-day free trial of its cloud computing and storage hosting plans, Kamatera is a great choice for developers who value performance and scalability. Beginning site owners may be a bit overwhelmed at first, but the web host's managed cloud services and always-there support team will help you through any issues.
Before signing up for Kamatera, it's a good idea to read through Laura's full review to learn about all the features Kamatera offers. You can also compare it to other web hosts to ensure you're getting the best deal possible:
If you decide Kamatera is the right choice, keep in mind that it takes just minutes to deploy your Kamatera server space. And at $4.00 per month, it's a bargain considering the many great features that come in any Kamatera plan.
Advertiser Disclosure
HostingAdvice.com is a free online resource that offers valuable content and comparison services to users. To keep this resource 100% free, we receive compensation from many of the offers listed on the site. Along with key review factors, this compensation may impact how and where products appear across the site (including, for example, the order in which they appear). HostingAdvice.com does not include the entire universe of available offers. Editorial opinions expressed on the site are strictly our own and are not provided, endorsed, or approved by advertisers.
Our Editorial Review Policy
Our site is committed to publishing independent, accurate content guided by strict editorial guidelines. Before articles and reviews are published on our site, they undergo a thorough review process performed by a team of independent editors and subject-matter experts to ensure the content's accuracy, timeliness, and impartiality. Our editorial team is separate and independent of our site's advertisers, and the opinions they express on our site are their own. To read more about our team members and their editorial backgrounds, please visit our site's About page.