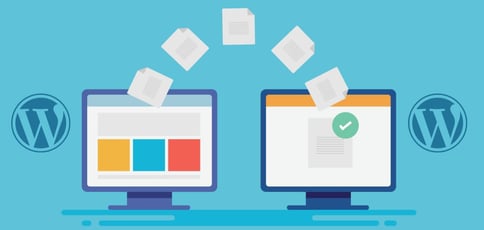 So, you've found yourself at a crossroads where your digital presence demands a change of scenery. I'm sure you have a good reason, as migrating a website is a tricky process that poses quite a few challenges. Hence, inexperienced web owners often approach the task reluctantly (and I'm speaking from experience here). Making significant changes to a WordPress website is hardly stress-free, particularly if it's your first time venturing into the choppy waters of website migration.
Fear not, as there's also some good news. This guide will help you chart the course toward a new horizon. The process is not that complicated, even if it is technical. If you have the inclination, here is a reliable guide on how to move a WordPress website in five straightforward steps.
Step 1: Choose a New WordPress Host
You can't migrate a site if you don't know where you're migrating it to, right? Finding a bigger and better digital home for your site means casting a wide net and researching different hosting providers. Ideally, you want a WordPress-friendly web host that offers room to grow, dependable performance, and responsive customer support. As great hosting is what we focus on here at HostingAdvice, you may want to give these companies serious consideration:
Recommended by WordPress.org since 2005
Automatic WordPress updates and initial install
FREE WordPress themes in the Bluehost Marketplace
24/7 support via live chat, phone, and email
Get exclusive discounts on WordPress plans
WORDPRESS
RATING 4.9 ★★★★★ Our Review
Bluehost: Our Expert's Review
Ryan Frankel (HostingAdvice.com): Bluehost's WordPress hosting packages are aimed at first-time site owners and personal bloggers. These services come at a premium compared to the standard Bluehost web hosting (basic shared hosting) plans, but the WordPress optimization and platform-specific resources are arguably worth the cost. Go to full review »
| Money Back Guarantee | Disk Space | Domain Name | Setup Time |
| --- | --- | --- | --- |
| 30 days | 50 GB SSD – 100 GB SSD | FREE (1 year) | 7 minutes |
As one of the select few hosting providers endorsed by the WordPress Core team, Bluehost is a great choice for hosting a WordPress website. When it comes to moving your data, you can leverage the company's free website migration service by installing and activating the Bluehost Site Migrator plugin (which applies to only one WP site).
Pro tip: Note that not all sites qualify, and it doesn't include email migration.
Once you've finalized your compatibility check (including aspects like your site's WordPress version, website, and database size), the plugin will create a secure copy of your site and begin the transfer to your new hosting account.
If you want to migrate email or multiple sites or don't qualify for free migration, you will need to use Bluehost's paid migration service, which provides a more customized experience. The entire process will start two to four business days after receiving the mandatory credentials to connect to the source account and is usually completed within 24 hours.
Once you transfer your site, you can review it on a temporary URL. With your approval, Bluehost will make final adjustments, and all you need to do is connect your domain to the new site.
Officially endorsed by WordPress.org
FREE migration plugin or automated installation
Pre-installed Git, 3 caching levels, and FREE CDN
FREE WP setup wizard, staging, and auto-updates
Fast, 24/7 support via custom chat system
WORDPRESS
RATING 4.9 ★★★★★ Our Review
SiteGround: Our Expert's Review
Alexandra Anderson (HostingAdvice.com): Want a hassle-free, WordPress-optimized hosting service. SiteGround has thought of everything you need to get your site up and running. Go to full review »
| Money Back Guarantee | Disk Space | Domain Name | Setup Time |
| --- | --- | --- | --- |
| 30 days | 10 GB SSD – 40 GB SSD | New or Transfer | 6 minutes |
SiteGround offers two ways to move a WordPress website. The first is through the SiteGround Migrator Plugin, which mostly automates the transfer. It creates a copy of the content on your live website and then pastes it into an empty site created by SiteGround.
The migration doesn't result in any downtime because these actions don't impact your live site. As a bonus, the plugin automatically handles any necessary URL updates to ensure your site functions as it should in its new home.
The provider creates a temporary URL for each transferred site that will be live for 48 hours to check the new site's appearance and functionality. If you're satisfied, you can switch the DNS settings of the new domain to point to your SiteGround account if it isn't already.
However, if you'd like to have experts manage everything and avoid the hassle, Professional Migration is also an option. You will need to provide access details, such as your control panel's URL or FTP host, along with login credentials. Depending on various factors, the website transfer may take up to five business days.
1-click WP install, PHP 7+, HTTP/2, and NGINX
All-in-one security protections from BitNinja
WordPress optimizations boost performance
No price markup for WordPress services
Daily backups and FREE SSL certificate
WORDPRESS
RATING 4.9 ★★★★★ Our Review
Hostinger: Our Expert's Review
Laura Bernheim (HostingAdvice.com): As much as we love WordPress, one of our biggest pet peeves is when hosting providers exploit the popularity of the world's most-used content management system by offering so-called WordPress hosting that, in reality, is exactly the same as the host's shared server plans. Fortunately, Hostinger's ultra-fast infrastructure and easy access to SSL certificates and backups sets up the company to outperform the vast majority of the violators of our admittedly made-up rule. Go to full review »
| Money Back Guarantee | Disk Space | Domain Name | Setup Time |
| --- | --- | --- | --- |
| 30 days | 50 GB SSD – 200 GB SSD | FREE (1 year) | 4 minutes |
While other providers typically limit the number of websites for free migrations to one, Hostinger is different. After you pick a suitable plan, you can migrate as many websites as the plan supports for free. The company's technical support team will take the lead once you provide some initial information to get the ball rolling. The result is arguably the smoothest WordPress site transfer experience.
It can take up to two business days to transfer your website, but it first needs to meet specific requirements to be eligible for free WordPress migration. These include being hosted on a different hosting provider, as well as being built with an open-source CMS, such as WordPress.org or Joomla, among others.
Also, keep in mind that if your site is built with a custom website builder (Wix, Shopify, Blogger, and the like), you won't be able to migrate it to Hostinger. As a workaround, you can recreate it with Hostinger's AI-powered Website Builder and then start the process.
Up to 12x faster WordPress hosting
FREE SSL certificate and SSD storage
Automatic WordPress plugin, theme, and core updates
Features a FREE drag-and-drop WP page editor
Premium themes and plugin subscriptions
WORDPRESS
RATING 4.9 ★★★★★ Our Review
InMotion: Our Expert's Review
PJ Fancher (HostingAdvice.com): InMotion Hosting, long known for affordable and high-performance shared hosting options, entered the WordPress space with a solid option built upon the company's reputation for great support and reliability. Build on an all-SSD infrastructure, InMotion's inherently quick speeds make the infrastructure a perfect fit for delivering rapid WordPress page loads. Go to full review »
| Money Back Guarantee | Disk Space | Domain Name | Setup Time |
| --- | --- | --- | --- |
| 90 days | 100 GB – Unlimited NVMe SSD | FREE (1 year) | 5 minutes |
Migrating a WordPress website with InMotion is simple. You can choose between automatic and manual migration, along with the Start from Scratch option to move your site to Platform i, the host's all-encompassing solution for WordPress hosting, site management, and collaboration.
Site migrations are free on WordPress hosting plans. It's worth noting that for larger sites (generally more than 3GB to 5GB in size), the automated tool may not be the best choice due to limits on the hosting plan or possible failure during the download process.
For that reason, InMotion suggests manual migration as a more reliable alternative, especially if you experience high levels of traffic and need a zero-downtime transfer. The process is clearly explained with multiple techniques presented, so you can accomplish the task with a WordPress plugin, file manager, or via several command line tools such as SSH, SCP, or sFTP.
You will need to migrate your email separately from your WordPress site, though. The company's customer service has an excellent standing in the hosting landscape, so you'll have expert assistance available any time you require it.
WordPress hosting for up to unlimited sites
FREE WordPress website migration
Fully managed hosting with DreamPress plan
NEW WordPress website builder tool
1 of 3 providers endorsed by WordPress.org
WORDPRESS
RATING 4.9 ★★★★★ Our Review
DreamHost: Our Expert's Review
Laura Bernheim (HostingAdvice.com): One of only three hosting providers recommended by the WordPress Core team, DreamHost has actively contributed to the WordPress community for more than a decade. The company's platform is optimized for the incredibly popular content management system, and plans include easy setup, automated updates and backups, unlimited bandwidth, and 24/7 specialized support. Go to full review »
| Money Back Guarantee | Disk Space | Domain Name | Setup Time |
| --- | --- | --- | --- |
| 97 days | unlimited | FREE (1 year) | 4 minutes |
DreamHost is another host that WordPress itself recommends, and it offers a quick and hassle-free automated migration through its free WP plugin. It does all the heavy lifting with no limitation on site size or the number of sites you want to move and can be used on any DreamHost account with an active hosting plan.
Most migrations take under an hour to complete, but if your site is larger than 2GB of data, the process could take longer. Once it's done, you will receive a notification email.
The plugin will work with almost any WordPress theme, plugin, and configuration, although it has certain restrictions. These include WP sites set up at WordPress.com, websites built using Wix, Weebly, Squarespace, or other site builders, as well as any WordPress site developed in local environments like ServerPress.
If some of these are a dealbreaker, you can also roll up your sleeves and do the work yourself. DreamHost provides a detailed, step-by-step guide on manual transfers, plus its knowledge base is one of the best in the business if you run into any problems.
Step 2: Decide Which Method to Use
As soon as you select a hosting provider, it's time to pick your mode of migration.
By now, it's clear that there are two prevailing methods. On one side, you have a plugin-powered automatic migration that promises ease and efficiency. On the other, there is manual migration, a hands-on endeavor that offers plenty of control and customization.
The optimal solution to moving a WordPress site depends on a few variables. Most notably, your site's size and complexity will be the primary concerns, as well as how comfortable you feel doing it by hand if automation isn't desired or feasible. Let's dive deeper into this decision and identify what works best for specific circumstances.
Use a Migration Plugin
In these situations, it's common to have some fear and/or anxiety when the site you built and nurtured is about to undergo an overhaul of sorts. A WordPress plugin provides confidence that data will be moved safely to a new server. The vast majority of these tools are designed to simplify the migration procedure, automating the transfer of website files, databases, and even settings.
The key advantage of automatic migration lies in its speed and convenience. It's ideal for those who wish to move their website swiftly without venturing too deep into the technical aspects. Additionally, the risk of human error is significantly reduced since the plugin does all the work.

Plugins aren't foolproof solutions, though. For example, more complex configurations and elements, such as a custom WordPress theme or script, may cause issues and require manual alterations. Then, there are potential compatibility issues with existing plugins that may not work seamlessly after migration. For a website with large media libraries or an extensive WordPress database, migration plugins might struggle due to the sheer volume at hand, ultimately causing incomplete migrations.
Move Your Site Manually
Manual migration is typically favored by individuals who desire autonomy and precision. It involves the most steps and requires some technical proficiency (patience too, if you ask me), but it's not terribly complicated. Many hosting providers have a sizable knowledge base and provide in-depth guides to navigate you through the process.
There are certain advantages to performing the move on your own. For starters, you have complete control over every aspect of the migration, which means you can ensure every element and customization is preserved and doesn't get lost during the transition. Methodically overseeing the operation guarantees seamless integration of each element into the new server. This is all the more important with complex websites, where some configuration to the wp configphp file may be necessary.

The drawback here is some (I dare not say higher) level of technical expertise is called for. You need to move your WordPress database and files, and not everyone is comfortable enough to tinker with an FTP client, cPanel, or PHPMyAdmin. Plus, it's a time-intensive endeavor. Orchestrating a DIY move means you have to be focused at all times, as a moment of inattention may result in errors, leading to data loss or diminished functionality.
Step 3: Backup Your Site
Just before you pull the plug on the preferred method, it's advisable to make a WordPress backup of your site. This pre-migration move ensures you have the option to revert your site to its former version if something goes awry. Think of the backup as your lifeline, a safety net that guarantees your website's continuity. In addition, you can use the backup to restore and access your site in the event you get locked out due to an error or cyberattack.
One beginner-friendly method is to employ a reputable backup plugin to create a comprehensive snapshot of your entire website. Here are a few that will do the trick. And some have migration functionalities, so if you're feeling adventurous, you can save some time and do both at the same time.
I also recommend storing backups of your website locally for an extra layer of protection against cyber threats. As alternative backup methods, you can use a hosting provider's tools, file manager, FTP, cPanel, or do it manually through your old host's control panel.
Step 4: Access Your New Site
After the move is complete, your next step is to ensure everything functions as intended. To do so, you first have to gain access.

It may seem odd, but that's where you are at this moment — your new domain is pointing to your old site, and before you reroute it, it's prudent to check on the situation with the new site.
Some hosting providers offer the option to establish a temporary domain solely for this purpose. An alternative approach is to make adjustments to your computer's host file, a plain text file that maps hostnames to IP addresses.
To redirect your domain to the new web host, you'll need the IP address associated with your new site. The resulting redirection will only occur on your local machine.
Step 5: Test and Double-Check
Prior to inviting visitors to your new digital home, it's time for testing and quality assurance. I like to view this stage as a grand opening event where you want every detail to sparkle and captivate. Begin by methodically inspecting each page, post, and link. Test your forms, buttons, and interactive elements to guarantee smooth functionality.
Moreover, verify that your images load promptly and the site's design is as pleasing as ever. If possible, seek feedback from friends and family to identify any hidden glitches. Once you're certain everything is in order, WordPress migration is complete, and your website is ready to flourish in its new virtual habitat.
How Long Does it Take to Migrate a WordPress Site?
When transferring a WordPress site, the amount of time it takes will depend on several factors. The size and complexity of the project will greatly affect the completion time, followed by various other details, including:
Speed of the old host server
Number of FTP connections allowed by the old server
Length of time allowed per connection
Number of site files to access
Configuration options
When you add potential problems with the code, there are too many things to take into account to provide a precise time frame. You also have to account for the migration method. While plugin-powered transfers can be done in as little as an hour, migration services performed by hosting providers can take days. If time is of the essence, it's best to contact the web host directly and get an estimate.
What Is the Easiest Way to Migrate a WordPress Site?
The consensus is that having the hosting provider complete a migration is the easiest course of action, more so for those who prefer a hands-off approach or are just getting to know the intricacies of a CMS. Some hosts offer this as a service that is charged on a per-site basis, while others do it for free.

The issue here is that not every provider offers the service. Hence, using a plugin to migrate a WordPress site is the most popular and easiest (not to mention cost-effective) option. It will automatically export your WordPress files and database and then import them to your new host. For the most part, all you have to do is follow the prompts and watch the magic unfold.
What Happens to My Domain Name When I Switch Web Hosts?
Your domain name is separate from your web hosting account. When you switch web hosts, you will need to update your domain name's DNS records to point to your new web host. The role of DNS is to communicate to your ISP where the site files are located and direct the connection to your site so it can properly load in a browser. This tweak can usually be done through your domain registrar's website.
Some web hosts don't handle domain transfers or update the domain's DNS records. It's important to be aware that, in these instances, it's the user's responsibility to manage all DNS updates and domain transfers.
How Do I Choose the Best WordPress Host?
You have no shortage of factors to consider when choosing a WordPress host. Naturally, you want to keep the price tag in mind, but generally speaking, key aspects of any good WordPress hosting provider are:
The speed of hosting options
Features included in the hosting plan
Uptime guarantee
Scalability
Responsive customer support
Also, consider your technical knowledge and the level of work required of you. For example, if you prefer to be less involved, a managed hosting plan may be a better fit. Finally, delve into user reviews (ideally from WordPress users with similar needs) and thoroughly compare web hosting plans to get the most accurate picture.
Seamless WordPress Migration Awaits
Migrating a site to a new host may seem like quite an ordeal, but it's not rocket science. Hosting services have made the job easier by creating plugins that automate much of the process, and you can always try the DIY approach.
From here on, the journey you take will be invariably shaped by the choice of web hosts as part of your broader migration needs. Follow best practices, have a backup of your website's data, and plan to complete the migration request well in advance of your previous hosting subscription's cancellation. That way, your site won't be in web limbo.
Advertiser Disclosure
HostingAdvice.com is a free online resource that offers valuable content and comparison services to users. To keep this resource 100% free, we receive compensation from many of the offers listed on the site. Along with key review factors, this compensation may impact how and where products appear across the site (including, for example, the order in which they appear). HostingAdvice.com does not include the entire universe of available offers. Editorial opinions expressed on the site are strictly our own and are not provided, endorsed, or approved by advertisers.
Our Editorial Review Policy
Our site is committed to publishing independent, accurate content guided by strict editorial guidelines. Before articles and reviews are published on our site, they undergo a thorough review process performed by a team of independent editors and subject-matter experts to ensure the content's accuracy, timeliness, and impartiality. Our editorial team is separate and independent of our site's advertisers, and the opinions they express on our site are their own. To read more about our team members and their editorial backgrounds, please visit our site's About page.