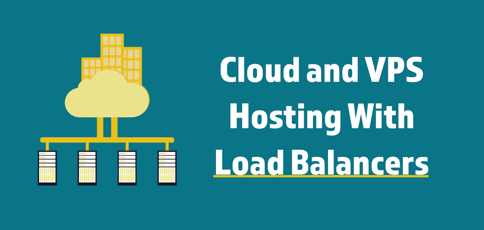 The host at your favorite restaurant plays an essential role in your dining experience on a busy Saturday night. They direct guests to the appropriate place and ensure everything flows smoothly and no single server gets overloaded with diners. A load balancer works similarly, directing requests to the right place to avoid too much traffic at the same time and place.
The best load balancer hosting plans are used for cloud network management in elastic cluster server frameworks and content delivery networks (CDNs). Like a host manages a seating arrangement, a load balancer inspects traffic requests and routes them to the hardware with the most processing resources available.
This guide rates the best VPS and cloud hosting plans with load-balancing software pre-installed. Most web hosting companies include load-balancing software for free on managed service platforms, with more advanced options available through a CDN service. If you need load-balancing solutions, read on.
Best VPS Hosting Plans With Load Balancers
Your hardware needs to operate at top speeds to run a load balancer at the front of all cloud server requests. As most load balancer hosting plans run under virtualization, you can configure them with scalable amounts of RAM or vCPUs.
The hosting plans listed below give cloud network administrators the most options for the configuration of multi-node cluster servers, edge server networks, and multiple datacenters.
Cloud VPS that's more flexible and affordable
Load balancer, firewall, and managed services
Premium Intel CPUs with 300% more power
Choose between monthly or hourly billing
Sign up today for a 30-day FREE trial
VPS
RATING 4.9 ★★★★★ Our Review
Kamatera: Our Expert's Review
Laura Bernheim (HostingAdvice.com): Backed by cutting-edge cloud computing technology, Kamatera adds instant and limitless scalability to the VPS hosting marketplace. Each cloud or virtual server is equipped with blazing-fast SSD storage and Intel Xeon Platinum CPUs. Go to full review »
| Setup Time | Disk Space | CPU | RAM |
| --- | --- | --- | --- |
| 5 minutes | 20 GB SSD – 4 TB SSD | 1 – 104 cores | 1 GB – 525 GB |
Kamatera has the most advanced autonomous load balancer plans based on VMs with various vCPUs and RAM. The load balancer allows administrators to add multicloud resources across multiple datacenters and service providers.
Kamatera also lets you choose which load-balancing algorithm to use. The default is "Round Robin" and operates via IP address. By signing up with Kamatera's VPS hosting plan, you get 30 days of free hosting to test the platform's load balancer.
$2/month with no hidden fees
Try it FREE via 30-day money-back guarantee
Full root access and API
10GB to 240GB SSD, Linux or Windows
No throttling or traffic restrictions, ever
VPS
RATING 4.9 ★★★★★ Our Review
1&1 IONOS: Our Expert's Review
Alexandra Anderson (HostingAdvice.com): For an all-star player in the game of web hosting flexibility, look no further than the low-cost options from 1&1 IONOS. The company's vServers are a powerful VPS option that includes dedicated resources and unlimited traffic. Go to full review »
| Setup Time | Disk Space | CPU | RAM |
| --- | --- | --- | --- |
| 6 minutes | 80 GB SSD – 240 GB SSD | 1 – 8 cores | 512 MB – 24 GB |
The IONOS load balancer is not a plan itself but can be installed on a VM to manage a multi-cluster server on hardware in a single datacenter.
The service operates on the basis of IP address assignments and applies the principles of SDN to IONOS hardware for high-traffic websites and mobile apps. The included options are for Round Robin and Least Connection algorithms.
Same price for Windows or Linux OS
FREE daily backups
SSD or cloud storage upgrades
Full root access
Pre-configured software firewall
VPS
RATING 4.6 ★★★★★ Our Review
AccuWebHosting: Our Expert's Review
Laura Bernheim (HostingAdvice.com): The signature service of AccuWebHosting, the company's VPS plans come in all shapes, sizes, and operating systems. Blending quality and affordability, AccuWebHosting plans start at less than $10 per month — roughly half of what you'll find elsewhere. Go to full review »
| Money Back Guarantee | Disk Space | Domain Name | Setup Time |
| --- | --- | --- | --- |
| 7 days | 40 GB – 125 GB | New or Transfer | 6 minutes |
AccuWebHosting's servers can be configured with load balancing as an add-on for its managed hosting. The AccuWebHosting load balancer plan distributes fault tolerance across multiple web servers in a single facility using the Round Robin algorithm for routing by default.
AccuWebHosting's VPS plans pack a punch with free add-ons like daily backups and a secure firewall. Plans with load balancing start at $30 monthly but will not support integration with multiple datacenters or cloud service providers.
4. Vultr
Vultr offers a load balancer add-on that's compatible with all its hosting products, although the servers must be located in the same region. The Vultr Load Balancer is designed for building multi-cluster servers that scale to web traffic with a specific capacity of nodes.

Vultr uses HAProxy for load balancing and will support up to 15,000 simultaneous connections per node. Plus, it's easy to add load balancers to your existing plan. Vutlr instantly activates your service after purchase.
5. OVHcloud
OVHcloud offers a load balancer add-on for its VPS hosting that will support multiple datacenters for high-availability applications with demanding uptime guarantees. The plan is currently priced at $22.99 per month.

The limit for VPS cluster servers in a network is 16 additional IP addresses. OVHcloud load balancing is built for high-traffic web mobile apps, such as heavy SaaS applications and eCommerce sites.
Best Cloud Hosting Plans With Load Balancers
If a virtual private server doesn't suit you, you may prefer the cloud instead. Cloud environments maximize scalability and performance and offer a convenient pay-as-you-go pricing model.
Managed cloud hosting platforms include advanced load-balancing engineering across multiple datacenters for uptime requirements, RAID backup support, and network performance optimization. Load balancers also integrate with anti-virus scanning and anti-DDoS protection.
The managed cloud hosting plans listed below include advanced load-balancing options as part of the datacenter architecture. Some of the plans include load-balancing options for multicloud hardware support. Check them out to see if one of these cloud hosts is a good fit for your next application.
Ultimate scalability with limitless customizations
Create and deploy servers in 60 seconds
Easily add load balancers and firewalls
Stellar 99.95% uptime guarantee
Sign up today for a 30-day FREE trial
CLOUD
RATING 4.9 ★★★★★ Our Review
Kamatera: Our Expert's Review
Laura Bernheim (HostingAdvice.com): Starting with more than 60 operating system images to choose from, Kamatera is a strong option for developers who know exactly what environment works best for their project. Customize your cloud server as needed and deploy in less than a minute. Go to full review »
| Setup Time | Disk Space | CPU | RAM |
| --- | --- | --- | --- |
| 5 minutes | 20 GB SSD – 4 TB SSD | 1 – 104 cores | 1 GB – 525 GB |
The Kamatera Load Balancer plan is an autonomous VM installed with the control panel for adding servers via IP address. The Kamatera service supports streaming data across datacenters by implementing the HTTP, HTTPS, TCP, and UDP protocols.
You can also use SSL offloading to process data at faster rates for microservice apps, storage, and machine learning.
Auto scaling with premium Intel processors
Customized operating systems (Linux or Windows)
Deploy Linux instances in less than 1 minute
SSD infrastrucutre optimized for your software
Transparent costs and by-the-minute billing
CLOUD
RATING 4.8 ★★★★★ Our Review
1&1 IONOS: Our Expert's Review
Alexandra Anderson (HostingAdvice.com): Boasting 99. 998% platform availability, the popular cloud hosting services from 1&1 IONOS deploy more than 2,500 virtual machines each week. Go to full review »
| Setup Time | Disk Space | CPU | RAM |
| --- | --- | --- | --- |
| 6 minutes | 80 GB SSD – 240 GB SSD | 1 – 24 cores | 512 MB.- 48 GB |
IONOS cloud load balancing allows admins to interlink VMs into a single multi-cluster server supporting multi-domain publishing. The IONOS Cloud Managed Network Load Balancer has configuration options for Round Robin, Least Connection, Source IP, or Random web traffic routing.
IONOS is a trusted provider in the hosting industry, so it's no surprise the company continues its tradition of quality with its load-balancing options.
Managed cloud hosting with 24/7/365 monitoring
Choose from 5 popular cloud providers
Auto-healing cloud servers with FREE backups
3-day free trial with no credit card required
Host unlimited apps with no contract lock-in
CLOUD
RATING 4.6 ★★★★★ Our Review
Cloudways: Our Expert's Review
Alexandra Anderson (HostingAdvice.com): If you can't beat the cloud provider behemoths, offer their infrastructure as a service. Cloudways gives customers their choice of cloud platform: AWS, Google, Linode, Digital Ocean, or Vultr. Go to full review »
| Setup Time | Disk Space | CPU | RAM |
| --- | --- | --- | --- |
| 8 minutes | 20 GB SSD – 4 TB SSD | 1 – 96 cores | 1 GB – 384 GB |
With Cloudways you can run your root server with Cloudflare CDN integration for anti-virus and anti-DDoS protection. This add-on comes with all hosting packages and includes load balancing for edge server networks.
The Cloudflare CDN has caching locations in more than 100 countries worldwide. The software routes your website's traffic to the closest local cache for enhanced page speeds, helping improve performance and search engine ranking.
Choose your OS or application configuration
Hourly or monthly billing for convenience
Optional upgrades for cPanel, backups, and more
Managed services, SSDs, and HDDs available
Block and object storage, plus enterprise firewall
CLOUD
RATING 4.6 ★★★★★ Our Review
Hostwinds: Our Expert's Review
Laura Bernheim (HostingAdvice.com): Hostwinds provides supremely scalable and customizable options for the savvy developer or site owner. Customers can customize their cloud environment or choose pre-built configurations optimized to run apps like WordPress, Drupal, and others. Go to full review »
| Setup Time | Disk Space | CPU | RAM |
| --- | --- | --- | --- |
| 6 minutes | 30 GB SSD – 750 GB SSD | 1 – 16 cores | 1 – 96 GB |
Hostwinds has a load balancer add-on for cloud hosting that includes continual health monitoring on your virtual machines. Its proxy protocol support enables multicloud hardware networking through dedicated IP addresses and HAProxy.
Hostwinds load balancing operates on VM configurations that can scale with your web traffic requirements, making it a smart choice for applications of any size. Pricing for the add-on starts at $10 per month.
HostingAdvice fans get 75% OFF
Cloudflare CDN, DDoS protection, and backups
Performance-boosting SSDs and cloud flexibility
Rock-solid reliability with 100% uptime guarantees
24/7 Heroic Support

®

via phone, chat, and email
CLOUD
RATING 4.1 ★★★★★ Our Review
Liquid Web: Our Expert's Review
Alexandra Anderson (HostingAdvice.com): Liquid Web balances managed services and hardware power with cloud flexibility — a brilliant solution in cloud hosting. The company's packages include instant provisioning, CloudFlare CDN, built-in backups, and, of course, the reliability of the Heroic Support team. Go to full review »
| Setup Time | Disk Space | CPU | RAM |
| --- | --- | --- | --- |
| 7 minutes | 40 GB SSD – 200 GB SSD | 2 – 8 cores | 2 GB – 16 GB |
Liquid Web's cloud-based dedicated servers come with load balancers and an option to deploy as a VMware private cloud. These configurations will support the world's most demanding SaaS and eCommerce applications.
Free Cloudflare CDN integration is another standard option on all Liquid Web dedicated server plans for even faster speeds. With Liquid Web, your site can handle heavy traffic without slowdowns or uptime disruptions.
11. Hetzner
Hetzner offers a load balancer add-on that is designed to work with its Cloud Networks platform. The service includes server health checks, high availability, proxy protocol support, and TLS termination for resource conservation.

Hetzner's load balancing services run with Round Robin and Least connections as the main algorithms for configuration options. If you choose Hetzner, you can expect supreme performance and high availability.
What Is Load Balancing?
Load balancing involves monitoring network traffic requests to datacenter hardware to optimize performance or decrease the risk of crashes by overloading servers.
In our previous analogy, we compared a restaurant host to a load balancer. Each plays a role in directing traffic to an available resource (whether it be diners to a table or packets to a cloud server).
A load balancer routes network traffic requests to the hardware units with the highest available processing capacity. Distribution of traffic requests allows multi-cluster nodes to function. The load balancer also supports hardware across multiple datacenter locations.

Benefits of Load Balancing:
Elastic Automation: Multicloud Network Hardware
Web Traffic Monitoring: Anti-Virus & Anti-DDoS Protection
Web Server Hardware: Performance Optimization
HTTP Caching: Including TLS Certificate Acceleration
Scheduling Algorithms: Priority Queues & Firewalls
Most web hosting users can rely on load balancing provided by their web host with the purchase of a plan. However, you can also use multicloud networking from different vendors with load balancing to guarantee uptime.
Which Load Balancing Algorithm Is Best?
Hosting providers use algorithmic routing with machine learning to apply load balancing in the most advanced systems. Security companies use massive data sets from datacenter monitoring to train systems. These systems then detect bad actors and malicious requests.
This method is beneficial in anti-virus and anti-DDoS systems. AI-based systems are best for optimizing load-balancing algorithms for security.

Load Balancing for Web/Mobile Applications:
Traditional approaches to load balancing have involved Round Robin scheduling, where requests are routed to web server hardware like a card dealer.
Static distribution algorithms calculate the time each request will take to complete on the hardware or route to the optimal web server based on the least connections.
Service mesh systems include monitoring of the available RAM, CPU, and bandwidth resources of a web server with the load balancer routing to servers with the most idle capacity. Traefik and Prometheus use service mesh functionality for better metrics.
Other algorithms used in load balancing implement randomization with resource usage assessment calculated in real time. The hardware used for load balancers needs to be as fast as possible with backup options if the resources of the load balancer become overloaded by traffic requests. A crash of a load balancer system defeats the purpose of creating fault tolerance in multicloud networks.
Which Load Balancer Is Best for Microservices?
With microservice applications, using DNS routing with load balancing allows for more complex network configurations for software development requirements. The "best" load balancer really depends on what software you are using for multicloud orchestration and the web server framework.
Generally speaking, some of the best load balancer solutions on the market today are:
AWS Elastic Load Balancing: Used with EC2 & container systems.
Azure Traffic Manager: Recommended for multi-datacenter support.
HAProxy: Advanced proxy options for TCP & HTTP-based applications.
Traefik: An open-source Kubernetes-native API management solution.
NGINX: Reverse-proxy load balancing on web server requests.
Varnish: Cache web pages, files, and downloads with reverse proxy.
Reverse proxy caching improves the functioning of CMS websites and other scripts by limiting the need to repeat common requests on a web server. HAProxy is the most robust solution for the SDN requirements of microservice development.
For best practices, we recommend using edge server networks with NGINX, webpage caching with Varnish, and Traefik for Kubernetes node servers. But you should know that Varnish Cache requires OpenTSDB as a dependency for web server monitoring.
How Do I Choose the Right Hosting Plan With Load Balancers?
If you need an application load balancer for a website or mobile application with high traffic that scales past what a single server will support, Google Cloud, Amazon Web Services (AWS), and Cloudflare load balancing are the best public cloud options for enterprise organizations.
You can use Microsoft Azure for hybrid cloud requirements to access OpenAI and other machine learning platforms. All of these hyper-scale service providers will include a hardware load balancer in the datacenter with the option to add a gateway load balancer for cluster servers.

Server load balancing will depend on the total level of application traffic with the goals of high availability and total uptime. A load balancing solution on a multi-cluster server network or virtual private cloud will need to match the global load of web traffic requests with an application delivery controller for the backend server requirements. You can do this with VM or VPS configuration.

Cloud load balancing will outperform a dedicated server, even with reverse proxy caching enabled, and is usually not required for WordPress website hosting with CDN integration.
A software load balancer is best suited to support multiple servers in cloud computing driven by virtualization. The elasticity allows your hardware to scale up and down automatically with traffic, meaning your application will perform well no matter how many visitors you have.
Building Individualized Load Balancing Solutions
With the range of load-balancing solutions on the market, customers have plenty of options for WordPress sites and enterprise applications alike.
Google Cloud, Amazon Web Services (AWS), and Azure Load Balancer solutions are world-class and are used for some of the most demanding enterprise workloads in the industry. If you need to load balance high levels of web traffic in a multi-cluster server network, the best load balancing software may be an independent solution like HAProxy or LoadMaster Load Balancer.
For alternatives to public cloud prices, Kamatera, IONOS, and InterServer are the top options. They deliver reliable load balancer services for running software with high availability on multi-cluster servers in their datacenters.
No matter your application requirements, one of the above providers has a load-balancing solution that can meet your needs.
See Our Full Review of Kamatera
Whatever type of hosting plan you're looking for, Kamatera is a solid choice no matter the scale. Our reviewer Laura Bernheim recently took Kamatera for a spin, and rated the popular host a 4.9 in the VPS Hosting category out of a perfect score of 5.0. Here's what Laura had to say about Kamatera:
Offering an astounding 30-day free trial of its cloud computing and storage hosting plans, Kamatera is a great choice for developers who value performance and scalability. Beginning site owners may be a bit overwhelmed at first, but the web host's managed cloud services and always-there support team will help you through any issues.
Before signing up for Kamatera, it's a good idea to read through Laura's full review to learn about all the features Kamatera offers. You can also compare it to other web hosts to ensure you're getting the best deal possible:
If you decide Kamatera is the right choice, keep in mind that it takes just minutes to deploy your Kamatera server space. And at $4.00 per month, it's a bargain considering the many great features that come in any Kamatera plan.
Advertiser Disclosure
HostingAdvice.com is a free online resource that offers valuable content and comparison services to users. To keep this resource 100% free, we receive compensation from many of the offers listed on the site. Along with key review factors, this compensation may impact how and where products appear across the site (including, for example, the order in which they appear). HostingAdvice.com does not include the entire universe of available offers. Editorial opinions expressed on the site are strictly our own and are not provided, endorsed, or approved by advertisers.
Our Editorial Review Policy
Our site is committed to publishing independent, accurate content guided by strict editorial guidelines. Before articles and reviews are published on our site, they undergo a thorough review process performed by a team of independent editors and subject-matter experts to ensure the content's accuracy, timeliness, and impartiality. Our editorial team is separate and independent of our site's advertisers, and the opinions they express on our site are their own. To read more about our team members and their editorial backgrounds, please visit our site's About page.