Bear with us as we explain managed hosting through real estate.
If shared hosting is living in an apartment building (with multiple tenants sharing the same building), VPS hosting would equate to owning a condo — while you may share some resources with neighbors, you are ultimately responsible for maintaining your property.
Cloud hosting is staying at a hotel, an Airbnb, or maybe couch surfing — you don't have a permanent home but always have a place to stay. Dedicated hosting would be like owning a house; no one else but you has access.
In this analogy, managed hosting is like a property manager or a handyman. They take care of some of the work so you can relax or focus on making a living; managed hosting companies keep everything running while you decide how to decorate.
Definition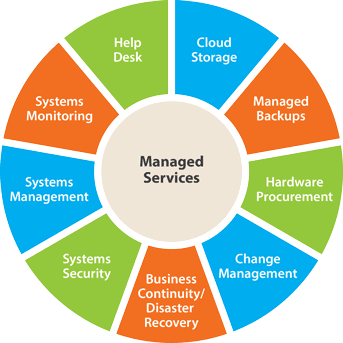 Simply, managed hosting services minimize the amount of hands-on IT work that needs to be performed to keep a server running at peak performance. The hosting company will handle the hardware while you focus on your software.
Don't have the knowledge, staff, or time to manage a web server? Sign up for managed web hosting.
Managed hosting used to be somewhat synonymous with dedicated hosting. Larger companies that can afford dedicated hosting decide if they want their IT teams to handle the web servers, or focus on in-house hardware and leave the servers to the hosting company.
Intro to Managed Hosting
The specific services included with managed hosting can vary wildly among hosting companies. Some companies offer managed hosting as an add-on to their existing cloud, VPS, or dedicated packages, while others include managed services in each rate or even make their system administration teams available at hourly rates.
Types of Managed Hosting
The differences in managed service packages boil down to what you want the hosting provider to administer: infrastructure or operations?
Semi-managed hosting is great for people or businesses who want to use a hosting company's support and infrastructure but feel comfortable managing their own servers.
Fully-managed hosting is best for those with limited technical knowledge. Fully-managed hosting allows people or companies to focus on growing their business.
When your website family is growing too large for your cramped apartment, it's time to move out of the shared hosting complex and into VPS, cloud, or dedicated hosting. Here's where managed hosting shines.
Buyer Beware: "Managed" Shared Hosting
Some hosts offer managed shared hosting, but beware: technically, shared hosting is inherently managed. Don't let a company charge extra for the same cPanel access, 24/7 support, or 1-click WordPress installations that you can find included in most other shared hosting packages.
Our Favorite Managed Hosts
Whether you're looking for managed VPS or managed dedicated hosting, InMotion Hosting, iPage, and Media Temple all go above and beyond with their managed services and are sure to meet your needs. We looked at all the major managed hosting providers and evaluated each company on performance, levels of service, and cost.
Managed VPS Hosting (3)
VPS hosting gives you more control to customize your server options — but not total control. In this case, managed hosting is like a condo owners association. You can technically throw a huge party, but eventually your neighbors are going to complain. Managed VPS hosting makes sure all the neighbors are getting along and the community is monitored.
With the close monitoring, however, managed cloud and VPS hosting providers can quickly alert you and provide recommendations on the best way to scale — in many cases taking care of the upgrades for you. Alternatively, the host will be able to inform you if your property is ready to jump up to a dedicated server. Here are our top choices for managed VPS hosting:
InMotion Hosting — our favorite overall cloud, VPS, and dedicated host — bill themselves as "your personal support team" and they offer a variety of custom server solutions. Meanwhile, iPage is our pick for those just starting to dip a toe into managed hosting; in addition to the technical support, iPage also offers design and marketing services that help customers reach their full potential online. Price was the only knock on Media Temple, which offers a variety of excellent, immediately scalable packages.
Managed Dedicated Hosting (3)
Managed dedicated hosting will typically offer the most services, while managed cloud and VPS services are more likely to focus on the infrastructure setup and maintenance.
In your house of dedicated hosting, managed services are like hiring a landscaping company or handyman. You're still most likely responsible for hanging pictures on the wall, but you can hire as many people as you want to paint, clean, and cook. Here are our top three picks for managed dedicated hosting:
For power users willing to pay top-dollar for top-notch service, Media Temple has you covered with white-glove, fully-managed service that will give you total peace of mind with an on-boarding consultation and three on-demand services per month. InMotion Hosting provides a great bargain and guarantees to replace any faulty hardware within two hours of notification. We like iPage for their instant deployment, troubleshooting assistance, and custom configurations.
Kick Back, Relax, and Let Your Hosting Provider Take Care of the Rest
To keep the analogy flowing, think of managed hosting as a vacation — relax, do what you enjoy, and let others take care of the nitty-gritty technical details. With managed hosting, you can focus on your business or design while your host installs updates and optimizes performance.
As you prepare to depart for your managed hosting get-away, don't forget our favorite host destinations: iPage for its accessible and comprehensive offerings, InMotion Hosting for managed hosting tailored to your needs, and Media Temple for its top-notch, white-glove service.