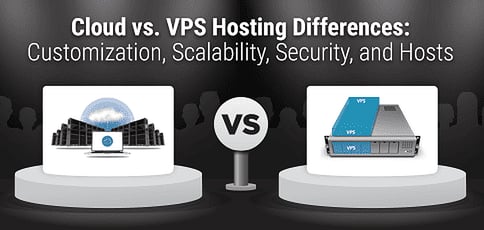 The differences between cloud hosting vs. VPS hosting are subtle — but understanding them can make a major difference in how you manage and interact with your site.
As you begin the adventure of creating your own website, you're faced with a seemingly never-ending maze of choices, with each one making a difference in the performance and success of your site. Knowing this, it is easy to dwell on each crossroad, obsessing over which route to pursue and why.
The choice between cloud and virtual private server (VPS) hosting, for example, is no different. As you read this article you will learn the advantages and features of these plans as well as any drawbacks, and you will be able to apply these to your own situation.
10 Best Cloud & VPS Hosting Providers
Before we dive into the nitty-gritty technical details, lets take a broad overview at the best of both worlds. Our hosting recommendations below will help you choose a VPS or a cloud hosting solution. We highlight features, such as reliability, security, support, and affordability, that you can find in each plan to help you determine which one fits your particular requirements.
Top 3 Cloud Hosts
The common pricing model in cloud hosting is to pay as you go without large upfront costs. Be wary of any plan or hosting company that seems to buck this trend. Inquire about the security of the datacenters that house the servers. One study found that one third of data breaches involved some compromise of physical security. The decentralized nature of cloud hosting makes data security more complicated. Be sure that the network you will be using is compliant with regulations such as PCI DSS and HIPAA. Look for third-party audits to confirm this.
You also need to be protected against data loss due to errors or equipment failure. Scrutinize the backup and restore policies of any cloud hosting plan that you are considering. Will the hosting provider recover accidentally deleted files? Make sure you know before it happens. Check out our experts' top-recommended cloud server plans below.
Managed cloud hosting with 24/7/365 monitoring
Choose from 5 popular cloud providers
Auto-healing cloud servers with FREE backups
1-click server cloning and easy management
Host unlimited apps with no contract lock-in
CLOUD
RATING 4.8 ★★★★★ Our Review
Cloudways: Our Expert's Review
Alexandra Anderson (HostingAdvice.com): If you can't beat the cloud provider behemoths, offer their infrastructure as a service. Cloudways gives customers their choice of cloud platform: AWS, Google, Linode, Digital Ocean, or Vultr. Go to full review »
| Money Back Guarantee | Disk Space | Domain Name | Setup Time |
| --- | --- | --- | --- |
| 3-Day FREE Trial | 1 GB SSD - 192 GB SSD | N/A | 8 minutes |
Choose your OS or application configuration
Hourly or monthly billing for convenience
Optional upgrades for cPanel, backups, and more
Managed services, SSDs, and HDDs available
Block and object storage, plus enterprise firewall
CLOUD
RATING 4.7 ★★★★★ Our Review
Hostwinds: Our Expert's Review
Laura Bernheim (HostingAdvice.com): Hostwinds provides supremely scalable and customizable options for the savvy developer or site owner. Customers can customize their cloud environment or choose pre-built configurations optimized to run apps like WordPress, Drupal, and others. Go to full review »
| Money Back Guarantee | Disk Space | Domain Name | Setup Time |
| --- | --- | --- | --- |
| N/A | 30 GB - 750 GB SSD | New or Transfer | 6 minutes |
User-friendly hosting powered by Google Cloud
Isolated resources and integrated CloudFlare
Built on CloudLinux with LVE containers
Automated, daily backups and integrated caching
Instant setup with intuitive custom control panel
CLOUD
RATING 4.6 ★★★★★ Our Review
Hostinger: Our Expert's Review
Laura Bernheim (HostingAdvice.com): Hostinger offers something for everyone. From two cloud hosting plans that leverage the company's global datacenter presence to a premium service powered by Google Cloud Platform, you're sure to find what you need…. Go to full review »
| Money Back Guarantee | Disk Space | Domain Name | Setup Time |
| --- | --- | --- | --- |
| 30 days | 30 GB to 200 GB SSD | New or Transfer | 6 minutes |
Top 3 VPS Hosts
A top consideration in choosing a VPS plan is whether you want the service to be managed or unmanaged. Unmanaged plans are less expensive, but they put the burden of server management on your shoulders. With a managed plan, experts take care of many security and performance concerns. In addition, when you choose the memory, CPU power, and hard drive capacity of your virtual machine, also inquire about the quality and specifics of the physical host it will run on to be sure that the physical host has the power to meet the demands of your virtual machine. Finally, check on the backup plan and redundancy for recovery from any disasters or malfunctions.
Look for other features that are essential to operating a website, including email allowances and bandwidth quotas. You may also need SSL if you are running an eCommerce operation, and if you run several websites, you may need to deploy additional IPs. Make sure these features are available if you need them.
Turbo server & cache options for faster page loads
Well-built plans starting with 4GB RAM
FREE CDN plus auto-installs with Softaculous
Multilingual support and up to unlimited databases
Enhanced security with and daily kernel updates
VPS
RATING 4.9 ★★★★★ Our Review
A2 Hosting: Our Expert's Review
Alexandra Anderson (HostingAdvice.com): While A2 Hosting's turbocharged shared hosting platform gives site owners ample room to grow, the company's tech prowess is on full display with its portfolio of VPS options. Ranging from unmanaged, bare-metal environments to stress-free, fully managed space, A2 Hosting is sure to have the perfect option for your expanding online presence. Go to full review »
| Setup Time | Disk Space | CPU | RAM |
| --- | --- | --- | --- |
| 7 minutes | 150 GB SSD - 450 GB SSD | 1 - 8 Cores | 1 GB - 32 GB |
$0.01 for the first month using code HOSTINGADV
Then $6 monthly with no contracts, no changes
Latest of PHP, MySQL, Perl, Python, and Ruby
7 operating system options for Linux or Windows
Full root access and choice of datacenter
VPS
RATING 4.8 ★★★★★ Our Review
InterServer: Our Expert's Review
Laura Bernheim (HostingAdvice.com): InterServer's on-site datacenter and hands-on involvement with configuring and provisioning virtual private servers give customers a level of flexibility not seen with many other hosting providers. InterServer rations VPS and cloud resources through slices. Go to full review »
| Setup Time | Disk Space | CPU | RAM |
| --- | --- | --- | --- |
| 6 minutes | 30 GB SSD - 480 GB SSD | 1 - 16 CPUs | 2 - 32 RAM |
HostingAdvice readers get 73% off the first term
FREE site migrations and 2 hours of Launch Assist
2 - 3 dedicated IP address options
FREE cPanel/WHM licenses included
Highly available servers with real-time redundancy
VPS
RATING 4.8 ★★★★★ Our Review
InMotion: Our Expert's Review
PJ Fancher (HostingAdvice.com): Boasting market-leading VPS hardware, slick management software, and free SSD drives and backups, InMotion Hosting competes to win when it comes to managed VPS hosting packages. The host initiates its VPS customer relationship with free website migrations and up to two hours of launch assistance from an experienced SysAdmin. Go to full review »
| Setup Time | Disk Space | CPU | RAM |
| --- | --- | --- | --- |
| 6 minutes | 45 GB SSD - 300 GB SSD | 2 - 8 cores | 4 GB - 16 GB |
Best "Cheap" Cloud VPS Hosting
Many inexpensive plans provide good service at a great (low) price. However, there is also potential that the low price comes at the expense of important features and services. Check the reliability and track record of the provider: Will it still be here in eight months? A hosting plan could be cheap because it is unmanaged, with no proactive monitoring or support for your server. Carefully examine the uptime, backup, and support options to be sure the company isn't skimping on essentials to give you the low price.
If the plan looks good, check the experience and responsiveness of the support staff. The server could be cheap because the provider doesn't hire enough support staff or pay well enough to attract top talent. Finally, check to be sure the plan is truly cloud or VPS hosting and not shared hosting disguised by marketing hype. The attributes we have described above should help you detect any impostors. The host below consistently delivers value to hosting customers, and its cloud VPS plans are no exception.
Ultimate scalability with limitless customizations
Create and deploy servers in 60 seconds
Easily add load balancers and firewalls
Stellar 99.95% uptime guarantee
Sign up today for a 30-day FREE trial
CLOUD
RATING 4.6 ★★★★★ Our Review
Kamatera: Our Expert's Review
Laura Bernheim (HostingAdvice.com): Starting with more than 60 operating system images to choose from, Kamatera is a strong option for developers who know exactly what environment works best for their project. Customize your cloud server as needed and deploy in less than a minute. Go to full review »
| Setup Time | Disk Space | CPU | RAM |
| --- | --- | --- | --- |
| 5 minutes | 20 GB - 4 TB SSD | 1 - 104 vCPU | 1,024 MB - 131,072 MB |
Best "Managed" Cloud VPS Hosting
You should choose managed hosting if you do not have the technical skills or the time to administer a server. When comparing plans, be sure that you are comparing equal features. Are services offered in a complete bundle, or piecemeal like off a menu? Bundles may include services you will never need, while à la carte plans may omit key features you can't live without. Make a list of what tasks are managed and be sure that everything you need is on it.
Once you have the task list straight, look into the availability and response time of support, as well as the average resolution time for trouble tickets. If you eventually find that the support does not meet your needs, are there termination penalties and can you take your personalized apps with you when you go? Check now so that there are no surprises later. For a leading managed server host, click the links below.
High-speed hosting that's faster than AWS, Rackspace, and Digital Ocean
FREE backups, CDN, and DDoS protection
Up to 16 processors with all-SSD storage
Choice between cPanel, Plesk, or InterWorx
Real-time monitoring and 100% uptime guarantee
VPS
RATING 4.8 ★★★★★ Our Review
Liquid Web: Our Expert's Review
Alexandra Anderson (HostingAdvice.com): It's no secret by now that Liquid Web is known for best-in-class technology and reliability that exceeds expectations. The company's cloud VPS environments embody that reputation to its fullest — including managed WordPress and WooCommerce products. Go to full review »
| Setup Time | Disk Space | CPU | RAM |
| --- | --- | --- | --- |
| 7 minutes | 40 GB SSD - 200 GB SSD | 2 - 8 vCPU | 2 GB - 16 GB |
Best "Linux" Cloud VPS Hosting
Since Linux is a free OS, most Linux hosting plans feature a lower cost. Many programs are also free. WordPress, Joomla, and other open-source programs were developed using Linux and are highly compatible with this operating system. Perl scripting is only available on Linux. Linux systems are renowned for their stability and get a lot of scrutiny for security from the open-source community.
On the minus side, Linux is much more geeky to administer. The GUI is not nearly as friendly as that of Windows and much administration is done via the command line. Nevertheless, pairing the popular operating system with a performant server from a reputable host is your ticket to success.
Choice of Debian, Ubuntu, Fedora, and CentOS
Cloud VPS hosting with hourly or monthly billing
Impressive 99.9999% uptime guarantee
Real-time monitoring and instant scalability
Easy server administration via custom control portal
LINUX VPS
RATING 4.9 ★★★★★ Our Review
Hostwinds: Our Expert's Review
Laura Bernheim (HostingAdvice.com): As a VPS hosting provider, Hostwinds gives site owners tons of advanced options without overwhelming them. Custom server images include configurations for several Linux operating systems, including Debian, CentOS, Ubuntu, and Fedora. Go to full review »
| Money Back Guarantee | Disk Space | Domain Name | Setup Time |
| --- | --- | --- | --- |
| N/A | 30 GB - 750 GB SSD | New or Transfer | 6 minutes |
Best "Windows" Cloud VPS Hosting
Windows servers feature an easy-to-use interface using remote desktop access. You will need Windows hosting if you use Microsoft technologies such as ASP, ASP.NET, FrontPage, or MSSQL. It is easier to manage multiple websites using Windows. However, since Windows is a proprietary system with licensing fees, the hosting plans tend to be more expensive. Windows virtual machines are also known to place heavier demand on the physical host system.
Cloud-powered SSD VPS with Intel Xeon vCPUs
Run any Linux or Windows operating system edition
Superb 99.95% uptime rate and 24/7 support
Up to unlimited Plesk licenses available
30-day FREE trial with no hidden fees
WINDOWS VPS
RATING 4.8 ★★★★★ Our Review
Kamatera: Our Expert's Review
Laura Bernheim (HostingAdvice.com): Featuring tons of scalability and operating system choices, Kamatera represents an affordable VPS hosting provider for Windows users. The web host's global presence and optional managed services ensure your site is performing optimally. Go to full review »
| Setup Time | Disk Space | CPU | RAM |
| --- | --- | --- | --- |
| 5 minutes | 20 GB - 4 TB SSD | 1 - 104 vCPU | 1,024 MB - 131,072 MB |
Overview: What is "Cloud / VPS" Hosting?
VPS hosting is a partition of a dedicated server machine. It acts like an autonomous server, but in reality, it's actually a self-contained folder on a powerful physical host system that also hosts other virtual servers for other clients. Although you share space on the physical host, your virtual server is independent of the others.

A VPS can be rebooted without affecting the other VPSes on that machine. You have a server operating system (OS) with root access, and you can install the software as you would if you had a dedicated hosting plan with your own server. A portion of the physical host's CPU and memory are dedicated to your VPS, but you also share additional resources with the other virtual servers.
Cloud hosting refers to a potentially unlimited number of machines that are connected in a network and act as one: They comprise a cloud. The virtual machines all use the same data stored on separate networked servers, also connected in a network that acts as one data storage center. You get an entire infrastructure of connected servers and data storage.
1. Customization
Customization with VPS hosting is very similar to that of a dedicated server. You have full root access with complete control over the OS as well as the website and all software. You can customize and configure as desired as if you had a separate server. Each physical host system can run only one operating system, so your choice of OS may be limited if the hosting company only runs one type of virtual hosting machine. Linux systems are generally more common than Windows systems for this type of hosting.
Customization with cloud hosting expands to include the possibility to tweak network architecture, firewalls, load balancing, and IP addresses. However, the need to distribute functioning across many servers may leave less control over some hosting settings. Both Windows and Linux clouds are readily available, so you will get your choice of OS. Because a cloud environment is more complex, it may require more technical expertise to configure, especially to gain the full advantages of the cloud network.
2. Scalability
VPS hosting has a limit to scaling depending on the physical host machine. You have access to some extra memory and CPU power above and beyond the amount dedicated to your virtual machine, but the physical host has a fixed amount that it can deliver. If you need more, you will have to get a new plan and may experience downtime while you migrate to a new solution.
Cloud hosting is much more scalable, with the ability to add capacity in real-time. Data storage is essentially unlimited. An entire network of servers and data storage servers is ready to be tapped when your website traffic surges. The seamless availability of almost endless processing power is the biggest advantage of cloud hosting plans.
3. Performance
VPS hosting assures a fixed level of performance because a guaranteed level of system resources is dedicated to your virtual server. However, high demand by your server or another virtual server on the same physical host may impact performance if you both need the extra resources at the same time, or if your server needs more than the physical host can provide.
A VPS is also potentially a single point of failure because if the physical host server fails, all VPSes on that machine fail. VPS hosting can be adapted to a cloud network and some providers offer plans that include failover to alternate servers.
Cloud hosting assures high availability and uptime because of the multiple servers in a redundant system. If a server fails, its files and functional responsibilities are instantly migrated to another server with no downtime. Memory capacity and CPU power also expand on-demand to meet your needs or compensate for those of another customer without impacting other users in the network. It is ideal for sites that may experience wide fluctuations in traffic volume.
4. Security
The security of VPS hosting is almost on par with that of a dedicated physical server. The VPS is independent of any other VPSes on the same physical host, as if it were a separate machine, but poor security measures taken by the owner of one VPS could affect others on the same physical server. However, this possibility is much less likely than with shared hosting. The centralized location of the physical host offers added security to those operations with critical data whose location must be known and restricted to comply with data security regulations.
The security of cloud hosting is also quite high. Your server is completely separated from other clients, as with a VPS. However, the web-based nature of the infrastructure might make it more vulnerable to attacks since it is physically distributed and thus harder to secure. In addition, since the data is housed in many locations, it may not be possible to comply with some regulations on data security.
5. Cost
VPS hosting offers savings over a dedicated physical server and is usually less expensive than a cloud server. The guaranteed server resources and limited scalability result in a predictable monthly cost. The level of cost will depend, in part, on the management and support plans that go with the hosting.
Cloud hosting costs more than a VPS because you are paying for a lot of hardware, complex networking, and the resulting uptime guarantee. With these plans, you pay for what you use, so costs could be unpredictable due to unknown traffic spikes. Think of it as you would your electric bill. Sure, there is plenty of power available for you to use when you need it, but your bill goes up at the end of the month.
Is VPS or Cloud Hosting for You?
By now we have given you enough tips to navigate the labyrinthine trail of hosting choices. Armed with this knowledge, at every step, you can ask the right questions and confidently take the correct turn toward your goals.
How much hosting firepower do you require? And how much are you willing to spend?
Generally speaking, VPS hosting represents a more expensive but more powerful route for steadily growing businesses. Cloud hosting presents a more affordable option with widely varying degrees of scalability for the more tentative site owner who isn't sure how many resources they'll need in the long run.
Advertiser Disclosure
HostingAdvice.com is a free online resource that offers valuable content and comparison services to users. To keep this resource 100% free, we receive compensation from many of the offers listed on the site. Along with key review factors, this compensation may impact how and where products appear across the site (including, for example, the order in which they appear). HostingAdvice.com does not include the entire universe of available offers. Editorial opinions expressed on the site are strictly our own and are not provided, endorsed, or approved by advertisers.
Our Editorial Review Policy
Our site is committed to publishing independent, accurate content guided by strict editorial guidelines. Before articles and reviews are published on our site, they undergo a thorough review process performed by a team of independent editors and subject-matter experts to ensure the content's accuracy, timeliness, and impartiality. Our editorial team is separate and independent of our site's advertisers, and the opinions they express on our site are their own. To read more about our team members and their editorial backgrounds, please visit our site's About page.