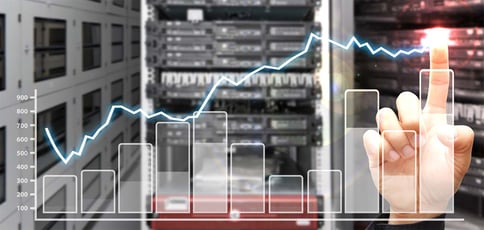 The best scalable hosting plans resemble the always adorable and instantly recognizable pufferfish. At the first sign of danger, the innocent-looking creatures fill their rather elastic stomachs with water to swell up several times bigger and almost spherical in shape. Once the threat is gone, the pufferfish shrinks to normal size and carries on without issue.
Believe it or not, the same idea holds true when it comes to scalable web hosting. Instead of sharks or other underwater prey, however, the peril for websites is a sudden rush of visitors. High traffic volume can overwhelm a server, sinking your site to the bottom of the ocean.
We know servers can't magically double in size and conjure up more resources, but the right hosting plans and providers can grow and shrink to meet your audience's demands. Read on to learn about the most reliable and trustworthy scalable web hosting services.
Best Cheap Scalable Hosting
Sure, cloud hosting offers more flexibility than shared hosting, but all that growth opportunity can come at a hefty price tag. Believe it or not, super-affordable shared hosting plans cover the basic needs for growth of most website owners.
Look especially for hosts that offer so-called unlimited hosting — the term may not be entirely accurate, but the undefined limits on storage, bandwidth, and memory enable your site or online business to grow to the point where you're ready to move to a virtual private server or cloud environment. Unlimited hosting providers commonly say their shared servers will cover 95% to 99% of users' needs.
Not only do several affordable cloud hosting providers combine shared hosting environments and prices with the premium redundancy and stability of the cloud, but our favorites also offer no-hassle migrations to upgraded plans. Whether you're moving to a larger shared hosting package or making the jump to the cloud or a VPS, these companies are worth a look:
Unlimited everything, from storage to databases
FREE site builder & WP performance upgrades
FREE daily or weekly backups
Custom control panel and auto-installation scripts
SSH access & unlimited FREE SSL certificates
CHEAP
RATING 4.8 ★★★★★ Our Review
Hostinger: Our Expert's Review
Laura Bernheim (HostingAdvice.com): As the shared hosting market becomes increasingly saturated, unlimited storage, bandwidth, and email accounts have become surprisingly average. Hostinger, however, extends the routine, expected metrics to greater lengths — the number of websites, databases, FTP users, subdomains, and parked domains are all unrestricted for most customers. Go to full review »
| Money Back Guarantee | Disk Space | Domain Name | Setup Time |
| --- | --- | --- | --- |
| 30 days | 50 GB to 200 GB SSD | FREE (1 year) | 3 minutes |
Cheap shared hosting from a highly reputable provider
Ideal for hosting a WordPress website
FREE Weebly website builder and Cloudflare CDN
Unlimited traffic and 24/7 live chat support
Get 63% off today with our Bluehost coupon
CHEAP
RATING 4.8 ★★★★★ Our Review
Bluehost: Our Expert's Review
Ryan Frankel (HostingAdvice.com): Bluehost pricing is about as competitive as the industry offers. Sign up for a shared hosting plan for as little as $2.95 per month, and WordPress hosting packages are consistently priced; a VPS plan starts at around $18.99 per month; and the dedicated hosting rates are as little as $79.99 per month. Go to full review »
| Money Back Guarantee | Disk Space | Domain Name | Setup Time |
| --- | --- | --- | --- |
| 30 days | 50 GB SSD - unlimited | FREE (1 year) | 5 minutes |
Get 70% off by buying 36 months up front
Unmetered disk space & bandwidth
Unlimited email addresses & free SSL certificate
One-click WordPress install & free blog tools
Free 1-year domain registration on select plans
CHEAP
RATING 4.7 ★★★★★ Our Review
HostGator: Our Expert's Review
Ryan Frankel (HostingAdvice.com): HostGator is a great compromise between performance and price. The company offers unlimited emails, MySQL databases, disk space, and bandwidth, plus one-click installs of popular open-source projects, in addition to a 99. Go to full review »
| Money Back Guarantee | Disk Space | Domain Name | Setup Time |
| --- | --- | --- | --- |
| 45 days | Unlimited | FREE (1 year) | 4 minutes |
See other top affordable hosts »
Best Scalable Cloud Hosting
When it comes to scalable web hosting solutions, cloud hosting always seems to be at the top of the list. The platform involves a network of servers that share the load of storing and delivering your website to visitors. Additional machines can be brought online to help out when traffic is growing, just like they can be turned off when things start to slow.
Website and business growth can be quite unpredictable, and cloud hosting offers a simple way to manage unexpected peaks and valleys. Even better, many hosting providers offer automatic scalability to remove tedious and time-consuming infrastructure management tasks. You'll want to keep an eye on costs, as the pay-by-the-hour billing can fluctuate just as much as your computing resources.
That said, cloud hosting remains a wildly powerful — and still growing — market for modern online businesses. Technology market research firm Gartner estimates that the cloud hosting industry will grow by more than 17% in 2019, largely behind strong adoption among businesses. More than 90% of businesses rely on the cloud in some form, making our three favorite cloud hosts important potential partners in your brand's growth and success.
Managed cloud hosting with 24/7/365 monitoring
Choose from 5 popular cloud providers
Auto-healing cloud servers with FREE backups
1-click server cloning and easy management
Host unlimited apps with no contract lock-in
CLOUD
RATING 4.8 ★★★★★ Our Review
Cloudways: Our Expert's Review
Alexandra Leslie (HostingAdvice.com): If you can't beat the cloud provider behemoths, offer their infrastructure as a service. Cloudways gives customers their choice of cloud platform: AWS, Google, Linode, Digital Ocean, or Vultr. Go to full review »
| Money Back Guarantee | Disk Space | Domain Name | Setup Time |
| --- | --- | --- | --- |
| 3-Day FREE Trial | 1 GB SSD - 192 GB SSD | N/A | 8 minutes |
Choose your OS or application configuration
Hourly or monthly billing for convenience
Optional upgrades for cPanel, backups, and more
Managed services, SSDs, and HDDs available
Block and object storage, plus enterprise firewall
CLOUD
RATING 4.7 ★★★★★ Our Review
Hostwinds: Our Expert's Review
Laura Bernheim (HostingAdvice.com): Hostwinds provides supremely scalable and customizable options for the savvy developer or site owner. Customers can customize their cloud environment or choose pre-built configurations optimized to run apps like WordPress, Drupal, and others. Go to full review »
| Money Back Guarantee | Disk Space | Domain Name | Setup Time |
| --- | --- | --- | --- |
| N/A | 30 GB - 750 GB SSD | New or Transfer | 6 minutes |
User-friendly hosting powered by Google Cloud
Isolated resources and integrated CloudFlare
Built on CloudLinux with LVE containers
Automated, daily backups and integrated caching
Instant setup with intuitive custom control panel
CLOUD
RATING 4.6 ★★★★★ Our Review
Hostinger: Our Expert's Review
Laura Bernheim (HostingAdvice.com): Hostinger offers something for everyone. From two cloud hosting plans that leverage the company's global datacenter presence to a premium service powered by Google Cloud Platform, you're sure to find what you need…. Go to full review »
| Money Back Guarantee | Disk Space | Domain Name | Setup Time |
| --- | --- | --- | --- |
| 30 days | 30 GB to 200 GB SSD | New or Transfer | 6 minutes |
Best Scalable VPS Hosting
A close cousin to cloud hosting, virtual private servers traditionally represented the next step when scaling a website beyond shared hosting. We'll get into the differences between VPS and cloud hosting later in this article, but business owners can still rely on powerful VPS solutions to grow and adjust to meet audience demands.
Similar to shared servers, VPS hosting entails dividing a server's resources among multiple customers. Instead of sharing a server's resources with hundreds of others, however, VPS environments distribute more resources to fewer users. Even better, site owners can configure their VPS to their exact specifications, including the operating system and security measures of choice, along with the option to add and remove resources as needed.
Because traditional VPS environments reside on a single physical server, site owners are somewhat constrained. However, that threshold is set rather high, and providers will gladly help you migrate to a larger cloud or dedicated server if your web traffic demands it. Take a look at our most trusted VPS hosting providers below:
Turbo server & cache options for faster page loads
Well-built plans starting with 4GB RAM
FREE CDN plus auto-installs with Softaculous
Multilingual support and up to unlimited databases
Enhanced security with and daily kernel updates
VPS
RATING 4.9 ★★★★★ Our Review
A2 Hosting: Our Expert's Review
Alexandra Leslie (HostingAdvice.com): While A2 Hosting's turbocharged shared hosting platform gives site owners ample room to grow, the company's tech prowess is on full display with its portfolio of VPS options. Ranging from unmanaged, bare-metal environments to stress-free, fully managed space, A2 Hosting is sure to have the perfect option for your expanding online presence. Go to full review »
| Setup Time | Disk Space | CPU | RAM |
| --- | --- | --- | --- |
| 7 minutes | 150 GB SSD - 450 GB SSD | 1 - 8 Cores | 1 GB - 32 GB |
$0.01 for the first month using code HOSTINGADV
Then $6 monthly with no contracts, no changes
Latest of PHP, MySQL, Perl, Python, and Ruby
7 operating system options for Linux or Windows
Full root access and choice of datacenter
VPS
RATING 4.8 ★★★★★ Our Review
InterServer: Our Expert's Review
Laura Bernheim (HostingAdvice.com): InterServer's on-site datacenter and hands-on involvement with configuring and provisioning virtual private servers give customers a level of flexibility not seen with many other hosting providers. InterServer rations VPS and cloud resources through slices. Go to full review »
| Money Back Guarantee | Disk Space | Domain Name | Setup Time |
| --- | --- | --- | --- |
| N/A | 30 GB SSD - 480 GB SSD | New or Transfer | 6 minutes |
HostingAdvice readers get 73% off the first term
FREE site migrations and 2 hours of Launch Assist
2 - 3 dedicated IP address options
FREE cPanel/WHM licenses included
Highly available servers with real-time redundancy
VPS
RATING 4.8 ★★★★★ Our Review
InMotion: Our Expert's Review
PJ Fancher (HostingAdvice.com): Boasting market-leading VPS hardware, slick management software, and free SSD drives and backups, InMotion Hosting competes to win when it comes to managed VPS hosting packages. The host initiates its VPS customer relationship with free website migrations and up to two hours of launch assistance from an experienced SysAdmin. Go to full review »
| Setup Time | Disk Space | CPU | RAM |
| --- | --- | --- | --- |
| 6 minutes | 45 GB SSD - 300 GB SSD | 2 - 8 cores | 4 GB - 16 GB |
Best Scalable WordPress Hosting
Simply put, WordPress hasn't become the world's most popular content management system without being able to scale. The platform serves everyone from hobbyist bloggers and small-scale professionals to Fortune 500 companies like eBay, Forbes, Sony, IBM, and TechCrunch.
That said, WordPress is not the only tool you'll need to help your site reach the masses quickly and effectively. In addition to a fast WordPress hosting provider, you'll want to optimize your site to minimize the amount of hosting horsepower you'll need to load various pages.
In addition to various caching solutions, you'll want to explore a content delivery network, database optimization, and elastic hosting infrastructure. Bonus points for faster solid-state drives, NGINX, PHP 7, and automatic updates — features that are common with our favorite WordPress hosting providers, listed here:
Recommended by WordPress.org since 2005
Automatic WordPress updates and initial install
FREE WordPress themes in the Bluehost Marketplace
24/7 support via live chat, phone, and email
Get exclusive discounts on WordPress plans
WORDPRESS
RATING 4.9 ★★★★★ Our Review
Bluehost: Our Expert's Review
Ryan Frankel (HostingAdvice.com): Bluehost's WordPress hosting packages are aimed at first-time site owners and personal bloggers. These services come at a premium compared to the standard Bluehost web hosting (basic shared hosting) plans, but the WordPress optimization and platform-specific resources are arguably worth the cost. Go to full review »
| Money Back Guarantee | Disk Space | Domain Name | Setup Time |
| --- | --- | --- | --- |
| 30 days | 50 GB SSD - unlimited | FREE (1 year) | 7 minutes |
Officially endorsed by WordPress.org
FREE migration plugin or automated installation
Pre-installed Git, 3 caching levels, and FREE CDN
FREE WP setup wizard, staging, and auto-updates
Fast, 24/7 support via custom chat system
WORDPRESS
RATING 4.9 ★★★★★ Our Review
SiteGround: Our Expert's Review
Alexandra Leslie (HostingAdvice.com): Want a hassle-free, WordPress-optimized hosting service. SiteGround has thought of everything you need to get your site up and running. Go to full review »
| Money Back Guarantee | Disk Space | Domain Name | Setup Time |
| --- | --- | --- | --- |
| 30 days | 10 GB SSD - 30 GB SSD | New or Transfer | 6 minutes |
1-click WP install, PHP 7+, HTTP/2, and NGINX
All-in-one security protections from BitNinja
WordPress optimizations boost performance
No price markup for WordPress services
Daily backups and FREE SSL certificate
WORDPRESS
RATING 4.9 ★★★★★ Our Review
Hostinger: Our Expert's Review
Laura Bernheim (HostingAdvice.com): As much as we love WordPress, one of our biggest pet peeves is when hosting providers exploit the popularity of the world's most-used content management system by offering so-called WordPress hosting that, in reality, is exactly the same as the host's shared server plans. Fortunately, Hostinger's ultra-fast infrastructure and easy access to SSL certificates and backups sets up the company to outperform the vast majority of the violators of our admittedly made-up rule. Go to full review »
| Money Back Guarantee | Disk Space | Domain Name | Setup Time |
| --- | --- | --- | --- |
| 30 days | 30 GB to 200 GB SSD | FREE (1 year) | 4 minutes |
See other top WordPress hosts »
What is Cloud Hosting and How Does It Work?
Synonymous with scalability and reliability, cloud hosting entails storing your site on multiple servers connected together on a network that enables you to use resources from several different places. The configuration of so many machines behind your site means you have virtually unlimited storage, bandwidth, and memory to deliver your site. If some part of the cloud network fails, other machines can take over the workloads, ensuring your online presence remains online, available, and fast.
Cloud hosting can be broken down into three different configurations or business models: IaaS, PaaS, and SaaS. The as-a-Service suffixes speak to the on-demand nature of the cloud. Infrastructure-as-a-Service is what most site owners will find helpful, as it gives customers more control over the technology behind their website. Platform-as-a-Service focuses more on developers scaling applications and leveraging data, while Software-as-a-Service makes software programs, business applications, and productivity tools available online via a subscription.
The other main categories of cloud hosting is whether a cloud is public or private. Public clouds, like those hosted by the companies listed above, are vast networks of computing power where thousands of businesses, websites, and applications can coexist. Private clouds are internally operated and managed, protecting valuable data from potential outside threats. Again, public cloud hosting is going to serve most site owners most effectively, while private clouds are typically reserved for enterprise businesses with vast resources and technical expertise.
What is the Difference Between VPS and Cloud Hosting?
We've touched on the basic similarities and differences between virtual private servers and cloud hosting environments earlier, but let's dive into the details. For starters, both types of hosting involve the virtualization of computing resources. According to cloud computing and platform virtualization experts at VMware, "virtualization relies on software to simulate hardware functionality and create a virtual computer system."
Those virtualized computer systems are called virtual machines, which can be created and deployed on a single server (VPS) or network of servers (the cloud). Tech organizations can run multiple independent virtual machines on a single server — including multiple operating systems and applications. Virtualization gives businesses the best of both worlds: reduced IT expenses and increased agility, efficiency, and flexibility.
Customization: VPS users have fine-grain control over configuration and management, which is straightforward and akin to a dedicated server. Because cloud platforms are more complex, features may be limited or harder to tweak effectively.
Scalability: Site owners can typically add more resources to either environment, but a VPS is limited by the physical server. Meanwhile, the cloud draws from tons of servers, with even more often waiting in the wings.
Performance: The extra oomph in cloud hosting generally means the platform is speedier, but much of website performance depends on how you configure and optimize both your site and the underlying infrastructure. Let's call this a tie.
Security: Cloud hosting typically holds a slight edge here, boasting greater natural redundancy and failovers. But the distributed network represents a larger target for attackers. A VPS, however, represents a single potential point of failure but offers a central physical location and greater independence.
Cost: This one gets tricky. As you may have noticed above, you can find VPS and cloud plans for as little as $5 per month — or as much as $20 or more monthly. A lot rides on the type of website or application you want to host, but the dedicated resources of a VPS typically come at a higher rate. That being said, by-the-minute billing of cloud hosting can fluctuate wildly and wreak havoc on budgets if not closely managed.
As you can see, the two platforms are very closely related and are both poised for highly scalable organizations looking to rapidly grow their audience. Some hosting providers further blend the lines by using a cloud network for their virtual servers. A Cloud VPS offers added stability and scalability while providing the structure and services of dedicated resources.
What is the Best Cloud Server for Small Business?
For small and growing businesses, it's all about return on investment, productivity, and efficiency — and cloud-based solutions cover all three. A comprehensive, well-managed cloud streamlines operations, reduces cost, and enables entrepreneurs to focus on mission-critical business strategies instead of tedious IT oversight.
A recent study showed 80% of small and medium business owners would prefer to get one bill for all communications consumption, alleviating the hassle associated with on-premise hosting and IT support or management.
We've covered the best cloud hosting options above, but there's a whole other world of cloud storage, file sharing, and Software-as-a-Service options. You're probably already familiar with Google Suite, Microsoft Office 365, and Dropbox, but what about tools for project management, human resources, and other day-to-day tasks? How else can the cloud help your business?
Amazon Alternatives: Developer-Friendly Cloud Options
We prefer the hosts listed above for their attention to high-performance infrastructure and premium, personalized customer support, but there's another region of cloud hosting scalability for those who really know what they're doing.
Amazon Web Services, Microsoft Azure, and Google Cloud Platform represent the Big Three of cloud hosting. The companies offer seemingly unlimited scalability potential for enterprise organizations, but the complexity of the à la carte solutions, lack of support, and tough-to-predict pricing models can make those options unattainable for those just getting started.
These flavors of cloud hosting are perfect for application developers and power some of the biggest brands on the internet; those looking for a simple and scalable way to get online, however, may be quickly overwhelmed. For those that have a little bit of tech expertise but aren't quite ready for the big time may want to consider some of the following:
All six options offer incredible services for those not faint of heart. Those with the tech know-how will appreciate the simplicity of access the three providers on the left can offer, while enterprises especially will gravitate toward the robust platform of services the three companies on the right can offer. Whether you're scaling from 1,000 visitors a month to 100,000 or 1 million to 10 million, you can find tons of options to help you reach those goals. Best of luck!
Advertiser Disclosure
HostingAdvice.com is a free online resource that offers valuable content and comparison services to users. To keep this resource 100% free, we receive compensation from many of the offers listed on the site. Along with key review factors, this compensation may impact how and where products appear across the site (including, for example, the order in which they appear). HostingAdvice.com does not include the entire universe of available offers. Editorial opinions expressed on the site are strictly our own and are not provided, endorsed, or approved by advertisers.
Our Editorial Review Policy
Our site is committed to publishing independent, accurate content guided by strict editorial guidelines. Before articles and reviews are published on our site, they undergo a thorough review process performed by a team of independent editors and subject-matter experts to ensure the content's accuracy, timeliness, and impartiality. Our editorial team is separate and independent of our site's advertisers, and the opinions they express on our site are their own. To read more about our team members and their editorial backgrounds, please visit our site's About page.