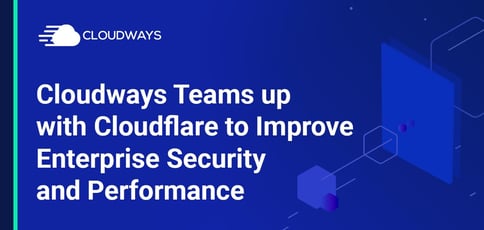 TL; DR: Cloudways partnered with Cloudflare to release an enterprise solution that solves security and low-performance pain points for users. Companies can leverage the Cloudflare integration to increase CDN output and fortify their security measures for faster and more secure hosting. The solution deploys DDoS attack mitigation and offers an intelligent web application firewall to block threats and tackle downtime while the maximized CDN promotes faster network speed.
It's no secret that speed, security, and performance help drive the internet and the websites that live on it. These qualities make surfing the web enjoyable for users, whether the activity is online shopping or social media scrolling.
Without technological advancement, we would probably be still dealing with the frustration of dial-up service. But fortunately, progress has been made on several fronts. IT companies continue to push the limits to improve the internet experience for users and business owners.
Downtime has long been a culprit of internet success. The problems that arise from downtime can lead to many complications. Probably, the most negative outcome for business owners specifically is a drop in user confidence and customer retention. Customers want a reliable website experience, and, without it, they will most likely leave and go to another competitor, boosting their revenue instead.


Cloudways understands the damage that downtime can cause. It recently launched a new add-on service in partnership with Cloudflare to solve this pain point. The two companies came together to build this add-on by combining their respective strengths — hosting and security — to create a solution that is accessible for any business of any size.
Paul Lacey, a WordPress and digital designer, shared his experience with the solution.
"Bringing powerful tools and scalable hosting infrastructure to everyone is something Cloudways gets right every time," said Paul. "The Cloudflare Enterprise integration once again brings us industry-leading and otherwise unattainable security and performance gains, at a price every business, agency, or freelancer can afford."
The Cloudflare Enterprise Add-on Maximizes CDN Output and Performance Gains
Companies often develop the best solutions when they understand the need from first-hand experience. Having experience with specific pain points allows them to see issues from the user's perspective and cover all fronts.
In this case, Cloudways' pain point journey involved content delivery network (CDN) limitations. Without effective CDN output, eCommerce sites can't deliver internet content quickly and efficiently. Cloudways had this experience during the 2021 Black Friday and Cyber Monday period.
Increased traffic is a common occurrence during the holiday shopping season, and companies need to make sure they can deliver vital information to customers even during times of heavy traffic. But Cloudways' service suffered a period of unavailability because its CDN solution couldn't keep up with the flood of visitors.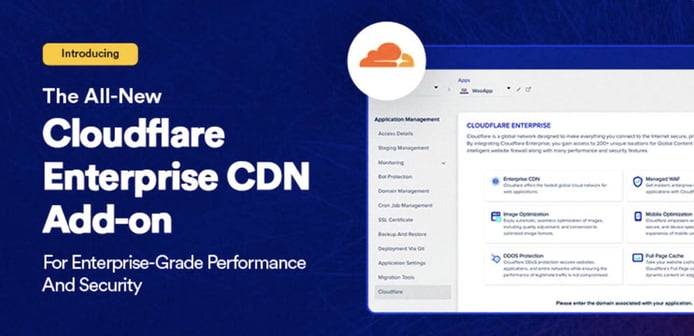 By integrating with Cloudflare, Cloudways allows companies to access strong performance capabilities to deliver better user experience and optimized speed. Its enterprise add-on maximizes CDN output to provide higher performance and availability for web hosting.
Companies can improve workflow efficiency and boost overall productivity thanks to the performance gains achieved with the Cloudflare solution. By optimizing CDN, Cloudways enables companies to create powerful website campaigns and garner more traffic without overloading or slowing transmission speed.
The enterprise add-on prioritizes routing for maximum speed by offering dedicated IPs. Cloudflare datacenters also support Agro-tiered caching to transmit content and reduce costs and static content requests to servers.
Cloudways also delivers two additional features, Polish and Mirage, to enhance performance. Polish allows users to optimize images by decreasing image size by an average of 35%. Mirage goes a step further. The feature automatically detects a visitor's browser type and enhances performance and image loading for the particular device on a single mobile connection.
An Industry-Leading Integration Offering High-Level Security for Customers
Customer feedback is a valuable, highly-used source for product development for many companies, and Cloudways taps into this resource as well. Cloudways customers have requested increased security and specific protective measures against DDoS attacks and hackers.
Cloudflare and Cloudways built the security feature of this integration to give users peace of mind. Customers can have confidence that their websites will be protected from hackers and not worry about the setbacks caused by hacking-induced downtime with the add-on.
Cloudflare's DDoS mitigation prevents attacks from layers three, four, and seven. Cloudways users also receive a unique feature — reserved IPs. Users with these IPs will have their traffic routed and prioritized over all other traffic on the Cloudflare network. This feature is a highlight as Cloudflare only offers it through the Cloudways integration.
Companies can also leverage the intelligent web application firewall (WAF) in this robust solution package. The WAF targets and blocks attackers at the edge before they can even reach a server. It does so by gathering and updating an information database of the most recently discovered threats by analyzing 32 million requests per second and millions of websites. Its thorough analysis and capabilities can assure users of its reliability and efficacy.
Cloudways users can be satisfied knowing that the solution's firewall rules also allow Cloudways to customize and create configurations tailored to the protection of their WordPress sites, Magento stores, etc. The service also complies with the latest PCI DSS 3.2 standards.
Promoting Secure and Optimized Hosting for a Fraction of the Price
The Cloudflare integration is a simple-to-use add-on that anyone can manage without much experience. Typically, a solution such as this would go for a high price tag. But one of the things that makes the enterprise add-on enticing is its low cost.
With plans starting from $4.99 per domain, users won't have to worry about breaking the bank with this solution while receiving excellent quality for the price. The price also gradually decreases to accommodate accounts with multiple domains. Users with five domains or more can secure volume discounts to help shoulder the expense.
Accounts with five to 10 domains will pay $3.99 per domain per month, accounts with 10 to 25 domains will pay $2.99 per domain per month, and those with more than 25 domains will pay $1.99 per domain per month.
Developers and business owners can upsell the service as an add-on for end customers as an additional revenue stream. Cloudways announced that it plans to phase out its previous CloudwaysCDN solution, with all subscriptions expected to close by the end of Q2 of 2022.
The solution is optional for Cloudways users and can be easily accessed from the Cloudways platform for quick activation that requires domain validation. Some activation variations may apply depending on users' CDN and DNS providers. Overall, the Cloudflare enterprise add-on can greatly benefit personal users and companies looking to boost performance and strengthen their security measures through simplified use.