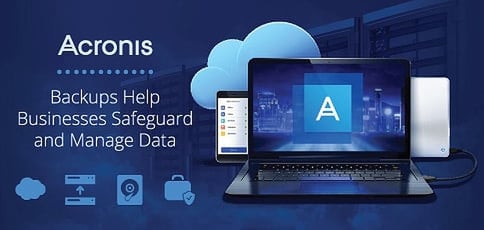 TL; DR: With a complete set of backup, disaster recovery, and file sharing tools for any device, operating system, or environment, Acronis helps businesses and customers store, protect, and access their data from anywhere. A recent push to support the complete virtualization stack, along with public cloud offerings, enables customers to seamlessly implement an effective and compliant data protection plan. With more than 5 million customers in more than 145 countries, Acronis brings mobility and increased productivity without compromising security. As the Acronis team continues to iterate on backup and disaster recovery solutions for the data-driven business, we are proud to recognize the company with our Developers' Choice™ award. //
We've all been there — you forgot to bring your laptop somewhere and desperately need a particular file. Instead of throwing your hands in the air, Acronis customers can access their files in the cloud and pull the file to a different device.
What if you spill coffee on your desktop? Instead of phoning it in the rest of the day, Acronis users can restore their files to a virtual machine and continue working.
Those examples illustrate the misconception that backups are only needed in case of something going drastically wrong, according to Partner Technology Evangelist Jon McCarrick. Acronis data protection tools offer ultimate flexibility with the ability to store and access files on any device, operating system, or environment.
"A lot of people look at backup software specifically as something they only need when there's an emergency or broken machine," he said. "We take that exact same technology and apply it when you're moving from a physical to virtual environment, virtual to cloud, whatever you want. That mobility is an everyday functionality."
Evangelism and Entrepreneurial Spirit at Acronis
As Technology Evangelist, Jon described himself and his colleagues as working at the crossroads of marketing, sales, and development.
"That means I need to be an expert on every single product and every single feature because we need to train our partners on all the technical details. It's one thing to sign a contract, but it's another to actually do business."
Jon worked with Acronis CEO Serguei Beloussov for several years at sister company Parallels, which Serguei founded in 2000. After more than a decade of managing control panel and billing solutions, Jon said Acronis still maintains a refreshing entrepreneurial spirit.
"There's a transition taking place right now in the market where the suits are coming in, and these humongous corporations are sort of collapsing the market," he said. "We have owner-operators who are still helping code the product and helping the support staff. Even though the company is making millions of dollars, they're still in the office every day doing hands-on stuff."
Even though the Acronis team numbers more than 900 people in 15 offices around the world, Jon said the passion for innovating new technologies is felt on a personal level.
"There aren't a whole lot of business majors working on the hosting side of the business," Jon said. "These guys are hardcore coders and technology guys. They make a lot of money because there's money to be made, but that's almost beside the point. They do it because they love it."
Yes, You Should Still Back Up Your Public Cloud — Here Are 2 Reasons
Since we last checked in with Acronis at HostingCon 2016, the company has made a big push into supporting public cloud platforms, including Microsoft Azure and Amazon Web Services. The move resonated especially with Office 365 users, according to Jon.
"Sometimes we get the question about why you would need to back up a public cloud or Office 365. 'Do you really think Microsoft is going to lose these files?'" he said. "The answer is no, but there are other advantages to having these services."
1. The 3-2-1 Rule: Compliance and Local Access to Backups
Several compliance regulations require organizations to hold onto information for a certain period of time. Jon said several companies will opt to offload the large amounts of data to the cloud, but that raises other concerns.
"How are you going to promise the world, government, or whoever, that you actually have physical control over the information?" Jon asked.
Acronis products enable both cloud and local storage options to help customers follow the 3-2-1 Rule for effective backup strategies: Make three copies of data, store the information in two different formats, and keep one of the copies off-site. Jon and Acronis propose an addition to the rule, recommending one copy should remain onsite.
"If you put a terabyte of data in the cloud, and you really have something go wrong, how long is it going to take to get that terabyte back across the cloud?" he asked. "It might take a couple hours or even a whole day, let alone going through the process of restoring the information. If you have a local copy, it takes just a few minutes to be back up."
2. People Are Stupid and Cruel: Undo Mistakes and Keep Business Continuity
Although Office 365 products usually hold onto deleted emails for a couple of weeks, users might not think they'll need an attachment until much later
"When you put things into the trash, Microsoft believes you," Jon said.
In addition to misguided deleting, Acronis backups stored in the cloud protect employers from departing employees wiping out their files.
"I should have the ability to reconstitute anything my stupid employees do because I have a copy," Jon said. "Having those backups are incredibly important going forward."
The Acronis Suite of Data Protection Solutions Goes Beyond Backups
Jon said the company's efforts, particularly in virtualization, have led to a complete set of data protection tools that compare favorably across the industry.
"We've worked very hard to get feature-complete against any competitor while still maintaining all of our differentiators," he said.
1. Disaster Recovery: Protect and Restore Your Data
Through granular recovery functionality found across Acronis programs, users can access a backup through the cloud interface, navigate to something as buried as a particular email attachment, and download the file directly to the device.
A close relative of backups, disaster recovery helps businesses recover from outages by restarting systems with the most recent backup, which is replicated locally and in one of the 14 Acronis cloud datacenters.
In addition to white-glove support, the Acronis Disaster Recovery Service offers automated testing and push-button recovery using automated, electronic runbooks. The pay-as-you-go platform includes a self-service online portal and guarantees recovery time objectives of up to 15 minutes or less per server.
2. Sync and Share Files: Boost Productivity Without Compromising Security
Whether users are on mobile, Windows, or Mac devices, Acronis Access Advanced puts files and content directly at users' fingertips. The enterprise-grade file sharing solution, which Jon compared to Dropbox, adds a layer of security and compliance without affecting productivity.
The recently redesigned user interface provides a clean, modern layout that feels familiar and intuitive. Office and PDF tools are built-in, along with the abilities to create user accounts and control access.
3. Software-Defined Storage: Up to 5x Faster
Independent of the underlying hardware, Acronis Storage unites file, block, and object storage needs in a program optimized to work across the Acronis suite. Introducing automation and a simple user interface, Acronis Storage gives users the ability to advance their backups and virtualization systems separately from infrastructure upgrades.
Capitalizing on Acronis CloudRAID computing power and Acronis Notary blockchain technology, the system lets users distinguish storage protocols for cold data, such as backups and archives, as well as hot data that should be stored virtually.
Acronis Brings Flexibility and Mobility With Universal Restore
To further illustrate the relevance of backup technologies in everyday life, Jon explained how Acronis Universal Restore helps customers restore and move files across different device brands, operating systems, and environments.
With Universal Restore, which is included in Acronis backup products, users don't have to worry about compatibility when setting up a new device.
"The program actually goes in there and identifies which drivers and configurations need to change," Jon said. "We will make the appropriate changes automatically to make sure it works when you send it over to where you are."
Whether you want to move data from a physical server to a virtual server, for example, or from a virtual server to a virtual machine, Acronis backups streamline migration.
"It's a hard thing to do, generally, but not for us," he said. "Just back it up and restore."
Advertiser Disclosure
HostingAdvice.com is a free online resource that offers valuable content and comparison services to users. To keep this resource 100% free, we receive compensation from many of the offers listed on the site. Along with key review factors, this compensation may impact how and where products appear across the site (including, for example, the order in which they appear). HostingAdvice.com does not include the entire universe of available offers. Editorial opinions expressed on the site are strictly our own and are not provided, endorsed, or approved by advertisers.
Our Editorial Review Policy
Our site is committed to publishing independent, accurate content guided by strict editorial guidelines. Before articles and reviews are published on our site, they undergo a thorough review process performed by a team of independent editors and subject-matter experts to ensure the content's accuracy, timeliness, and impartiality. Our editorial team is separate and independent of our site's advertisers, and the opinions they express on our site are their own. To read more about our team members and their editorial backgrounds, please visit our site's About page.