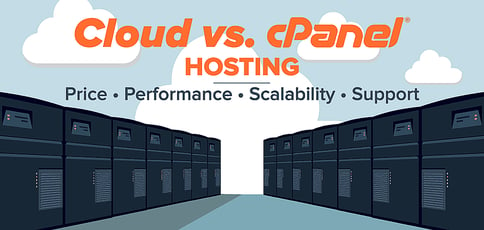 Cloud hosting vs. cPanel hosting compares two services that lend themselves well to a wide range of hosting needs, ranging from usability to building and scaling an online presence.
Performance, affordability, and security are among the top characteristics to consider when choosing which technologies to call on; new site owners don't want to take on something too complex, while experienced developers prefer fine-grain control over their environments.
You've likely seen terms like cPanel and cloud hosting when shopping for a hosting provider — but are you sure you know the difference? Let's explore the key attributes of each and highlight the hosts that excel in each category.
That's right — you can enjoy the best of both the cloud and cPanel worlds with a handful of hosts. Although cloud computing is typically represented by the industry's Big Three of Amazon Web Services, Google Cloud Platform, and Microsoft Azure, traditional hosts, including the ones listed below, have jumped into the fray.
While the bigger cloud providers are known for a wide range of configurable services, they're also infamous for being terrible at customer support and having pay-by-the-hour billing systems that make it nearly impossible to calculate a steady monthly cost.
Reputable traditional web hosts that have built their brands on shared, virtual, and dedicated servers have begun introducing the redundancy and stability of cloud networks into their VPS plans. Take a look at three of our most highly recommended cloud hosting providers that will alleviate the headaches of moving to a more complicated infrastructure:
Maybe you don't actually need more computing power — just more useful tools to help you manage what you've got.
Some hosting providers will build their own proprietary management tools and control panels to varying degrees of success, but cPanel is a pretty standard feature included with most shared hosting plans.
Written in Perl, cPanel hit the scene in 1996 and exclusively works on Linux-configured servers, which makes up roughly 68% of website operating systems. Its main competitor, Plesk, operates in both Linux and Windows environments.
With cPanel, users receive a graphical interface and automation tools that simplify the various processes associated with running a website. You can create email accounts, deploy SSL certificates, set up subdomains, manage databases, organize files and folders, and track your site's performance metrics.
Hosting providers' famous one-click installations of popular software programs, including WordPress, Drupal, Joomla, PrestaShop, and Magento, all typically originate from a cPanel add-on script library. Here are reviews of some of our favorite cPanel hosts:
Given cPanel's close ties to the world of shared hosting, the control panel is commonly associated with affordability. Thousands of the world's biggest providers turn to cPanel to automate their server management and pass the technology down to its customers.
The software is designed to function on three user levels: server administrators, hosting resellers, and end-user website owners. Hosting providers install cPanel on a dedicated or virtualized server and can then oversee portioning off resources for clients.
The program's licenses can get cumbersome for smaller hosting providers or those with rich in-house technical resources, but the ability to optimize server performance and pack hundreds or thousands of shared hosting customers on one server make cPanel an affordable and user-friendly tool to deploy when your budget is at stake.
Cheapest cPanel Host
Shared hosting is a crowded market with hundreds of hosts clamoring for customers. We're actually going to start this section by giving an honorable mention to a company we love that doesn't technically use cPanel — but is among the cheapest in the industry.
iPage comes in at $4.99 per month and uses a customized version of cPanel it instead calls vDeck. Both are built with usability in mind, so we don't expect any cPanel users or rookie website owners to have any issues with the different control panels.
Finally, we arrive at our favorite and most affordable host using cPanel: InterServer. Cost-conscious website owners can find a bevy of plans for less than $5 per month across the industry, and cPanel ensures a seamless transition among providers.
Even better, InterServer's cheap services don't mean quality is sacrificed. The company includes a free site builder, SSL certificate, and email address for just a $2.50-per-month price tag. Explore InterServer shared hosting by reading through our review below:
Cheapest Cloud Host
Cloud pricing can be extraordinarily tricky to calculate. Because site owners can add and remove computing resources almost instantly, many of the large public cloud providers (including AWS, Azure, and Google Cloud) price their services by the hour for fractions of pennies.
Traditional hosts, however, often choose to advertise their cloud plans as they do other services with monthly rates that factor scalability into several configurable and adjustable tiers.
At the lowest, most scaled-down levels of cloud hosting, you'll likely find prices are surprisingly close to high-tier shared hosting plans.
Kamatera goes a step further by giving new customers a 30-day free trial to create their own custom cloud environment, then charging less than $5 per month going forward.
For this reason, Kamatera reigns supreme. Customers can deploy environments in 60 seconds or less, with 99.95% guaranteed uptime from 13 global datacenters.
When you've got more servers powering your website or application, the extra machinery cloud hosting affords your website or application gives your performance an added boost. Taking that first step outside of shared hosting tends to unlock upgraded hardware that's specially primed for speed.
What's more, the ability to minutely configure and customize your environment enables site owners and developers to eke out even more precious milliseconds. For instance, switching from the usual Apache web server to an option like NGINX or LiteSpeed can double your performance.
On the other hand, shared hosting customers are entirely at the mercy of their hosting provider. Without server access or administrative rights, shared web hosting speed can fluctuate anywhere from impressive to pathetic.
Those customers only have a slice of one server to rely on, and that server is shared with hundreds or thousands of other customers. A strictly profit-minded host could oversell its hardware, maxing out the processors and bogging everyone down. The hosts you'll see on our list, however, responsibly allocate server resources and deliver some of the best page load times around.
Fastest Cloud Host
According to recent surveys, about half of web users expect a site to load in two seconds or less and will abandon the site if it takes longer than three seconds to appear.
Speed is one of the factors most critical to the success of an online business, as roughly 80% of consumers said they wouldn't return to an eCommerce store if they experienced performance issues. Because of the highest needs for speed and reliability, cloud hosting is typically the best option for business-critical websites.
One of the biggest indicators of a speed-crazed web host is the inclusion of solid-state drives in its hardware. The optimized storage devices can process and deliver data up to 20 times faster than traditional hard disk drives.
As such, Cloudways is our favorite provider for high-speed cloud hosting. The company's stack includes an optimized blend of NGINX and Apache, plus multiple caching layers, Redis, and PHP-FPM.
Cloudways applies that special blend of technology to some of the fastest cloud services in the world. Users can deploy their application on hardware powered by AWS, Google Cloud, Digital Ocean, Linode, and Vultr — all for surprisingly affordable rates and no long-term contracts.
See other top SSD cloud hosts »
Fastest cPanel Host
Just because cloud hosting tends to outpace shared hosting in terms of performance consistency doesn't mean you can't be wowed by shared server speed. A2 Hosting excels at performance by boosting its servers with free SSDs and a Turbo Server configuration that features up to 20 times faster page loads.
By allocating more resources per user and fewer users per server, A2 Hosting's Turbo Servers capitalize on an enhanced Apache alternative and several caching solutions.
The company's developer-friendly hosting plans offer a wide range of operating systems, programming languages, and a surprising amount of administrative access to further refine your website or app's performance.
Customers can also choose to double their number of CPU cores and add an additional gigabyte of RAM by adding the company's Performance Plus upgrade. With Cloudflare CDN integration, HTTP/2, and Edge Side Includes available on shared hosting plans, check out our review of A2 Hosting's shared hosting plans below:
See other top SSD hosts with cPanel »
As one of the more modern hosting configurations, cloud hosting is a term that generates tremendous amounts of buzz online. Network-based computing dates back to the 1960s, but many believe the modern context of cloud computing began in 2006 when Google's then-CEO introduced the phrase at a conference.
More recently, market research company Forrester estimates the public cloud computing industry will reach $236 billion in 2020, but its analysts have needed to recast the organization's projections to reflect the faster-than-expected growth currently underway.
The rapid growth is representative of the adjustability found in cloud hosting itself. Say your website or app is featured on a major website or news outlet. All of a sudden, thousands of visitors are flocking to your brand — what's your hosting infrastructure going to do?
If you're on a shared server, your allotted resources will max out, and your site or app will crash. Your host will ask you to upgrade to a more expensive plan, or maybe even kick you out for violating your terms of service.
Because cloud hosting leverages so many servers, the website or application owner in this example can simply allot more memory, faster storage, or more powerful processors to meet the increased demand and stay online.
Most Scalable Cloud Host
With scalability being one of the primary advantages to cloud hosting, the field for this category is crowded. The ability to adjust and manage computing power is key for businesses that need to quickly and seamlessly adapt to market trends, consumer needs, and traffic peaks and valleys. Automation and usability reign supreme in enabling the responsive allocations of processing resources.
We vouch for Cloudways, which offers remarkable scalability in its highly customizable cloud environments.
Customers can equip their infrastructure with up to 96 vCPUs and 384GB of RAM. Simplify your workflows by easily cloning websites and servers in just a few clicks.
Cloudways taps into all the top cloud networks, including AWS and Google Cloud, to deliver global vertical and horizontal scalability. If you want to leverage the same resources used by the world's top companies, be sure to check out Cloudways:
Most Scalable cPanel Host
Scalability is tough to gauge at the shared hosting level. The only true way to adjust the amount of server resources available is by upgrading and downgrading your plan, which won't be nearly as seamless and instantaneous as with cloud hosting.
Plus, while most hosts will be more than happy to take more of your money when you want to scale up, it's probably tougher to scale back down unless you're paying extra for a month-to-month plan.
Shared hosting providers are also notorious for using the "unlimited resources" marketing gimmick. Yes, hosts that promise limitless storage, bandwidth, and memory typically have more than enough computing power to go around, but there will certainly come a point where you'll outgrow shared hosting.
Nevertheless, some providers give you much more server room to play with than others. Our favorite go-to option here is Bluehost, which starts new customers out with at least 50GB of SSD storage — and that's for the lowest-tier plan.
The two upgraded packages remove restrictions on the number of sites, domains, and email accounts while not tracking customers' storage and bandwidth usage. Bluehost says that 99.95% of users enjoy more than enough resources; check them out by clicking on our full review below:
Managed hosting can be a somewhat infuriating label that many hosts apply to a wide variety of services. At one end of the spectrum is white-glove service catered to the premium services of dedicated servers, cloud hosting, and VPS.
As hosting solutions get more complicated, managed services step in to take care of the tedious, time-consuming server maintenance and administration tasks such as operating system updates, security patches, and monitoring.
On the other end, shared hosting essentially comes with managed support. You may not see it labeled as managed services, but you will experience similar hands-on support and effortless server operations. cPanel hosting providers oversee the physical server that supports the hundreds or thousands of customers.
Best Managed Cloud Host
Managed services with cloud hosting is more customizable, more advanced — and more expensive. As you're shopping for a cloud hosting provider, be sure that you read the fine print of what services and support are included.
The Big Three cloud hosts typically charge extra for support or rely on slow email ticketing systems. Connecting with a person who will take the time to make recommendations or take action specific to your website or application needs is nearly impossible.
If you want pure flexibility with in-house infrastructure and managed services, Liquid Web is the way to go.
The Michigan-based host offers several versions of cloud hosting, specializing in cloud-powered VPS, dedicated servers, WordPress, and WooCommerce. If you're more of a beginner, Liquid Web's Cloud Sites service requires zero server setup and management knowledge. Learn more about their services in our review:
Best Managed cPanel Host
Because managed services are inherently baked into most cPanel hosting plans, deciding between providers means looking for tiny differentiators that can have a major impact on your hosting happiness. And those may be entirely different from one website to the next.
Nearly every host offers 24/7 support — but how long do you have to wait before actually communicating with a person? Or do you need server resources configured for optimal speed? What about optimizations for WordPress?
By operating and maintaining healthy cPanel hosting environments, providers cover many of the same issues as do managed cloud services. Security, infrastructure updates, and monitoring are all signs of a healthy host.
SiteGround takes support a step further by developing a proprietary in-house ticketing system that boasts an average 10-minute response time.
In addition to reducing setup time to just a few minutes and three clicks, SiteGround will help transfer your files and troubleshoot issues with third-party software like content management systems and other popular scripts. Read our review of SiteGround to learn more about its cPanel hosting:
Two cornerstones of the web hosting industry, cloud hosting and cPanel hosting greatly impact a site owner's web hosting experience and success.
Cloud hosting entails connecting and virtualizing several servers to share storage and processing resources, which in turn delivers supreme reliability, scalability, and performance.
With effectively unlimited resources spread across numerous servers, your website or application's growth with cloud hosting is hampered only by your ability to manage the more complicated infrastructure.
On the other hand, cPanel hosting refers to the control panel used to manage a web presence, handling everything from files and folders to databases, email accounts, and domain names.
The web-based interface is less about hardware and server configurations and more about providing a visual way to oversee and adjust services without having to use the command line. As such, cPanel hosting can technically encompass any hosting service, from shared to dedicated servers.
However, given the program's user-friendly nature, cPanel hosting is a term most commonly associated with shared hosting.
As you saw throughout our sections, cloud hosting and cPanel hosting lend themselves to particular hosting characteristics, including speed, scalability, and affordability.
But what infrastructure configuration will work best for you entirely depends on your requirements for your website or application.
Cost will certainly be a major factor, but great deals on cloud hosting can be found that bring the monthly dues in line with what you might find in cPanel hosting.
If you're not ready to embark on cloud hosting from AWS, Azure, or Google Cloud, your options are quite varied. Some hosts can offer a completely separate cloud hosting infrastructure, while others roll the redundancy and stability into their virtual private server platform.
Still others may even run shared hosting through a cloud network. Some cloud products will include cPanel — but, of course, not all. Be sure to have reasonable expectations of the resources and requirements your website or application has and research away!
Whatever type of hosting plan you're looking for, Kamatera is a solid choice no matter the scale. Our reviewer Laura Bernheim recently took Kamatera for a spin, and rated the popular host a 4.9 in the Cloud Hosting category out of a perfect score of 5.0. Here's what Laura had to say about Kamatera:
Offering an astounding 30-day free trial of its cloud computing and storage hosting plans, Kamatera is a great choice for developers who value performance and scalability. Beginning site owners may be a bit overwhelmed at first, but the web host's managed cloud services and always-there support team will help you through any issues.
Before signing up for Kamatera, it's a good idea to read through Laura's full review to learn about all the features Kamatera offers. You can also compare it to other web hosts to ensure you're getting the best deal possible:
If you decide Kamatera is the right choice, keep in mind that it takes just minutes to deploy your Kamatera server space. And at $4.00 per month, it's a bargain considering the many great features that come in any Kamatera plan.
Advertiser Disclosure
HostingAdvice.com is a free online resource that offers valuable content and comparison services to users. To keep this resource 100% free, we receive compensation from many of the offers listed on the site. Along with key review factors, this compensation may impact how and where products appear across the site (including, for example, the order in which they appear). HostingAdvice.com does not include the entire universe of available offers. Editorial opinions expressed on the site are strictly our own and are not provided, endorsed, or approved by advertisers.
Our Editorial Review Policy
Our site is committed to publishing independent, accurate content guided by strict editorial guidelines. Before articles and reviews are published on our site, they undergo a thorough review process performed by a team of independent editors and subject-matter experts to ensure the content's accuracy, timeliness, and impartiality. Our editorial team is separate and independent of our site's advertisers, and the opinions they express on our site are their own. To read more about our team members and their editorial backgrounds, please visit our site's About page.