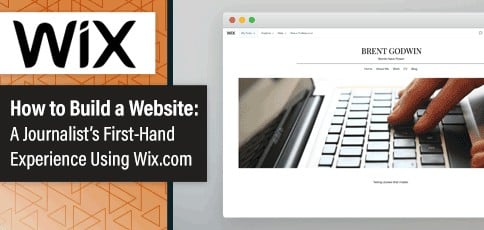 TL; DR: As a professional journalist with a decade-plus of writing experience, building an online portfolio has been a natural next step for years; but the aftermath of COVID-19 made it nonnegotiable. After trying and ultimately giving up on several site builder contenders, I gave the wildly popular Wix.com a go. The website builder surpassed all my expectations, and I now have a beautiful portfolio optimized for desktop and mobile. Now, I'm happily passing on tips from my experience to help fellow journalists, creators, and freelance professionals successfully build a stunning, successful website with Wix.
I always knew I needed to build a website to showcase my professional writing portfolio. But I kept putting it off again because I was intimidated by the concept and didn't know how to begin.
I have been a journalist for a decade. I knew I needed a centralized location that would serve as a jumping-off point where I could link my clips and articles, my resumé, and other pertinent pieces of information. I had built a website in college (more years ago than I would like to admit, but let's say apps weren't as common as they are now.) I felt overwhelmed by all of the options available now.
Website builder software is everywhere — from Google Sites to WordPress, Squarespace, Square Online, and Editor X. And each web host bills itself as the easiest, the best value, or having the most features. It was hard to know which one was the best website builder for my particular needs.
"Wix ADI offered the best website template and most straightforward way to do website design."
I looked into several options until I finally decided to use Wix as the website builder to create my online portfolio website. Wix accommodates a range of options whether you also need a portfolio or are planning to launch an online store or a business website.
Here, I'll walk through how I used Wix to build my website and why you should consider using it for your next web-based project.
Step 1: Creating a Wix Account
If you Google the word Wix, one of the first results you may notice is "free website builder," or "create a free website." On the flip side of that coin, searching "website free" yields results for Wix.
But I bet most people will need to pay at least a little bit to use Wix. I say this because the baseline offerings from free website builders do not provide enough bells and whistles to accomplish all of the goals you may have for your site.
One of the first questions you will be asked when you start building a site with Wix is, "What kind of website are you creating?"
The Wix plan options are as follows:
Online Store
Portfolio
Blog
Consultant
Technology Company
Your individual choice will help determine the type of site you need, and then you can choose from an array of themes that Wix will recommend to you. I chose the portfolio option.
The next screen will ask which features you want to add to your site. Wix will make some recommendations and offer plenty of options. As mentioned before, this is where you may find that you need to put in some personal capital to get the kind of finished product you desire.
For instance, I chose a blog feature for my professional journalist portfolio website. If you were building a website for your particular business, you could add, for example, an online store. Don't worry too much at this point, as you always have the option to add features later if you realize you need them. That is the beauty of using Wix. The customization choices are seemingly endless. Do not feel afraid to get creative!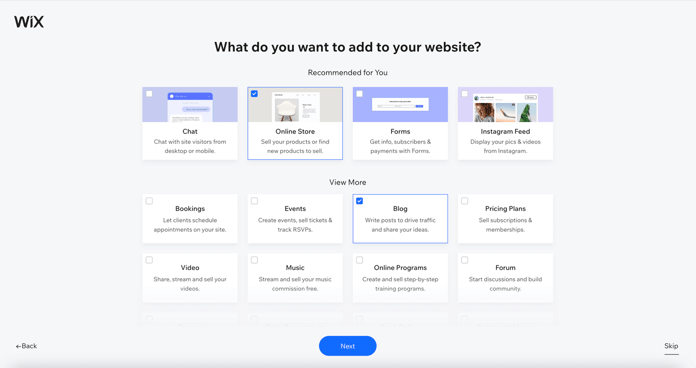 The next choice is "Let Wix ADI Create a Website for You" or "Create Your Website with the Editor." Wix ADI stands for Wix Artificial Design Intelligence, and it is the Wix website builder. Both options may seem intimidating, but they each have their upsides depending on your comfort level with digitally creative endeavors.
This choice is crucial because it allows you the ultimate flexibility to choose from an existing Wix template or start a template from scratch and drag and drop features into it yourself.
The Wix code component gives users ultimate control of their Wix website.
For less technically savvy users, I suggest choosing the first option: Let Wix ADI serve as your site builder. I was pleasantly surprised with the premade designs Wix ADI offered. Don't worry. There will still be plenty of opportunities to customize your content throughout the process.
"Our goal is to provide creators with the tools they need to get their work online, hassle-free, so they can focus on what's important — the creation of their work or their business."

– Sarah Hindman, Head of Product, Wix Showcase at Wix.com
Wix ADI offered the best website template and most straightforward way to do website design for me.
After choosing to use Wix ADI, the following screen will ask for your name or your business name. Then, you will have multiple options to import your unique content, but there is also an option to skip this and add it in later.
Step 2: Choosing Themes and Design
After the basic information, the next page will give you several theme options. The options show various fonts and colors you can hover over each to preview or get a more detailed description.
"Wix offers a wide variety of designer-made templates and layouts, specifically curated for portfolio websites. This streamlines and simplifies the process for anyone, with any type of skill set, whether it be using a template or creating a portfolio from scratch."

– Sarah Hindman, Head of Product, Wix Showcase at Wix.com
When I was building my portfolio site, I needed to highlight my writing, so I wanted as few distractions as possible. I chose the Loft theme, which is pretty minimal. I wanted my writing to speak for itself.
Once you have made this choice, the Wix ADI will give you several homepage design options. Once again, do not worry too much if the choices are not exactly what you want. There will be many opportunities to customize your homepage or choose another template entirely if you do not want to keep what you have previously selected.
I enjoy the web design options from Wix better than those from many of the WordPress themes I have seen in the past.


Wix then guides you to the next step, which is how to add pages to your website. Since I am building a journalism portfolio website, I chose "work," "about me," and "contact" to start. You can also add your social media accounts here and other choices to customize your website.
There is also a robust Wix app market that you should check out that may help you. The advantage of the app market is that it offers apps.
Once you have selected which pages you want to include on your website, click the blue "edit site" button in the top right corner.
Step 3: Editing the New Website
The Wix dashboard will do what you need it to, but it can be a bit clunky to use at first. Navigating the user interface (UI) can take a little bit of practice, but I promise you'll get it.
The Wix editor will show you your website homepage. You will see a couple of ways to begin to edit and customize it to your individual preferences.
First off, you can hover on each section of your Wix website to bring up two buttons: Edit and Design. The second way is the Home button located in the top left corner. This button lets you work on each page of your website or move from page to page within your template.
You'll find these options amount to the same thing. But, as I am sure you already know, a little built-in duplication never hurts anybody in the long run. I highly suggest the Wix tutorial module; it explains many of the basics and the ins and outs of using the Wix ADI.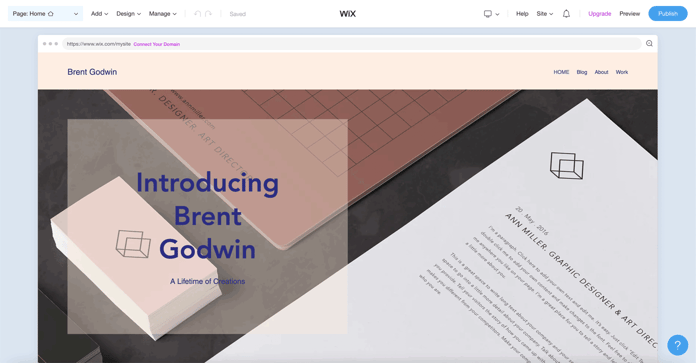 One of the more important things I suggest you do is to fill in the "Home SEO Basics." The title tag, meta description, and specific keywords associated with your website will help it show up with search engines Google, Bing, or Yahoo Search. (Believe it or not, some people still use other search engines besides Google.) An SEO tool, Wix SEO Wiz, will help people find your site on Google, inherently boosting your online traffic or presence in whatever digital space you are trying to maintain.
What I appreciate about the Wix editor is how quickly you can see changes or edits affect the dashboard.
Before I continue, let me pause here to remind you that your website does not have to be perfect from the very beginning. I tend to work on a project ad nauseam before I think it is ready for prime time, so to speak. But in this instance, it is actually in your best interest to get the basics of your site done in the Wix editor and then go ahead and publish it without agonizing about every detail within its pages. There will be ample opportunities to improve it even after it goes live. As a writer, by nature, my work is never done. Believe it or not, that adage is 100% true.
The next step is to connect your domain name. You have the option of getting a new custom domain name or connecting one that you already own.
As I mentioned before, spending some personal capital may be worth it in the long run. Here is where Wix pricing comes into play. The pricing with Wix was one of the main reasons I ended up choosing Wix instead of the other options. I did my due diligence and found that Wix's prices provided the most significant value for my project.
Wix has four different plans to choose from if you get a new domain name. They are as follows:
VIP: $45/month
Pro: $27/month
Unlimited: $22/month
Combo: $16/month
Do not forget, if you do not want to spend any money at this time, you can get started with Wix for free — forever. But for my intents and purposes, paying for a premium plan paid off. Purchasing a freshly minted domain name means my site would be brentgodwin dot com instead of brentgodwin dot wixsite dot com forward slash portfolio.
You can decide which of the URLs will be better based on your individual goals for your site. I suggest looking into what each Wix plan offers, as each may vary in web hosting options, Wix bookings, and other things. One good feature is the side-by-side view of what each plan includes so you can compare.
The Wix tutorial offered is helpful if you are at this point of the process and still have questions. Again, the Wix ADI may take time and patience to use to its full potential.
Step 4: Publish and Maintain Your Wix Site
Once you are ready to publish your Wix site, doing so is simple. Click the blue Publish button in the top right corner of the Wix ADI.
On your Wix dashboard, there should be a four-step "let's set up your site" feature on the left-hand side of the screen. Going through these steps helped me ensure I hadn't missed anything important. There are so many decisions made in a short time, and I appreciated Wix simplifying the website in this way.
"Maintaining my professional portfolio site has been incredibly easy, and Wix has become one of my favorite mobile apps."
One massive advantage of Wix that I haven't mentioned yet up to this point is that as I was building the site, it was also building a mobile version simultaneously. In the Wix ADI, you can toggle back and forth to see how a change you made looks on either desktop or mobile.
I probably don't need to spend any real estate here telling you how important it is that your site is responsive for mobile, so I won't. The Wix app is one of the other positives of my experience using this platform. The Wix app allows you to edit and customize your website, similar to the desktop platform. In some ways, the mobile version is preferable because it is so streamlined that I'm not as liable to get bogged down by all the options.
The dashboard for managing your new website features bells and whistles, including built-in analytics. It isn't Google Analytics, but it will show you traffic, behavior, marketing and SEO, and even sales if your site has an eCommerce function. I'm no longer a big social media person, but how Wix integrates linking to your social media platforms seems straightforward.


Maintaining my professional portfolio site has been incredibly easy, and Wix has become one of my favorite mobile apps. When I log back into Wix again, I appreciate how it shows me what is going on with my website, and how easy it is to update.
Why I'm Glad I Chose Wix
I hope this article helped explain how to build a website with Wix. If you're a creator who has reached this point and is ready to expand your online footprint, check out Wix Bookings and Wix Stores.
"As creators' needs grow, we also make it simple for them to expand their online footprint from their portfolio by using other Wix offerings such as using Wix's advanced SEO capabilities or selling their work or services using Wix Bookings and Wix Stores."

– Sarah Hindman, Head of Product, Wix Showcase at Wix.com
My experience has been overall positive, and every time I look at my website, I get inspired to do something else to improve it. The Wix dashboard doesn't discourage me from doing so, unlike the dashboards of other platforms I've used. I also know the app market, Wix tutorial feature, and other customer support options I may need are there when I need them.
I will say that whenever I log in, Wix reminds me that I haven't yet written a blog post. I'm a professional writer; I know I need to do this. But I am confident I'll do so easily with my Wix site once I figure out which of the 25 ideas I want to write for a blog.