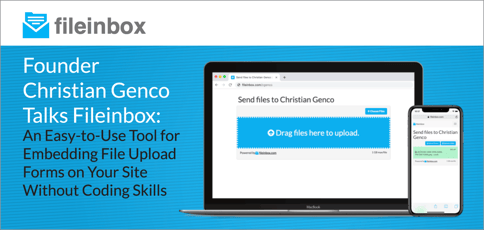 TL; DR: Fileinbox, a simple tool for embedding upload forms on websites, helps businesses worldwide share files quickly and easily. The service allows a range of users, including lawyers and accountants, to receive documents, photos, and videos from clients without inconvenient login requirements. With plans for better integration with WordPress and Squarespace in the works, Fileinbox aims to streamline the customer experience to an even greater extent.
When Founder Christian Genco develops new features for his file-sharing service, he turns to a simple litmus test for usability: Could his mother navigate the technology? And, if so, would the process be as painless as possible?
"My mom isn't strong in technology, so I consider her needs in every design decision I make," Christian said. "Ease-of-use drives me because it's the factor that makes the biggest difference for nontechnical users."
With that approach, Christian ensures that the tool, recently rebranded from DBinbox to Fileinbox, will provide users a trouble-free way to receive uploads of documents, photos, and videos from their clients.
Christian, an innovative soul who's not afraid to experiment on tech projects, wasn't trying to build a business when he launched the product in college — he was simply trying to satisfy a personal need.
"This happened totally by accident," he said. "I was looking for a way to anonymously send myself files for a statistics class while studying abroad, and since I was using Dropbox at the time, I hacked together an upload form so I could send myself files to Dropbox."
Christian generously shared a link to the service on a Dropbox forum, where it instantly took off. Today, Fileinbox has evolved into a tool for embedding upload forms on any website, helping businesses across the globe share files with ease.
The solution helps lawyers, accountants, and other professionals receive digital content from clients without burdensome login requirements. Now, with plans for streamlined integrations with popular CMS and site-building software, Fileinbox is continuing to simplify the customer experience.
Stumbling Upon a Dream Career
Christian was still in school as his fan base of dedicated users continued to grow. As surprised as he was that the tool enjoyed such quick adoption, the young student needed to focus on completing his studies. So he kept the server online and turned his attention elsewhere.
A few years later he graduated from college with a degree in computer science and aspirations to obtain further education in the medical field. First, however, the entrepreneur decided to take a year off to build a startup in the medical space.
As new businesses often do, the operation quickly fizzled out, and Christian found himself with almost a full year of free time. At the time, he was eager to experiment with Stripe, the online payment processing platform for internet businesses.
"At that point, I had about a dozen little side projects going on, but I was curious about how the Stripe API worked," he said. "And what better way to practice using Stripe than to monetize DBinbox (now Fileinbox)?"
Initially, he charged the same fees as Dropbox charged at the time — $30 a year for a basic plan and $100 for a premium plan. "I was thinking, OK, hopefully in a week I have one person sign up so I can test whether I can actually charge people's credit cards using Stripe," he said. "The first day, I had 10 people sign up for the $30-a-year plan, but I thought it was just a fluke. The next day, it happened again."
And it kept on happening. Before Christian knew it, he was making more than enough recurring revenue to cover an annual salary. "I was 22 years old, and I felt like I retired," he said. "I was just terrified — I had built this machine that was making money, and I didn't want to touch it and break it."
Serving a Focused User Base, Including Lawyers and Accountants
Christian's confidence increased with continued success and an ample serving of positive feedback. Today, he's focusing on the business side of Fileinbox. "I understand so much more about the people using it and the rates I should be charging — $30 a year was too low for what I was providing, and people weren't going to trust such an underpriced service," he said.
He's also concentrating on better serving the users he believes get the most value out of Fileinbox, such as lawyers, accountants, loan officers, and other professionals. By defining an audience, Christian said he can chart a more focused path forward.
"Earlier, I was swimming in an abstraction where if I implemented everything everyone wanted, it would be like Microsoft Word — which does everything but does everything poorly," he said. "Starting with an audience makes it much easier to build a concentrated use case."
If customer reviews are any indication, the service seems to be a hit. "We love Fileinbox — you have no idea how great it's been for our business," said Marie and Rick Elmendorf of Caliber Home Loans. "We no longer have to track down email attachments and faxes, and everything the customer does on their end is very simple — it's much more streamlined than anything we've ever had."
Automatic Organization and No Login Requirements
Fileinbox is currently available in three packages: Basic, Pro, and Business. Basic, the most economical solution, allows users to transfer 300 megabytes per file and 10 gigabytes a month; while the Pro plan allows for one gigabyte per file and a total of 999 gigabytes a month.
The business plan is the hardiest of the bunch, including all of the features of the Pro plan plus custom themes for the embedded upload form, the ability to organize files into subfolders, prioritized support, folder sharing, and upload notifications.
And, although the tool is feature-rich, it's still extremely user-friendly. "The thing I keep hearing over and over is that Fileinbox is so stupidly simple to use," he said. "You tell all of your clients to visit your website and click the 'upload documents' button. They drag and drop the file in, it shows up exactly where it needs to go, and it's super secure."
As for ongoing development, Christian's warm personality makes him a natural at eliciting customer feedback. "It's been super easy for me to figure out the potential things that I could be doing because people will reach out and tell me," he said. "And I love talking to them!"
For Christian, the only developer on the project, the problem isn't finding ideas for development — it's prioritizing them. For the time being, he plans to customize the platform around Fileinbox's target audience of lawyers, accountants, and loan officers.
In the Pipeline: Integrations with WordPress and Squarespace
Christian is slowly adding to his staff as Fileinbox continues to grow. Thus far, he's hired a contractor and is beginning to work with Brian Casel of Audience Ops, a content marketing blogging service.
On the tech side — which is near and dear to Christian's heart — the company will focus on integrations with various third-party providers. "I'm currently working on an integration with Google Drive; after that will be Box and OneDrive," he said. "Then, I'll focus on making it easier for users to integrate Fileinbox into WordPress and Squarespace sites."
After that, Christian said he's eager to build a knowledge base and create videos to make it even easier for customers to navigate the tool. Like Fileinbox itself, it's a fair bet those items will be written in a language that nontechnical users like his mother can understand.