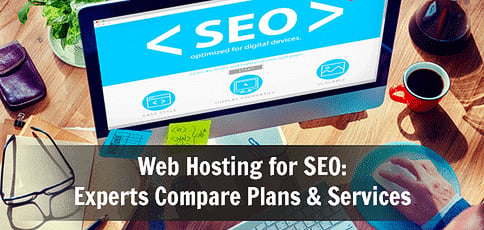 Believe it or not, the best web hosting for SEO can dramatically boost your visibility in search results beyond what simple keyword research can achieve. Features related to uptime, speed, server location, and security can all affect how search engines rank your website, and not all hosts excel at providing them.
That being said, finding SEO-friendly hosting doesn't have to be a major headache. Those same components are what makes most sites generally successful, whether you run a small business, ecommerce store, blog, or professional portfolio. We've taken the time to highlight the internet's top hosting providers that come with high-powered SEO tools and strong service guarantees.
While many beginning web entrepreneurs may not have an impressive level of SEO expertise, the hosting provider they choose can make a big difference in how high their sites appear in search results. Here, we'll take a close look at the hosts that can help optimize your site's rankings.
Best Overall Web Hosting Packages for SEO
SERP — no, it's not the sound your straw makes when you reach the bottom of your drink. It stands for search engine results page, and being at or near the top of it can have huge impact on your business's bottom line. In fact, 50% of consumers who found a store's products on search pages visited that business within one day.
That's why simply having a website's not enough. Businesses need to rank high in search results to compete, and one of the first steps is to find a host with packages optimized to help you do just that. The provider below tops our SEO-friendly hosting list because of its high uptime guarantees and fast page load times — both significant factors in effective SEO — along with its easy migration to upgraded tiers of service as sites scale.
Our review, linked in the table below, gives a comprehensive overview of why this host takes the top billing for SEO. Be sure to give it a read to see how the provider can help your business compete in today's competitive online landscape.
FREE site transfer or new site setup
FREE daily backups, CDN, email, and SSL
24/7 expert support with no wait on phone or chat
Recommended by WordPress as a top host
Ideal for business email hosting
SiteGround: Our Expert's Review
Setup time: 6 minutes
Go to full review

»
With an impressive breadth of overall hosting services offered, SiteGround is a leading innovator in the hosting space — from custom software solutions to premier customer support. The company offers the full range of web hosting features, including a free Cloudflare CDN, cPanel with SSH access, and unlimited MySQL databases and bandwidth — not to mention prize-worthy customer support.
| Money Back Guarantee | Disk Space | Domain Name | Best Overall Hosting Plans |
| --- | --- | --- | --- |
| 30 days | 10 GB SSD - 30 GB SSD | New or Transfer | www.siteground.com |
Best Cheap Web Hosting for SEO
One of the biggest changes since the web's early days has been access. In the 1990s, having a site on the internet was mainly seen as something only achievable by large businesses and the tech-savvy, with cost and technical proficiency coming in as the main barriers to market entry.
Now, it seems that everyone is online — from people running blogs about cheeseburgers to enterprise-level corporations. With the site builders discussed above and the prevalence of wallet-friendly hosting in today's market, cost and technical knowledge are no longer detouring would-be entrepreneurs and bloggers from entering the online business landscape.
But just because a provider offers services on the cheap doesn't mean its plans are able to support your online presence and business mission. When looking at the most affordable hosts in the industry when it comes to SEO, we obviously considered price. However, we also drew correlations between cost, available features, and levels of service. With these factors in mind, the three providers below came out on top.
These hosts are not only easy on the budget, but their feature-heavy hosting packages are sure to help your site climb search rankings and give you the best ROI. Check out the reviews in the tables below to see all you get for just a few bucks each month.
Known for high performance at a low price
Endorsed by WordPress.org team
FREE Weebly site builder and CloudFlare CDN
FREE domain and unlimited storage
Get 63% off today (was $7.99/month)
Bluehost: Our Expert's Review
Setup time: 4 minutes
Go to full review

»
If you're looking for an affordable host, Bluehost is a solid, reputable choice; The company's low costs, coupled with its supremacy in the shared hosting arena, is what makes this provider such a valuable deal. The Bluehost name is listed toward the top of many of our reviews categories, and with good reason.
| Money Back Guarantee | Disk Space | Domain Name | Cheap Hosting Plans |
| --- | --- | --- | --- |
| 30 days | 50 GB - Unlimited | FREE (1 year) | www.bluehost.com/shared |
Unlimited everything, from storage to databases
FREE site builder & WP performance upgrades
FREE daily or weekly backups
Custom control panel and auto-installation scripts
SSH access & SSL certificates
Hostinger: Our Expert's Review
Setup time: 3 minutes
Go to full review

»
As the shared hosting market becomes increasingly saturated, unlimited storage, bandwidth, and email accounts have become surprisingly average. Hostinger, however, extends the routine, expected metrics to greater lengths — the number of websites, databases, FTP users, subdomains, and parked domains are all unrestricted for most customers.
| Money Back Guarantee | Disk Space | Domain Name | Cheap Hosting Plans |
| --- | --- | --- | --- |
| 30 days | 10 GB SSD - 30 GB SSD | FREE (1 year) | www.hostinger.com/shared |
FREE Cloudflare CDN and SSD speed boost
Optimized caching and 1-click installs
Unlimited email, domains, and databases
Advanced security and FREE HackScan
24/7 support via phone, chat & tickets
A2 Hosting: Our Expert's Review
Setup time: 4 minutes
Go to full review

»
There are plenty of excellent cPanel shared hosting providers out there, so what sets A2 Hosting apart from the rest. Not only does the company offer a ton of features, but it has custom-built its packages for enhanced performance, speed, and security — putting your priorities above pricing.
| Money Back Guarantee | Disk Space | Domain Name | Cheap Hosting Plans |
| --- | --- | --- | --- |
| 30 days | Unlimited SSD | New or Transfer | www.a2hosting.com/shared |
Best WordPress Hosting for SEO
If you're in the market for a content management system that's easy to set up, built for SEO, and recommended by top bloggers and SEO professionals, look no further than WordPress. The free, open-source software powers nearly 30% of the web and almost 60% of sites that employ a CMS.
As a result of this widespread use, any hosting provider worth its salt will offer some sort of WordPress hosting package. However, these plans aren't all created equally. To ensure the best performance of your WordPress site, it's imperative you seek out the hosts that deliver pre-installed or one-click installs of the software, availability to host unlimited WordPress sites, and broad plugin compatibility, among other features.
After careful research of the best WordPress hosts on the market, we've found the three options below to be the most effective in the industry. These providers make it simple to get your ideas online with fast setup wizards and WordPress installs. Scroll down and read each review in the tables that follow. Not only do these hosts work well with WordPress, but their plans are also chock-full of features made specifically to help you blast your words to the masses.
WordPress pre-installed with NGINX and PHP 7
FREE SSL certificate and unlimited bandwidth
Automatic plugin, theme, and core updates
Features a FREE drag-and-drop WP page editor
Premium themes and plugin subscriptions
InMotion: Our Expert's Review
Setup time: 5 minutes
Go to full review

»
InMotion Hosting, long known for affordable and high-performance shared hosting options, entered the WordPress space with a solid option built upon the company's reputation for great support and reliability. Costing a small premium over other budget-minded options, InMotion does include some nice features to help justify that cost difference.
Recommended by WordPress Core since 2005
FREE SSD storage and SSL certificate
FREE domain registration and email
Automatic installation and updates
63% discount for HostingAdvice readers
Bluehost: Our Expert's Review
Setup time: 5 minutes
Go to full review

»
Aimed at personal bloggers and first-time users, Bluehost's WordPress hosting packages are a great alternative to simple shared hosting. These service come at a premium, compared to Bluehost's standard shared plans, but the WordPress optimization and platform-specific resources are arguably worth the cost.
| Money Back Guarantee | Disk Space | Domain Name | WordPress Hosting Plans |
| --- | --- | --- | --- |
| 30 days | 50 GB SSD - Unlimited | FREE (1 year) | www.bluehost.com/wordpress |
FREE Cloudflare CDN and 1-click WP installs
Turbo Server, SSD speed, and optimized caching
A2-optimized plugins for performance and security
FREE SSL certificates and 24/7 support
FREE HackScan and KernelCare
A2 Hosting: Our Expert's Review
Setup time: 4 minutes
Go to full review

»
As experts in performance optimization, A2 Hosting is a top choice for powering resource-heavy WordPress websites. The company offers shared or managed plans for the ultra-popular content management system, with the benefits extending to Joomla, Drupal, and other platforms.
See more WordPress host reviews »
Best Website Builder Hosting for SEO
Successfully baking a delicious chocolate cake starts with the right ingredients. You know you need sugar, flour, eggs, milk, and — of course — chocolate. But these components need to be measured, combined, and baked in just the right way to get the delicious results you desire. Most amateurs can put mouth-watering cakes on the table because they've followed carefully constructed recipes developed by master pastry chefs — and cooking up a good batch of SEO for your site is no different.
The best recipes for SEO start by sourcing the right ingredients: compelling site design that engages users and a site architecture that is easy for search engine bots to crawl and rank appropriately. Alhough this sounds complicated, our top-rated hosts for website building and design make the formula simple to follow.
The three hosts below sit at the apex of our site builder list because they offer intuitive, drag-and-drop environments from which users can develop beautiful, SEO-friendly sites without the need to code. With numerous professionally designed templates from which to choose, each of these hosts gives users a foundation on which to build their online business and connect with target audiences. Give our full reviews a read in the tables that follow and see how these hosts' website builders can help you easily develop a stunning site and perfect your SEO recipe.
No coding skills needed with drag-and-drop builder
100s of templates with niche-specific designs
Add features via the App Market and Wix Events
Easily create ecommerce functionality easily
Great way to build small sites on a budget
Wix: Our Expert's Review
Setup time: 4 minutes
Go to full review

»
Website building is where Wix shines. The thousands of templates, the intuitive editor, the industry-leading designs that cater to a variety of specific fields and use cases — all these facets represent a platform that excels at facilitating easy web design for the non-tech-savvy user.
| Money Back Guarantee | Disk Space | Domain Name | Website Builder Hosting Plans |
| --- | --- | --- | --- |
| 14 days | 500 MB - 20 GB | Transfer | www.wix.com/site-builder |
Choice of Weebly or WebsiteBuilder by iPage
Mobile-optimized and easy-to-use setup wizards
100s of professionally designed themes
FREE online store, shopping cart, and blogging
Get +75% off your first month
iPage: Our Expert's Review
Setup time: 4 minutes
Go to full review

»
Do you want your website built today. If you answered "yes," you should look no further than iPage.
| Money Back Guarantee | Disk Space | Domain Name | Website Builder Hosting Plans |
| --- | --- | --- | --- |
| 30 days | Unlimited | FREE (1 year) | www.ipage.com/site-builder |
Drag-and-drop design with the Gator™ site builder
Hundreds of mobile-friendly templates
FREE hosting, domain name, and SSL certificate
Easily add a blog, store, and social media
Analytics portal helps gauge site performance
HostGator: Our Expert's Review
Setup time: 4 minutes
Go to full review

»
Setting itself apart from the scores of competitors that rely on white-labeled website builder solutions, HostGator spent the time to painstakingly craft its own platform. Gator provides a frustration-free experience that pairs the simplicity of drag-and-drop design with the company's powerful and respected web hosting services.
See more website builder reviews »
Best Business & Ecommerce Web Hosting for SEO
When consumers are looking for information online, odds are pretty good they're turning to Google to find it. The search engine giant powers more than 62,000 searches per second, which amounts to roughly 2 trillion searches per year.
While some of these searches may be coming from web surfers looking for the latest and cutest cat videos, many of them represent people seeking to purchase products and services. So, it's incredibly important for modern businesses — whether they're brick-and-mortar shops or online storefronts — to have a far-reaching web presence and rank high in Google results.
A good SEO hosting plan is a cost-efficient way to help customers find you, which can have a huge returns on investment. And priority #1 in your strategy must be partnering with the right host to enhance your marketing efforts. The provider below offers packages that will help you run a high-performing eCommerce or business site with quick page loads and high uptime. Check out our full review, linked in the table below, to learn how this host can boost your business's listings in Google and bring customers to your marketplace in droves.
1-click installs for eCommerce tools
FREE eCommerce plugin for WordPress
Daily backups, a CDN, and FREE site builder
Test changes to your online store in a staging area
24/7 support delivered by ecommerce gurus
SiteGround: Our Expert's Review
Setup time: 6 minutes
Go to full review

»
SiteGround's shared hosting plans tout eCommerce necessities: 1-click installations of Magento, PrestaShop, WooComerce, or WordPress with the WP eCommerce plugin. If you opt for WP eCommerce, your server will be custom configured to fit your site's needs, and if you have an existing site, the SiteGround team will help you migrate to their services….
| Money Back Guarantee | Disk Space | Domain Name | Ecommerce Hosting Plans |
| --- | --- | --- | --- |
| 30 days | 10 GB SSD - 30 GB SSD | New or Transfer | www.siteground.com/ecommerce |
See more business hosting reviews »
Best Blog Hosting for SEO
The adage "Content is king," made famous by Bill Gates decades ago, still holds true in today's blogoshpere. Blogging isn't just a way to get your message out. Pumping out well-written, fresh content on your site can have an immensely positive effect on your ranking in search results.
That's why more than 60% of B2B and half of B2C marketers have looked at optimizing their blogs to reach broader audiences through SEO. There are a number of hosts that claim to be the best when it comes to fueling blog sites, but not many do it better than the provider below.
With cost-friendly hosting packages, quick setup time, and compatibility with the most popular blogging platforms, this provider tops our list for its ability to help businesses market their content and brands online. Our comprehensive review in the table below gives an overview of the tools this host provides site owners to help them build content pages, develop a web presence, and attract readers and customers to their online properties.
FREE domain, plus WordPress pre-installed
Host unlimited WordPress sites on one account
Unlimited bandwidth, plus FREE data backups
Easy 3-step wizard for Google apps integration
SPAM Safe™ email with IMAP support
InMotion: Our Expert's Review
Setup time: 5 minutes
Go to full review

»
What could be a more perfect fit for blog hosting than a host that offers pre-installed WordPress. InMotion allows users to host unlimited WordPress sites on a single account, along with unlimited storage, transfers, and bandwidth….
Best Web Hosting for SEO and Optimal Website Performance
Perhaps the biggest impacts a host can have on a site's SEO come with speed and availability. Sites that are slow to load or experience irregular downtime often receive a penalty from Google that hurts rankings in organic search.
In addition to negatively impacting SEO, slow load times can increase page abandonment rates, as consumers seldom wait more than a few seconds for pages to load before going elsewhere. This, coupled with invisibility on SERPs, can be the nail in the coffin for a business trying to compete in today's web-centric marketplace.
The answer for optimal site speed may lay in SSDs (solid-state drives). Our top-ranked SSD hosts can provide upward of 20 times the performance levels of hard-disk drives (HDDs). And, if you combine this with hosting on a virtual private server (VPS), your site's sure to be lightning fast with the additional computing power, storage, and bandwidth available.
Below is our top-rated SSD VPS hosting provider. Click the review linked in the following table and learn how this host can help boost site performance, visitor engagement rates, and revenue.
$0.01 for the first month using code HOSTINGADV
Then $6/mo. with no contracts or price changes
Latest PHP, MySQL, Perl, Python, Ruby & more
14 operating systems for Windows & Linux
Self-healing hardware boosts your site's uptime
InterServer: Our Expert's Review
Setup time: 6 minutes
Go to full review

»
InterServer's on-site datacenter and hands-on involvement with configuring and provisioning virtual private servers give customers a level of flexibility not seen with many other hosting providers. .
| Money Back Guarantee | Disk Space | Domain Name | SSD VPS Hosting Plans |
| --- | --- | --- | --- |
| N/A | 30 GB SSD - 480 GB SSD | New or Transfer | www.interserver.net/ssd-vps |
See more high-performance hosting reviews »
Choose a Leading Provider to Boost Your Search Rankings and Profits
It's no secret SEO is important when it comes to building a web presence. But optimizing your site to rank high in search results doesn't have to be a mystical process that seems out of reach for most web entrepreneurs. With the help of the best-in-class hosts presented here, your online business is sure to join the top results in SERPs and rank for what your audiences and customers are seeking.
For beginning site owners, getting up and running on the web can be pretty simple, and many of our top-ranked SEO hosts make it easy on newbies. If this sounds like you, our beginners' guide can walk you through the best ways to get started. Keep these tips in mind as you build your site. You'll be in great shape by following the industry's best practices from the get-go.
For seasoned pros, we also offer a guide to the top developer-friendly hosts on the market. Think of it as your personal handbook to consulting clients on best business practices and setting them up with the hosts to help them consistently rank high in search. You'll be better able to set clients on the path to success or help reroute those with established sites and help them focus their efforts in the right direction.
Advertiser Disclosure
HostingAdvice.com is a free online resource that offers valuable content and comparison services to users. To keep this resource 100% free, we receive compensation from many of the offers listed on the site. Along with key review factors, this compensation may impact how and where products appear across the site (including, for example, the order in which they appear). HostingAdvice.com does not include the entire universe of available offers. Editorial opinions expressed on the site are strictly our own and are not provided, endorsed, or approved by advertisers.
Our Editorial Review Policy
Our site is committed to publishing independent, accurate content guided by strict editorial guidelines. Before articles and reviews are published on our site, they undergo a thorough review process performed by a team of independent editors and subject-matter experts to ensure the content's accuracy, timeliness, and impartiality. Our editorial team is separate and independent of our site's advertisers, and the opinions they express on our site are their own. To read more about our team members and their editorial backgrounds, please visit our site's About page.