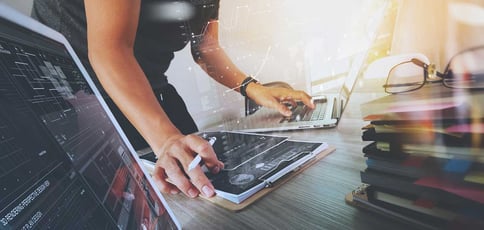 The best hosting with a CMS enables you to quickly create, publish, and promote valuable information central to your site's mission, maximizing efficiency and performance for both you and your website visitors.
Content management systems offer a tantalizing shortcut to launching and maintaining a website, featuring template-based designs and a user-friendly interface instead of hours of tedious coding by hand. For many, a CMS is synonymous with WordPress — the global powerhouse behind 36% of all websites.
That being said, there are dozens of free and proprietary platforms you can pair with your hosting plan — each with specific advantages and drawbacks. But which host gives you the most CMS options? Which is best equipped to handle your chosen CMS? We'll cover all the bases below, from the best deals and most compatibility to the plans carefully crafted for specific systems.
Best Hosting With a CMS Included for Free
Whether you're gathering news articles, engaging readers with marketing-driven messages, or simply operating a blog, a CMS is a vital tool in your arsenal. About a third of marketing budgets go toward technology investments, according to Gartner research, with 28% of that being allocated toward content management systems. As a result, the global CMS industry carried a $36 billion valuation in 2018 and is expected to rise to $123.5 billion by 2026.
However, content management systems aren't reserved for Fortune 500 corporations or the business elite. In fact, many platforms are available as open-source software, meaning communities of users and developers distribute the CMS free of charge. WordPress, Joomla, and Drupal fall under that category, as do more than 75 programs included as part of the Softaculous auto-installation script library.
No matter which CMS you choose, though, your success rate will be much higher if you're signed up with a hosting company that has some experience running the software on its infrastructure. Look for providers that offer one-click installations, upgraded security, and premium support alongside attractive price tags — like the ones we strongly recommend below:
Known for high performance at a low price
Endorsed by WordPress.org team
FREE Weebly site builder and CloudFlare CDN
FREE domain and unlimited storage
Get 63% off today (was $7.99/month)
Bluehost: Our Expert's Review
Setup time: 4 minutes
Go to full review

»
If you're looking for an affordable host, Bluehost is a solid, reputable choice; The company's low costs, coupled with its supremacy in the shared hosting arena, is what makes this provider such a valuable deal. The Bluehost name is listed toward the top of many of our reviews categories, and with good reason.
| Money Back Guarantee | Disk Space | Domain Name | Cheap Hosting Plans |
| --- | --- | --- | --- |
| 30 days | 50 GB - Unlimited | FREE (1 year) | www.bluehost.com/shared |
Unlimited everything, from storage to databases
FREE site builder & WordPress performance upgrades
FREE daily or weekly backups
Custom control panel and auto-installation scripts
SSH access & SSL certificates
Hostinger: Our Expert's Review
Setup time: 3 minutes
Go to full review

»
As the shared hosting market becomes increasingly saturated, unlimited storage, bandwidth, and email accounts have become surprisingly average. Hostinger, however, extends the routine, expected metrics to greater lengths — the number of websites, databases, FTP users, subdomains, and parked domains are all unrestricted for most customers.
| Money Back Guarantee | Disk Space | Domain Name | Cheap Hosting Plans |
| --- | --- | --- | --- |
| 30 days | 10 GB SSD - 30 GB SSD | FREE (1 year) | www.hostinger.com/shared |
$0.01 for the first month, then $5 monthly after
NO annual contracts and NO sudden price increases
Unlimited storage space, data transfers, and email
Register a new domain for $1.99 with most plans
99.9% uptime and price-lock guarantee
InterServer: Our Expert's Review
Setup time: 4 minutes
Go to full review

»
It's hard to argue with a shared hosting plan that includes unlimited storage, bandwidth, websites, and email — but shared hosting is a crowded industry that turns on name recognition, reputation, and bargain-basement prices. InterServer outperforms some of our higher-rated hosts, but we understand that many first-time site owners are laser-focused on finding the lowest costs.
See other affordable hosts with a free CMS »
Best CMS Hosting for WordPress
Let's be real: More often than not, someone shopping for a CMS is going to end up with WordPress. The platform has cornered roughly 60% of the global CMS market and continues to widen the gap, as 22% of newly registered domains in the U.S. will run WordPress.
In the game since 2003, WordPress holds the stellar reputation for serving all ends of the website owner spectrum. Friendly to beginners and also behind several moments that changed the world, the platform gives users access to thousands of free themes and plugins along with the customizations and coding tools needed to fine-tune your designs.
There are some minor differences between WordPress hosting and web hosting, but nothing that will trip up most site owners. We've already written about the WordPress-approved hosts the brand's leadership vouches for, but here are some other companies to consider. We love these hosting providers for including upgraded solid-state drives to boost performance, as well as automatic updates and tailored security programs. Read our reviews below to learn how these hosts contribute to the WordPress community and turn their hands-on expertise into friendly and helpful support.
WordPress pre-installed with NGINX and PHP 7
FREE SSL certificate and unlimited bandwidth
Automatic plugin, theme, and core updates
Features a FREE drag-and-drop WP page editor
Premium themes and plugin subscriptions
InMotion: Our Expert's Review
Setup time: 5 minutes
Go to full review

»
InMotion Hosting, long known for affordable and high-performance shared hosting options, entered the WordPress space with a solid option built upon the company's reputation for great support and reliability. Costing a small premium over other budget-minded options, InMotion does include some nice features to help justify that cost difference.
Recommended by WordPress Core since 2005
FREE SSD storage and SSL certificate
FREE domain registration and email
Automatic installation and updates
63% discount for HostingAdvice readers
Bluehost: Our Expert's Review
Setup time: 5 minutes
Go to full review

»
Aimed at personal bloggers and first-time users, Bluehost's WordPress hosting packages are a great alternative to simple shared hosting. These service come at a premium, compared to Bluehost's standard shared plans, but the WordPress optimization and platform-specific resources are arguably worth the cost.
| Money Back Guarantee | Disk Space | Domain Name | WordPress Hosting Plans |
| --- | --- | --- | --- |
| 30 days | 50 GB SSD - Unlimited | FREE (1 year) | www.bluehost.com/wordpress |
FREE Cloudflare CDN and 1-click WP installs
Turbo Server, SSD speed, and optimized caching
A2-optimized plugins for performance and security
FREE SSL certificates and 24/7 support
FREE HackScan and KernelCare
A2 Hosting: Our Expert's Review
Setup time: 4 minutes
Go to full review

»
As experts in performance optimization, A2 Hosting is a top choice for powering resource-heavy WordPress websites. The company offers shared or managed plans for the ultra-popular content management system, with the benefits extending to Joomla, Drupal, and other platforms.
See other top WordPress hosts »
Best CMS Hosting for Joomla
We get it, WordPress isn't for everyone. The CMS comes with a somewhat steep learning curve, and its widespread popularity makes it a major target for attack. In fact, criminals try to exploit WordPress vulnerabilities 90,000 times each minute.
When searching for WordPress alternatives, Joomla is a natural next fit. The platform touts itself as the only major CMS built and maintained entirely from volunteers, and the software has been downloaded more than 110 million times. Joomla is largely considered easier for beginners to get started with, and online store owners can manage their inventory and website from one interface with strong ecommerce integrations.
Because the complex system can consume a good bit of computing resources, your Joomla hosting provider should provide top-notch infrastructure and well-appointed plans. Again, we like to see SSD-driven solutions backed by 24/7 knowledgeable support and one-click installations:
Official hosting partner of the Joomla project
FREE Joomla site transfer or setup with 1-click install
Amazing speed and security features
Complementary staging area for your Joomla site
Auto-updates to the Joomla Core and plugins
SiteGround: Our Expert's Review
Setup time: 6 minutes
Go to full review

»
SiteGround's Joomla web hosting services cater to speed- and security-minded site owners. The team gets you up and running quickly, then monitors your site 24/7 to prevent downtime.
| Money Back Guarantee | Disk Space | Domain Name | Joomla Hosting Plans |
| --- | --- | --- | --- |
| 30 days | 10 GB SSD - 30 GB SSD | New or Transfer | www.siteground.com/joomla |
Simplified Joomla installation and configuration
24/7 US-based support with Joomla experience
Up to $200 in search engine ad credits available
Shared platform is trusted by millions of site owners
FREE SSL certificate and domain registration
Bluehost: Our Expert's Review
Setup time: 4 minutes
Go to full review

»
Bluehost offers everything you need to get a Joomla-built online store live quickly. Starting with a free domain and 1-click Joomla installation, you can easily customize a professional-looking online marketplace and get noticed in search results….
| Money Back Guarantee | Disk Space | Domain Name | Joomla Hosting Plans |
| --- | --- | --- | --- |
| 30 days | 50 GB - Unlimited | FREE (1 year) | www.bluehost.com/joomla |
1-click installs for Joomla and FREE PayPal integration
Host unlimited domains under one account
Enhanced security suite to protect your products
$200 of FREE marketing credits to promote your store
Unlimited email to communicate with customers
iPage: Our Expert's Review
Setup time: 5 minutes
Go to full review

»
A long-time leader in simple and affordable site building, iPage is a great choice for launching a Joomla-based eMarketplace. Set up Joomla quickly and be on your way to posting and profiting from products, with PayPal and your choice of shopping cart….
| Money Back Guarantee | Disk Space | Domain Name | Joomla Hosting Plans |
| --- | --- | --- | --- |
| 30 days | Unlimited | FREE (1 year) | www.ipage.com/joomla |
Best CMS Hosting for Drupal
Closing out our trifecta of full-service content management systems, Drupal accounts for roughly 5% of all sites using a CMS. While Joomla is typically categorized as a good CMS for beginners, Drupal is more commonly thought of as a better-suited tool for developers and organizations with large databases of information.
Since the platform's API-first architecture is so developer-focused, Drupal enables site owners to create more advanced websites that require complex data organization or multi-user engagement. Nearly 120,000 users actively contribute to Drupal's codebase, with about 1,300 commits each week ensuring your CMS stays ahead of development trends and security vulnerabilities.
We gave Drupal the nod for built-in performance in our head-to-head Joomla vs. WordPress vs. Drupal comparison, so be sure to find a hosting provider that helps you leverage every bit of the available speed boost. Plus, you'll want a host more equipped to handle your complex questions than some of the other beginner-friendly budget-conscious hosts. The hosting providers we've reviewed below
Premium Drupal hosting with simple setup
FREE site transfer and 1-click Drupal installs
Drupal-specific tools for working with code and themes
24/7 uptime monitoring and daily backups
Drupal SuperCacher available for added speed
SiteGround: Our Expert's Review
Setup time: 6 minutes
Go to full review

»
SiteGround touts premium-level Drupal hosting — complete with expert monitoring, performance-boosters, and command line tools — for an ultra-affordable price. The company's esteemed professionals work non-stop to keep your Drupal project online, loading quickly, and secure….
| Money Back Guarantee | Disk Space | Domain Name | Drupal Hosting Plans |
| --- | --- | --- | --- |
| 30 days | 10 GB SSD - 30 GB SSD | New or Transfer | www.siteground.com/drupal |
FREE domain, site builder, and 1-click Drupal install
Unlimited everything: storage, bandwidth, and email
Includes cPanel and FREE SSL certificate
Get up to $200 in FREE marketing credits
US-based customer support available 24/7
Bluehost: Our Expert's Review
Setup time: 4 minutes
Go to full review

»
Get started on Drupal with Bluehost in as little as one click. Bluehost provides everything you need to get rolling with this increasingly popular content management system — including a free domain, unlimited email, storage, and bandwidth, and US-based customer support to help every step of the way….
| Money Back Guarantee | Disk Space | Domain Name | Drupal Hosting Plans |
| --- | --- | --- | --- |
| 30 days | 50 GB - Unlimited | FREE (1 year) | www.bluehost.com/drupal |
FREE site builders and CMS installs (including Drupal)
Unlimited storage and email addresses, with FREE domain
FREE online store and shopping carts easy to set up
Enhanced security suite included ($100 value)
$200 in search engine marketing credits
iPage: Our Expert's Review
Setup time: 5 minutes
Go to full review

»
If you want to get a Drupal site built and launched fast, iPage is the way to go — the brand makes it extremely simple. You get all the essentials: unlimited storage and email addresses, a free domain, plus quick installation of your choice of CMS (like Drupal)….
| Money Back Guarantee | Disk Space | Domain Name | Drupal Hosting Plans |
| --- | --- | --- | --- |
| 30 days | Unlimited | FREE (1 year) | www.ipage.com/drupal |
What are CMS Platforms?
Given the alphabet soup of web hosting components, with CDN, CTR, CSS, CRM, SEO, SSL, and countless other acronyms, it's easy for CMS to get lost in the shuffle. We've explained that a content management system can help you publish a website without coding, but that's a fairly vague statement — so do drag-and-drop website builders, for instance. So, what's the difference between CMS web hosting and site builders?
Simply put, a CMS is a software program that allows users to choose a design theme, make minor adjustments, and produce digital content. Website builders' interfaces tend to be more visually based and focused on a site's appearance, while a content management concentrates more on the, well, content.
What's more, users will install a CMS on their own hosting environment (if it's not already pre-installed for you) and have full control over the robust feature set. That's called self-hosted. Website builders, however, are typically proprietary systems managed and maintained only by the company that creates them — what's called a hosted solution.
Self-hosted content management systems can be a little more daunting at first, but they offer a ton more flexibility and scalability. Don't be frightened by a portal that is more text-based instead of WYSIWYG (apologies for the other acronym) — each CMS comes with a global community of developers and users who can help you get started.
How Does a CMS Work?
Instead of manually coding and updating individual pages and creating new blog posts, a CMS acts as a mediator between you and your website files, removing the need for you to contact a developer or learn how to use HTML and PHP.
When you break it down, a CMS comprises two parts. The content management application is the frontend interface that enables site owners, marketers, writers, and editors to interact with and manage a website's content directly, while the content delivery application takes the information from the CMA and inserts it into the template files and other backend systems to produce the interactive website your visitors know and love.
Most popular platforms, including WordPress, rely on a database to store and organize website information. Free database hosting is a common component of most web hosting plans, usually in the form of MySQL — the M in the industry-standard LAMP stack. Databases contain the raw information you enter into your website: page titles, blog content, images, and other information. Your CMS theme or template acts as a Mad Lib of sorts, providing the framework of design and functionality and uses your database to fill in the blanks.
Which is the Best CMS Platform?
Who is your favorite child? What's your favorite color? What's the best football team? When you ask 100 people certain questions, you'll get 100 different answers. Similarly, site owners have widely differing opinions when it comes to their chosen content management system. Sure, WordPress is the go-to option for the most number of people, but other systems enjoy cult-like followings, as well.
When searching for your perfect CMS, keep an eye out for key features like the intuitiveness of the editor interface, available themes and plugins, frequency of updates, and tools for SEO, social media, and searches. Take a look at what we consider the most popular content management systems:
As you can imagine choosing a CMS is not a one-size-fits-all solution. You've got hosted and self-hosted options, ecommerce platforms and site builders, and tools built with an emphasis on writing, photography, or data. Some systems are great for high-traffic sites and applications, while others are better-suited for running a small blog. Ultimately, the best CMS platform is the one that meets your website needs with speed, security, and efficiency.
Finding the Right CMS Speeds Up Your Website Development
Just as the word content represents a wide variety of media, including text, images, graphics, videos, and audio, the vast CMS marketplace can be broken down into a surprising number of specific niches that best meet organizational needs. When we (and, we assume, our readers) typically think of a CMS, our minds go to WordPress, Joomla, Drupal, and other comprehensive website publishing tools.
Whether you're starting your first site or own a major business, a content management system is a helpful tool to help you get online faster. For instance, companies like General Electric, eBay, and Warner Media use Drupal; other Fortune 500 companies and major universities or governments use WordPress, Joomla, and countless other systems.
Those are typically open-source, self-hosted platforms. But don't forget about the systems that help you publish an online store or blog. Or those focused on document management, enterprise communications, or digital asset organization. Although your options may seem limitless, we have no doubt you'll be able to find the perfect CMS. Whichever you choose, know you're not alone.
Advertiser Disclosure
HostingAdvice.com is a free online resource that offers valuable content and comparison services to users. To keep this resource 100% free, we receive compensation from many of the offers listed on the site. Along with key review factors, this compensation may impact how and where products appear across the site (including, for example, the order in which they appear). HostingAdvice.com does not include the entire universe of available offers. Editorial opinions expressed on the site are strictly our own and are not provided, endorsed, or approved by advertisers.
Our Editorial Review Policy
Our site is committed to publishing independent, accurate content guided by strict editorial guidelines. Before articles and reviews are published on our site, they undergo a thorough review process performed by a team of independent editors and subject-matter experts to ensure the content's accuracy, timeliness, and impartiality. Our editorial team is separate and independent of our site's advertisers, and the opinions they express on our site are their own. To read more about our team members and their editorial backgrounds, please visit our site's About page.