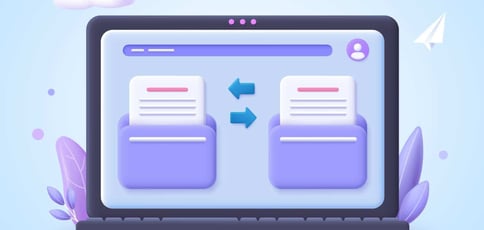 I've worked on many websites hosted by average web hosts, but my clients usually hesitate to migrate to greener pastures because the process is daunting and complex.
Most people blame the difficulty of migrating as the key reason for sticking with their current hosts. Migrating your site doesn't necessarily mean fleeing a terrible host. Sometimes, your needs change and you want more compatibility or a better mix of affordability and reliability.
Whatever the reason, the best hosts with free site migration will do all the heavy lifting for you. Let's explore some options.
1. SiteGround
SiteGround is the perfect host to migrate a WordPress website. For starters, this is one of the few WordPress-approved hosts — along with Bluehost and DreamHost. SiteGround is best known for its quality and customer support.
FREE site transfer or new site setup
FREE daily backups, CDN, email, and SSL
24/7 expert support with no wait on phone or chat
Recommended by WordPress as a top host
Ideal for business email hosting
BEST OVERALL
RATING 5.0 ★★★★★ Our Review
SiteGround: Our Expert's Review
Alexandra Anderson (HostingAdvice.com): With an impressive breadth of overall hosting services offered, SiteGround is a leading innovator in the hosting space — from custom software solutions to premier customer support. The company offers the full range of web hosting features, including a free Cloudflare CDN, cPanel with SSH access, and unlimited MySQL databases and bandwidth — not to mention prize-worthy customer support. Go to full review »
| Money Back Guarantee | Disk Space | Domain Name | Setup Time |
| --- | --- | --- | --- |
| 30 days | 10 GB SSD – 40 GB SSD | New or Transfer | 6 minutes |
More about SiteGround:
Has excellent customer service, perfect if you have questions or concerns about migrating your site
The migration process is easy to follow and requires no technical knowledge
Also offers free, one-click WordPress installation
SiteGround doesn't mention anything about free migration for non-WordPress websites. But if your website runs on WordPress, all you need to do is install the SiteGround WordPress migrator plugin. The plugin will generate a token to initiate the migration.
You should note that SiteGround's renewal price is higher than most, but we think it's worth it for the features and performance you get.
2. Bluehost
Bluehost is also great for migrating WordPress websites and is more affordable than SiteGround, making it one of the best shared web hosting providers. The managed WordPress hosting provider also offers unlimited storage, making it a great option for websites with high storage requirements.
Up to unlimited website domain and email hosting
1-click WordPress installs and software updates
Support for popular shopping carts with FREE SSL
Up to $200 in Microsoft and Google Ad credit
Industry-leading hardware and uptime rates
BEST OVERALL
RATING 4.9 ★★★★★ Our Review
Bluehost: Our Expert's Review
Ryan Frankel (HostingAdvice.com): Bluehost has long been a favorite of mine in the shared and WordPress hosting spaces. The company adheres to modern standards for hardware, and its customer service resources are now backed by hosting industry titan Newfold Digital. Go to full review »
| Money Back Guarantee | Disk Space | Domain Name | Setup Time |
| --- | --- | --- | --- |
| 30 days | 10 GB SSD – 100 GB SSD | FREE (1 year) | 5 minutes |
More about Bluehost:
Offers live chat support if you have questions or concerns about migrating your website
The free migration offer only lasts for 30 days after signup
It covers one WordPress site (you may need to pay extra for multiple website transfers)
Bluehost consistently proves why it is a WordPress-endorsed hosting provider. Its free WordPress website migration service is an excellent example of how it goes above and beyond to help WordPress users settle in smoothly.
The best part is that Bluehost allows you to review the website before it goes live. That way, you can review it before launching the website on the new platform.
3. A2 Hosting
A2 Hosting has a knack for speed and is another great option to get your site up and running shortly after migration. The web hosting company takes care of the entire process as you sit back and wait for your website to go live again.
SSDs and TurboServer for 20x faster pageloads
Host unlimited websites and FREE site transfer
Optimized plugins and 1-click installs for WP
Pre-installed OPcache and Memcached caching
FREE HackScan with restore options
BEST OVERALL
RATING 4.9 ★★★★★ Our Review
A2 Hosting: Our Expert's Review
Alexandra Anderson (HostingAdvice.com): If speed and performance, partnered with support and security, are at all priorities in your web host shopping, A2 Hosting should be a leading contender. When A2 Hosting first launched in 2003, the company was focused on serving developers; A2 Hosting was among the first providers to offer PHP 5 and to support Ruby on Rails on shared servers. Go to full review »
| Money Back Guarantee | Disk Space | Domain Name | Setup Time |
| --- | --- | --- | --- |
| 30 days | 100 GB SSD – Unlimited SSD | New or Transfer | 5 minutes |
More about A2 Hosting:
Has a dedicated team of website migration specialists who focus on migrating websites
Handles everything, giving you peace of mind
Comes with a free website migration form request you'll need to fill out to initiate the process
This web host is the perfect alternative if you have limited knowledge about website migration. All you need to do is fill out the website migration form after signing up for a hosting service, and the host will take care of everything.
A2 Hosting doesn't restrict its migration services to specific websites or hosting packages. Whether you choose shared, VPS, or dedicated server hosting, the free migration offer still stands.
4. InMotion Hosting
InMotion Hosting has one of the best customer support teams in the web hosting world. That's because it maintains an in-house crew of customer service professionals with more than 280 hours of training each.
FREE SSD drives included with all hosting plans
Zero-downtime website transfers and migrations
FREE backups, SSL, and DDoS protection
Choice of East Coast or West Coast datacenter
Multi-language support for PHP, Ruby, and Perl
BEST OVERALL
RATING 4.9 ★★★★★ Our Review
InMotion: Our Expert's Review
PJ Fancher (HostingAdvice.com): Offering a wider range of services than most — including shared, dedicated, VPS, and even WordPress-specific plans — InMotion Hosting features a great combination of industry-leading hardware, always-there support, and mass scalability for all hosting needs. InMotion Hosting has ultra-modern SSD drives on its shared plans, which give an added speed boost to your site. Go to full review »
| Money Back Guarantee | Disk Space | Domain Name | Setup Time |
| --- | --- | --- | --- |
| 90 days | Unlimited | FREE (1 year) | 4 minutes |
More about InMotion Hosting:
Offers between two to four hours of website migration assistance
The exact time it dedicates to assisting you with migration will depend on your web hosting plan (only for VPS and dedicated hosting clients)
Shared hosting customers can migrate their website for free directly via InMotion's control panel
Although not officially endorsed by WordPress, InMotion also offers free WordPress migration. This is one of the best web hosting migration services for small websites.
If you'd like to migrate a large-scale website, you may need to contact support for further assistance. And since this host offers top-notch customer support, you shouldn't have that much of a problem getting the help you need.
5. Hostwinds
Hostwinds offers a nice balance of power and affordability for beginners and small businesses. Hostwinds has one of the best website migration processes you'll find. This free migration service is only available upon request.
500% faster speeds via SSDs
LiteSpeed web server performance
FREE dedicated IP address
99.999% uptime guarantee
Datacenters in Dallas and Seattle
BEST OVERALL
RATING 4.8 ★★★★★ Our Review
Hostwinds: Our Expert's Review
Laura Bernheim (HostingAdvice.com): Promising enterprise-grade hosting solutions for prices that appeal to small and medium businesses, Hostwinds delivers the full range of operating systems and server configurations to help customers build and grow an online presence. With hosting plans covering niches like vBulletin and Minecraft, Hostwinds attracts a customer base as mixed as the server configurations. Go to full review »
| Money Back Guarantee | Disk Space | Domain Name | Setup Time |
| --- | --- | --- | --- |
| 3 days | Unlimited SSD | New or Transfer | 5 minutes |
More about Hostwinds:
Offers website migration services for all hosting plans, from shared, business, to cloud
Follows an easy, three-step process to complete the migration
Has a no-downtime migration approach, keeping your site up and running even during the migration
The no-downtime migration process is a game changer. Many clients would rather stay with a host they don't like than risk being offline for a considerable amount of time.
That's understandable since some migration processes can take up to a week, depending on the amount of files transferred and other factors. The zero-downtime process, therefore, means you won't have to worry about your site going offline after initiating the migration.
6. Hostinger
Hostinger always has many free tools to offer, including website migration. But the host will only migrate websites built with an open-source CMS such as Joomla or WordPress.
24/7/365 ticket and live chat support
99.9% network uptime guarantee
FREE domain, site builder, backups, and SSL certificate
Unlimited bandwidth, databases, and email accounts
Speedy SSDs optimize performance
BEST OVERALL
RATING 4.8 ★★★★★ Our Review
Hostinger: Our Expert's Review
Laura Bernheim (HostingAdvice.com): Behind a mission to make life easier for website developers and their customers, Hostinger provides fast, stable, and streamlined services at a price that is very hard to beat. Founded in 2004, the bootstrapped company hit the 10 million users mark a decade later, achieving ICANN accreditation and localizing services in 39 countries. Go to full review »
| Money Back Guarantee | Disk Space | Domain Name | Setup Time |
| --- | --- | --- | --- |
| 30 days | 50 GB SSD – 200 GB SSD | FREE (1 year) | 3 minutes |
More about Hostinger:
Offers free website migration upon request
Its website migration service does not include email account migration (you'll need to do that manually)
Allows users to track the status of the website migration process
If you use a custom web builder such as Blogger, Shopify, or Wix to build your website, you can't migrate it to Hostinger. But you can use its free website builder tool to recreate the website.
For most people, that can be quite inconvenient and risky. I'd only recommend choosing this option if you really want to redesign your website from scratch and have the technical knowledge to do it.
7. DreamHost
DreamHost works well with WordPress websites, which is why it also appears on the list of WordPress-approved hosts. If you're not a fan of SiteGround or Bluehost, you should consider DreamHost instead. You can easily migrate your WordPress site for free with the DreamHost Automated Migration Plugin.
Unlimited traffic, storage, websites, and email
US-based customer support available 24/7
200% faster performance with SSDs
Industry-leading 97-day money-back guarantee
Enjoy preinstalled WordPress and FREE transfer
BEST OVERALL
RATING 4.8 ★★★★★ Our Review
DreamHost: Our Expert's Review
Laura Bernheim (HostingAdvice.com): A top-notch host for those who know what they're looking for, DreamHost offers nuanced and performant hosting perfect for scaling websites and applications through the ranks of shared, VPS, cloud, and dedicated hosting. We love the company's features but realize that beginners or hobbyist developers might not want to fork over the extra cash to capitalize on the performance, optimization, and managed services that DreamHost offers. Go to full review »
| Money Back Guarantee | Disk Space | Domain Name | Setup Time |
| --- | --- | --- | --- |
| 97 days | Unlimited | FREE (1 year) | 4 minutes |
More about DreamHost:
Offers a DreamHost Automated Migration Plugin to transfer WordPress websites
The plugin works on any DreamHost account with an active hosting subscription
Also offers migration services for non-WordPress websites
Although DreamHost is a WordPress-endorsed web host, that doesn't mean it can't help you transfer any other kind of website. On the contrary, the host can help you accomplish that for a small fee.
If it is unable to complete the migration for any reason, you'll receive a refund. In addition, similar to Hostinger, DreamHost cannot migrate websites built on proprietary site builders such as Squarespace, Weebly, Shopify, or Wix.
8. Liquid Web
Liquid Web offers free website migration, but it may charge you a fee based on your unique needs on rare occasions. You shouldn't be too worried, though, especially when migrating a standard website with basic features.
Heroic Support

®

and fully managed hosting
Linux or Windows options with cPanel, InterWorx, or Plesk
Industry leader in customer loyalty and NPS score
Servers proven faster than AWS and Rackspace
100% uptime guarantee plus built-in backups
BEST OVERALL
RATING 4.8 ★★★★★ Our Review
Liquid Web: Our Expert's Review
Alexandra Anderson (HostingAdvice.com): We've gotten to know a few key members of the Liquid Web team personally, and let us tell you: The passion they put into talking about their products hints that this is a company worth checking out. Liquid Web boasts supreme uptime, always-there-for-you support, and a constant commitment to building out more functionality for the customer. Go to full review »
| Money Back Guarantee | Disk Space | Domain Name | Setup Time |
| --- | --- | --- | --- |
| 30 days | 40 GB SSD – 500 GB SSD | New or Transfer | 7 minutes |
More about Liquid Web:
Follows a systematic step-by-step process, updating you along the way
Has a team of highly trained website migration specialists that handle every step of the process
Offers expert advice on your hosting needs before and after migration
This host follows a five-step website migration process. It involves selecting your hosting package, accessing your old server, preliminary testing, syncing with the new server, and publishing your website.
Near the end of the process, you should expect about an hour of downtime, but the host promises to try everything possible to keep the downtime to a minimum.
9. Nexcess
Nexcess website migration is 100% free of charge, so you shouldn't have to worry about incurring additional costs. But that's not the only reason to choose this web host. It offers four migration options: automated, life-and-shift (the default option), replatforming, and refactoring.
Powerful cloud hosting optimized for growth
99.99% uptime guarantee with 1-click autoscaling
Premium managed services and platform support
FREE WordPress site migrations with every plan
Easy online store design and creation with StoreBuilder
BEST OVERALL
RATING 4.7 ★★★★★ Our Review
Nexcess: Our Expert's Review
Laura Bernheim (HostingAdvice.com): Promising fast, reliable page loads and a hosting service with tons of built-in perks, Nexcess represents a tremendous option for small businesses and large organizations — as well as the designers and developers who dream big. The hosting provider's already stellar reputation for innovation and high-touch managed services got an additional boost in 2019 when it came under the Liquid Web umbrella. Go to full review »
| Money Back Guarantee | Disk Space | Domain Name | Setup Time |
| --- | --- | --- | --- |
| 30 days | 15 GB – 800 GB | $15.00 | 8 minutes |
More about Nexcess:
The migration process involves minimal downtime
Promises to do it right the very first time
Offers migrations regardless of your website's size and complexity
I'm a big fan of the immense confidence this web host inspires, especially regarding website migration. It gives you peace of mind knowing that your website is in the hands of experts who know what they're doing.
Its options for migrating your site are meant to appeal to users of all experience levels, so you're sure to find a process that works for you.
10. ScalaHosting
ScalaHosting has all the tools you need to migrate your website for free with no downtime. It's also one of the best managed VPS hosting providers, so users who need more control and support should take a closer look.
Simple, fast, and reliable hosting services
Full-service account management with SPanel
FREE domain name, SSL certificate, and CDN
Custom-built servers and self-healing cloud setup
Unlimited emails, databases, and bandwidth
Managed VPS options with top-tier support
BEST OVERALL
RATING 4.7 ★★★★★ Our Review
ScalaHosting: Our Expert's Review
Laura Bernheim (HostingAdvice.com): Perfect for those looking for the best value for shared or cloud hosting, ScalaHosting offers a soft place to land.  Even if you're taking your first steps into the world of virtual private servers, the company's modern hardware and attentive support teams will make your experience enjoyable. Go to full review »
| Money Back Guarantee | Disk Space | Domain Name | Setup Time |
| --- | --- | --- | --- |
| 30 days | 10 GB SSD – 2 TB SSD | FREE (1 year) | 6 minutes |
More about ScalaHosting:
Promises to take charge of the migration process from start to finish with no downtime
Humans, not software, are in charge of the migration process
Lets you migrate as many websites as you want at no additional cost
You've got to admire ScalaHosting's dedication to ensuring a fast and painless website migration procedure. And the fact that it lets you migrate unlimited websites at no cost makes it the perfect host if you have multiple websites to transfer.
That's quite rare in this industry, as most hosts will migrate only a limited number of websites and then charge you a fee for anything extra.
11. HostArmada
HostAmarda offers two types of website migration options: manual and full cPanel migration, both of which are free.
FREE website optimization with enhanced caching
Upgrade quickly with scalable cloud servers
Easy-to-navigate cPanel integration
FREE web security suite with DDoS protection
24/7 technical support and ticketing 
BEST OVERALL
RATING 4.6 ★★★★★ Our Review
HostArmada: Our Expert's Review
Lynn Cadet (HostingAdvice.com): Launched in 2019, HostArmada offers cloud-based hosting plans that range from shared to dedicated server services. The web hosting provider cements its services on three pillars: speed, security, and stability. Go to full review »
| Money Back Guarantee | Disk Space | Domain Name | Setup Time |
| --- | --- | --- | --- |
| 45 days | 15 GB SSD – 40 GB SSD | FREE (1 year) | 3 minutes |
More about HostArmada:
Provides free website migration services upon request
Can help transfer email accounts, subdomains, add-on domains, FTP accounts, aliases, and more, depending on the migration option you choose
The migration service applies to all its web hosting packages
The manual transfer option is much easier. All you need is your FTP or SSH login details and your PHPMyAdmin access credentials. Once you have these, HostArmada will take care of the rest.
What Is Free Site Migration in Web Hosting?
Free site migration is when your web hosting provider offers a no-cost way of migrating your website to its platform. This usually happens in one of two ways. The first is a full-service migration, through which the web host handles everything for you. The second, which is popular for WordPress sites, is when the web host offers a free migration plugin.
A migration plugin allows you to click and drag files in an easy-to-use interface that transfers your website quickly.

Some hosts offer free site migration, while others charge a small fee. You may find web hosts that offer free migration but charge a small fee for certain complex websites or processes. Ultimately, the migration method you choose will probably depend on your experience and skill level. If you're unsure about how to migrate a site, it's best to choose a host that does it for you.
Are There Free Web Hosting Options?
Yes, you'll find plenty of free hosting options out there. However, the drawbacks tend to outweigh the advantages. You can get away with a free web hosting service for a school project or to practice coding, but for professional websites, you need to invest in a paid service.

Entirely free web hosting providers are usually not as secure. Some will run ads on your website or cPanel or even restrict the amount of hosting resources, such as CPU, memory, and storage, you can use. If you're on a budget, it would be better to opt for cheap web hosting.
If you're not ready to commit, a web host with a free trial should be good enough to test the waters.
How Do I Migrate a Website?
As I mentioned earlier, you can go about the process in two ways: using a plugin or migrating the site manually. Here are some steps to follow:
Using a Plugin:
1. Choose a migration plugin suitable for your CMS. Examples include Duplicator, UpdraftPlus, BackupBuddy, and WP Migrate DB.
2. Install and activate the chosen plugin in your CMS.
3. Configure the plugin with source and destination server details.
4. Create a backup of your website using the plugin.
5. Initiate the migration process within the plugin.
6. Update DNS settings to point to the new server after migration.
7. Test your site to ensure everything works correctly.

Migrating Your Site Manually:
1. Create a full website backup, including files and databases.
2. Set up the new server or hosting environment with the required software and configurations.
3. Use an FTP client to transfer website files from the old server to your local computer and then to the new server.
4. Export and import your database from the old server to the new one.
5. Update configuration files to reference the new server and paths.
6. Test your website on the new server to ensure proper functionality.
7. Update DNS settings to point to the new server.
8. Monitor and troubleshoot any issues that may arise post-migration.
That's it. Your website is now fully migrated. Please note that the specific steps may vary depending on your web hosting provider, content management system (CMS), and migration tools used.
Bring Your Website Home With Free Site Migration
A free website migration service is usually complimentary, not necessarily a sign of reliable hosting. Fortunately, you don't need to search further because we have identified the most reliable hosts that offer free migration.
Ultimately, your needs will determine the right host for your website or application. Once you've found what you need, the next step is to use free migration to bring your website to its new home.
See Our Full Review of SiteGround
Whatever type of hosting plan you're looking for, SiteGround is a solid choice no matter the scale. Our reviewer Alexandra Anderson recently took SiteGround for a spin, and rated the popular host a 5.0 in the Best Overall Hosting category out of a perfect score of 5.0. Here's what Alexandra had to say about SiteGround:
With a reputation for reliable customer support and the leading-edge tech innovations, SiteGround needs to be near the top of your list of potential hosting providers. The premium host enables site owners and WordPress users to operate with performance and reliability in fluidly scalable cloud-powered environments.
Before signing up for SiteGround, it's a good idea to read through Alexandra's full review to learn about all the features SiteGround offers. You can also compare it to other web hosts to ensure you're getting the best deal possible:
If you decide SiteGround is the right choice, keep in mind that it takes just minutes to deploy your SiteGround server space. And at $2.99 per month, it's a bargain considering the many great features that come in any SiteGround plan.
Advertiser Disclosure
HostingAdvice.com is a free online resource that offers valuable content and comparison services to users. To keep this resource 100% free, we receive compensation from many of the offers listed on the site. Along with key review factors, this compensation may impact how and where products appear across the site (including, for example, the order in which they appear). HostingAdvice.com does not include the entire universe of available offers. Editorial opinions expressed on the site are strictly our own and are not provided, endorsed, or approved by advertisers.
Our Editorial Review Policy
Our site is committed to publishing independent, accurate content guided by strict editorial guidelines. Before articles and reviews are published on our site, they undergo a thorough review process performed by a team of independent editors and subject-matter experts to ensure the content's accuracy, timeliness, and impartiality. Our editorial team is separate and independent of our site's advertisers, and the opinions they express on our site are their own. To read more about our team members and their editorial backgrounds, please visit our site's About page.