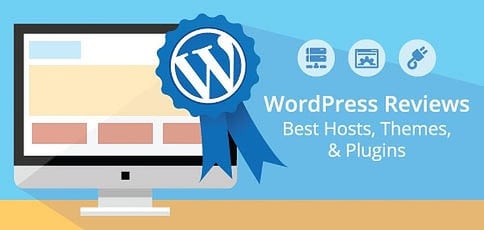 For those looking to dip a toe into the ocean of web design and publishing, here's our comprehensive WordPress review of all things hosting, themes, and plugins. With millions of contributors, themes, and plugins out there, getting started with WordPress can seem overwhelming — but we're here to tell you the most user-friendly and efficient ways to leverage the world's most popular content management system.
The WordPress reputation and open-source community are glowing and well known, and the rave reviews are not without just cause. Take a look as we cover WordPress inside and out.
5 Best WordPress Hosts
If you're going to use WordPress, you'll need web hosting. This just means you need a company to host your site — you're essentially renting out space on the Internet so that visitors from around the world can find your business, blog, or online store 24/7. For more on this, we take you through the basics of web hosting in our beginner's guide.
A huge selling point for WordPress is its popularity in the industry and compatibility with the top web hosts. We evaluated the top providers based on their WordPress-friendly features (i.e., 1-click installs, WordPress-specific support, blogging tools, etc.) and here are our top recommendations:
WordPress pre-installed with NGINX and PHP 7
FREE SSL certificate and unlimited bandwidth
Optional automatic plugin, theme, and core updates
Features a FREE drag-and-drop WP page editor
Premium themes and plugin subscriptions
InMotion: Our Expert's Review
Setup time: 5 minutes
Go to full review

»
InMotion Hosting, long known for affordable and high-performance shared hosting options, entered the WordPress space with a solid option built upon the company's reputation for great support and reliability. Costing a small premium over other budget-minded...
Recommended by WordPress Core since 2005
FREE SSD storage and SSL certificate
FREE domain registration and email
Automatic installation and updates
63% discount exclusively for HostingAdvice shoppers
Bluehost: Our Expert's Review
Setup time: 5 minutes
Go to full review

»
Aimed at personal bloggers and first-time users, Bluehost's WordPress hosting packages are a great alternative to simple shared hosting. These service come at a premium, compared to Bluehost's standard shared plans, but the WordPress optimization and...
| Money Back Guarantee | Disk Space | Domain Name | WordPress Hosting Plans |
| --- | --- | --- | --- |
| 30 days | 50 GB SSD - Unlimited | FREE (1 year) | www.bluehost.com/wordpress |
FREE Cloudflare CDN and 1-click installs for WordPress
Turbo Server, SSD speed boost, and optimized caching
A2-optimized WP plugins for performance and security
SSL certificates, PayPal integration, and 24/7 support
FREE HackScan and KernelCare
A2 Hosting: Our Expert's Review
Setup time: 4 minutes
Go to full review

»
As experts in performance optimization, A2 Hosting is a top choice for powering resource-heavy WordPress websites. The company offers shared or managed plans for the ultra-popular content management system, with the benefits extending to Joomla, Drupal, and...
Easy-to-set-up WordPress hosting on shared servers
Install WordPress with one click via cPanel dashboard
Unlimited email addresses hosted at your domain
99.9% uptime guarantee means your blog stays online
$100 in Google Adwords credits to kickstart marketing
HostGator: Our Expert's Review
Setup time: 4 minutes
Go to full review

»
HostGator is great for all things shared hosting, and application-specific services — such as the classic one-click-install WordPress hosting — are no exception. The team recently updated its already clean and intuitive cPanel dashboard, wherein users can...
Officially endorsed by WordPress.org as a top host
FREE WordPress transfer or setup with 1-click install
Pre-installed Git, 3 caching levels, and FREE CDN
FREE WP setup wizard, staging, and auto-updates
99.9% uptime, 24/7 support, and custom chat system
SiteGround: Our Expert's Review
Setup time: 6 minutes
Go to full review

»
Want a hassle-free, WordPress-optimized hosting service? SiteGround has thought of everything you need to get your site up and running. Starting with the essentials, users get free email accounts, site transfer, Cloudflare CDN, and cPanel license. Then the...
| Money Back Guarantee | Disk Space | Domain Name | WordPress Hosting Plans |
| --- | --- | --- | --- |
| 30 days | 10 GB SSD - 30 GB SSD | New or Transfer | www.siteground.com/wordpress |
See more WordPress hosting reviews ­»
5 Best WordPress Themes
Themes are essentially a premade website template that gives seasoned developers and inexperienced site owners alike an awesome jumpstart on building the beautiful site they want. Below we feature the most popular themes for WordPress and why we love them.
A visually appealing theme that combines elements common to photography websites and blogs, Adroit is a fantastic theme to showcase strong imagery without losing content. The column-based layout is fully adjustable, and Adroit responsively transitions across virtually any screen size.
Sydney is an increasingly popular theme among professionals in particular. Complete with an array of customization tools, this leading WordPress theme is responsive and mobile-friendly, bold and custom-brandable, and easily manipulated to meet a variety of design goals.
This single-page parallax theme allows you to showcase your personality in a fluid display. Zerif Lite includes options to display testimonials, team members, news updates, and contact information, with a customization experience that's as intuitive as the resulting user experience.
As the name suggests, Spacious is perfect for those who want a clean, modern look for their site. It's a fully-responsive theme complete with options for layout, blogging, color palettes, and widgets. With theme-specific support included, customization doesn't get much easier.
Featuring sliders, custom widgets, Font Awesome icons, and compatibility with your favorite social media platforms, Evolve is a fully-responsive futuristic theme with a look that lives up to its name. Modify virtually anything about the design and have a custom-made site live in minutes.
If a flexible customization experience is what you're looking for, Customizr's name speaks for itself. Beloved by site owners in a variety of niches, Customizr is favored for its compatibility with popular eCommerce plugins and extensive options for matching your site's look to your brand.
20 Best WordPress Plugins
Plugins are powerful tools for adding more functionality and customization to your WordPress site. With the click of a button, you can add forums, product review capabilities, page caching, comment/contact forms, and more to your site.
A word of caution, however, you don't want to add just any plugin to your web pages. You want to make sure the code you're adding has been made by a credible source — basically to ensure that it's going to jibe well with the existing code of your site, theme, and even other plugins.
Below we cover the most popular plugins for WordPress:
| CATEGORY / FUNCTIONALITY: | PLUGIN(S): |
| --- | --- |
| COMMENT / CONTACT / FORMS | |
| SEO / WEB STATS | |
| CACHING / PAGE LOAD SPEED | |
| ECOMMERCE / PRODUCT REVIEWS | |
| SOCIAL MEDIA / POPULAR POSTS | |
| WEB BUILDER / EDITOR | |
How Do We Rate WordPress Itself?
It's no secret that we are huge WordPress fans at HostingAdvice.com, but below we go into the nitty gritty details of what makes WordPress great and when there are alternatives to consider. We break down our overall review by categories, covering ease of use, support, cost, and more.
1. Ease of Use: 4.6/5.0
The WordPress platform is incredibly powerful and will allow you to manipulate any aspect of your site — however, its functionality comes with a learning curve. This is probably the leading complaint against the increasingly popular platform. If you're not ready to put in the time to get familiar with the nuances and figure out your way around the backend, I would suggest opting for a WYWIWYG (What You See Is What You Get) web builder, like Wix, instead.
2. Custom Design: 5.0/5.0
Customization is an area where WordPress truly shines. Experienced developers love how flexible it is, and even less-seasoned website managers can easily build a custom site with the help of templates. There are literally millions of these premade websites for WordPress available to give you a head start on design.
Whether you're building from scratch or using one of the popular themes, designing and customizing a site with WordPress can yield some of the most beautiful and professional-looking results on the Internet.
3. Support: 4.5/5.0
WordPress support is exhaustive — and exhausting. There is a huge community behind the platform and its followers are eager to offer their advice and expertise, which means the hard part is sifting through the wealth of offered information for useful information.
The other option is to hire a WordPress-savvy developer to build your site for you, or consult him/her when needed. Unfortunately, expertise can get expensive.
4. eCommerce: 4.4/5.0
While eCommerce functions are possible with WordPress, that's not what it's made for — though there are a multitude of merchant plugins and tools available for adding eCommerce features (e.g., Shopify, Woocommerce, or Ecwid). Platforms like Magento or PrestaShop are specifically made for eCommerce — and you can check out the top Magento hosting services here.
5. Blogging: 5.0/5.0
There's a reason WordPress is typically the first platform that comes to mind when you think of blogging. It's set up perfectly for bloggers — in my opinion, blogging is the easiest task to get started on with WordPress.
Within minutes of signing up with a WordPress host, you can blast your first blog post, create new categories and tags, and later share your most popular posts with a hand-dandy plugin.
6. Cost: 5.0/5.0
Ahh, the crème de la crème of reasons to choose WordPress: it's open-source — AKA, FREE! Yes, the world's most popular website building companion is available for download, install, and web-building usage for zero cost. You just have to pay for the hosting, which, fortunately, should only cost you a few bucks a month (if you use one of the best hosts, coming up next!).
We Love WordPress — Shouldn't You?
It's no secret that WordPress is renowned in web hosting. Now that you know that the functionality and the features live up to the hype, you're hopefully ready to begin your relationship with WordPress. Yes, there's a bit of a learning curve, but if you're willing to take the time to self-teach upfront, you're in for a wonderful ride. Browse the best WordPress hosts to get started.