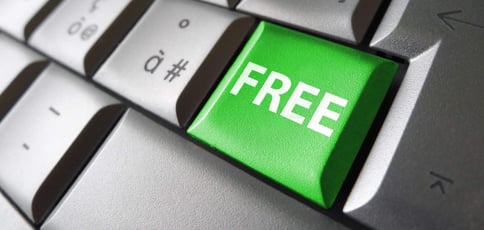 In today's fast-paced world, where almost every facet of our lives is interwoven with the internet, the search for optimal hosting can be quite a journey. For many, it begins with the intriguing allure of a free trial.
As one of the best hosting providers around, A2 Hosting offers its own version of a digital test drive, but with plenty of flexibility and powerful tools. Let's take a deep dive into the A2 Hosting free trial option and explore just how good the service is.
How to Start Your A2 Hosting Free Trial
First things first: A2 Hosting doesn't offer a traditional free trial, but rather a no-hassle 30-day money-back guarantee. This means you can pick any A2 Hosting plan and give it a thorough spin before asking for a refund. A2 Hosting is also a trusted organization that stands by its word and processes refunds swiftly. It has a wide selection of plans to choose from, depending on what you want from a hosting service. These include a dedicated server, standard shared hosting with cPanel, VPS hosting, or even a Turbo Server option with SSD storage that promises 20 times faster page load speeds.
SSDs and TurboServer for 20x faster pageloads
Host unlimited websites and FREE site transfer
Optimized plugins and 1-click installs for WP
Pre-installed OPcache and Memcached caching
FREE HackScan with restore options
BEST OVERALL
RATING 4.9 ★★★★★ Our Review
A2 Hosting: Our Expert's Review
Alexandra Anderson (HostingAdvice.com): If speed and performance, partnered with support and security, are at all priorities in your web host shopping, A2 Hosting should be a leading contender. When A2 Hosting first launched in 2003, the company was focused on serving developers; A2 Hosting was among the first providers to offer PHP 5 and to support Ruby on Rails on shared servers. Go to full review »
| Money Back Guarantee | Disk Space | Domain Name | Setup Time |
| --- | --- | --- | --- |
| 30 days | 100 GB SSD – Unlimited SSD | New or Transfer | 5 minutes |
If you're unsure about your web hosting needs, the provider offers a quick test to find what is best for you. Once you are set on a hosting plan, you will first register a new domain or use your own. If you choose the latter, you can either transfer the domain to A2 Hosting or point the name servers to the web hosting provider. Then, you'll have the option to beef up the plan with a premium RapidSSL certificate, performance boost during traffic spikes, additional IPs or a dedicated one, and cPanel licenses, depending on the hosting you select.
From there, select the server location and the CMS of choice, and you'll be set. Every A2 Hosting plan is completely scalable, which is always a plus. Customers also receive round-the-clock network monitoring and an expert US-based customer support team available via phone, live chat, and tickets if any problems arise. Issues shouldn't be expected as A2 Hosting promises a 99.9% uptime guarantee, but it's comforting to know you'll be in good hands if anything happens.
Other Free Trials
Finding the right web hosting free trial means you'll sometimes have to input your payment information. But you can still test the features, performance, and support quality of many hosting providers by taking advantage of their money-back guarantees.
Here are three hosting providers that excel in providing computing resources and web development tools. These may require a credit card to kickstart the trial, but the good news is that you won't be charged if you cancel.
Kamatera
If you want to launch a custom-tailored site quickly and affordably, Kamatera is hard to pass up. Its 30-day free trial on all cloud hosting services provides more than enough time to properly test the offer. You get a single server, valued at up to $100, meaning you have plenty of space for your personal or business needs. Every aspect of the server can be modified to your liking, from CPU and OS to disk space and IP address.
30-day free trial on all cloud products
User-friendly custom management portal
Instant scalability and server adjustments
Choose from roughly 60 operating systems
All-SSD cloud VPS infrastructure
BEST OVERALL
RATING 4.8 ★★★★★ Our Review
Kamatera: Our Expert's Review
Laura Bernheim (HostingAdvice.com): Billing itself as 'probably the fastest cloud on the planet,' Kamatera created an impressively performant, scalable, and flexible cloud service that can be custom-tailored to customers' exact specifications. The hosting provider's comprehensive cloud services run the gamut from web hosting servers and block storage, to a private cloud network, load balancer, firewall, and managed services. Go to full review »
| Money Back Guarantee | Disk Space | Domain Name | Setup Time |
| --- | --- | --- | --- |
| 30-day FREE trial | 20 GB SSD – 4 TB SSD | New or Transfer | 3 minutes |
Free trial customers also receive 1TB of storage and outgoing traffic, as well as full access to all features on Kamatera's cloud hosting platform. The web hosting provider focuses more on app developers and tech companies than web novices with its solutions. But you also receive a technical consultation by one of the company's experts (alongside a comprehensive knowledge base) and 24/7 technical support available via phone, email, or live chat.
Cloudways
A cost-effective hosting solution is rare, which makes Cloudways all the more appealing with its pay-as-you-go model. The company prefers to take care of everything, so if you are in the market for a managed hosting service (infrastructure support, security, server maintenance, etc.), look no further. Every industry-standard feature is present, reinforced by extra layers of caching and performance optimizations.
Choose your cloud provider, application, and server location
Easily scale server size, bandwidth, and storage
Launch WordPress or Magento with a single click
FREE CDN, managed backups, and staging areas
Get 25% OFF first 3 months with promo code HOSTINGADVICE
BEST OVERALL
RATING 4.8 ★★★★★ Our Review
Cloudways: Our Expert's Review
Alexandra Anderson (HostingAdvice.com): We appreciate providers that serve cost-competitive, customizable packages to simplify the too-many-choices nature of cloud hosting. Cloudways puts the power of choice in the customer's hands. Go to full review »
| Money Back Guarantee | Disk Space | Domain Name | Setup Time |
| --- | --- | --- | --- |
| 3-day FREE trial | 20 GB SSD – 4 TB SSD | New or Transfer | 8 minutes |
You can get a taste of Cloudways' offerings with its 3-day free trial. While it's fairly short compared to others, Cloudways doesn't ask for your payment info to get started. It also includes a robust feature set, with unlimited website options, free Object Cache Pro to speed up your WordPress app, a free SSL certificate, and always-available customer support.
Wix
There's free, and then there's Wix. The leading website builder service offers free web hosting with no strings attached — and you can use it as long as you like. Note that it includes only 500MB of cloud storage and bandwidth, and Wix ads appear on every page. Limiting as that may be, you also get 24/7 security monitoring, HTTPS, and SSL protection, which is enough to host a basic, low-traffic website.
FREE signup with email or Facebook
Drag-and-drop designing is super easy
1-year domain free with most plans
Up to $300-worth of ad credits
Access to 1,000s of templates and additional tools in the App Market
BEST OVERALL
RATING 4.6 ★★★★★ Our Review
Alexandra Anderson (HostingAdvice.com): As a web builder, Wix is an industry leader when it comes to ease of use, setup time, and available features. The browser-based, WYSIWYG (What You See Is What You Get) site-building service is hands down one of the foremost brands in this industry niche, and that's not without just cause. Go to full review »
| Money Back Guarantee | Disk Space | Domain Name | Setup Time |
| --- | --- | --- | --- |
| 14-day FREE trial | 2 GB – Unlimited | FREE (1 year) | 4 minutes |
If you need more, you'll be happy to know that Wix also offers a 14-day trial period when upgrading to any Wix Premium plan. These are packed with practical features that allow unrestricted customization and functionality, ranging from online payments and analytics to an AI-powered website builder. The best part is that you can cancel within two weeks and receive a full refund, no questions asked.
Hosting Providers with a Money-Back Guarantee
Some hosting providers take payment upfront for their services but offer peace of mind in the form of guarantees. The vast majority of hosting providers recognize the uncertainty that comes with purchasing a hosting plan, which is why they offer uptime guarantees and favorable money-back policies.
For those looking for a bit more assurance when opting for a purchase, the next three A2 Hosting alternatives may put even the most apprehensive of web owners at ease. These are not just any providers with rock-solid money-back guarantees, though — these are top-tier service providers that offer user-friendly experiences and affordable prices.
Up to unlimited website domain and email hosting
1-click WordPress installs and software updates
Support for popular shopping carts with FREE SSL
Up to $200 in Microsoft and Google Ad credit
Industry-leading hardware and uptime rates
BEST OVERALL
RATING 4.9 ★★★★★ Our Review
Bluehost: Our Expert's Review
Ryan Frankel (HostingAdvice.com): Bluehost has long been a favorite of mine in the shared and WordPress hosting spaces. The company adheres to modern standards for hardware, and its customer service resources are now backed by hosting industry titan Newfold Digital. Go to full review »
| Money Back Guarantee | Disk Space | Domain Name | Setup Time |
| --- | --- | --- | --- |
| 30 days | 10 GB SSD – 100 GB SSD | FREE (1 year) | 5 minutes |
Since 43.1% of all websites use WordPress, the demand is high for adequate WordPress hosting. Bluehost is officially endorsed by the WP Core team, and checks all the boxes for reliable and fast WordPress hosting, including shared, dedicated, or VPS hosting. Due to its affordability and user-friendliness, both newbies and veterans find it enticing.
Accelerated onboarding, automatic WP installation and updates, free domain for a year, free SSL, Cloudflare CDN, and high performance are all part of the deal. All hosting services are covered with a 30-day money-back guarantee, which you can activate after three days of use. Keep in mind that fees for domain registration and most other add-on products are non-refundable, as is generally the case.
Industry-leading load times
Award-winning support and security
World's #1 Domain Name Registrar
Choice of cPanel or Plesk included
99.9% uptime guaranteed
BEST OVERALL
RATING 4.7 ★★★★★ Our Review
GoDaddy: Our Expert's Review
Ryan Frankel (HostingAdvice.com): GoDaddy is exceptionally well-known in the hosting space, typically serving as site owners' introduction to the world of web hosting. The company makes it incredibly easy and affordable for folks to choose a domain name, sign up for hosting, and start building their online business or personal web property. Go to full review »
| Money Back Guarantee | Disk Space | Domain Name | Setup Time |
| --- | --- | --- | --- |
| 30 days | 25 GB – Unlimited | FREE (1 year) | 4 minutes |
The reason GoDaddy is the go-to domain web host choice for many lies in its simple value proposition. It includes outstanding load times, unlimited sites, a free domain name, cPanel, and 24/7 security monitoring and DDoS protection in most plans for a low cost. There's something for everyone, as first-timers and SMB owners will like it for its low price tag, while devs and web enthusiasts will welcome various fine-tuning possibilities.
Unlike most of its peers, GoDaddy's refund policy is comprehensive, but some products have different requirements for a refund, so it's best you consult it first. Annual plans have a money-back guarantee of 30 days, while you need to request a refund within 48 hours for monthly plans (and others shorter than a one-year term).
Familiar and easy-to-use cPanel control panel
FREE drag-and-drop custom website builder
Unlimited disk space, email, and bandwidth
Flexible term lengths with no contract required
67% off your first three years
BEST OVERALL
RATING 4.5 ★★★★★ Our Review
HostGator: Our Expert's Review
Ryan Frankel (HostingAdvice.com): HostGator has been around for more than a decade and is well-respected for its large number of servers and consistent reliability. Known mostly as a shared hosting provider, HostGator still supplies decent dedicated and VPS options if you need your site to scale. Go to full review »
| Money Back Guarantee | Disk Space | Domain Name | Setup Time |
| --- | --- | --- | --- |
| 30 days | Unlimited | FREE (1 year) | 6 minutes |
HostGator caters to a slightly advanced segment of users who appreciate the company's flexible options. It offers a variety of hosting options supported by a 99.9% uptime guarantee, free SSL certificate, easy WordPress installs, and a free domain for a year, among many other benefits.
Tech-savvy site owners enjoy numerous configuration options and complete control over servers thanks to various add-ons for privacy, security, productivity, and eCommerce. It also provides services such as web design, site backup, SEO, and PPC. HostGator promises total satisfaction or a full refund made possible through its 30-day money-back guarantee. That should be enough time to see if the company has what it takes to host your site.
What Is the 30-Day Money-Back Guarantee for A2 Hosting?
It's a fairly straightforward policy, but you should be aware of certain stipulations.
You must contact the A2 Hosting team via the Customer Portal within 30 days from the purchase date to cancel your plan and receive a refund. If you cancel between 31 and 90 days from the purchase date, you will be issued a pro-rata refund of fees based on the unused portion of your current subscription. After 90 days, you are not entitled to any refund, and any refund you receive is at the company's sole discretion.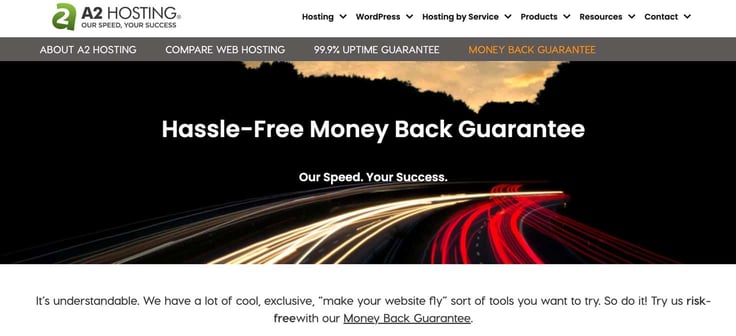 All third-party fees, including domain registration, setup, and migration fees are non-refundable and not covered by the money-back guarantee. Moreover, SSL certificates have a 25-day refund window from the time of purchase. For Managed WordPress plans that feature an SSL certificate, refund requests received after the 25-day SSL refund window but within the 30-day money-back guarantee period will be subject to a $5 deduction.
Is A2 Hosting Fast and Reliable?
Yes, and yes.
This particularly holds true for its Turbo plans built with top performance in mind. They deliver delightfully fast speeds thanks to optimized hardware, advanced caching software, limited occupancy, and several performance-oriented tweaks that result in reduced page load times and an overall better user experience. Additionally, a Turbo server can handle nine times more traffic with three times faster read/write speeds than a non-Turbo server. That means it can deliver 40% faster CPU performance and up to 20 times faster page loads.
In terms of reliability, A2 Hosting offers a 99.9% uptime commitment facilitated through use of industry best practices, strategic datacenter distribution, and timely security updates. The 24/7/365 customer support staff, with many expert system admins, is in charge of keeping servers running in peak condition.
Is A2 Hosting Good for WordPress?
Due to its speedy servers that include unlimited bandwidth and SSD storage, along with a staging environment and free SSL certificate, A2 Hosting is a great choice for WordPress hosting. In fact, it's one of the best choices for powering resource-heavy WP sites because of its available Turbo server upgrade.

Whether it's shared or managed hosting, the moderate A2 Hosting price adds to its optimal balance of cost and performance without complicating the user experience. You can install WordPress with a single click, then sift through available plugins to boost performance and security. A2 Hosting features also include automated backups, WP-CLI, and a Jetpack license, among others designed with WordPress users in mind.
Test With Diligence, Pay With Confidence
Comparable to selecting a space for a physical office or store, the quest for an optimal hosting solution is a cornerstone of the modern online experience. The prospect of an A2 Hosting free trial is representative of modern strategies to introduce users to the realm of hosting services.
A2 Hosting's potent combo of features and support makes it a solid pick for any website, and you can test it for a few weeks without worrying about throwing money away. Forking out cash for hosting is rarely painless, but A2 Hosting arguably makes the decision much easier.
Further Reading: "A2 Hosting Free Trial (Oct. 2023) — Try A2 Risk-Free "
Hopefully, our recommendation of A2 Hosting fulfills all your web hosting needs. Starting at just $2.99 per month and rated 4.9 overall, A2 Hosting gives users plenty of bang for the buck. Among our favorite features:
SSDs and TurboServer for 20x faster pageloads
Host unlimited websites and FREE site transfer
Optimized plugins and 1-click installs for WP
Pre-installed OPcache and Memcached caching
FREE HackScan with restore options
If you'd like recommendations similar to A2 Hosting and others in A2 Hosting Free Trial (Oct. 2023) — Try A2 Risk-Free , check out these popular guides. You'll find comparisons of A2 Hosting to other hosts on pricing, features, support and more:
And of course, if A2 Hosting is your top choice, you can get started now at just $2.99/month. A2 Hosting is easy to set up and scale, no matter the size of your next project.
Advertiser Disclosure
HostingAdvice.com is a free online resource that offers valuable content and comparison services to users. To keep this resource 100% free, we receive compensation from many of the offers listed on the site. Along with key review factors, this compensation may impact how and where products appear across the site (including, for example, the order in which they appear). HostingAdvice.com does not include the entire universe of available offers. Editorial opinions expressed on the site are strictly our own and are not provided, endorsed, or approved by advertisers.
Our Editorial Review Policy
Our site is committed to publishing independent, accurate content guided by strict editorial guidelines. Before articles and reviews are published on our site, they undergo a thorough review process performed by a team of independent editors and subject-matter experts to ensure the content's accuracy, timeliness, and impartiality. Our editorial team is separate and independent of our site's advertisers, and the opinions they express on our site are their own. To read more about our team members and their editorial backgrounds, please visit our site's About page.