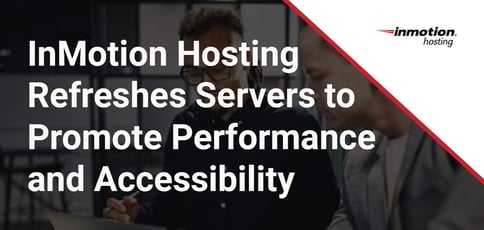 TL; DR: InMotion Hosting underwent a complete dedicated server refresh, updating its entire line's server infrastructure to provide higher performance for customers. The team released two new server additions, including a new dedicated server plan called Aspire to meet the needs of customers with smaller budgets and a CC-3000 plan for higher-end performance capabilities. Always looking to enhance customer experience, InMotion Hosting upgraded storage and unmetered bandwidth features on its existing plans for all dedicated customers. With many businesses opting for cloud infrastructure, InMotion Hosting plans to offer its own private cloud services, OpenMetal, in the near future.
When InMotion Hosting launched in 2001, founders Sunil Saxena and Todd Robinson had two goals in mind for the company: excellent customer service and a stable hosting platform. Web hosting companies didn't focus much on forming customer relationships during that time, but Sunil and Todd knew they wanted to prioritize user experience. This customer-centric approach was made possible by InMotion's bootstrapped origins, which allowed the founders complete control over the company's path.
Now, more than 20 years later, InMotion Hosting continues to lead the industry in customer service and support. Enhancing user experience remains at the core of its operations, and the company's latest release is a testament to that. Recently, InMotion Hosting refreshed its dedicated server offerings to meet user needs.

"With the dedicated servers, it was about three years ago that we did a refresh, and we looked at our specs. The industry hasn't changed so much," said Matt Bell, Senior Manager of Sales and Affiliate Marketing at InMotion Hosting. "But when memory and drives start going down in price, we refresh so that we can provide our customers with a higher level of performance with the same price."
Customer success is essential to InMotion Hosting's mission, and this release helps customers meet their performance goals for a lower price. Updating its dedicated server infrastructure allows InMotion to maintain its industry-leading hardware and deliver a higher-performing hosting environment for its users.
The hosting company has also upgraded SSD storage, backup storage, and bandwidth across dedicated server packages for new and existing customers.
Making Hosting More Affordable and Accessible for Everyone
Dedicated hosting is known for its higher performance. But its high price tag has made it an inaccessible option to users with smaller budgets. To avoid these costs, many customers have turned to cloud hosting to purchase many of the same resources for a lower monthly rate. Although cloud hosting has its perks, a demographic of hosting customers still require the security and single-tenant environment of a dedicated server for their specific use cases.
"There's still a large percentage of customers out there that require a single-tenant dedicated server, or they want that reassurance that no one else can usurp the resources they're paying for. That's why we decided to go with a lower end so that we can compete with the cloud market a little bit better," said Matt.
InMotion Hosting added a new dedicated server plan, Aspire, to its existing product line to give users a more affordable option. This way, users with smaller budgets can access dedicated hosting for their use cases without losing out on fast, secure, and reliable performance. Users can purchase the Aspire plan for $89.99. Although the Aspire plan is lower-priced, Matt said it will still provide the same resource, speed, and network connection that other InMotion's dedicated plans have.

"I'm excited that we have an offering for those that do not want a cloud or VPS but can't afford a single tenant dedicated server because that's going to open us up to a whole nother avatar of customers that we haven't been able to reach before," Matt.
Matt told us that hosting customers have been waiting for a plan like this for some time, and what makes this new addition better is that the Aspire plan runs on newly updated servers. With a customer base mostly centered on small businesses, the Aspire plan opens doors for more small business owners to meet their objectives while helping them save money.
"We're trying to blend all of our products so that we have an option for anyone and everyone that need anything. And all of our single-tenant dedicated servers either come with cPanel or without cPanel, depending upon what the customer's needs are," said Matt.
Prioritizing Customer Needs with Latest Upgrades
InMotion Hosting has more than 570,000 customers across 175 countries. Much of this success can be credited to InMotion Hosting's rock-solid reputation for stellar customer service. From the start, InMotion Hosting has led with a "thrill the customer" mantra and exists as a customer service provider before anything else.
"We are an employee-owned and operated company. Everyone here believes that our company is doing what we need to do for customer service's sake. We've tried to put our customers first above everything," said Matt.
Customers are at the center of everything InMotion Hosting does, and offering them a stable hosting platform with premium user experience has always remained the goal over the years. Its latest achievements in improving customer experience have been its Aspire plan and CC-3000 plan. The CC-3000 plan is the highest-tiered hardware package within InMotion Hosting's dedicated server product line.

"We've done a lot to improve the overall life of our customers here. The dedis now having more options for our customers. We're also getting ready to open a third datacenter in Europe at the beginning of the year," said Matt.
The InMotion team plans to open the datacenter in Amsterdam, Netherlands, since InMotion Hosting already has another brand working close by in the area. Matt told us the shared line would be available through that datacenter by the end of January, and the other server plans will be ready by the end of the first quarter. InMotion Hosting is also increasing other features for its users.
"In terms of unmetered bandwidth, that's going to go across to every single customer on a dedi with us, even if they've had the server for 12-15 years, because that's something we can just turn on for everybody," Matt said.
Evolving with the Market with New Cloud Offerings
As the business world moves toward cloud services, InMotion Hosting has undertaken its own cloud services project. Matt told us the team has been developing this cloud product for about four years now.
"It's a fully developed product, but it's never going to stop growing because there are so many different things to add to it. It can be used for bulk storage and data processing across the entire globe. It's just a huge project that we undertook," said Matt.
The hosting market is evolving, and adapting to cloud offerings will soon be the best way to go. "It's where the future of hosting is going in the next 10 years. There won't be a lot of smaller hosting. It will still exist, but the private and public clouds are taking over the market," Matt continued.
OpenMetal, a cloud service that was incubated from InMotion Hosting will be the company's response to the demand for private cloud infrastructure in the market. "So it basically is going to compete with AWS, Google Cloud, and Microsoft Azure. It is a private cloud infrastructure, built on OpenStack, that can be deployed in 45 seconds or less," said Matt.
The OpenMetal service also helped set off InMotion Hosting's datacenter expansion. InMotion Hosting will need the global datacenters to meet the performance and availability requirements of OpenMetal services.
As InMotion Hosting continues to innovate, its developments will always stand on its mission to enhance its customers' experience. Erik Soroka, managing director at InMotion Hosting, best sums up the team's latest update and how it fits into the company's vision.
"With the additional speed and resources made available through the server upgrades, customers will have everything they need to securely and reliably host their websites and applications with us, whether choosing the Aspire, the CC 3000, or anything in between. Our customers will continue to receive the best hosting experience and customer support they have come to expect from InMotion Hosting," said Erik Soroka.