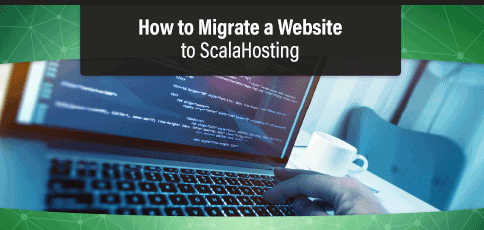 If you're frustrated with your existing hosting provider — whether it be the poor customer support or the skyrocketing cost of service or something else — we've all been there. No business wants to make it easy for a paying customer to walk away, and hosting customers, in particular, may feel trapped, unable to reclaim their website from the clutches of a host that is no longer meeting their needs.
ScalaHosting (nicknamed "Scala" for short) is one of our top-recommended cloud VPS hosting providers. In this article, we'll walk through the steps to migrate your website and its data, including email, away from any other hosting provider and move it to its new home on ScalaHosting cloud servers.
Step 1: Select Your Scala Hosting Plan
If you haven't already, you'll need to sign up for a Scala hosting plan. Our ScalaHosting review covers the pros and cons of each service offering. We found the storage (50 GB SSD - 2 TB SSD), RAM (4 GB - 64 GB), and bandwidth allowances (Unmetered) to be more than sufficient to handle web projects of varying scales. Prices begin at $29.95 per month, so you're sure to find a package that meets your computing resource needs and budget requirements.
Fully managed VPS with cloud performance
FREE site migration executed by experts
Enjoy 100% SSD storage and unmetered bandwidth
Custom full-service SPanel administration portal
HostingAdvice readers get

36

% off the first term
CLOUD
RATING 4.9 ★★★★★ Our Review
ScalaHosting: Our Expert's Review
Laura Bernheim (HostingAdvice.com): ScalaHosting particularly stands out for its portfolio of cloud VPS solutions. Site owners will naturally find the best deals with hosting providers that cater to an audience of "cheap hosting" shoppers. Go to full review »
| Setup Time | Disk Space | CPU | RAM |
| --- | --- | --- | --- |
| 6 minutes | 50 GB SSD – 2 TB SSD | 2 – 24 cores | 4 GB – 64 GB |
Step 2: Transfer Your Website Data (4 Options)
The best way to migrate your site to ScalaHosting depends on the level of experience of the publisher, personal preference, and the requirements of the development team. We'll walk through the four options for migrating your website data, from the hands-free to the most hands-on path.
Option 1: Let Scala Engineers Conduct a Free Website Migration
Naturally, the easiest approach would be to leave the transfer to the professionals and have the ScalaHosting team do it for you.
Any website migration involves a change of domain name server (DNS) addresses to point to the new web host as well as a file and database transfer. While this is not overly complicated, dealing with lots of files or custom configurations can make the migration rather risky. The professionals at Scala fully understand that, and they are more than ready to lend a helping hand.
"Our migration specialists will transfer as many websites as you want, entirely free of charge, all without downtime. We'll ensure they work properly on the new server for a nice, seamless transfer to our managed VPS solution, giving you much-needed peace of mind to focus on your online business."

– ScalaHosting's Free Website Migration Pledge
With ScalaHosting, all you need to do is open a support ticket from your new account and provide the login details to your previous host. If you have previously used cPanel, the platform has a website backup and export service that is 100% compatible with SPanel, Scala's proprietary control panel. This allows entire sites to be easily archived and migrated.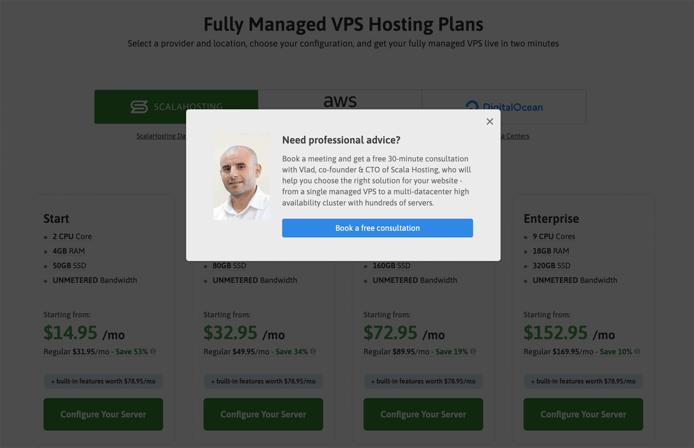 When your files and databases are transferred to the new web server at ScalaHosting, you can change the DNS settings at the domain registrar. This will ensure zero downtime.
Option 2: Use Automated Tools for cPanel
WHM's Transfer Tool allows administrators to move websites between servers using a command-line utility. This cPanel service is 100% compatible with SPanel and ScalaHosting, but your service engineer will need to have the login details to the cPanel account of the old host. With this service, the IP address and DNS settings need to be changed as well.
"Once you create an archive of your website from there, simply upload it to your destination server and open a ticket with the technical support team of the new host. Just ask them to restore the backup, and you'll have a 100% mirror copy of your previous account. This includes files, emails, databases, comments, settings, the works."

– ScalaHosting guide to migrating a WordPress website
When migrating websites using WHM's Transfer Tool, any existing SSL certificates will need to be re-installed on ScalaHosting's servers. This will be automated when you add your domains to SPanel. Make sure to add the domain names before you change the DNS settings so your server will be HTTPS-compliant when the changes propagate. Again, the easiest method is to let ScalaHosting engineers handle the migration, as they can simultaneously set up the SSL certificates for the new domain(s).
Option 3: Use CMS Transfer Utilities
WordPress, Joomla!, Drupal, and other CMS scripts all employ various plugins, extensions, and modules that are designed to facilitate the website transfer process between hosts.
With the WordPress CMS, for example, you can use plugins, such as JetPack, Duplicator Pro, Migrate Guru, BackupBuddy, and All-In-One WP Migration, to transfer your database and site files between hosts.
Joomla Migration, Migration & Conversion, and Migrate Me extensions will accomplish the same for Joomla! websites. And Drupal has the Migrate module, Migrate Plus, Migration Tools, and other similar options available. These solutions work on the same basic principles.
With CMS transfer utilities, developers need to install a new copy of the script on the web server along with a new MySQL database. You can then install the chosen add-on and follow the specific process that will guide you through the steps required to export and import the database from the old to the new website. The transfer utilities will also map the modules, plugins, and extensions from the old website to install them on the new one.
CMS transfer utilities assist in replicating websites across hosting providers without the need to involve a service technician in the process. This also serves as a verification step ensuring the new site is identical in configuration to that of the old site.
Option 4: Transfer Your Data Manually
To manually transfer website files between hosts, simply:
Log into cPanel or SPanel and open the File Manager utility.
Navigate to the folder in which your website files are located.
Create a .rar, .tar.gz, or .zip archive of all the files in that folder.
Upload the archive file to the new web host and unpack it.
With this method, you should have all of the CMS files for your website transferred except for any email data and the MySQL database. To manually transfer the MySQL database(s):
Log into cPanel or SPanel and open the phpMyAdmin utility.
Select the database that is used by the website to be transferred.
Navigate to "Export" and use the "Custom" tools to create a database map.
Open phpMyAdmin in SPanel and reinstall the database with the "Import" option.
And voila! Using any one of the four options above, you've successfully relocated your website files to Scala's hosting service environment. The next step is optional, intended for those who needed to relocate email files in addition to website files and databases. Note: If you used the cPanel migration option, this includes
Step 3 (Optional): Transfer Email to Scala's Cloud Servers
Your emails can also be migrated by the ScalaHosting technicians, moved using cPanel and related tools, or via popular email clients such as Outlook and Thunderbird. All email migration methods will require the transfer of A-records on the domain registrar for each domain that is to be transferred to ScalaHosting.
The advantage of using the cPanel export method discussed above is that all of the data associated with a domain is packaged together. If you decide to transfer the stored email messages manually, your will need to export them to EML or PST files to move the saved data.
To migrate email data using your preferred email client:
Microsoft Outlook: Save the emails to an EML file and import it.
Mozilla Thunderbird: Export to a .pst file and import the data.
Google Gmail: Change the A-records on your account for the new plan.
Business email hosting and individual email account information are best managed by SclaHosting's experienced technicians. The free email account migration offer is an excellent option for domain reseller account holders, for example.
Joomla!'s Co-Founder Brian Teeman recently transferred all of his client websites to ScalaHosting, something which included thousands of email account transfers associated with the domains. The results were an absolute success.
Why Choose Scala Hosting Plans vs. Scala Hosting Alternatives?
ScalaHosting offers a low-cost, high-performance managed VPS platform with SPanel administration and support for unlimited domain names. SPanel has similar functionality to cPanel without the high cost of software licensing for VPS use. Customers can even suggest new features to ScalaHosting for SPanel and the development team often implements them within months if upvoted by the community.
ScalaHosting delivers WordPress and WooCommerce VPS hosting plans with SWordPress Manager available for auto-installation and improved website security. The company is a major sponsor of the Joomla! CMS project and recognized by the Drupal Association as a leading hosting provider. Plus, every Scala hosting plan includes a pre-installed version of Node.js for app support.
SPanel vs. cPanel
SPanel was developed by ScalaHosting as a cPanel alternative, with very similar features and zero licensing costs. SPanel comes with everything needed to manage domain names, email addresses, file transfers, and SSL certificates in a user-friendly GUI. You can also configure settings for PHP, access website statistics, and use a free CDN.
"ScalaHosting's SPanel truly shines. We found the cloud VPS control panel to be sleek and efficient, without some of the clutter you can encounter with cPanel. Seemingly every major task can be accomplished in just a couple of clicks through an easy-to-navigate interface."

– Laura Bernheim's ScalaHosting review
In addition to Softaculous, developers also receive custom tools in SPanel for WordPress, Joomla, and Node.js administration.
As with other shared hosting platforms, ScalaHosting includes phpMyAdmin for MySQL database access with open-source tools. SPanel also provides Cloudflare integration via an API key or token that can be used to create custom DNS zones.
Managed Cloud VPS Hosting
Managed cloud VPS plans are ScalaHosting's specialty, engineered to provide more hardware resources to high-traffic websites, eCommerce brands, and multi-site publishing requirements. With Scala, web developers do not need to pay their control panel vendor or utilize Webuzo to administer their VPS.
SPanel comes with the OS, web server, and platform runtime extensions needed for web publishing pre-installed, including ongoing security upgrades.
Fully managed VPS with cloud performance
Choice of Scala, AWS, or DigitalOcean datacenters
Enjoy 100% SSD storage and unmetered bandwidth
Custom full-service SPanel administration portal
HostingAdvice readers get 53% off the first term
MANAGED
RATING 4.9 ★★★★★ Our Review
ScalaHosting: Our Expert's Review
Laura Bernheim (HostingAdvice.com): ScalaHosting offers your choice of AWS, Digital Ocean, or Scala datacenter locations for your fully managed VPS setup. All VPS hosting plans feature guaranteed server resources, the company's proprietary SPanel control panel, and a dedicated IP address at your disposal…. Go to full review »
| Setup Time | Disk Space | CPU | RAM |
| --- | --- | --- | --- |
| 6 minutes | 50 GB SSD – 2 TB SSD | 2 – 24 cores | 4 GB – 64 GB |
The costs for each configuration range from $14.95 to $152.95 per month. Every ScalaHosting managed VPS hosting plan includes a free domain name registration, support for unlimited websites, SPanel for easy management, and SShield for multi-level platform security. Customers also receive a daily snapshot and backup service for all websites, as well as free SSL certificates for every domain. The platform is easy to use for both novices and experts.
Cheap Shared Web Hosting
The shared hosting plan options at ScalaHosting run the same configuration as the managed VPS platform but with fewer resources dedicated to each account. You can host a single site for as little as $2.95 per month.
100% SSD storage for premium performance
FREE site migrations with personalized support
FREE automated and on-demand backups
SShield security blocks 99.98% of online attacks
99% uptime and price-lock guarantee
CHEAP
RATING 4.5 ★★★★★ Our Review
ScalaHosting: Our Expert's Review
Laura Bernheim (HostingAdvice.com): It's tough to argue with a shared hosting service that comes with all-SSD storage and unlimited bandwidth, databases, and email accounts. ScalaHosting provides all the above and several other premium features for a very affordable price. Go to full review »
| Money Back Guarantee | Disk Space | Domain Name | Setup Time |
| --- | --- | --- | --- |
| 30 days | 10 GB SSD – 2 TB SSD | FREE (1 year) | 6 minutes |
Every account receives a free SSL certificate, Softaculous, Cloudflare CDN integration, and unlimited bandwidth. You can also create as many databases, FTP accounts, or email addresses as your project requires.
Customer Support & Security
Another unique tool ScalaHosting has developed for their platform is SShield, which provides multi-layered security hardening on both shared hosting and managed VPS accounts. The solution is proven to detect 99.998% of all script and bot-driven hacking attacks on websites.
SShield is integrated with network load balancing in ScalaHosting's datacenters and uses machine learning tactics to analyze web traffic requests for malicious activity. SShield adds an extra layer of protection to WordPress, Joomla!, Drupal, Magento, and other CMS websites. The basic functionality is equivalent to a web application firewall (WAF) for individual sites and mobile applications with ML-driven analytics applied at scale across more than 700,000 domains.
Final Thoughts on Scala Hosting Plans
ScalaHosting has been recognized by Forbes, PCmag, ZDNet, and many other tech media outlets for the quality of its services. The HostingAdvice team consistently ranks Scala amongst the best web hosting providers for cloud VPS, WordPress, as well as traditional shared hosting solutions.
ScalaHosting operates independent datacenter facilities in Dallas, New York, and Sofia in Bulgaria. The company also partners with DigitalOcean to offer even more managed hosting options and locations, including Bangalore, London, Singapore, Frankfurt, Amsterdam, San Francisco, and Toronto. The web host recently added 10 new datacenter locations through its partnership with Amazon Web Services (AWS).
If you're considering a VPS host switch, the move to Scala is one you likely won't regret.
Further Reading: "3 Easy Steps: How to Migrate My Website to ScalaHosting (June 2023)"
Hopefully, our recommendation of ScalaHosting fulfills all your web hosting needs. Starting at just $29.95 per month and rated 4.9 overall, ScalaHosting gives users plenty of bang for the buck. Among our favorite features:
Fully managed VPS with cloud performance
FREE site migration executed by experts
Enjoy 100% SSD storage and unmetered bandwidth
Custom full-service SPanel administration portal
HostingAdvice readers get

36

% off the first term
If you'd like recommendations similar to ScalaHosting and others in 3 Easy Steps: How to Migrate My Website to ScalaHosting (June 2023), check out these popular guides. You'll find comparisons of ScalaHosting to other hosts on pricing, features, support and more:
And of course, if ScalaHosting is your top choice, you can get started now at just $29.95/month. ScalaHosting is easy to set up and scale, no matter the size of your next project.
Advertiser Disclosure
HostingAdvice.com is a free online resource that offers valuable content and comparison services to users. To keep this resource 100% free, we receive compensation from many of the offers listed on the site. Along with key review factors, this compensation may impact how and where products appear across the site (including, for example, the order in which they appear). HostingAdvice.com does not include the entire universe of available offers. Editorial opinions expressed on the site are strictly our own and are not provided, endorsed, or approved by advertisers.
Our Editorial Review Policy
Our site is committed to publishing independent, accurate content guided by strict editorial guidelines. Before articles and reviews are published on our site, they undergo a thorough review process performed by a team of independent editors and subject-matter experts to ensure the content's accuracy, timeliness, and impartiality. Our editorial team is separate and independent of our site's advertisers, and the opinions they express on our site are their own. To read more about our team members and their editorial backgrounds, please visit our site's About page.