Entrepreneurs with an internet connection and an interest in building an online presence can easily make a WordPress website. The range of online tools at your disposal makes it easy to kick-start your very own business site with the most popular content management system. You can build your site with zero coding experience and start making content for the web in as little as a few hours.
WordPress lets you start with a theme and customize it with your own images, content, and plugins to add functionality. Whether you own a salon and want to take appointments online or you're selling a digital cookbook, WordPress has all the tools you need for success.
These WordPress hosts have plans tailored to make your website thrive. To help you decide which to choose, here are some in-depth reviews from our experts.
Cheap WordPress Hosting Plans for Small Businesses
Small businesses are often on a budget, meaning you may be looking for a cheap hosting plan. If that's the case, these hosts pack some stellar features into their hosting plans for a low price. Check out our top picks for cheap WordPress hosting.
Recommended by WordPress.org since 2005
Automatic WordPress updates and initial install
FREE WordPress themes in the Bluehost Marketplace
24/7 support via live chat, phone, and email
Get exclusive discounts on WordPress plans
WORDPRESS
RATING 4.9 ★★★★★ Our Review
Bluehost: Our Expert's Review
Ryan Frankel (HostingAdvice.com): Bluehost's WordPress hosting packages are aimed at first-time site owners and personal bloggers. These services come at a premium compared to the standard Bluehost web hosting (basic shared hosting) plans, but the WordPress optimization and platform-specific resources are arguably worth the cost. Go to full review »
| Money Back Guarantee | Disk Space | Domain Name | Setup Time |
| --- | --- | --- | --- |
| 30 days | 50 GB SSD – 100 GB SSD | FREE (1 year) | 7 minutes |
The mighty Bluehost describes its compatibility with WordPress as a "match made in hosting heaven," and rightfully so. Every business owner loves Bluehost for its WordPress-ready hosting plans, optimized with fast speeds and pre-installation. Plus, the Bluehost marketplace comes with oodles of free premium themes.
Here are some other top features worth checking out.
Bluehost is scalable, meaning you can expand your hosting needs as your business grows
The hosting platform has plans curated for online stores (WooCommerce)
Bluehost offers professional web design services for a small fee if you're not familiar with WordPress
It integrates with popular workflow management and collaboration tools, including Google Workspace, MailChimp, HootSuite, Marketo, and Drip
But what makes Bluehost truly special is its affordability. Its plans are affordable even after renewal, and the longer your contract with Bluehost, the cheaper your hosting. The yearlong contracts come with some pretty stellar add-ons.
The popular hosting provider offers four packages, each with unique benefits and features. For example, the Basic package can only host one website, while the Pro package hosts five websites and comes with more storage, a free domain and SSL, and state-of-the-art security features. If you're new to the WordPress game, you can't go wrong with Bluehost.
Officially endorsed by WordPress.org
FREE migration plugin or automated installation
Pre-installed Git, 3 caching levels, and FREE CDN
FREE WP setup wizard, staging, and auto-updates
Fast, 24/7 support via custom chat system
WORDPRESS
RATING 4.9 ★★★★★ Our Review
SiteGround: Our Expert's Review
Alexandra Anderson (HostingAdvice.com): Want a hassle-free, WordPress-optimized hosting service. SiteGround has thought of everything you need to get your site up and running. Go to full review »
| Money Back Guarantee | Disk Space | Domain Name | Setup Time |
| --- | --- | --- | --- |
| 30 days | 10 GB SSD – 40 GB SSD | New or Transfer | 6 minutes |
SiteGround has a reputation for quality and security in the web hosting world. It launched its very own control panel, Site Tools, in 2019, which replaced its cPanel hosting plans. If you love simplicity and ease of use, you'll enjoy SiteGround's website management options.
Here are the key features that make SiteGround a great WordPress hosting provider for small businesses.
Unlimited email accounts for small businesses
Unlimited databases, perfect for managing huge amounts of data, such as product images and inventories
Daily backups to prevent data loss
Free SSL certificates to protect your website and its data
Free, one-click WordPress installation to get you started immediately after signing up
SiteGround's renewal prices are higher than other hosts we've reviewed, but consider what this host brings to the table.
SiteGround offers many premium features for free, which is generous, given that other hosts may charge extra for the same features. For example, SiteGround's GrowBig plan, which isn't its most expensive WordPress plan, hosts unlimited websites. Expensive or not, there's no doubt SiteGround provides plenty of value.
1-click WP install, PHP 7+, HTTP/2, and NGINX
All-in-one security protections from BitNinja
WordPress optimizations boost performance
No price markup for WordPress services
Daily backups and FREE SSL certificate
WORDPRESS
RATING 4.9 ★★★★★ Our Review
Hostinger: Our Expert's Review
Laura Bernheim (HostingAdvice.com): As much as we love WordPress, one of our biggest pet peeves is when hosting providers exploit the popularity of the world's most-used content management system by offering so-called WordPress hosting that, in reality, is exactly the same as the host's shared server plans. Fortunately, Hostinger's ultra-fast infrastructure and easy access to SSL certificates and backups sets up the company to outperform the vast majority of the violators of our admittedly made-up rule. Go to full review »
| Money Back Guarantee | Disk Space | Domain Name | Setup Time |
| --- | --- | --- | --- |
| 30 days | 50 GB SSD – 200 GB SSD | FREE (1 year) | 4 minutes |
Hostinger is one of my personal favorites. In fact, it's the host I bought my very first hosting plan with (it was the free domain name offer that sold me). The company's generous plans are well-known in the industry, and it's difficult to understand how it even manages to sustain its offerings. Regarding WordPress web hosting, Hostinger typically has everything ready for you to migrate or build a website from scratch with them.
Hostinger offers more unlimited features than many WordPress web hosts, so let's dive into its offerings.
Unlimited email accounts are perfect for small businesses with multiple employees
Unlimited bandwidth means your website won't lag when you receive a high number of visitors, which is perfect for growth-oriented small businesses
You'll get a free domain for any WordPress hosting plan at Hostinger
You can host at least 100 websites per hosting account
Free, one-click WordPress installation allows you to start building your website immediately
Free WordPress auto-updates, backups, vulnerability scans, and optimization to keep your website up and running
Hostinger also leverages the power of artificial intelligence to help small business owners create websites much faster. For example, it offers an AI tool for content creation, meaning you won't need to hire a copywriter to create web content for your small business website.
No budget for a professional photographer? No problem. Hostinger's AI technology will select high-quality and relevant images for your website. That should get you off the ground and help you land in front of your target market.
Up to 12x faster WordPress hosting
FREE SSL certificate and SSD storage
Automatic WordPress plugin, theme, and core updates
Features a FREE drag-and-drop WP page editor
Premium themes and plugin subscriptions
WORDPRESS
RATING 4.9 ★★★★★ Our Review
InMotion: Our Expert's Review
PJ Fancher (HostingAdvice.com): InMotion Hosting, long known for affordable and high-performance shared hosting options, entered the WordPress space with a solid option built upon the company's reputation for great support and reliability. Build on an all-SSD infrastructure, InMotion's inherently quick speeds make the infrastructure a perfect fit for delivering rapid WordPress page loads. Go to full review »
| Money Back Guarantee | Disk Space | Domain Name | Setup Time |
| --- | --- | --- | --- |
| 90 days | 100 GB – Unlimited NVMe SSD | FREE (1 year) | 5 minutes |
InMotion Hosting is the perfect web host if you're looking for speed and performance. The host uses NVMe SSD storage for all its hosting packages to provide faster WordPress websites.
This host also offers plenty of value, something small businesses appreciate. InMotion's packages include free, lifetime SSL certificates (most providers charge a renewal), unlimited bandwidth, and at least two PHP workers per site. Here are some other advantages of using InMotion:
Unlimited bandwidth prepares your small business website for uninterrupted growth
Unlimited email addresses for select plans (and at least 10 for its most basic plan)
A website builder to get your website up and running quickly
Free marketing tools, including advertising credits to bridge the gap between your small business and its target market
Speed is one of the most important factors search engines such as Google consider when ranking a website. Search engines aside, no potential client will want to stay on your website if it takes more than three seconds to load, especially given that the average human has a shorter attention span than a goldfish.
The best thing about InMotion is that it's not just speedy; it offers a host of tools to help small businesses thrive. And if you ever need help getting started, its award-winning customer support team has got your back.
WordPress hosting for up to unlimited sites
FREE WordPress website migration
Fully managed hosting with DreamPress plan
NEW WordPress website builder tool
1 of 3 providers endorsed by WordPress.org
WORDPRESS
RATING 4.9 ★★★★★ Our Review
DreamHost: Our Expert's Review
Laura Bernheim (HostingAdvice.com): One of only three hosting providers recommended by the WordPress Core team, DreamHost has actively contributed to the WordPress community for more than a decade. The company's platform is optimized for the incredibly popular content management system, and plans include easy setup, automated updates and backups, unlimited bandwidth, and 24/7 specialized support. Go to full review »
| Money Back Guarantee | Disk Space | Domain Name | Setup Time |
| --- | --- | --- | --- |
| 97 days | unlimited | FREE (1 year) | 4 minutes |
DreamHost is another WordPress-approved host that goes the extra mile to provide the ideal hosting environment for your small business website.
It offers three plans for WordPress users: WordPress, DreamPress, and VPS WordPress. No matter which plan you choose, you can enjoy a host of features designed to help your small business grow. Below is an overview of what to expect when you sign up with DreamHost.
Unmetered bandwidth to prepare your website for growth
SSD storage for faster loading speeds, which can improve your site's performance and search engine rankings
Free SSL certificate to protect your website from malicious attacks
Free WordPress website builder to help you create a beautiful website for your small business from scratch
VPS plan available for high-performance websites
DreamHost is committed to helping WordPress users get the most out of their hosting packages. Its 100% in-house customer support team, for example, is always available 24 hours a day, seven days a week via email, live chat, and phone.
You'd think that a web host bearing the WordPress seal of approval would be expensive. But that's not the case with DreamHost. Despite having so much to offer, DreamHost is still affordable by any standards, including its VPS hosting plans — which don't typically come cheap.
Managed WordPress hosting on shared servers
WordPress is preinstalled on all plans
Unlimited email addresses hosted at your domain
99.9% uptime guarantee for your blog
$150 in Google Ads spend match credit
WORDPRESS
RATING 4.8 ★★★★★ Our Review
HostGator: Our Expert's Review
Ryan Frankel (HostingAdvice.com): HostGator is great for all things shared hosting, and application-specific services — such as the classic one-click-install WordPress hosting — are no exception. The team recently updated its already clean and intuitive HostGator cPanel dashboard, wherein users can find a myriad of free apps and scripts to install, including WordPress. Go to full review »
| Money Back Guarantee | Disk Space | Domain Name | Setup Time |
| --- | --- | --- | --- |
| 30 days | Unlimited | FREE (1 year) | 4 minutes |
HostGator's longevity in the web hosting sphere is admirable. This web host has been around since 2002 and isn't showing any signs of leaving the stage anytime soon. And it all boils down to the quality of its hosting services.
HostGator may not be the most cost-effective WordPress hosting for small businesses, but it has some great features worth checking out. Here are some positives about the host.
HostGator won't limit your website's bandwidth
You'll also get a free domain if you sign up for at least 12 months of hosting
The WordPress installation process is easy
Free email accounts, a domain, and an SSL certificate get you started on the right foot
Free advanced security tools such as SiteLock Fix and CodeGuard protect your website
HostGator is a great option for WordPress hosting if you have a low-traffic small business website, such as a portfolio or a local restaurant, but we wouldn't recommend it for high-traffic websites. The shared hosting plan doesn't offer unlimited traffic, so your website will likely slow down as your traffic grows.
To offset the traffic restriction and the lack of support for unlimited websites, HostGator offers advertising credits for its shared hosting plans and a free website migration. The bottom line is that HostGator might not be the most cost-friendly web host, but it offers just what you need to get started with a small business website that receives a small amount of traffic. As your business grows, you can begin to explore other options.
Migrate unlimited WP sites using Cloudways plugin
FREE CDN and WordPress staging areas
Caching plugin, Breeze, comes pre-installed
SSD storage for 3x faster WordPress hosting
25% OFF with code HOSTINGADVICE
WORDPRESS
RATING 4.8 ★★★★★ Our Review
Cloudways: Our Expert's Review
Alexandra Anderson (HostingAdvice.com): Cloudways makes it simple to kick-start a WordPress site or app hosted in a cloud environment. During the initial setup, we were given a choice of a single- or multi-site installation of the latest WordPress version — complete with Cloudways optimizations — or a no-frills WP install. Go to full review »
| Money Back Guarantee | Disk Space | Domain Name | Setup Time |
| --- | --- | --- | --- |
| 3-day FREE trial | 20 GB SSD – 4 TB SSD | New or Transfer | 8 minutes |
When you explore options for your website, taking it to the cloud is among them. Cloud hosting is a hosting environment comprising multiple virtual machines that work together to keep your website running.
The biggest advantage of that setup is that you can always scale your hosting needs up or down depending on demand. That's one of the many benefits Cloudways offers. Others include:
Excellent speed and performance, which can lead to better conversions and rankings on search engines
Support for unlimited websites
Top-notch security features, including DDoS protection and two-factor authentication, ideal for websites that handle sensitive data
Simple and clear pricing plans allow you to plan your hosting budget without any surprises
Because cloud hosting uses virtual machines to provide faster and scalable hosting, it is typically more affordable than traditional hosting. So, we wouldn't recommend Cloudways for a low-traffic website. For example, suppose you want to build a website for a local coffee shop or restaurant, your portfolio, or a small nonprofit organization. HostGator, Bluehost, Hostinger, InMotion, and DreamHost are right-size, affordable alternatives.
Cloudways is an ideal partner if you want to host a high-traffic WooCommerce store, a real-estate agency, an online training or learning platform, or anything in between. It allows you to scale up and down depending on your traffic needs.
1-click WordPress installs via cPanel or Plesk
FREE domain from the world's #1 registrar
Experience 24/7 expert support
Award-winning security monitoring
FREE year of Office 365 business email services
WORDPRESS
RATING 4.4 ★★★★★ Our Review
GoDaddy: Our Expert's Review
Ryan Frankel (HostingAdvice.com): As champions of low-cost, high-impact hosting, GoDaddy understandably offers a slew of services geared for all levels of WordPress users. Starting with the company's basic shared hosting services, which start at $2.99 per month, each GoDaddy customer who signs up for an annual plan receive a free domain name and the power to control their site via the cPanel or Plesk control panels. Go to full review »
| Money Back Guarantee | Disk Space | Domain Name | Setup Time |
| --- | --- | --- | --- |
| 30 days | 30 GB SSD – Unlimited SSD | FREE (1 year) | 6 minutes |
It's impossible to leave the world's largest domain registrar out of this conversation. But the legendary web host isn't here because of its name alone; GoDaddy has everything you need to build a powerful and beautiful website for your small business.
For starters, GoDaddy's customers get peace of mind when using a reputable company. Reputation aside, GoDaddy has a plethora of features for small businesses that run WordPress. These include, but are not limited to, the following:
An AI content creation tool to help you produce content for your website without a professional copywriter
Automatic updates for your WordPress website and plugins, including PHP (the scripting language WordPress runs on)
A free domain, SSL certificate, and professional email
Faster performance thanks to its global Cloudflare CDN and NVMe SSD storage
GoDaddy has been a top hosting provider for more than two decades. While it's not the best WordPress host out there if you're on a budget, its reliability is unquestionable.
And, from my web hosting experience, it's worth spending a few extra dollars on a reliable web host and having peace of mind in return. That's what GoDaddy offers.
Premium WordPress Hosting Plans for Small Businesses
If budget isn't a major concern and you don't mind paying a bit extra for a hosting plan with more features, these premium hosts are right up your alley. From managed WordPress plans to lightning-fast speeds with caching and a free CDN, these premium WordPress hosts don't hold back.
Fully managed WordPress hosting for 1 to 100 sites
Get started quickly with Qubely Pro for Gutenberg
1-click staging and unlimited email accounts
Built-in image compression, caching, and CDN
24/7/365 support via phone, email, and live chat
MANAGED WORDPRESS
RATING 4.9 ★★★★★ Our Review
Nexcess: Our Expert's Review
Laura Bernheim (HostingAdvice.com): Unlock the peace of mind that comes with premium managed services delivered by WordPress experts. The Nexcess team bundles performance, security, and always-available support into high-value hosting. Go to full review »
| Money Back Guarantee | Disk Space | Domain Name | Setup Time |
| --- | --- | --- | --- |
| 30 days | 15 GB – 800 GB | | 6 minutes |
Nexcess offers fully managed WordPress hosting services. This allows you to focus on running your business without worrying about the technical aspect of managing a website.
For example, if you run an online clothing store, Nexcess makes it easier to focus on the latest fashion trends because you don't need to worry about your website's security vulnerabilities. Managed WordPress hosting services take care of the tedious and technical aspects while you run the show. That said, Nexcess offers more than managed hosting, including these features:
PCI compliance protects your website visitor's credit card information, creating trust and protecting your business from lawsuits
Auto-scaling provides additional resources to your website when your traffic surges
Lightning-fast speed thanks to features such as Object Cache Pro, global Cloudflare CDN, and automatic image compression
Between 10 to 70 PHP workers per site, depending on the plan you choose
The presence of multiple PHP workers is what makes Nexcess stand out as a premium WordPress hosting provider. If you've ever watched Formula One races, you've seen how several mechanics and technicians work to service a race car within seconds during a pit stop. That's how PHP workers operate when someone visits your WordPress website.
For context, InMotion Hosting offers two PHP workers for its basic plan, while Nexcess offers 10.
Fully managed, stress-free WordPress hosting
More than 5x faster than traditional shared hosting
Advanced site backup and security features
Now includes Jetpack pre-installed
Easily scale to handle traffic spikes
MANAGED WORDPRESS
RATING 4.9 ★★★★★ Our Review
DreamHost: Our Expert's Review
Laura Bernheim (HostingAdvice.com): Managed WordPress hosting with DreamHost is the crème de la crème of concierge services for the popular platform. We appreciate that DreamHost doesn't cap your bandwidth, so your WordPress site is free to scale and can accommodate unexpected spikes in traffic. Go to full review »
| Money Back Guarantee | Disk Space | Domain Name | Setup Time |
| --- | --- | --- | --- |
| 97 days | unlimited | FREE (1 year) | 4 minutes |
The DreamPress hosting plan from DreamHost works best for resource-intensive websites. This cloud-based hosting plan supports one WordPress website without traffic restrictions.
It also comes with WordPress pre-installed, meaning you can go straight into building your website without worrying about setting up your hosting environment. As a fully managed WordPress hosting plan, DreamPress comes with free WordPress migration, installation, security updates, and server optimization. Other features worth mentioning include:
A free website builder with more than 200 design themes to choose from
A drag-and-drop website editor to help you create the perfect website for your small business
JetPack Pro to help boost your website's performance and rankings on search engines
Free email accounts to give your business a professional look
DreamPress also has two tiers of service: DreamPress Plus and DreamPress Pro. The best web hosting plan will depend on your website's unique needs.
Each plan comes with monthly or yearly billing options. The monthly WordPress hosting option provides more flexibility if you're not ready for a long-term commitment. But if you want to save money and get the most out of DreamPress, the yearly billing option is recommended.
High-touch managed WordPress hosting
FREE speed boost via built-in CDN and custom FlyCache technology
One-click sandbox environment for staging
In-house WP expertise and support available 24/7
FREE 14-day demo site
MANAGED WORDPRESS
RATING 4.7 ★★★★★ Our Review
Flywheel: Our Expert's Review
Laura Bernheim (HostingAdvice.com): It seems rather obvious (and repetitive) to say that a web host that solely hosts WordPress sites excels at hosting WordPress — but it's true. In addition to revamped infrastructure optimized for the world-famous content management system, Flywheel offers several proprietary, one-of-a-kind services that extend WordPress hosting beyond traditional norms. Go to full review »
| Money Back Guarantee | Disk Space | Domain Name | Setup Time |
| --- | --- | --- | --- |
| 60 days | 5 GB – 50 GB | N/A | 4 minutes |
Flywheel breaks down its WordPress hosting services into four plans: Tiny, Starter, Freelance, and Agency. The best part about this premium WordPress hosting company is that it allows you to build your own custom plan if none of its four standard plans works for you.
That also means that you can create a plan that aligns with your budget and the features you need to get started with WordPress hosting. No matter your plan, Flywheel has powerful features and resources, including:
Nightly backups to protect your data
A Cloudflare CDN for faster speed and improved performance
Free, niche-specific StudioPress themes to help you build your WordPress website faster
Performance insights to help monitor growth and implement changes when necessary
Automatic and managed plugin updates to keep you focused on running your business
It's worth noting that Flywheel will charge you extra if your website exceeds a certain number of monthly visitors. That may sound risky, but you'd rather not have your website load slowly just because it exceeded its monthly traffic limit.
Some hosts may not charge extra but will throttle your website, creating a bad user experience. And when users have a bad experience the first time they visit your website, it's unlikely they'll return even if you decide to upgrade your hosting plan later.
Flywheel's approach to this issue seems designed to help small businesses, as they'd rather send an extra bill than cut off your traffic. And that additional traffic could be all you need to make the extra money for hosting or beyond.
Premium WP hosting with unlimited data transfer
Proprietary caching ekes out extra performance
FREE Genesis framework and StudioPress themes
Automatic backups with 1-click restore
20% discount for HostingAdvice readers
MANAGED WORDPRESS
RATING 4.2 ★★★★★ Our Review
WP Engine: Our Expert's Review
Ryan Frankel (HostingAdvice.com): When you're investing in your business website, you can spare no expense. Every second of downtime costs you, and you can't afford a security breach or a bug due to an outdated plugin. Go to full review »
| Money Back Guarantee | Disk Space | Domain Name | Setup Time |
| --- | --- | --- | --- |
| 60 days | 10 GB – 50 GB | New or Transfer | 6 minutes |
WP Engine offers hosting purely for WordPress websites. Think about it as an engine with all of the most important components you need to power your WordPress website.
Knowing that your WordPress website is in the hands of specialists also provides peace of mind. It's like visiting a dentist when you have a tooth problem rather than seeing a primary physician. Some of its key features and functionalities include:
A global CDN ensures peak performance for your WordPress website
Powerful web design and management tools help you build a small business website that clients will love
Supports WooCommerce, perfect for an online store that runs on WordPress
Managed by a team of WordPress experts and an award-winning customer support team
Integrates with powerful tools and software such as Google Cloud, Stripe, Microsoft Azure, and Amazon Web Services
WP Engine is costly compared to the other premium WordPress hosts we've reviewed. That said, it offers much more powerful resources, making it the perfect fit for a resource-intensive website.
The host allows you to build your own plan from scratch to keep prices down. Each plan comes with at least 10 premium WordPress themes, WordPress-specific support, free SSL and SSH certificates, local developer tools, and daily backups.
13. Kinsta
Kinsta was founded in 2012 by veteran WordPress developers, and is a top hosting provider for SMBs and enterprises. It runs on Google cloud technology, making it a blazing-fast and reliable hosting provider. And in the world of online business, speed is everything.

The web hosting provider also uses edge-catching technology to further boost its speeds. Faster load times mean better performance and more visibility for your business on search engines. Kinsta also offers many other premium features, including:
Powerful analytics tools to help you monitor the performance of your WordPress website and hosting environment
One-click website creation to get your small business online faster
Built-in database manager allows you to customize your small business database and execute commands easily
Hourly backups to protect your data
The most fascinating thing about this host is that it runs mostly on customer feedback.
Kinsta aims to understand the unique needs of its clients by collecting feedback and offering real-time solutions. As a small business owner, you know the importance of a customer-first approach.
What Is WordPress Hosting?
WordPress hosting is a hosting environment built specifically for WordPress websites that comes with powerful tools and features needed to run them. WordPress sites can be heavy because of all their images and content, so your plan may come with features like a CDN or caching.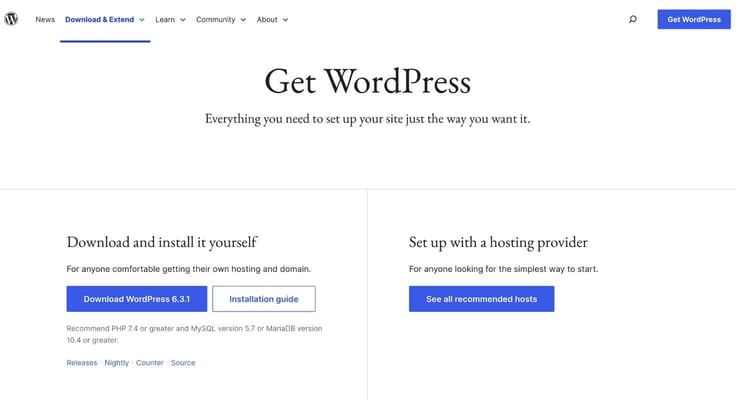 A typical WordPress host will offer WordPress-specific features and functionalities such as one-click installation, staging environments, WordPress plugins, themes, optimization, and support. Some of our favorite hosts on this list come with free premium themes, which offer great value for businesses that want industry-specific website templates.
What Is Managed WordPress Hosting?
Managing a WordPress website (or any other website for that matter) can be challenging. Technology continues to evolve, and business owners may not have the time to manage their WordPress website and hosting environment while running their operations.
That's where managed WordPress hosting comes in. It's a hosting service that takes care of the technical part of running your WordPress website as you focus on the content.
From a business perspective, think about it as renting an office space. The landlord takes care of maintaining the office space as you focus on serving your clients.
How Much Does a WordPress Website Cost?
WordPress hosting costs depend on the kind of website you want to build and the amount of resources you need. Your choice of a hosting provider will also influence the cost.
Let's say you want to build a simple WordPress website for your portfolio — nothing out of the ordinary.
In that case, you'll likely need a shared hosting plan, which costs anywhere between $2 to $10 per month, depending on the host. Bluehost, SiteGround, and Hostinger offer affordable hosting packages for SMBs and deep discounts for new customers.

A simple, non-resource-intensive website will cost less than a powerful eCommerce website would, for example. That's because eCommerce websites require advanced features, including customer management tools, and order processing capabilities, and they may need to be PCI compliant.
Premium WordPress hosting costs more because it offers more powerful features. Here, I'm talking about the likes of WP Engine, Kinsta, Flywheel, Nexcess, and DreamHost.
Some websites may require additional plugins to improve their performance. Those plugins often add cost to any plan.
Can I Get Free WordPress Hosting?
Some hosting providers may offer free WordPress hosting, but we wouldn't recommend this option. Free hosting is not usually worth it if you care about the reputation and growth of your business.
Most free WordPress hosts will spam your website with ads, throttle your traffic, and force you to use their domain extension.
But you may need to cut costs early on while doing business. So, here is a great idea to help you choose the best hosting service for your small business: Sign up for a WordPress hosting provider that offers a free trial or money-back guarantee.
Hosts with a money-back guarantee
Bluehost (30 days)
SiteGround (30 days)
Hostinger (30 days)
DreamHost (97 days)
InMotion Hosting (90 days)
WPX Hosting, on the other hand, offers two months free on all annual plans. I know a money-back guarantee is not necessarily a free trial, but it gives you peace of mind knowing that you can cancel anytime within the specified period without losing your money.
Pro tip: Some WordPress hosts also offer great discounts for students. You should check them out if you're running a small business while earning your degree.
What Is the Best WordPress Hosting Company?
It all depends on your unique small business needs and budget. Overall, Bluehost is a crowd favorite, given that it's affordable, reliable, and has been working with WordPress websites for more than two decades.
Recommended by WordPress.org since 2005
Automatic WordPress updates and initial install
FREE WordPress themes in the Bluehost Marketplace
24/7 support via live chat, phone, and email
Get exclusive discounts on WordPress plans
WORDPRESS
RATING 4.9 ★★★★★ Our Review
Bluehost: Our Expert's Review
Ryan Frankel (HostingAdvice.com): Bluehost's WordPress hosting packages are aimed at first-time site owners and personal bloggers. These services come at a premium compared to the standard Bluehost web hosting (basic shared hosting) plans, but the WordPress optimization and platform-specific resources are arguably worth the cost. Go to full review »
| Money Back Guarantee | Disk Space | Domain Name | Setup Time |
| --- | --- | --- | --- |
| 30 days | 50 GB SSD – 100 GB SSD | FREE (1 year) | 7 minutes |
You can also choose SiteGround (best for shared hosting) or DreamHost (great for managed WordPress hosting). These hosts are also WordPress-approved.
Who Should I Host My WordPress Site With?
Again, the right host for your WordPress website depends on the hosting needs of your small business. For example, shared hosting is perfect for event organizers, freelancers, consultants, restaurants, electricians, plumbers, and any small business with simple requirements.
Bluehost, A2 Hosting, Hostinger, and SiteGround can take care of those needs.
Your budget will also decide the best WordPress hosting provider for your SMB. Flywheel, Kinsta, and Nexcess are perfect hosting providers if you have a bigger budget and need more resources.
What Kind of Hosting Do I Need for WordPress?
You have four options: shared, VPS, cloud, and dedicated plans when looking for the right WordPress hosting for your small business website.
Shared WordPress hosting works best for businesses that don't need a lot of resources. Think of a freelancing business or a landscaping company.
VPS hosting works best for websites that require more resources than what shared hosting offers. Web development agencies, SaaS startups, reseller hosting providers, and online tutoring services are examples of businesses that could benefit from VPS hosting.

Cloud hosting offers more scalability, reliability, and better performance. WooCommerce websites, startups and tech companies, healthcare providers, and financial institutions would benefit from cloud hosting.
Dedicated hosting gives you more control of the dedicated server infrastructure. This hosting option is ideal for high-performance sites, such as large WooCommerce enterprises and membership and subscription-based WordPress websites.
What Are the Pros and Cons of Using WordPress for Business?
Running your small business website on WordPress comes with some pros and cons. Let's start with the pros.
What You'll Like
Easy to use, even for small business owners with limited technical skills and knowledge
Offers a vast library of plugins, eliminating the need to learn how to code or hire a WordPress developer
Highly responsive, one of the key factors search engines such as Google consider when ranking a website
Makes it easy to organize and publish content
Releases regular updates to keep it functional and safe
What You (Probably) Won't Like
Some of the most notable cons of WordPress for businesses are as follows:
Some WordPress plugins are resource-intensive, requiring more powerful hosting plans
You may need advanced technical skills down the line if you plan to add custom features and functionalities
Requires regular maintenance and updates, especially for its plugins
Generally, the pros of WordPress hosting tend to overpower the cons. Otherwise, it wouldn't be the preferred content management system for more than 43% of websites worldwide.
How Do I Build a WordPress Website?
Here are some quick steps to help you build a website on WordPress:
Step 1: Choose a WordPress Hosting Provider
First, you need a WordPress-compatible web hosting provider. We recommend Bluehost, SiteGround, or DreamHost — and they're all approved by WordPress.
Step 2: Install WordPress
Some web hosts come with WordPress pre-installed. DreamHost's DreamPress plan is a good example. If not pre-installed, most hosting providers allow you to install it with one click after completing the onboarding process.
Step 3: Set Up Your WordPress Website
Once you've installed WordPress, you need to set up the new website. First, select a theme. Click "Appearance," select "Themes," and then click "Add New". You can choose a pre-installed theme (premium or free) or upload one you've purchased.

Step 4: Customize the theme
Once you've installed the theme, you can customize it. Here, you can add text and images, change the color codes to match the look and feel of your business, and download plugins if needed.
Step 5: Preview and Publish
Preview the changes you've made to the selected theme. If satisfied, go ahead and hit the "Publish" button. Now you have a fully functional WordPress website for your small business.
Harness the Power of WordPress Hosting To Grow Your Small Business
WordPress has been the world's leading content management system for decades. And the content management platform isn't going anywhere anytime soon.
On the contrary, it keeps getting better with every update. The fact that it is open-source makes it highly customizable and scalable. And its massive community of users, including many developers, means you'll never fail to find solutions when something goes wrong with your website.
All you need is the right WordPress hosting provider. Hopefully, with the many options we've covered in this article, you'll find one that suits your unique business needs.
See Our Full Review of Bluehost
Whatever type of hosting plan you're looking for, Bluehost is a solid choice no matter the scale. Our reviewer Ryan Frankel recently took Bluehost for a spin, and rated the popular host a 4.9 in the WordPress Hosting category out of a perfect score of 5.0. Here's what Ryan had to say about Bluehost:
Bluehost has a rock-solid reputation in the shared and WordPress hosting communities, and the host is a long-time favorite of mine. Today, Bluehost powers more than 2 million websites, and the team touts years of experience. With well-maintained servers, competitive pricing, and excellent customer support, Bluehost is hardly a pick you'll regret.
Before signing up for Bluehost, it's a good idea to read through Ryan's full review to learn about all the features Bluehost offers. You can also compare it to other web hosts to ensure you're getting the best deal possible:
If you decide Bluehost is the right choice, keep in mind that it takes just minutes to deploy your Bluehost server space. And at $2.95 per month, it's a bargain considering the many great features that come in any Bluehost plan.
Advertiser Disclosure
HostingAdvice.com is a free online resource that offers valuable content and comparison services to users. To keep this resource 100% free, we receive compensation from many of the offers listed on the site. Along with key review factors, this compensation may impact how and where products appear across the site (including, for example, the order in which they appear). HostingAdvice.com does not include the entire universe of available offers. Editorial opinions expressed on the site are strictly our own and are not provided, endorsed, or approved by advertisers.
Our Editorial Review Policy
Our site is committed to publishing independent, accurate content guided by strict editorial guidelines. Before articles and reviews are published on our site, they undergo a thorough review process performed by a team of independent editors and subject-matter experts to ensure the content's accuracy, timeliness, and impartiality. Our editorial team is separate and independent of our site's advertisers, and the opinions they express on our site are their own. To read more about our team members and their editorial backgrounds, please visit our site's About page.