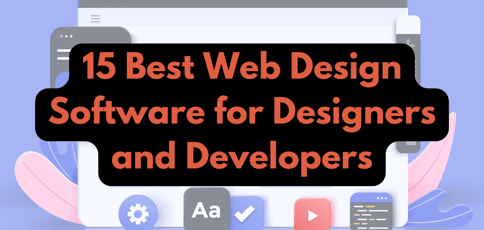 I can talk about web design all day long. I'm always researching the latest design and coding software to keep up in this ever-evolving industry. Five years into my career as a web designer and developer, I've learned that no design software offers a one-size-fits-all solution.
Ultimately, the best web design software is the one that suits your unique design needs and objectives.
In this article, I've covered 15 of the best web design software programs available today, explaining what really makes them stand out. From drag-and-drop site builders to low-code design solutions, there's something for makers of all skill levels.
Best All-In-One Web Design Software
Web design tools have evolved to the point where you don't need any coding or technical knowledge to build a beautiful website. If you can drag your mouse from one corner of your screen to the other corner, you can design your own website. It's as simple as that.
I see a future where web designers will begin shifting their focus to more technical stuff, such as website security, compliance, responsiveness, and cross-browser compatibility, rather than the overall design itself. That's because there are tons of design tools and software anyone can use to help with the design process.
Let's look at some of the most popular choices.
No coding skills needed with drag-and-drop builder
100s of templates with niche-specific designs
Add features via the App Market and Wix Events
Easily create ecommerce functionality easily
Great way to build small sites on a budget
WEBSITE BUILDER
RATING 4.9 ★★★★★ Our Review
Alexandra Anderson (HostingAdvice.com): Website building is where Wix shines. The thousands of templates, the intuitive editor, the industry-leading designs that cater to a variety of specific fields and use cases — all these facets represent a platform that excels at facilitating easy web design for the non-tech-savvy user. Go to full review »
| Money Back Guarantee | Disk Space | Domain Name | Setup Time |
| --- | --- | --- | --- |
| 14-day FREE trial | 2 GB – Unlimited | FREE (1 year) | 4 minutes |
I learned about Wix in March of 2020 when the COVID-19 pandemic peaked. The lockdown era brought it to life, with millions developing new hobbies and skills. That's when most people were looking for ways to make money online, and having a website was essential.
So, with mass layoffs, dwindling savings, and an uncertain financial future, many people turned to designing their own websites to cut down the extra cost of hiring professionals. That's when Wix became popular, thanks to its easy-to-use features, many customizable themes, and a powerful drag-and-drop website builder. With Wix, you can design a fully functional website in less than 30 minutes.
No coding skills necessary with MyWebsite Creator
Free domain name or transfer your existing site
FREE social media and marketing widgets
Pro templates with pre-filled text and images
Multilingual support and tools for SEO
WEBSITE BUILDER
RATING 4.8 ★★★★★ Our Review
1&1 IONOS: Our Expert's Review
Alexandra Anderson (HostingAdvice.com): If you're in need of a one-stop shop for designing and launching a website, you should be pleased to hear that 1&1 IONOS offers its own custom website building tools for both desktop and mobile devices. In addition to a free domain and email address, along with unlimited storage space, the 1&1 IONOS MyWebsite platform includes all the essentials for starting a site from scratch. Go to full review »
| Money Back Guarantee | Disk Space | Domain Name | Setup Time |
| --- | --- | --- | --- |
| 30 days | 10 GB – Unlimited | FREE (1 year) | 5 minutes |
Although Wix is hands down the world's easiest web design software, it doesn't go that easy on your wallet. The website builder is free, but you'll have to sign up for web hosting, and that's where the costs begin to pile up. If you're on a budget, IONOS is a better option.
IONOS comes with an easy-to-use website builder that harnesses the power of artificial intelligence to generate text, images, and other design elements. Here, you'll get professional templates for almost any niche, from travel, real estate, photography, business, food, sports, you name it. You can also set up an online store, create and manage appointments, and track your website's performance all under one roof and at affordable prices.
Drag-and-drop design from custom tools
FREE access to hundreds of specialized templates
Built-in ecommerce and payment processing
Easily switch among widescreen, desktop, tablet, and mobile previews
Support for 31 languages and 99.9% uptime
WEBSITE BUILDER
RATING 4.6 ★★★★★ Our Review
Hostinger: Our Expert's Review
Laura Bernheim (HostingAdvice.com): Whether you're taking your first foray into website hosting or are a developer looking to save some time, a strong website builder can dramatically streamline the creation process and enable users to launch a website in five minutes or less. Fortunately for customers, Hostinger has invested heavily in crafting an impressive visual editor sure to appeal to users of all levels of experience. Go to full review »
| Money Back Guarantee | Disk Space | Domain Name | Setup Time |
| --- | --- | --- | --- |
| 30 days | 30 GB SSD – 200 GB SSD | FREE (1 year) | 3 minutes |
Like IONOS, Hostinger also has an AI-powered web design software tool you can use to build a beautiful website from scratch with zero coding knowledge. This web design tool lets you choose from more than 150 niche-specific, responsive, and fully customizable templates.
The drag-and-drop feature also makes this web design software very easy to use. And if you intend to run an eCommerce business, Hostinger supports more than 20 payment processing methods you can integrate into your store. But that's not even the best part; you can sell up to 500 products on your online store without additional transaction fees.
Drag-and-drop design with the Gator™ site builder
Hundreds of mobile-friendly templates
FREE hosting, domain name, and SSL certificate
Easily add a blog, store, and social media
Analytics portal helps gauge site performance
WEBSITE BUILDER
RATING 4.6 ★★★★★ Our Review
HostGator: Our Expert's Review
Ryan Frankel (HostingAdvice.com): Setting itself apart from the scores of competitors that rely on white-labeled website builder solutions, HostGator spent the time to painstakingly craft its own platform. Gator provides a frustration-free experience that pairs the simplicity of drag-and-drop design with the company's powerful and respected web hosting services. Go to full review »
| Money Back Guarantee | Disk Space | Domain Name | Setup Time |
| --- | --- | --- | --- |
| 30 days | Unlimited | FREE (1 year) | 4 minutes |
HostGator has been around since the early 2000s. This veteran web host keeps improving with age, like fine wine. Its website builder, for example, comes with more than 150 customizable and mobile-friendly templates. All you need to do is choose one that matches your niche and preferences, make a few edits here and there, and you're good to go.
And if you enjoy blogging like I do, you'll be thrilled to discover that each of HostGator's DIY website builders has a built-in blog where you can channel your inner William Shakespeare. Oh, and before I forget, add a free domain and SSL certificate to the goodies you'll get when you sign up for a hosting plan with HostGator.
FREE website builder (powered by WordPress)
Custom themes and easy integration with ecommerce tools
Expert support 24/7 via live chat, phone, and email
Longest-running WordPress.org recommendation
Pro services to design, build, and market your site
WEBSITE BUILDER
RATING 4.5 ★★★★★ Our Review
Bluehost: Our Expert's Review
Ryan Frankel (HostingAdvice.com): With Bluehost, new site owners have the drag-and-drop simplicity of the WordPress website builder at their fingertips. This makes launching a new online brand, store, or personal site from scratch relatively painless. Go to full review »
| Money Back Guarantee | Disk Space | Domain Name | Setup Time |
| --- | --- | --- | --- |
| 30 days | 10 GB SSD – 100 GB SSD | FREE (1 year) | 5 minutes |
Bluehost gives longevity a whole new meaning. Also a product of the early 2000s, Bluehost has the perfect website builder for WordPress, the world's largest content management system. More than 43% of websites on the internet today run on WordPress, and if you'd like to add yours to the list, Bluehost offers exactly what you need to get started.
Here, you'll find many customizable WordPress themes, including those specially designed for eCommerce websites. Speaking of eCommerce, Bluehost lets you add useful features to boost sales, such as buy-one-get-one-free, frequently bought together, and many more.
FREE Weebly site builder or WordPress setup
Worry-free, automated webiste migrations
User-friendly cPanel interface and staging area
Custom ticket and chat systems for 24/7 support
SuperCacher with static and dynamic caching
WEBSITE BUILDER
RATING 4.4 ★★★★★ Our Review
SiteGround: Our Expert's Review
Alexandra Anderson (HostingAdvice.com): Do you know you need to build a website but don't know where to begin. Well, SiteGround will give you not one, but two extremely popular and user-friendly options to create the online presence of your dream. Go to full review »
| Money Back Guarantee | Disk Space | Domain Name | Setup Time |
| --- | --- | --- | --- |
| 30 days | 10 GB SSD – 40 GB SSD | New or Transfer | 5 minutes |
SiteGround is like the Whole Foods version of WordPress-endorsed web hosting companies; it's slightly expensive but worth every coin spent. The easy-to-use website builder comes fully equipped with everything you need to design a good-looking website that reflects your brand.
Each theme is mobile-friendly and responsive, representing different styles from ultra-modern to classic. SiteGround offers storefront themes, payment options, and any WordPress plugin you need to help you get started on the critical journey to your first sale. On top of that, you'll get a free domain for a year, free email accounts, free SSL certificates, daily backups, and a fully managed WordPress solution.
Fotolia and Flickr image databases
Pre-built and customizable content with GridBlocks
Responsive themes with tablet and mobile editing
Generates clean, efficient, and compliant HTML
SEO, gallery, and forms plugins
WEBSITE BUILDER
RATING 4.2 ★★★★★ Our Review
BoldGrid: Our Expert's Review
Laura Bernheim (HostingAdvice.com): After taking the BoldGrid suite of plugins for a test drive, we experienced how the company makes WordPress more accessible for beginners and much more efficient for professional developers. Because BoldGrid requires a separate hosting account and WordPress installation, it is a little more challenging for wide-eyed beginners to get started than it is for other website builders. Go to full review »
| Money Back Guarantee | Disk Space | Domain Name | Setup Time |
| --- | --- | --- | --- |
| 90 days | 90 GB SSD – Unlimited SD | FREE (1 year) | 5 minutes |
BoldGrid is yet another great WordPress website builder (although not officially endorsed by WordPress like Bluehost and SiteGround). Unlike Bluehost and SiteGround, BoldGrid offers more website themes to choose from. That makes it a great option if you want to browse more themes that align with your brand's look and feel.
The building aspect aside, this host goes the extra mile to provide additional tools you will need to optimize your website and improve your search engine rankings. These include but are not limited to Speed Coach, the BoldGrid Easy SEO tool, and Total Cache to improve page load speed.
Code-free design tools for eCommerce stores
Templates for retail, food, clothing, and services
Custom WordPress integrations and optimizations
24/7/365 support via phone, chat, and email
Try StoreBuilder for 75% OFF for 3 months
WEBSITE BUILDER
RATING 4.2 ★★★★★ Our Review
Nexcess: Our Expert's Review
Laura Bernheim (HostingAdvice.com): Already boasting a powerful platform for running WordPress and WooCommerce, Nexcess makes creating and growing your online store even easier with StoreBuilder system. Billed as an "intelligent website assistant," StoreBuilder asks entrepreneurs about their company's products, services, industry, experience, and content to help formulate a custom storefront. Go to full review »
| Money Back Guarantee | Disk Space | Domain Name | Setup Time |
| --- | --- | --- | --- |
| 30 days | 15 GB – 800 GB | New or Transfer | 7 minutes |
I recommend Nexcess for eCommerce store owners, particularly those who would love to build their stores on WordPress. Its powerful store builder is easy to use and gives you the freedom and flexibility to customize it to your liking. And if you ever get stuck, Nexcess offers world-class eCommerce customer support via phone and live chat 24 hours a day, seven days a week.
The sales-oriented eCommerce website builder also allows you to add specific features to boost your sales. These include automated emails for abandoned carts, secure checking, and automatic tax calculators.
Dedicated expert support helps you get started
Social media scheduling and email marketing
100s of templates for sites, blogs, and online stores
Unlimited storage for photos, videos, and music
FREE domain name registration
WEBSITE BUILDER
RATING 4.3 ★★★★★ Our Review
Web.com: Our Expert's Review
Ryan Frankel (HostingAdvice.com): Aimed at first-time users and customers seeking simplicity, Web. com offers a very quick and easy solution for getting a website online. Go to full review »
| Money Back Guarantee | Disk Space | Domain Name | Setup Time |
| --- | --- | --- | --- |
| N/A | Unlimited | FREE (1 year) | 5 minutes |
Web.com is way older than Bluehost and HostGator; this legendary web host has been around since 1992. I can't even count the number of people I know who built their first websites with Web.com. Back then, it was the most popular website builder on the internet, and you'd rarely browse the web without bumping into a Web.com ad.
Almost two and a half decades later, Web.com still stands strong. Yes, it might not be the most powerful and popular website builder now as it was back then, but it has never lost its quality. Its website builder has more than two million stock images, drag-and-drop technology, an AI copywriting tool, and built-in appointment scheduling software.
Best Web Design Software for Designers
Drag-and-drop website builders are great if you want to create a website quickly and with little effort. But what happens when you want to take your creativity a notch higher and create a unique design?
You'll need something different from a drag-and-drop web design tool. Precisely, you'll need a graphic design tool. The software won't launch your design into a website right after you're done designing, so you'll need a web developer to bring the design to life.
Here are some great options to consider.
10. Adobe XD

Adobe has ruled the world of design since 1982. In 2016, the giant software company released Adobe XD, a vector design tool for transforming visual ideas into user interfaces and wireframes, mostly for websites and applications.
This tool is a much easier version of yet another Adobe-owned design tool, Photoshop. That's because, unlike Adobe Photoshop, which performs a wide range of tasks and functionalities, Adobe XD focuses mostly on designing, wireframing, and prototyping.
11. Figma

Figma is a free, cloud-based design and prototyping tool for creating user interfaces and improving user experience for websites and mobile apps. This software is great for real-time team collaboration before bringing your design to life.
As with Adobe XD, you'll need a web developer to transform your Figma design into code. Keep in mind that Figma is much easier to use, and unlike Adobe XD, you won't need to install Figma on your local computer; you can easily access it online.
12. Webflow

Webflow has everything you need to design, build, and launch your website all under one platform. This web design software uses a "what you see is what you get" approach, which means that whatever you design on its platform is what it outputs.
This software is also great for collaboration between designers and web developers. If you know a thing or two about web design and want to work with a developer, this tool is the best fit for the job.
13. Dreamweaver

Adobe Inc. returns to my countdown with another software, Adobe Dreamweaver, demonstrating how this tech giant has the design industry in a chokehold. This tool differs slightly from Adobe XD, although most people think they work the same way.
Dreamweaver is what you need to build and code a website or application and is usually more complex. On the other hand, Adobe XD works best for creating prototypes, allowing designers to understand the final product's appearance after development without writing code.
With XD, you're basically looking at an undeveloped version of your website. Dreamweaver does the opposite; it designs and develops websites, allowing you to view the developed version in real time.
Best Web Design Software for Developers
Web design tools like Adobe XD, Dreamweaver, and others are great for getting you from Point A to Point B in the design world. However, they may have certain restrictions that might not align with your design goals.
In that case, writing code from scratch is a great way to circumvent it. Code editors give you complete control over the website's design and functionalities. You can add or remove anything with a single line of code.
Here are two of the most popular examples.
14. VS Code

I started using Visual Studio Code in 2018 while learning web development. This open-source code editor is a developer's heaven. It has many add-ons (or extensions) to help you manage your code. One of my favorite extensions is Prettier, which formats your code in a clean, easily readable way.
You can think of VS Code like a Microsoft Word or Google Docs file, but for writing code, not plain text (although you could integrate plain text with code). This tool lets you preview your code live as you write, allowing you to edit whenever necessary.
15. Sublime Text

In web development, you're either a fan of Visual Studio Code or Sublime Text. There's usually no in-between. There are many other code editors out there, but these two are the most popular in my experience.
Sublime Text works the same way as VS Code but is much lighter (usually the most common reason some people prefer it), highly customizable, and works on different platforms, such as Windows, macOS, and Linux. The bottom line is that if you're a fan of simplicity, you'll probably prefer Sublime Text to VS Code.
What Does Web Design Software Do?
Web design software helps transform design ideas into actual visible concepts. It takes the design process from a rough sketch to a completed visual product. The steps you take to get there depend on your software.

Below, I'll briefly discuss three of the most common web design software solutions.
Website Builders
A website builder is exactly what it sounds like. This is usually a drag-and-drop software used by beginners with zero or limited knowledge of code or design.
Most web hosting providers have website builders pre-installed to encourage people to build their websites using the provided free themes and templates. With a website builder, all you need to do is drag and drop the features you want to incorporate into your website, edit the color codes if necessary, throw in a logo, hook up a domain, and you're ready to launch.
Graphic Design Software
Graphic design software differs slightly from web design software. Yes, you'll have a lot of drag-and-drop functionality since that's the whole point of design. But unlike website builders, graphic design software usually runs independently from web hosts.
Examples include Figma and Adobe XD. You'll use these tools to design your website and hire a developer to bring your design to life, usually by writing code.
Text Editors
Finally, text editors offer a more advanced approach to design. These editors usually require some knowledge of code and best practices. The greatest benefit of using a text editor over a web or graphic design software is your level of control over your design.
The type of web design software you choose will depend on your skill level, budget, and time to dedicate to your project.
What Is the Easiest Website Design Software to Use For Beginners?
What's easiest depends on your web design experience, but Wix is the most straightforward software for all skill levels. Anyone can learn to use its drag-and-drop features in just a few minutes, regardless of their background.
No coding skills needed with drag-and-drop builder
100s of templates with niche-specific designs
Add features via the App Market and Wix Events
Easily create ecommerce functionality easily
Great way to build small sites on a budget
WEBSITE BUILDER
RATING 4.9 ★★★★★ Our Review
Alexandra Anderson (HostingAdvice.com): Website building is where Wix shines. The thousands of templates, the intuitive editor, the industry-leading designs that cater to a variety of specific fields and use cases — all these facets represent a platform that excels at facilitating easy web design for the non-tech-savvy user. Go to full review »
| Money Back Guarantee | Disk Space | Domain Name | Setup Time |
| --- | --- | --- | --- |
| 14-day FREE trial | 2 GB – Unlimited | FREE (1 year) | 4 minutes |
As with any new software, you'll experience an initial learning curve. This will be the most challenging for people who have never used a drag-and-drop website builder. But it's not difficult to get the hang of it.
You may find the hardest part of designing your website is coming up with the content for it. You'll need to draft some copy for your headings, menus, and any other sections you plan to make for your site.

If you want to add a blog to your website to increase SEO, that adds another layer of complexity to the process. You'll want to practice writing and sourcing quality images to put your best foot forward.
Which Software Is Most Commonly Used for Web Designing?
The most popular web design software for professionals is Figma, holding an impressive 36.25% market share in the collaborative design industry. Graphic designers use Figma to create beautiful designs and user experiences.

But what makes Figma so unique is its multi-operating system compatibility. Whether you use a Chromebook or a PC, you get the same experience. This makes its collaboration features superior to other design tools, which aren't compatible with all operating systems.
Teammates can view design changes in real time because documents are stored in the cloud. It also integrates with the popular messaging platform Slack, so teams can stay connected through the design process.
What Are the Four Types of Web Design?
As webpages have grown in complexity, so has graphic design. You may remember the web's early days made from static pages with plain HTML and dancing gifs. Thankfully, the industry has matured and focuses more on UX (also called user experience).
Single-Page Design
The first websites were single-page sites. These types of sites have a simple index.html file with minimal design elements and styling. That's not to say a single-page website can't be beautiful with the right layout and images. But they do offer less functionality and features. Simple portfolios are a common example of single-page sites.
Static Page Design
A static website is similar to a single-page site, except it may have more than one page and some additional functionality. You might see an external CSS file that adds custom styling or a contact form. These types of sites are usually just informational.
Responsive Design
Responsive design is the latest and greatest trend. People browse the web on many different screen sizes, and using responsive design ensures your site looks good no matter what device your user is on. Practicing mobile-first responsive design is the current industry standard.
Dynamic Design
Dynamic design refers to sites with which the user can interact. Think of websites that allow you to search and filter through content. With dynamic design, user experience becomes more important. Designers must focus on how the user interacts with your website's features.
What Web Design Software Do Professionals Use the Most?
Professionals mostly use advanced software such as Dreamweaver, Adobe XD, and Figma to design and develop websites. That said, it is worth noting that their skill level will determine the exact software they'll use.
For example, I love to design websites, but I'm not really a big fan of writing code unless I have to. In that case, I spend more time on Figma than Dreamweaver since the former is much easier to use. Another factor affecting what tool professionals use is budget. Small to midsize businesses may be limited in what they can budget for graphic design and, therefore, may lean on budget-friendly software.
Can I Teach Myself Web Design?
Web design is one of the most popular self-taught careers today. All you need is a decent laptop and a stable internet connection. You may purchase Adobe XD, Figma, or Sketch to get started. YouTube has thousands of tutorials that walk you through each web design software.

But if you need a little more hand-holding (which we recommend if you're a true beginner), check out some online courses from Codecademy or Udemy. When looking for a program, you should consider:
Reviews: Look at legitimate reviews from students who have completed the online coursework. Try to find out if students could secure a job in the field after completing the courses.
Cost: Budget is an important factor when choosing an online course. Depending on length and quality, online courses range anywhere from $50 to $500.
Course setup: Some courses offer videos and online exercises with little to no instruction, while others give you more one-on-one attention from an instructor. Consider your learning style and what you'll do best with.
Teaching yourself web design may take some time and consistency, but it's possible. If you use online resources and build a quality portfolio, you can get your foot in the door within a year or two.
Can I Design a Website for Free?
Yes, you can design a website for free. A clever way to do it is by using a web hosting company like Wix, Hostinger, IONOS, Bluehost, HostGator, or any of those covered in this guide. This is because you'll need to publish the website at some point. That's where your web host comes in.
These companies will only charge you to host the website, not for the design software. So, instead of investing in a design tool like Adobe XD, a web hosting company will give you free software to design your website.

Hosting companies like these also gift plenty of freebies, such as a free domain name, SSL certificate, and marketing tools to set you up for success. The best part is these hosting plans are usually cheap, starting at just a few dollars per month.
See the best web builders with free trials >>
Transform Your Ideas Into Reality With the Right Web Design Software
Gone are the days when design skills were only for a selected few. The world of design is much more open and inclusive today. All you need is an idea; you'll find tons of tools ready to transform these ideas into reality.
That said, your design tool or software will ultimately determine the final outcome. For best results, I recommend using web design tools offered by hosting companies, especially if you're a beginner. That way, you can always find the help you need to build something beautiful and user-friendly with a few clicks of a button. Don't forget that you can always contact their customer service if you need further help with your hosting plan or design tools.
But if you're an expert and want to take your creativity to a whole new level, tools like Figma and Adobe XD come in handy. Lastly, Dreamweaver, Visual Studio Code, and Sublime Text should get the job done for developers who love to work with complex lines of code.
See Our Full Review of Wix
Whatever type of hosting plan you're looking for, Wix is a solid choice no matter the scale. Our reviewer Alexandra Anderson recently took Wix for a spin, and rated the popular host a 4.9 in the Website Builder Hosting category out of a perfect score of 5.0. Here's what Alexandra had to say about Wix:
Wix offers one of the quickest and easiest means of getting a website online — free of charge to start. They've got a robust feature set that is growing every day as Wix leads in the browser-based web builder niche. While the support is subpar compared to that of the top hosts' web builders, the customization and ever-growing list of templates is hard to beat.
Before signing up for Wix, it's a good idea to read through Alexandra's full review to learn about all the features Wix offers. You can also compare it to other web hosts to ensure you're getting the best deal possible:
If you decide Wix is the right choice, keep in mind that it takes just minutes to deploy your Wix server space. And at $0.00 per month, it's a bargain considering the many great features that come in any Wix plan.
Advertiser Disclosure
HostingAdvice.com is a free online resource that offers valuable content and comparison services to users. To keep this resource 100% free, we receive compensation from many of the offers listed on the site. Along with key review factors, this compensation may impact how and where products appear across the site (including, for example, the order in which they appear). HostingAdvice.com does not include the entire universe of available offers. Editorial opinions expressed on the site are strictly our own and are not provided, endorsed, or approved by advertisers.
Our Editorial Review Policy
Our site is committed to publishing independent, accurate content guided by strict editorial guidelines. Before articles and reviews are published on our site, they undergo a thorough review process performed by a team of independent editors and subject-matter experts to ensure the content's accuracy, timeliness, and impartiality. Our editorial team is separate and independent of our site's advertisers, and the opinions they express on our site are their own. To read more about our team members and their editorial backgrounds, please visit our site's About page.