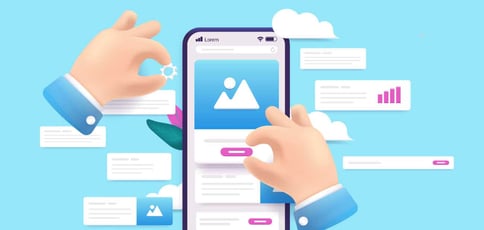 It was early 2015 when I launched my website. I remember it took some tweaking in WordPress to have it look decent enough. Right around the same time, Google unleashed the "Mobilegeddon," and the game changed just like that.
The mobile-first era meant that the search engine company started giving preference to mobile-optimized sites in mobile search results, which had quite an effect on online visibility. Back then, it was a scramble to get my site in order.
These days, it's all fairly straightforward, as the percentage of global web traffic on mobile devices has spiked over the past 10 years. The mobile-friendliness element is already factored in with website builders, meaning you can easily provide a consistent user experience across all devices and platforms. In this post, we take a look at the best mobile-friendly website builders money can buy.
Best Website Builders For Responsive Design
In theory, creating a website that captures attention on a mobile device is easy due to responsive templates automatically adapting to the screen size they're being viewed on. In other words, your site will adjust its layout and content to look amazing.
But responding to the needs of users and their devices goes deeper than that. You want a website builder that allows you to deliver the best user experience every time through the latest tech, such as fluid sizing, flexible grids and layouts, breakpoint customization, and so on.
Not every website builder is the same in that regard, which is why we have compiled the following list:
1. Wix
When it comes to website building, Wix is the go-to choice for many businesses and professionals, and deservedly so. Short setup time, ease of use, an abundance of templates and customization options, SEO tools — I could go on.
Suffice it to say that if you want a code-free website in line with current design and marketing standards, the platform is a surefire way to tick all the boxes.
No coding skills needed with drag-and-drop builder
100s of templates with niche-specific designs
Add features via the App Market and Wix Events
Easily create ecommerce functionality easily
Great way to build small sites on a budget
WEBSITE BUILDER
RATING 4.9 ★★★★★ Our Review
Alexandra Anderson (HostingAdvice.com): Website building is where Wix shines. The thousands of templates, the intuitive editor, the industry-leading designs that cater to a variety of specific fields and use cases — all these facets represent a platform that excels at facilitating easy web design for the non-tech-savvy user. Go to full review »
| Money Back Guarantee | Disk Space | Domain Name | Setup Time |
| --- | --- | --- | --- |
| 14-day FREE trial | 2 GB – Unlimited | FREE (1 year) | 4 minutes |
Wix takes care of the mobile side of things by automatically creating a mobile-friendly version of your desktop site. This means all the hard work is done behind the scenes, such as resizing fonts and images for optimal view, along with adapting the layout to fit small screens and show the most relevant content.
Naturally, you can still tinker around, courtesy of the mobile website builder that offers full creative freedom to those who like to take care of every detail. You can also hide certain pages to further customize the mobile experience.
It's important to note that any changes you make to your mobile site won't affect your desktop site, though it doesn't work the other way around. Hence, you can add some extra pizazz to the mobile version by inserting elements specifically tailored to mobile, like a quick action bar, back-to-top button, and embedded elements, among other features.
In addition, Wix offers Editor X, a separate website creation platform for designers and web professionals that combines cutting-edge responsive design with smooth drag and drop.
2. 1&1 IONOS
Those looking for a beginner-oriented website builder will feel right at home with 1&1 IONOS and its MyWebsite platform. You can either start from scratch or choose from a variety of industry-specific templates, including designer templates that are responsive by default.
The drag-and-drop site editor makes the effort easy, eliminating the need for any kind of coding or programming. I haven't even mentioned what is arguably the best part yet, which is a free 30-day trial period that provides ample time to really give it a good spin.
No coding skills necessary with MyWebsite Creator
Free domain name or transfer your existing site
FREE social media and marketing widgets
Pro templates with pre-filled text and images
Multilingual support and tools for SEO
WEBSITE BUILDER
RATING 4.8 ★★★★★ Our Review
1&1 IONOS: Our Expert's Review
Alexandra Anderson (HostingAdvice.com): If you're in need of a one-stop shop for designing and launching a website, you should be pleased to hear that 1&1 IONOS offers its own custom website building tools for both desktop and mobile devices. In addition to a free domain and email address, along with unlimited storage space, the 1&1 IONOS MyWebsite platform includes all the essentials for starting a site from scratch. Go to full review »
| Money Back Guarantee | Disk Space | Domain Name | Setup Time |
| --- | --- | --- | --- |
| 30 days | 10 GB – Unlimited | FREE (1 year) | 5 minutes |
The company has a dedicated Mobile Website Builder with which you can define the layout and design of your site, as well as customize it to your heart's content. This includes adding a bunch of interactive elements, such as photo galleries, customer reviews, online booking, and various widgets, most of which are provided for free.
In case you aren't sure how you're faring with your mobile site-crafting skills, 1&1 IONOS also offers a free Website Checker with which you can check your site's mobile-friendliness level, along with other aspects.
Besides getting a peek at how it's presented on different devices, you can also gain insights into how accessible your site is in search engines, how secure it is, and the time it takes to load.
3. Hostinger
You'll routinely find Hostinger in many of our best-of lists of hosting providers, but the company also does a great job of building sites. Specifically, it has an AI-driven, ChatGPT-powered website builder that allows you to generate specific templates and content, then customize it via the usual drag-and-drop interface.
There are also other AI tools of great value here, such as the Logo Maker, AI Heatmap, and SEO optimization.
Drag-and-drop design from custom tools
FREE access to hundreds of specialized templates
Built-in ecommerce and payment processing
Easily switch among widescreen, desktop, tablet, and mobile previews
Support for 31 languages and 99.9% uptime
WEBSITE BUILDER
RATING 4.6 ★★★★★ Our Review
Hostinger: Our Expert's Review
Laura Bernheim (HostingAdvice.com): Whether you're taking your first foray into website hosting or are a developer looking to save some time, a strong website builder can dramatically streamline the creation process and enable users to launch a website in five minutes or less. Fortunately for customers, Hostinger has invested heavily in crafting an impressive visual editor sure to appeal to users of all levels of experience. Go to full review »
| Money Back Guarantee | Disk Space | Domain Name | Setup Time |
| --- | --- | --- | --- |
| 30 days | 30 GB SSD – 200 GB SSD | FREE (1 year) | 3 minutes |
Notably, all Hostinger Website Builder sites are automatically responsive, so you need to build one version and let the smart technology do its thing. Changes applied to the desktop site version aren't applied to the mobile version, meaning you have full design freedom to create a mobile view that's completely functional and professional-looking.
As a bonus, there is a comprehensive guideline on how you can sort, resize, and change various mobile-only elements to your satisfaction.
The mobile version can further be enriched with numerous third-party integrations, such as Google Analytics for site performance and visitor behavior, WhatsApp for easier client communication, and eCommerce tools if you have an online store.
It's hard not to give Hostinger a go, at the very least, considering all of the above will cost you only $2.99 a month (you get a free domain and free website migration to boot) and that every plan contains a 30-day money-back guarantee.
4. HostGator
Thanks to its custom-built platform, HostGator provides a well-rounded website builder that successfully meshes together the standard drag-and-drop design with the company's bread and butter — website hosting.
From ready-made sections and styles to more granular elements like typography and color schemes, users can enjoy a hassle-free website creation and editing experience.
Drag-and-drop design with the Gator™ site builder
Hundreds of mobile-friendly templates
FREE hosting, domain name, and SSL certificate
Easily add a blog, store, and social media
Analytics portal helps gauge site performance
WEBSITE BUILDER
RATING 4.6 ★★★★★ Our Review
HostGator: Our Expert's Review
Ryan Frankel (HostingAdvice.com): Setting itself apart from the scores of competitors that rely on white-labeled website builder solutions, HostGator spent the time to painstakingly craft its own platform. Gator provides a frustration-free experience that pairs the simplicity of drag-and-drop design with the company's powerful and respected web hosting services. Go to full review »
| Money Back Guarantee | Disk Space | Domain Name | Setup Time |
| --- | --- | --- | --- |
| 30 days | Unlimited | FREE (1 year) | 4 minutes |
The Gator Website Builder includes a mobile version of any website you make that you can further edit separately from your desktop site. This allows you to add or remove elements unique to each version, which is always a good option to have, as some elements don't translate well on mobile sites despite automatic repositioning.
There are 150+ mobile-friendly templates at your disposal, and you get free hosting, domain name, and SSL certificate with every plan.
To make it worthwhile, HostGator provides more than 2 million free stock images, customizable social media buttons and feeds, customer-sharing features, embedded Google Map placements, and custom contact forms.
Moreover, you can optimize your website for SEO and integrate various eCommerce features to get a full-fledged online store. For those just getting the hang of website building, there is a comprehensive knowledgebase ranging from basic to advanced features.
5. Bluehost
As one of only three hosting providers officially endorsed by WordPress Core developers, Bluehost will undoubtedly be among the top choices for fans of the world's most popular CMS. The reason lies in the finely-tuned WonderSuite platform that simplifies the website-building experience without any coding or design skills.
And AI-powered wizards accompany you every step of the way, down to search-engine-optimized content creation.
FREE website builder (powered by WordPress)
Custom themes and easy integration with ecommerce tools
Expert support 24/7 via live chat, phone, and email
Longest-running WordPress.org recommendation
Pro services to design, build, and market your site
WEBSITE BUILDER
RATING 4.5 ★★★★★ Our Review
Bluehost: Our Expert's Review
Ryan Frankel (HostingAdvice.com): With Bluehost, new site owners have the drag-and-drop simplicity of the WordPress website builder at their fingertips. This makes launching a new online brand, store, or personal site from scratch relatively painless. Go to full review »
| Money Back Guarantee | Disk Space | Domain Name | Setup Time |
| --- | --- | --- | --- |
| 30 days | 10 GB SSD – 100 GB SSD | FREE (1 year) | 5 minutes |
Between these wizards, WonderBlocks is in charge of sprucing up your site based on your inputs during the onboarding process. In addition to providing you with design capabilities like customized block patterns and templates, you can tailor every aspect of user-friendliness to suit your specific needs and preferences.
Bluehost offers quite a bit of free stuff with most plans to start you off on the right foot, including domain hosting, email hosting, unlimited storage, and unlimited bandwidth. Because this is a WordPress-centric platform we're talking about, you also have a broad range of plug-ins to choose from, most notably those of eCommerce variety.
It's hard to look away from Bluehost's offering with its expert support available 24/7 to work out any kinks in the system.
6. SiteGround
Just like Bluehost, SiteGround is officially endorsed by the peeps at WordPress. This means you get a similarly crafted experience targeted primarily at WordPress users, although there are easy installations for Joomla, Drupal, and Magento.
Free installation, auto-migration, unlimited site traffic, automatic updates, and expert support are just some of the features you can take advantage of.
FREE Weebly site builder or WordPress setup
Worry-free, automated webiste migrations
User-friendly cPanel interface and staging area
Custom ticket and chat systems for 24/7 support
SuperCacher with static and dynamic caching
WEBSITE BUILDER
RATING 4.4 ★★★★★ Our Review
SiteGround: Our Expert's Review
Alexandra Anderson (HostingAdvice.com): Do you know you need to build a website but don't know where to begin. Well, SiteGround will give you not one, but two extremely popular and user-friendly options to create the online presence of your dream. Go to full review »
| Money Back Guarantee | Disk Space | Domain Name | Setup Time |
| --- | --- | --- | --- |
| 30 days | 10 GB SSD – 40 GB SSD | New or Transfer | 5 minutes |
SiteGround also offers a free version of Weebly in all its plans. The popular site builder is well-known for its simple and effective drag-and-drop interface, which makes it one of the easiest site builders around and particularly appealing for first-time users.
That's not to say it's overly basic. You certainly have your pick between various design layouts, functionalities, and plenty of mobile-ready, professional, responsive themes to make your site suitable for mobile use. Upon installation, these will be automatically mobile-optimized for any screen size.
Do note that if you want to build an online shop with Weebly, you need to use one of its paid versions. Hence, it's best you go straight to the source to check how you can use it.
7. BoldGrid
BoldGrid is another WordPress-centric website builder that caters to both sides of the user spectrum: Those who want intuitive and simple controls and those who want advanced customization options.
The company's Post and Page Builder plays a central role here thanks to its easy-to-use WYSIWYG (what you see is what you get) setup. Fans of modular designs can take a quicker route to site building with blocks, which are prebuilt page elements populated with content that you can edit.
Fotolia and Flickr image databases
Pre-built and customizable content with GridBlocks
Responsive themes with tablet and mobile editing
Generates clean, efficient, and compliant HTML
SEO, gallery, and forms plugins
WEBSITE BUILDER
RATING 4.2 ★★★★★ Our Review
BoldGrid: Our Expert's Review
Laura Bernheim (HostingAdvice.com): After taking the BoldGrid suite of plugins for a test drive, we experienced how the company makes WordPress more accessible for beginners and much more efficient for professional developers. Because BoldGrid requires a separate hosting account and WordPress installation, it is a little more challenging for wide-eyed beginners to get started than it is for other website builders. Go to full review »
| Money Back Guarantee | Disk Space | Domain Name | Setup Time |
| --- | --- | --- | --- |
| 90 days | 90 GB SSD – Unlimited SD | FREE (1 year) | 5 minutes |
BoldGrid designs are built with a mobile-first framework called Bootstrap, specifically developed to prioritize mobile responsiveness. Hence, themes come with out-of-the-box responsive design that allows you to choose specific responsive designs for smartphones and tablets.
There is also an option to set parameters for how particular elements appear on the page or hide them altogether depending on the size of the screen.
A notable feature here is the staging environment (lacking in WordPress) that makes it super easy to try out new looks, plugins, or updates before you launch them live. For those who don't mind getting their hands dirty with code, it's possible to change padding, margins, and colors, as well as create custom CSS classes on all elements.
All in all, BoldGrid is an excellent choice for those who want full control over exactly how their mobile site will look.
8. Nexcess
Specializing in managed WordPress hosting, Nexcess makes creating websites possible through StoreBuilder, which it boasts is the "best eCommerce website builder for growing your business in WordPress."
That pretty much tells you all you need to know about the group Nexcess is primarily targeting — online business owners.
Code-free design tools for eCommerce stores
Templates for retail, food, clothing, and services
Custom WordPress integrations and optimizations
24/7/365 support via phone, chat, and email
Try StoreBuilder for 75% OFF for 3 months
WEBSITE BUILDER
RATING 4.2 ★★★★★ Our Review
Nexcess: Our Expert's Review
Laura Bernheim (HostingAdvice.com): Already boasting a powerful platform for running WordPress and WooCommerce, Nexcess makes creating and growing your online store even easier with StoreBuilder system. Billed as an "intelligent website assistant," StoreBuilder asks entrepreneurs about their company's products, services, industry, experience, and content to help formulate a custom storefront. Go to full review »
| Money Back Guarantee | Disk Space | Domain Name | Setup Time |
| --- | --- | --- | --- |
| 30 days | 15 GB – 800 GB | New or Transfer | 7 minutes |
Upon signing up, a standard wizard takes you through the motions to furnish your site with the relevant details, a starter template, payment method, inventory — the whole enchilada. It's worth noting that each step is supplemented with a tutorial.
While there may not be as many templates as those offered by competitors, the ones available are fully customizable, so you can freely drag, drop, and adjust elements for an optimal experience — mobile included — without writing a single line of code.
There is a full breadth of sales and marketing plugins and tools supported with performance insights so you can make informed decisions on potential tweaks. The store you make comes with free SSL and security monitoring, and the round-the-clock available support staff is accessible via phone, email, or chat. Throw in the 99.99% uptime guarantee, and you have a potent combination for a potentially thriving store.
9. Web.com
Concluding our list of best mobile-friendly website builders is Web.com, fairly popular for its no-frills approach. The easy-to-use, drag-and-drop site builder comes with the purchase of any hosting plan, along with a free domain.
Online store plans are marketed separately but come with all the necessary bells and whistles to make a dent in the eCommerce world.
Dedicated expert support helps you get started
Social media scheduling and email marketing
100s of templates for sites, blogs, and online stores
Unlimited storage for photos, videos, and music
FREE domain name registration
WEBSITE BUILDER
RATING 4.0 ★★★★★ Our Review
Web.com: Our Expert's Review
Ryan Frankel (HostingAdvice.com): Aimed at first-time users and customers seeking simplicity, Web. com offers a very quick and easy solution for getting a website online. Go to full review »
| Money Back Guarantee | Disk Space | Domain Name | Setup Time |
| --- | --- | --- | --- |
| N/A | Unlimited | FREE (1 year) | 5 minutes |
Depending on the plan you go for, some of the features you can get with Web.com include over 150 professionally designed templates, 2 million free stock images, YouTube and Vimeo embeds, built-in hosting for fast loading speeds and backup, marketing tools, and an AI Writer.
You get a lot of freedom to customize and control how your site looks and feels on desktop and mobile, from colors and textual content to banners, galleries, and forms.
If you don't fancy the do-it-yourself ethic or simply prefer something that's not off-the-rack, Web.com offers a done-for-you professional website design service. One of the company's specialists can craft a custom web presence for your small business or personal brand.
What Is Responsive (Mobile-Friendly) Web Design?
Responsive web design, or RWD, is a design practice whose key objective is to address the wide array of devices and screen sizes by automatically adapting to them and the user's behavior.
As the user switches from their phone to a laptop or tablet and vice versa, the website automatically adjusts to accommodate for the resolution, image sizes, and other elements.

Unlike the underlying core languages, responsive web design isn't a separate technology but an approach that consists of a mix of flexible grids and layouts, images, and smart use of HTML and CSS media queries.
As a result, a website designed that way responds the same in any environment in which it is viewed, thus removing the need to create a different design or enter another website development phase for each new device or screen size.
What is the Best Free Website Builder?
Once again, our money (pun intended) goes to Wix. It's simple, easy, and gives a lot without asking for a commitment. This includes up to 500MB in storage and bandwidth, unlimited pages, limited customer support, web hosting, and a mobile site. Such a package has proven to be a hit with newbie site owners and bloggers, in particular.
We'd be remiss if we didn't mention Weebly, another superb all-in-one site-building solution that beginners will find extremely inviting. Created primarily for (but not limited to) online shopping and eCommerce purposes, it offers a browser-based, drag-and-drop website editor.
The free-for-life plan provides 500MB of storage, automatic SSL security, and subdomain, together with numerous eCommerce and marketing tools. As if that weren't enough, users also get access to community forums for help and chat and email support.
For more details, check out our list of 10 best free website builders.
What Is the Best Website Builder for Small Businesses?
Generally speaking, the best website builder for a small business will be the one that offers a simple, intuitive interface and provides versatility to satisfy your specific needs and goals.
Naturally, the price tag is another consideration, as you want to get the most bang for your hard-earned buck. It also helps to have quality customer service at your disposal to avoid potential downtimes or problems that can devastate your bottom line.

That said, you can't go wrong with Wix. It's a one-stop shop for designing and deploying a visually pleasing and practical site the easy way. Plenty of features in the App Market and Wix Events mean you can expand your site's functionality without coding skills.
If you want more choices before you settle on a platform, take a look at 1&1 IONOS. Its MyWebsite platform has all the essentials to build a site from scratch, plus you get a great deal of free stuff that will be highly useful like domain name and social media and marketing widgets.
What Should I Look for in a Website Builder?
There is no shortage of things you should keep an eye out for when choosing the perfect website builder. Here's a short and sweet list, in no particular order:
Ease of Use
A user-friendly interface is a must to keep the ordeal easy-breezy. Simple and intuitive wins the race, with the obligatory drag-and-drop features as you don't want to waste time figuring out how to add or remove an element, no matter how big or small.
Lots of Templates and Customization Options
A good website builder should offer many templates and let you customize them to make a site your own (colors, fonts, images — all the jazz).
Mobile Responsiveness
The internet is increasingly becoming a mobile world, so your website needs to look equally awesome on phones and tablets. See to it that the site builder offers mobile-friendly templates and responsive design, so your site can shine on any mobile device.
Plenty of Features
Check out the builder's feature list and see if you can easily add a lead generation form, email marketing, Google Analytics, SEO tools, or anything else you need. Flexibility is important, especially if you plan to expand your website. So, make sure your chosen platform can handle your growing ambitions without breaking a sweat.

Reliable Hosting
Everybody and their dog hates a slow website. Look for a builder with hosting you can rely on at any time of day and night to keep your site running smoothly and loading fast for your visitors.
Customer Support
We all require a little help here and there. Seek out a website builder with great customer support: live chat, email, or a friendly call center.
Security
Your website should protect both your data and your visitors' information. Check if the builder includes SSL certificates and other pertinent security features. The more, the merrier.
Finding the right website builder is much like finding a perfect pair of shoes — it needs to be a comfortable fit that meets your needs. So, the best advice at this point is to take your time and explore your options.
How Do I Make My Website Mobile-Friendly?
There are a few ways to go about this.
The first and easiest way is to use a template with a ready-made mobile version. Lots of website builders offer such templates, greatly simplifying the process.

Secondly, you can make modifications to specific elements and areas of your site. These include optimizing website speed and images, using standard instead of custom fonts, enabling Accelerated Mobile Pages (AMP), limiting the number of pop-ups, and so on. Those with some technical proficiency can make changes directly in the code. In any case, Hostinger has a detailed article if you want to dive into it.
Finally, you can contact a developer to either aid you in the website development of a mobile version or build it from the ground up.
Is a Free Website Builder Just as Good?
Everyone loves free stuff, and certain website builders like Wix offer more than enough freebies to entice users who are either on the tightest of budgets or need a very basic website. Plus, most of these offers are 100% free, no strings attached, so if your web building needs aren't substantial, free website builders are worth looking into.
The thing is, free stuff also means you're missing out on a lot of nifty features like better speeds, responsive themes, plugins, and tools that take the website experience to a whole new level. It's just the way it is.
The good news is that there are economical website builder services that can provide all that and more for a few bucks a month, depending on how much you want to scale up your site. We have compiled a list of 9 cheapest website builders worth your money, so be sure to check it out when the time comes to upgrade.
Can I Use a Website Builder to Make an Online Store?
Absolutely — countless people have started out their businesses that way.
The availability of selling and marketing tools for integration is arguably the key thing you should look for in this case. Managing an online store is easy when you can use various payment options, order and inventory management, appointment scheduler, and other relevant tools.

That's why your best bet is arguably a dedicated online store builder, like the one 1&1 IONOS offers, that provides a full suite of eCommerce functionalities. Throw in fast performance and analytics, and you have a recipe for a quick and enjoyable buying experience.
Making Your Mobile Website Come True
With the constantly growing number of people using phones to access the internet, having a functional mobile version of your website is mandatory. Fortunately, making your site mobile-friendly can be easy and swift. In fact, many hosting providers have straightforward site builders that make virtually any website a responsive website.
Ultimately, which will suit you best will all come down to how you intend to use the site. If you intend to make serious money off it in any way, going for a paid or premium plan will likely give you what you need with a healthy dose of professionalism and insight. For personal use, blogging, or portfolio showcase, a free site builder just might do the trick. Good luck hunting!
Further Reading: "9 Best Mobile-Friendly Website Builders (Oct. 2023)"
Hopefully, our recommendation of Wix fulfills all your web hosting needs. Starting at just $0.00 per month and rated 4.9 overall, Wix gives users plenty of bang for the buck. Among our favorite features:
No coding skills needed with drag-and-drop builder
100s of templates with niche-specific designs
Add features via the App Market and Wix Events
Easily create ecommerce functionality easily
Great way to build small sites on a budget
If you'd like recommendations similar to Wix and others in 9 Best Mobile-Friendly Website Builders (Oct. 2023), check out these popular guides. You'll find comparisons of Wix to other hosts on pricing, features, support and more:
And of course, if Wix is your top choice, you can get started now at just $0.00/month. Wix is easy to set up and scale, no matter the size of your next project.
Advertiser Disclosure
HostingAdvice.com is a free online resource that offers valuable content and comparison services to users. To keep this resource 100% free, we receive compensation from many of the offers listed on the site. Along with key review factors, this compensation may impact how and where products appear across the site (including, for example, the order in which they appear). HostingAdvice.com does not include the entire universe of available offers. Editorial opinions expressed on the site are strictly our own and are not provided, endorsed, or approved by advertisers.
Our Editorial Review Policy
Our site is committed to publishing independent, accurate content guided by strict editorial guidelines. Before articles and reviews are published on our site, they undergo a thorough review process performed by a team of independent editors and subject-matter experts to ensure the content's accuracy, timeliness, and impartiality. Our editorial team is separate and independent of our site's advertisers, and the opinions they express on our site are their own. To read more about our team members and their editorial backgrounds, please visit our site's About page.