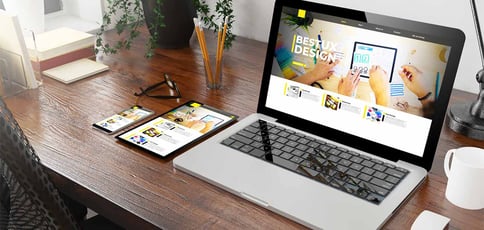 Pairing the best one-page website hosting and design templates can lead to a beautiful, high-conversion, mobile-friendly look for your online brand — but how do you know where to start?
While one-page websites may work wonders for some companies and professionals, others may need a multi-page format. We'll cover how to make the sleek and streamlined look work for you with minimal stress and tech expertise.
Launching a one-page website doesn't need to be a struggle. With so many free design templates, drag-and-drop website builders, and powerful technologies at your fingertips — all of which we'll highlight below — we're here to make sure you get started on the right foot.
Best for a One-Page Website: Hosting With Free Templates
To understand website navigation, all you have to do is step outside. Traditionally, most sites resemble a tree: a centralized homepage stands as the trunk, with separate pages for a blog, contacts, store, and information about the team spreading out from there like branches.
One-page websites, a more recent design trend, instead consolidate all that information to a single stalk, more comparable to a flower. Like a sunflower, that single and scrollable design looms large and brilliantly with added flair like parallax scrolling and other graphics or animations.
Whether you're looking to implement this look through a website builder, WordPress, or any other design platform, you'll first need to start with a web hosting plan that offers free templates. We've created this list of the most affordable, reliable, and easy-to-use hosting services that will help you get started. Even better, they connect you to a world of free themes via built-in website builders or simplified WordPress environments.
Known for high performance at a low price
Endorsed by WordPress.org team
FREE Weebly site builder and CloudFlare CDN
FREE domain and unlimited storage
Get 63% off today (was $7.99/month)
Bluehost: Our Expert's Review
Setup time: 4 minutes
Go to full review

»
If you're looking for an affordable host, Bluehost is a solid, reputable choice; The company's low costs, coupled with its supremacy in the shared hosting arena, is what makes this provider such a valuable deal. The Bluehost name is listed toward the top of...
| Money Back Guarantee | Disk Space | Domain Name | Cheap Hosting Plans |
| --- | --- | --- | --- |
| 30 days | 50 GB - Unlimited | FREE (1 year) | www.bluehost.com/shared |
Unlimited everything, from bandwidth to databases
FREE site builder & WordPress performance upgrades
FREE daily or weekly backups
90+ auto-installation scripts and custom control panel
SSH access & SSL certificates
Hostinger: Our Expert's Review
Setup time: 3 minutes
Go to full review

»
As the shared hosting market becomes increasingly saturated, unlimited storage, bandwidth, and email accounts have become surprisingly average. Hostinger, however, extends the routine, expected metrics to greater lengths — the number of websites, databases,...
| Money Back Guarantee | Disk Space | Domain Name | Cheap Hosting Plans |
| --- | --- | --- | --- |
| 30 days | 10 GB SSD - 30 GB SSD | FREE (1 year) | www.hostinger.com/shared |
$0.01 for the first month, then $5 monthly after
NO annual contracts and NO sudden price increases
Unlimited storage space, data transfers, and email
New domain is $11 with 1-month plan ($1.99 otherwise)
99.9% uptime and price-lock guarantee
InterServer: Our Expert's Review
Setup time: 4 minutes
Go to full review

»
It's hard to argue with a shared hosting plan that includes unlimited storage, bandwidth, websites, and email — but shared hosting is a crowded industry that turns on name recognition, reputation, and bargain-basement prices. InterServer outperforms some of...
See other top affordable hosts »
Best for a One-Page Website: Site Builders With Free Templates
Although we tend to prefer the flexibility that web hosting offers its customers, beginners may appreciate the added simplicity that drag-and-drop website builders afford them. Website builders with free templates often come with a more limited collection of available themes, but implementing and customizing them is usually a more intuitive process.
One-page websites, with their condensed user experience, typically inspire higher conversion rates and a better mobile experience, so relying on a free, yet professionally designed, template from a leading site builder is a great place to start.
We're particularly enamored with Wix, the industry leader behind 150 million websites. The company offers the widest range of templates, along with several more advanced features that give developers and adventurous site owners room to explore. Otherwise, many hosts have spent years painstakingly crafting custom website builders that are definitely worth checking out:
No coding skills needed with drag-and-drop builder
100s of templates with niche-specific designs
Add features via the App Market and Wix Events
Easily create ecommerce functionality easily
Great way to build small sites on a budget
Wix: Our Expert's Review
Setup time: 4 minutes
Go to full review

»
Website building is where Wix shines. The thousands of templates, the intuitive editor, the industry-leading designs that cater to a variety of specific fields and use cases — all these facets represent a platform that excels at facilitating easy web design...
| Money Back Guarantee | Disk Space | Domain Name | Website Builder Hosting Plans |
| --- | --- | --- | --- |
| 14 days | 500 MB - 20 GB | Transfer | www.wix.com/site-builder |
Choice of Weebly or WebsiteBuilder by iPage
Mobile-optimized options and easy-to-use setup wizards
100s of professionally designed, customizable themes
FREE online store, shopping cart, and blogging platform
Get +75% off your first month
iPage: Our Expert's Review
Setup time: 4 minutes
Go to full review

»
Do you want your website built today? If you answered "yes," you should look no further than iPage. In fact, it's possible for you to be online before you even finish reading this article. Thanks to iPage's user-friendly interface, instant provisioning, and...
| Money Back Guarantee | Disk Space | Domain Name | Website Builder Hosting Plans |
| --- | --- | --- | --- |
| 30 days | Unlimited | FREE (1 year) | www.ipage.com/site-builder |
Integration with Fotolia and Flickr image databases
Pre-built and customizable content with GridBlocks
Responsive themes with tablet and mobile editing views
Generates clean, efficient, and compliant HTML
SEO, gallery, and forms plugins
BoldGrid: Our Expert's Review
Setup time: 5 minutes
Go to full review

»
After taking the BoldGrid suite of plugins for a test drive, we experienced how the company makes WordPress more accessible for beginners and much more efficient for professional developers.Because BoldGrid requires a separate hosting account and WordPress...
Best for a One-Page Website: WordPress Hosting & Themes
What better solution for your single-page website than the world's most popular content management system? WordPress dominates the market with more than 60% of the CMS market share and responsible for more than 34% of all websites in existence.
The WordPress.org community offers nearly 50 one-page themes for free, plus countless others available commercially for a small fee. We especially like WordPress, which can be paired with visual designers and page builders that simplify the customization process, for its portability. You'll need to sign up for a web hosting plan to use WordPress, but you will have complete control over your site from there on, meaning you can move your site from one provider to the next — unlike most site builders, which lock you into their specific product.
The best hosts for WordPress offer one-click installations or even set it up the platform while you're checking out. You'll want to be sure to sign up with a host that offers premium speed and security, along with a helpful support staff available for any issues you may encounter. We've tested these three providers below and give them supremely high marks for WordPress hosting.
WordPress pre-installed with NGINX and PHP 7
FREE SSL certificate and unlimited bandwidth
Optional automatic plugin, theme, and core updates
Features a FREE drag-and-drop WP page editor
Premium themes and plugin subscriptions
InMotion: Our Expert's Review
Setup time: 5 minutes
Go to full review

»
InMotion Hosting, long known for affordable and high-performance shared hosting options, entered the WordPress space with a solid option built upon the company's reputation for great support and reliability. Costing a small premium over other budget-minded...
Recommended by WordPress Core since 2005
FREE SSD storage and SSL certificate
FREE domain registration and email
Automatic installation and updates
63% discount exclusively for HostingAdvice shoppers
Bluehost: Our Expert's Review
Setup time: 5 minutes
Go to full review

»
Aimed at personal bloggers and first-time users, Bluehost's WordPress hosting packages are a great alternative to simple shared hosting. These service come at a premium, compared to Bluehost's standard shared plans, but the WordPress optimization and...
| Money Back Guarantee | Disk Space | Domain Name | WordPress Hosting Plans |
| --- | --- | --- | --- |
| 30 days | 50 GB SSD - Unlimited | FREE (1 year) | www.bluehost.com/wordpress |
FREE Cloudflare CDN and 1-click installs for WordPress
Turbo Server, SSD speed boost, and optimized caching
A2-optimized WP plugins for performance and security
SSL certificates, PayPal integration, and 24/7 support
FREE HackScan and KernelCare
A2 Hosting: Our Expert's Review
Setup time: 4 minutes
Go to full review

»
As experts in performance optimization, A2 Hosting is a top choice for powering resource-heavy WordPress websites. The company offers shared or managed plans for the ultra-popular content management system, with the benefits extending to Joomla, Drupal, and...
See other top WordPress hosts »
How Much Does a One-Page Website Cost?
Aside from the time savings, a one-page design doesn't have any dramatic effects on the cost of your website. You can design one page or dozens on the same hosting and site builder plans — all that changes is your template. Generally speaking, here is a breakdown of what you may expect to pay:
Web hosting: Sometimes this is included with your site builder (Wix and Weebly), sometimes your site builder options are included with your web hosting. The best cheap web hosting options can cost as little as a penny or up to $5 per month.
Domain name: Custom domain name registrations, which renew annually, are almost included for free for your first year of web hosting. If you go the website builder route and don't want to use the free subdomain (yourname.wix.com), you may have to spend upward of $15 to $20 each year.
Website builder: See web hosting. Most hosted website builders, such as Wix, Weebly, or Squarespace, take care of all the technical details for you. Good news: Wix and Weebly have free-forever plans with slightly limited features. Squarespace offers a 14-day free trial. Bad news: premium plans with these platforms tend to be much more expensive than web hosting, around $10 or higher per month.
Template: How much do you want to spend? No matter the platform you choose, you should be able to find at least a few dozen template options for free. If you have a specific vision of what you want your site to look like, you can search for commercially developed themes that can cost anywhere from $10 to $100.
Web hosting prices can vary pretty dramatically depending on which type of service and server resources you choose, but the estimates above should steer you in the right direction. Most beginners and small businesses will want to start with shared hosting, but don't be afraid to move up to a VPS or cloud plan as you grow.
Of course, you'll need content and images to launch your website. There may be an extra fee if you choose to hire a freelancer to create those paragraphs or graphics, but they can be expensive. Take the time to craft your brand's own messages, and look for free images under the Creative Commons license.
Which Website Builder is Easiest to Use?
Much like beauty, ease of use is often found in the eye of the beholder. What may be easy for one person may be infuriating to the other, and vice versa. Fortunately, the drag-and-drop mentality is similar across all the major website builders, so you should have no problem adapting to whichever you choose.
The major options we've listed above will get you started in the right direction, but as it comes to finding the easiest one to use, don't hesitate to try any free trials or demos that are available. Take each platform for a spin and browse the readily available themes to get a sense of if you can work with this website builder for the long haul.
For us, professional-looking themes and an intuitive user interface are at the tops of our lists. Your template will give visitors and potential customers their first impression, so make it a good one. Be sure to look for responsive designs that are friendly to mobile devices, as roughly half of all web traffic comes from smartphones and tablets.
Why Free Web Hosting Isn't a Good Idea for Your One-Page Website
We get it: Why pay for something if you can find it for free? We understand the cost-efficient draw of free products, but not all are created equal. We tend to encourage readers to stay away from most free web hosting services, but website builders may be the one time where free is a bit more OK than other solutions.
Free web hosting plans are typically using shoddy, outdated technologies that lack the strong security, support, or performance metrics you can find for a very nominal investment. Even with their free forever plans, website builders perform more admirably than their hosting competitors. Where those platforms restrict customers, however, is the number of features that are available without an upgrade.
To us, a custom domain name is a must-have feature for any website or professional serious about growth and professionalism. Site builders' free subdomains often come with forced advertising, and you likely won't have full access to the company's full suite of ecommerce, SEO, and marketing tools.
Free website builders are a fantastic option for those just getting started with a new brand, business venture, or idea, but be ready to upgrade as your one-page site gains traction.