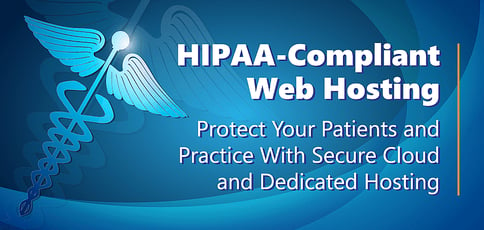 Given the importance of protecting people's private medical records, finding HIPAA-compliant hosting can seem as challenging as going through med school again.
But, thankfully, real-life doctors don't need to fret so much when choosing a web hosting service compliant with the healthcare industry's data privacy and security regulations. The Health Insurance Portability and Accountability Act of 1996, more commonly known as HIPAA, lays out strict requirements for electronic healthcare transactions and access to data.
The stringent prescriptions can make high-quality, affordable hosting tough to find, but we've compiled a list of the perfect hosting treatment plans for a variety of needs. Take a look at our recommendations below — doctor's orders.
Cloud | Dedicated | Email | FAQs
Best Overall HIPAA-Compliant Web Hosting
For those of you who have heard of HIPAA and have a basic understanding of what you're looking for (or don't and just want a quick answer), allow us to introduce you to Liquid Web. One of our favorite providers of WordPress hosting, eCommerce packages, managed hosting services, and robust dedicated servers, Liquid Web also holds our esteemed recommendation for best-in-class HIPAA-compliant hosting.
1. Liquid Web (For Cloud Services)
One of our all-time favorite providers, Liquid Web is one of few mainstream hosts that markets its HIPAA hosting services to healthcare professionals in a way that presents the complex infrastructure in a nicely wrapped and managed luxury package.
The company delivers high-stakes hosting through managed service options and cloud dedicated servers, as well as cloud-based virtual private servers. Customers can choose between two pre-configured HIPAA-friendly plans or work with Liquid Web's specialists to concoct a customized plan.
The company combines its long-standing reputation of immensely knowledgeable and responsive support teams with the extensive administrative, physical, and technical safeguards needed to store, transmit, and protect sensitive patient data.
In addition to the somewhat common cloud technology powering its VPS platform, Liquid Web also offers a managed private cloud infrastructure and an intriguing cloud version of its dedicated servers.
The latter combines the processing power and computing resources of traditional bare-metal services with the instant provisioning and scalability cloud networks provide. Customers can enjoy complete transparency and security — which are critical attributes when it comes to meeting HIPAA requirements.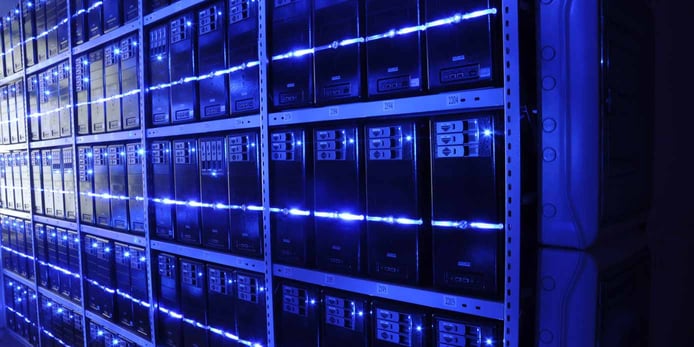 The same can be said for Liquid Web private clouds, which give healthcare organizations the ability to build entire cloud infrastructures to meet specific business, security, and compliance needs — without the challenges of more public or shared environments.
2. Liquid Web (For Dedicated Servers)
In addition to the cloud-powered dedicated servers, Liquid Web can also make its regular bare-metal offerings compliant with HIPAA regulations. We've long been big fans of this product range, having proclaimed Liquid Web as having the best dedicated servers for several years running.
Liquid Web's single-tenant servers are housed in datacenters the company owns and operates, giving customers the highest level of performance and security. Whether you prefer a Linux or Windows server, each machine is customizable and built to order with a wide range of operating systems. Even base servers come with proactive monitoring and ServerSecure hardening, along with support from what the company dubs the "Most Helpful Humans in Hosting."
Take a look at Liquid Web's standard dedicated server features to get a good sense of the features available, or click on the button above to learn more about the provider's HIPAA-compliant hosting.
3. GoDaddy (For HIPAA-Compliant Email)
Perhaps surprisingly, email messages are an approved method of sending and receiving patient health information. According to the HIPAA Journal, however, the topic has been hotly debated — particularly since some revisions made in 2013 that introduced several requirements to consider sending and receiving email messages secure.
Organizations need to control access, audits, and data integrity, along with authenticating identities and transmission security. The rules are in place to limit the accessibility of sensitive information, monitor how patient data is communicated, and protect the messages from unauthorized access during transmission.


GoDaddy, the grand poobah of domain registrations and beginner-friendly web hosting, offers impressively robust and secure email hosting services. The company's top two plans for Microsoft Office 365, Business Premium and Premium Security, are eligible for HIPAA compliance. Once a plan is purchased, customers simply need to activate their mailbox, agree to the Office 365 Business Associate Agreement, and provide their contact information.
We appreciate how GoDaddy simplifies something so complex and complicated. On the surface, HIPAA-compliant email services don't function any differently than regular email — all the security and privacy features run in the background, and GoDaddy's specially trained team of HIPAA experts are on standby to help answer any questions.
For more information on GoDaddy hosting and email services, be sure to read our expert's review.
Best of the Rest for HIPAA-Compliant Website Hosting
If Liquid Web and GoDaddy don't strike your fancy, never fear. A handful of other hosting providers may have the HIPAA-compliant services you're looking for at a price point you can afford. Whether you're looking for the supreme scalability of Amazon Web Services to premium managed services through Rackspace or the laser-like focus on compliance from a specialized provider, such as HOSTING, we've got you covered.
4. Paubox
Holding the highest G2 customer review score among vendors, Paubox's Email Suite stands out in the pack of HIPAA-compliant email services. Its all-in-one solution marks off every category for email security, including ease of use, support, and implementation. Paubox makes integrating HIPAA-compliant services simple and effective, allowing users to stop threats with automatic encryption on every outgoing email.
Paubox's HITRUST CSF-certified software works well with Google Workspace, Microsoft 365, and Microsoft Exchange. The software company is dedicated to email security and is on a mission to become the market leader in HIPAA-compliant communication. Paubox's platform is the definition of all-in-one, as it gives users services that include marketing, API integration for their applications, and end-to-end protection.

Paubox's success and reliability are evident in its achievements. The company boasts a satisfied client base of more than 4,000 healthcare organizations. The Paubox team also told us that its Email Suite saves companies 20 to 40 hours/week in IT time because the IT staff doesn't have to manage complex encryption that requires special user actions and ongoing training. Users can appreciate the peace of mind that comes with Paubox's guaranteed HIPAA compliance, which helps them avoid costly HIPAA violation fines.
Developers can also leverage Paubox's services. Its API solution enables dev teams to integrate HIPAA-compliant email into their custom or third-party applications for secure communication. With solutions built exclusively for healthcare, companies can say goodbye to portals and provide personalized email marketing for their clients. Although Paubox prides itself on its easy setup and excellent user experience, its team is always ready to assist whenever a problem arises.
5. Amazon Web Services
Among the largest web hosting companies in the world, Amazon Web Services helps healthcare providers, payers, and IT professionals meet HIPAA and HITECH standards using the HITRUST Common Security Framework. The platform consolidates relevant regulations and standards into a single overarching framework that can be adapted based on the organization's size, existing systems, and other requirements.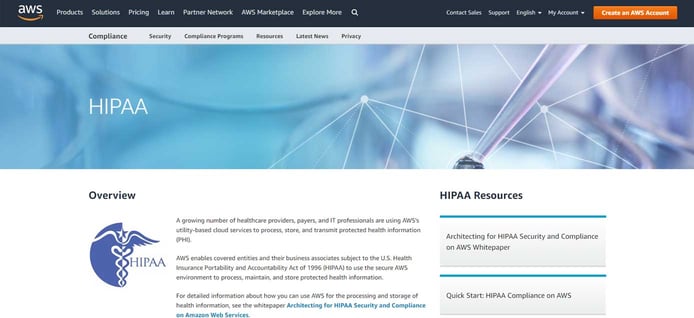 AWS is not the easiest platform to learn and architect, but the utility-based cloud network boasts computing resources, scalability, and reliability that are second to none. Because monthly costs are based on the resources used and don't include much in the way of customer support, we recommend partnering with a managed AWS provider to build and deploy cloud instances that meet your needs effectively and efficiently.
6. Rackspace
Another trusted name in the web hosting industry, Rackspace traces its roots back to a Texas garage in 1996. Now, more than half of the Fortune 100 trust the San Antonio-based managed services provider to deliver high-class infrastructure and high-touch support. Rackspace focuses on managed cloud and dedicated servers from a variety of vendors.

Rackspace's end-to-end HIPAA compliance entails customized designs, build, and implementations, along with regular reviews of cloud and dedicated environments to ensure you meet regulations in the most optimized manner. The company includes its signature Fanatical Support™ along with around-the-clock monitoring, comprehensive server and database management, and thorough network administration.
7. Atlantic.Net
Founded by students at the University of Florida in 1994, Atlantic.Net specializes in simplifying complex technologies. The company combines web and database hosting technologies with top-tier disaster recovery and managed services offerings to give customers a stress-free path to compliance. Website, database, and storage servers are available in both dedicated and cloud environments that have been independently audited and approved.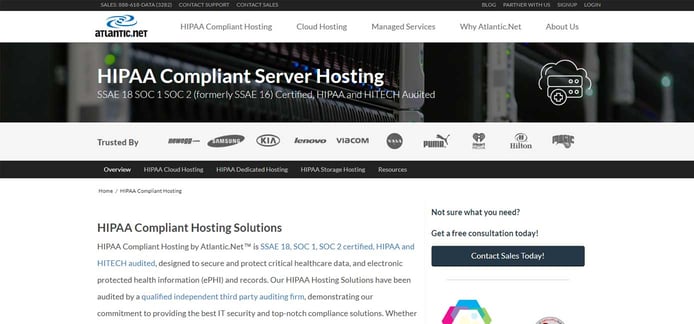 Atlantic.Net includes a 100% uptime guarantee with its services, along with security and privacy features such as firewalls, encrypted VPN, offsite backups, multi-factor authentication, SSL certificates, and SSAE 18 certification. The company runs several datacenters in New York, London, Toronto, San Francisco, Dallas, and at company headquarters in Orlando.
8. HOSTING
With a bevy of compliance-minded cloud solutions — and the world's most direct domain name — HOSTING's Healthcare Cloud is an all-in-one secure and managed cloud platform that meets or exceeds HIPAA and PCI regulations. In addition to making sensitive information both accessible and protected, HOSTING also offers desktop software to improve staff productivity and patient care and advanced data security solutions.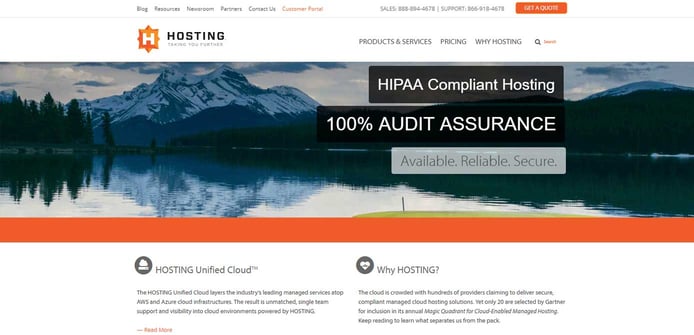 While most hosting providers concentrate on uptime guarantees and service-level agreements, HOSTING goes a step further in flat-out promising that its customers will pass their compliance audits. The company's compliance team ushers clients through more than 400 audits each year and boasts a 100% success rate. If an issue is ever uncovered, HOSTING will provide the additional services and solutions for free or issue a full refund.
9. OVH
The only European hosting provider to crack our list, OVH is a family-founded business that operates more than 27 datacenters in 19 countries, containing more than 300,000 servers. Headquartered in Roubaix, France, OVH has more than enough resources to deliver high-performance computing for high-traffic websites and applications.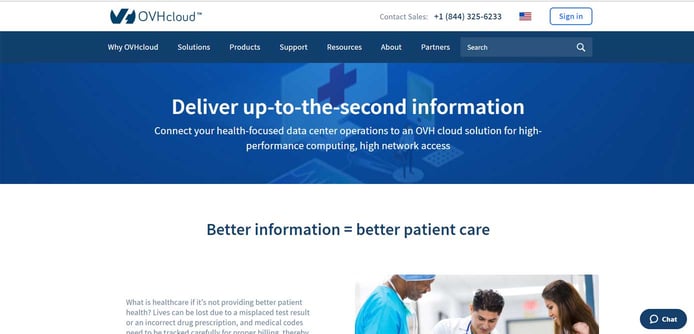 OVH delivers HIPAA-compliant hosting via vCloud Air, a hosted private cloud software-defined datacenter that helps customers boost flexibility, security, and flexibility. OVH's hosting is compatible with a wide range of mobile devices and clinical workstations and decreases potential attack vectors with the micro-segmentation of workloads.
10. Colocation America
Focused on bare-metal servers and forward-thinking datacenters, Colocation America provides the framework for tech-minded organizations to set up and maintain HIPAA-compliant environments exactly in line with their specific needs. The company revamped its datacenters to meet all 19 HIPAA requirements, including a dedicated firewall, diligent monitoring, encryption, and a fully documented disaster recovery plan.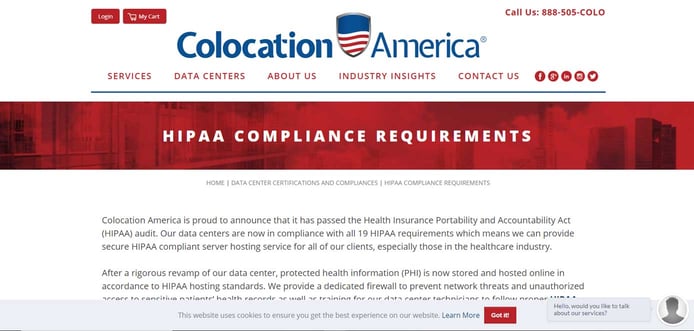 As a HIPAA-compliant colocation provider, the company focuses on connectivity, storage space, and hardware services that support each customer's business-critical infrastructure. Clients can also lease dedicated servers or connect to Colocation America's hybrid cloud solutions that include AWS, Microsoft Azure, and Google Cloud Platform.
What are HIPAA-Compliant Hosting Requirements?
With the quick answer out of the way, let's dive into more details about what exactly HIPAA compliance means and who needs it.
In addition to protecting health insurance coverage for workers and their families and setting guidelines for various types of plans, the legislation sets out national standards for electronic healthcare transactions and patient records.
HIPAA security guidelines, as well as the HIPAA privacy rule, leave little margin for error. The federal law covers a wide range of personally identifiable information, ranging from appointments, treatment plans, healthcare records, medical histories, and other related data.
The most important stipulations are found in the privacy and security sections, where those responsible for storing, controlling, disposing, and providing access to medical records must meet certain precautions.
HIPAA also requires the healthcare providers to obtain sufficient assurances that any businesses related to the data oversight are acting in accordance with the laws — formalized in a Business Associate Agreement. That means hosting providers must go on the record as stating their infrastructure is compliant, sharing responsibility with the healthcare organization.
Which Hosts Do Not Offer HIPAA-Compliant Services?
Allow us to do the homework for you. We scoured the web for information on popular hosts and their respective HIPAA-compliance standards (or lack thereof). Here are our findings:
**NOTE: We found most providers under the Endurance International Group (EIG) ownership umbrella shared Bluehost's stance on HIPAA compliance. For example, popular EIG hosts iPage and HostGator had the same party line.
3. What Are the Penalties for Violating HIPAA Regulations?
The Office for Civil Rights (OCR) is tasked with enforcing HIPAA regulations. The OCR can levy fines on those who violate HIPAA security and privacy rules, as well as prosecute those who willfully violate the act.
Penalties for violating the privacy and security rules can range from $100 to $50,000 per violation, with a maximum fine of $1.5 million per year for violations of an identical provision. If the OCR determines the violation was committed willfully, the maximum fine jumps to $50,000 per violation, with a maximum of $1.5 million per year.
Criminal penalties for knowingly violating HIPAA can result in a fine of up to $250,000 and up to 10 years in prison. If the violation results in wrongful death, the penalty increases to a fine of up to $500,000 and up to 20 years in prison.
Do I Need a BAA?
The short answer is yes. A Business Association Agreement (BAA) is required any time a covered entity shares ePHI with a business associate. A covered entity is defined as a healthcare provider, a health plan, or a healthcare clearinghouse. A business associate is any person or entity that performs functions or activities on behalf of, or provides services to, a covered entity that involves the use or disclosure of protected health information (PHI).
If you're not sure whether you need a BAA, ask yourself the following questions:
Do I have access to a covered entity's patient records?
Do I provide billing, claims management, legal, actuarial, accounting, consulting, data analysis, management, administrative, accreditation, or financial services to a covered entity?
Do I provide data transmission services to a covered entity?
Do I maintain or transmit ePHI on behalf of a covered entity?
If you answered yes to any of the above, you need a BAA.
What Happens If My Host is Breached?
The HIPAA security rule requires covered entities to have a written incident response plan (IRP) in place. The plan must address how the organization will respond to a data breach, as well as how it will prevent future incidents. The incident response plan must include the following:
The designation of a security official who is responsible for overseeing the organization's security program
Policies and procedures for responding to security incidents
A process for conducting risk analyses
A process for implementing security measures
A process for monitoring security measures
A process for evaluating and updating security measures
If your host is breached, you must report the incident to the OCR within 60 days. The report must include the following information:
The name and contact information of the covered entity
The name and contact information of the individual or individuals responsible for the covered entity's security program
A description of the incident
The date or dates of the incident
The type of ePHI involved in the incident
The date the incident was discovered
The number of individuals affected by the incident
A description of the covered entity's incident response plan
The name and contact information of the individual or individuals responsible for carrying out the incident response plan
If the breach affects 500 or more individuals, the covered entity must also notify the media.
Feel Better With Strong Server Management and Security
Since Congress updated HIPAA's Security Rule in 2003, the Department of Health and Human Services has received more than 281,000 privacy complaints. More than two-thirds of the time, the healthcare provider or organization needed to take corrective action.
Fines for each violation can range from $100 to $50,000, depending on the nature and extent of the wrongdoing, as well as the number of people affected and the harm caused.
Given the do-or-die nature of HIPAA-compliant web hosting, the specialized service can often come with a rather hefty price tag. Patients count on these high-powered computing systems to keep their records safe and secure while making them readily available to those prescribing treatments and navigating complicated billing procedures.
Clearly, partnering with a strong and respected HIPAA-compliant hosting provider is a worthy investment. Fortunately for you, however, that may not have to break the budget. We've secured discounted rates for a variety of Liquid Web services to make the expenditure a sweeter pill to swallow.
Further Reading: "10 Best HIPAA-Compliant Hosting Services (Oct. 2023)"
Hopefully, our recommendation of Liquid Web HIPAA-Compliant Hosting fulfills all your web hosting needs. Starting at just per month and rated 0.0 overall, Liquid Web HIPAA-Compliant Hosting gives users plenty of bang for the buck. Among our favorite features:
If you'd like recommendations similar to Liquid Web HIPAA-Compliant Hosting and others in 10 Best HIPAA-Compliant Hosting Services (Oct. 2023), check out these popular guides. You'll find comparisons of Liquid Web HIPAA-Compliant Hosting to other hosts on pricing, features, support and more:
And of course, if Liquid Web HIPAA-Compliant Hosting is your top choice, you can get started now at just /month. Liquid Web HIPAA-Compliant Hosting is easy to set up and scale, no matter the size of your next project.
Advertiser Disclosure
HostingAdvice.com is a free online resource that offers valuable content and comparison services to users. To keep this resource 100% free, we receive compensation from many of the offers listed on the site. Along with key review factors, this compensation may impact how and where products appear across the site (including, for example, the order in which they appear). HostingAdvice.com does not include the entire universe of available offers. Editorial opinions expressed on the site are strictly our own and are not provided, endorsed, or approved by advertisers.
Our Editorial Review Policy
Our site is committed to publishing independent, accurate content guided by strict editorial guidelines. Before articles and reviews are published on our site, they undergo a thorough review process performed by a team of independent editors and subject-matter experts to ensure the content's accuracy, timeliness, and impartiality. Our editorial team is separate and independent of our site's advertisers, and the opinions they express on our site are their own. To read more about our team members and their editorial backgrounds, please visit our site's About page.