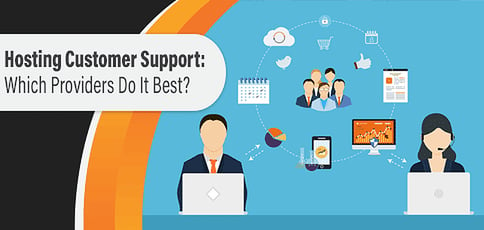 Seemingly every provider out there claims to have the best web hosting support teams. They're supposedly available 24/7/365 and can quickly solve any issue you throw at them — if so, then why do we invariably end up waiting for ages to speak to someone?
Finally reaching the evasive customer service representative at the end of a seemingly impenetrable phone tree or endless wait in a chat queue must feel familiar to famed naturalist David Attenborough's 1956 quest to capture the elusive Komodo dragon on film for the first time. Trekking through the wilds of Indonesia to grab a glimpse of the then rarely seen creature was an arduous task, but he ultimately prevailed.
We've all been there at some point, hanging on the line or sending help tickets into the ether of an online support portal. However, some hosts are changing the game when it comes to support. Here, we'll take a look at the top 10 hosting providers that are leaders in customer care.
1. Best Overall Web Hosting Support
Prominent American business mogul Warren Buffett once said, "It takes 20 years to build a reputation and five minutes to ruin it." And, in today's digitally connected world, this has become more apparent than ever. News of poor service is much more likely to be delivered through word of mouth, and close to 60% of consumers will readily switch brands for a better customer experience. Our highest-billed customer service host, SiteGround, knows this, and it shows in its support model.
We've given SiteGround a reliability rating of 5.0 for its dedication to providing super-fast support that doesn't keep you waiting. The host's reps are available around the clock via chat or phone with a promise to instantly answer your questions. SiteGround also guarantees a reply to support tickets within 10 minutes. Read our comprehensive review below to learn everything SiteGround offers to keep its customers happy.
FREE site transfer or new site setup
FREE daily backups, CDN, email, and SSL
24/7 expert support with no wait on phone or chat
Recommended by WordPress as a top host
Ideal for business email hosting
BEST OVERALL
RATING 5.0 ★★★★★ Our Review
SiteGround: Our Expert's Review
Alexandra Anderson (HostingAdvice.com): With an impressive breadth of overall hosting services offered, SiteGround is a leading innovator in the hosting space — from custom software solutions to premier customer support. The company offers the full range of web hosting features, including a free Cloudflare CDN, cPanel with SSH access, and unlimited MySQL databases and bandwidth — not to mention prize-worthy customer support. Go to full review »
| Money Back Guarantee | Disk Space | Domain Name | Setup Time |
| --- | --- | --- | --- |
| 30 days | 10 GB SSD - 40 GB SSD | FREE (1 year) | 6 minutes |
To ensure agents are always available, SiteGround overstaffs all shifts. This way someone's always available to help. That, along with industry-leading hosting solutions, is why SiteGround tops our list.
2. Best Shared Hosting Support
Many modern companies are finding that offering an omnichannel approach to support is benefiting both customers and their businesses. It's effective because it allows customers to choose where and how they get help and frees up support teams so they can tackle the more complex issues that can't be solved through a self-help portal.
Our top-rated shared hosting recommendation recognizes this and has developed a multichannel support platform where customers can select how they'd like to communicate with the company. Site owners can contact the host through an online ticket system by chat, or via phone to have questions answered. The host also provides an immense knowledgebase that encourages self-service. Take a look at our full review below. If you're in the market for an effective shared hosting plan and outstanding customer service, this may be the host for you.
Cheap shared hosting from a trusted provider
Ideal for hosting a WordPress website
FREE Weebly website builder and Cloudflare CDN
Unlimited traffic and 24/7 live chat support
Get 70% off today with our Bluehost coupon
CHEAP
RATING 4.8 ★★★★★ Our Review
Bluehost: Our Expert's Review
Ryan Frankel (HostingAdvice.com): Bluehost pricing is about as competitive as the industry offers. Sign up for a shared hosting plan for as little as $2.95 per month, and WordPress hosting packages are consistently priced; a VPS plan starts at around $19.99 per month; and the dedicated hosting rates are as little as $79.99 per month. Go to full review »
| Money Back Guarantee | Disk Space | Domain Name | Setup Time |
| --- | --- | --- | --- |
| 30 days | 10 GB SSD - 100 GB SSD | FREE (1 year) | 5 minutes |
See other affordable shared web hosts »
3. Best VPS Hosting Support
Another component some companies are adding to their omnichannel support strategies is online customer service communities. In fact, more than 60% of businesses that have employed the customer community approach note that the user-generated content lends more credibility to the brand than content created by employees.
Trust is incredibly important in the hosting space, as many site owners are leaving their livelihoods in the hands of their hosts. For businesses that have scaled out of the shared hosting environment, the VPS host below offers the power and performance a large site needs, and a multichannel support platform that includes a community component. Click on the complete review below to learn how this host can help you tackle the tricky questions that sometimes arise with VPS hosting.
Cloud VPS that's more flexible and affordable
Load balancer, firewall, and managed services
Premium Intel CPUs with 300% more power
Choose between monthly or hourly billing
Sign up today for a 30-day FREE trial
VPS
RATING 4.9 ★★★★★ Our Review
Kamatera: Our Expert's Review
Laura Bernheim (HostingAdvice.com): Backed by cutting-edge cloud computing technology, Kamatera adds instant and limitless scalability to the VPS hosting marketplace. Each cloud or virtual server is equipped with blazing-fast SSD storage and Intel Xeon Platinum CPUs. Go to full review »
| Setup Time | Disk Space | CPU | RAM |
| --- | --- | --- | --- |
| 5 minutes | 20 GB SSD - 4 TB SSD | 1 - 104 cores | 1 GB - 525 GB |
4. Best Dedicated Hosting Support
Let's say you've successfully built a far-reaching web presence and are attracting visitors to your site in droves. Congratulations! That was the goal. But, when sites scale, there are always growing pains and slowdowns that come with increased traffic and content — and these can sometimes work to undermine all your hard work.
Almost 80% of consumers say they'll never return to a site that performs poorly, and half of web users abandon sites that fail to load within two seconds. Graduating to a dedicated server is normally the answer for sites that have outgrown shared hosting environments and are not a good fit for a VPS. And, if you're going dedicated, you're going to need a robust and reliable support network to ensure your site and business are meeting the growing demands of your customers. Next up is the top-rated dedicated server, featuring plans that come complete with 24/7 support and monitoring. Give the review below a read — your customers and your bottom line will thank you.
Plesk, InterWorx, or cPanel (Linux) or Plesk (Windows)
100% network and power uptime guarantees
Custom configurations and instant provisioning
Auto-migrations, backups, and real-time monitoring
Block/object storage and load balancer add-ons
DEDICATED
RATING 4.9 ★★★★★ Our Review
Liquid Web: Our Expert's Review
Alexandra Anderson (HostingAdvice.com): Liquid Web's strong suit is managed dedicated server hosting. The company owns and operates five state-of-the-art datacenters in the US and Europe works tirelessly to build and maintain custom solutions for added performance and security. Go to full review »
| Setup Time | Disk Space | CPU | RAM |
| --- | --- | --- | --- |
| 8 minutes | 250 GB - 500 GB SSD (+ 1 TB HDD) | 4 - 12 cores | 16 GB - 32 GB |
See more dedicated server hosts »
5. Best Managed Hosting Support
Effective and efficient customer service is crucial for site owners employing any type of hosting service. But nowhere is this more important than in the managed hosting space. When you get down to the nuts and bolts, managed hosting is really all about support. Your server needs 24/7 monitoring to ensure mission-critical sites and apps are constantly running.
As a result, many recommend testing the response time of a provider before entering a long-term contract for managed hosting. The host below leads our list of the best managed hosting services. The company does more than just manage your servers. It is dedicated to making its team available to field questions immediately at any time of day and constantly monitors sites to guarantee they are running at peak performance. Take a look at our complete review below and see how this host can help you.
Choice of self-, semi-, or fully managed
Enterprise-grade Intel hardware
Linux or Windows operating system
RAID SSD storage for added speed
100% network uptime
MANAGED
RATING 4.9 ★★★★★ Our Review
Liquid Web: Our Expert's Review
Alexandra Anderson (HostingAdvice.com): It's no secret by now that Liquid Web is known for best-in-class technology and reliability that exceeds expectations. The company's cloud VPS environments embody that reputation to its fullest — including managed WordPress and WooCommerce products. Go to full review »
| Setup Time | Disk Space | CPU | RAM |
| --- | --- | --- | --- |
| 7 minutes | 40 GB SSD - 200 GB SSD | 2 - 8 cores | 2 GB - 16 GB |
6. Best "Website Builder" Hosting Support
The importance of good website design and usability cannot be overstated. More than 35% of visitors will stop engaging with a site if the design is subpar, and consumers will give up after 60 seconds if they are unable to complete a transaction. That's why it's important for site owners without much coding knowledge or web design experience to turn to a host that couples an intuitive site builder with top-notch support.
The host below provides both. With an array of templates and an easy-to-use drag-and-drop editor, site owners can quickly get professional-grade sites up and running. Should you run into any issues with the design-build process, there's an extensive online repository of KB articles at your disposal as well. Be sure to check out our comprehensive review below that delves into the services and support this provider delivers.
No coding skills needed with drag-and-drop builder
100s of templates with niche-specific designs
Add features via the App Market and Wix Events
Easily create ecommerce functionality easily
Great way to build small sites on a budget
WEBSITE BUILDER
RATING 4.9 ★★★★★ Our Review
Alexandra Anderson (HostingAdvice.com): Website building is where Wix shines. The thousands of templates, the intuitive editor, the industry-leading designs that cater to a variety of specific fields and use cases — all these facets represent a platform that excels at facilitating easy web design for the non-tech-savvy user. Go to full review »
| Money Back Guarantee | Disk Space | Domain Name | Setup Time |
| --- | --- | --- | --- |
| 14-day FREE trial | 2 GB - Unlimited | FREE (1 year) | 4 minutes |
7. Best WordPress Hosting Support
I don't need to read your palm or consult my crystal ball to know you're using WordPress. I'm just going to go ahead and predict you are, as the CMS powers almost 30% of the web — that's more than 74 million websites! Using WordPress and its upward of 51,000 plugins can sometimes get a bit tricky.
But fret not. The host below has become a leader in the WordPress hosting space because of its web builder software that makes using the CMS more intuitive and its comprehensive support center. With this host, site owners can quickly get the answers they're looking for through multiple channels, including chat, telephone, email, and community-based communication. Below is our complete review. Be sure to peruse it to see why so many WordPress users are partnering with this provider.
Recommended by WordPress.org since 2005
Automatic WordPress updates and initial install
FREE WordPress themes in the Bluehost Marketplace
24/7 support via live chat, phone, and email
Get exclusive discounts on WordPress plans
WORDPRESS
RATING 4.9 ★★★★★ Our Review
Bluehost: Our Expert's Review
Ryan Frankel (HostingAdvice.com): Bluehost's WordPress hosting packages are aimed at first-time site owners and personal bloggers. These services come at a premium compared to the standard Bluehost web hosting (basic shared hosting) plans, but the WordPress optimization and platform-specific resources are arguably worth the cost. Go to full review »
| Money Back Guarantee | Disk Space | Domain Name | Setup Time |
| --- | --- | --- | --- |
| 30 days | 50 GB SSD - 100 GB SSD | FREE (1 year) | 7 minutes |
See more WordPress hosting Plans »
8. Best Joomla Hosting Support
Placing second behind WordPress in popularity, Joomla's open-source CMS is used by corporations, publishers, government organizations, and businesses around the world to power their online properties. Though Joomla was developed to be easy to set up, it's always a good bet to team up with a host that offers one-click installations and support for the CMS.
The host below not only provides automatic updates to the Joomla Core, it also offers some of the fastest support response times in the industry. The tutorials and webinars in the provider's knowledgebase have become one of the most useful self-help hosting resources on the web. And its support team prides itself on its focus on customer care. The review below is a great read. Give it the once-over and learn how partnering with this host can benefit your business.
Official hosting partner of the Joomla project
FREE Joomla site transfer or setup with 1-click install
Amazing speed and security features
Complementary staging area for your Joomla site
Auto-updates to the Joomla Core and plugins
JOOMLA
RATING 4.9 ★★★★★ Our Review
SiteGround: Our Expert's Review
Alexandra Anderson (HostingAdvice.com): SiteGround's Joomla web hosting services cater to speed- and security-minded site owners. The team gets you up and running quickly, then monitors your site 24/7 to prevent downtime. Go to full review »
| Money Back Guarantee | Disk Space | Domain Name | Setup Time |
| --- | --- | --- | --- |
| 30 days | 10 GB SSD - 40 GB SSD | FREE (1 year) | 6 minutes |
See more Joomla hosting plans »
9. Best Drupal Hosting Support
The numbers are in, and they tell us open-source software is here to stay. An astounding 78% of businesses are now running their companies on open-source solutions. And another leader in the open-source CMS space, Drupal, is quickly gaining traction in the market.
This rising popularity is largely due to its foundational principles of collaboration and innovation — and the fact that it will always be offered at no cost. Though the platform was built to make content creation simple, situations commonly arise that require the help of an expert. The host below employs a team of Drupal authorities who can help you with the most complex technical questions on the CMS. Read our take below to see all the perks that come with this host's Drupal packages.
Optimized with HTTP/2 plus latest PHP and MariaDB
Custom control panel with easy Git integration
Drupal acceleration with custom NGINX caching
Unlimited websites, email, and bandwidth
FREE domain registration and regular backups
DRUPAL
RATING 4.8 ★★★★★ Our Review
Hostinger: Our Expert's Review
Laura Bernheim (HostingAdvice.com): Hostinger perfectly blends budget-friendly web hosting with premium modern technologies to deliver top-notch Drupal hosting services. The CMS is available through a custom control panel's automatic installation service, and support staff will be on hand to assist with setup. Go to full review »
| Money Back Guarantee | Disk Space | Domain Name | Setup Time |
| --- | --- | --- | --- |
| 30 days | 50 GB SSD - 200 GB SSD | FREE (1 year) | 3 minutes |
See more Drupal hosting plans »
10. Best Magento Hosting Support
More than 50% of consumers prefer to shop online, and 96% of people have purchased goods over the internet at one time or another. As a result, businesses around the world are lining up to secure a piece of the eCommerce pie. And more than 250,000 of them are doing so with the help of Magento.
The scalable eCommerce platform is effective; however, there is a steep learning curve requiring time to grasp all of Magento's tricks. The provider below offers hosting plans specifically tailored to Magento and a team of specialists proficient in the platform's intricacies. If you want to learn how to expand your online business and get the best out of Magento's software, read our review below. You'll find this host's support and services to be top of the line.
Magento-optimized server with 1-click install
FREE CDN with Railgun for top-notch performance
SSD drives are standard across all plans
Account isolation on servers protects your store
Easy Magento version control with Git
MAGENTO
RATING 4.9 ★★★★★ Our Review
SiteGround: Our Expert's Review
Alexandra Anderson (HostingAdvice.com): With a free Magento installation, server-level security patches and optimization, and Git integration, SiteGround sets the bar high for Magento hosting services. If you choose to host your online store on their servers, your account will be isolated, putting you at less risk of noisy neighbor issues should another customer become a victim of hacking or downtime. Go to full review »
| Money Back Guarantee | Disk Space | Domain Name | Setup Time |
| --- | --- | --- | --- |
| 30 days | 10 GB SSD - 40 GB SSD | FREE (1 year) | 6 minutes |
See more Magento hosting plans »
We've Experienced Great Customer Support From Top Hosts Personally
While none of us have had the opportunity to track down Komodo dragons in Indonesia, all members of the HostingAdvice team have had experience navigating the phone trees of various hosts to find the sometimes elusive customer service rep. We make this a key part of our hands-on reviews, especially given how important support teams are to site owners' experiences and overall satisfaction. The hosts presented here represent the best the industry has to offer in terms of support.
To avoid getting bogged down in the swamp of ignored support tickets and unanswered phone calls, sign up for one of our top-rated hosting plans today. These hosts get our highest recommendation, and I promise you'll be in good hands.
Advertiser Disclosure
HostingAdvice.com is a free online resource that offers valuable content and comparison services to users. To keep this resource 100% free, we receive compensation from many of the offers listed on the site. Along with key review factors, this compensation may impact how and where products appear across the site (including, for example, the order in which they appear). HostingAdvice.com does not include the entire universe of available offers. Editorial opinions expressed on the site are strictly our own and are not provided, endorsed, or approved by advertisers.
Our Editorial Review Policy
Our site is committed to publishing independent, accurate content guided by strict editorial guidelines. Before articles and reviews are published on our site, they undergo a thorough review process performed by a team of independent editors and subject-matter experts to ensure the content's accuracy, timeliness, and impartiality. Our editorial team is separate and independent of our site's advertisers, and the opinions they express on our site are their own. To read more about our team members and their editorial backgrounds, please visit our site's About page.