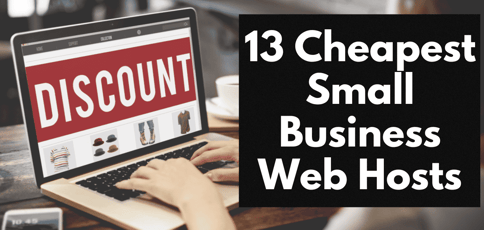 Gone are the days when a website was a luxury few could afford. In this age of technology, almost every business you can think of needs a website. The business doesn't even have to sell its products or offer services online; studies have shown that consumers often look up a business website before making a purchase decision.
Think about it this way: Would you go on an anonymous date with someone with no social profile? Risky, right? Same with small businesses. Most people are unwilling to risk spending money on a business they know nothing about.
By the time they walk into your brick-and-mortar store, they've already done their research and concluded that you have what they are looking for. That said, as a small business owner myself, I know you may be on a budget for the first few years. So if you're looking for cheap hosting, here are 11 of the cheapest small business web hosting providers to help you save money and get the most out of this service.
1. 1&1 IONOS — Plans Starting at $1.00/mo
My countdown begins with 1&1 IONOS, the cheapest small business hosting provider I know. Whether you want a regular website for your small business or something more advanced, such as an eCommerce website, IONOS is the perfect fit. It comes with all the tools you need to get your small business website up and running in no time.
Another thing I like about this cheap web hosting provider is that it doesn't clip your wings regarding how high your business can fly. We all know the primary goal of doing business is to make profits and grow.
$1/month for 12 months
No hidden fees, pay just $12 at checkout
Easy setup and 24/7 expert support
FREE domain or transfer, plus FREE SSL certificate
Unlimited storage and databases with most plans
CHEAP
RATING 4.8 ★★★★★ Our Review
1&1 IONOS: Our Expert's Review
Alexandra Anderson (HostingAdvice.com): If budget is the main factor on your mind when searching for your next web host, search no more. 1&1 IONOS has an impressive range of robust web hosting and website building packages for what may be the best price we've ever seen in the world of hosting. Go to full review »
| Money Back Guarantee | Disk Space | Domain Name | Setup Time |
| --- | --- | --- | --- |
| 30 days | 10 GB – Unlimited | FREE (1 year) | 4 minutes |
Some hosting providers will charge you for this "growth" by limiting the amount of traffic your website can receive within a specified time frame. Not with IONOS; you can grow as much as you want without having to worry about slow loading speeds, and that's because it supports unlimited traffic.
You will need a lot of support during the first few weeks or months of starting your small business website. IONOS knows this, so it offers a personal consultant for your cheap hosting plan.
This consultant will answer any questions about your hosting plan and website. As a result, you will have peace of mind knowing that if anything goes wrong somewhere down the road, there's always someone ready to step in and get things back on track.
2. Hostinger — Plans Starting at $1.99/mo
Hostinger costs a little bit more than IONOS, but it is worth every dollar. I recommend this host if you want to create a website for a small business with several employees. Here, you will get unlimited free SSL certificates, unlimited bandwidth, and at least 100 free email accounts when you choose its shared hosting plan.
Unlimited everything, from storage to databases
FREE site builder & WP performance upgrades
FREE daily or weekly backups
Custom control panel and auto-installation scripts
SSH access & unlimited FREE SSL certificates
CHEAP
RATING 4.9 ★★★★★ Our Review
Hostinger: Our Expert's Review
Laura Bernheim (HostingAdvice.com): As the shared hosting market becomes increasingly saturated, unlimited storage, bandwidth, and email accounts have become surprisingly average. Hostinger, however, extends the routine, expected metrics to greater lengths — the number of websites, databases, FTP users, subdomains, and parked domains are all unrestricted for most customers. Go to full review »
| Money Back Guarantee | Disk Space | Domain Name | Setup Time |
| --- | --- | --- | --- |
| 30 days | 50 GB SSD – 200 GB SSD | FREE (1 year) | 3 minutes |
Additionally, the no-code website builder makes it easy to build a website for your business from scratch. This can help you save money, considering that a good website for a small business can cost between $2,000 and $10,000. The drag-and-drop website builder comes with more than 100 designer-crafted templates and tons of AI tools for content creation and marketing.
The only downside with this host is that it does not provide priority support for its base shared hosting plan. That doesn't mean you won't get a hold of the support team when you need to, but it will take a little longer. That shouldn't be much of a problem given that the host also has tons of resources you can take advantage of to troubleshoot problems whenever they arise.
3. InMotion Hosting — Plans Starting at $2.29/mo
InMotion Hosting is like a huge buffet where you choose what satisfies your needs. Whether you want shared hosting, VPS hosting, managed hosting for WordPress, or a dedicated server, you'll find everything here.
That way, you won't have to worry about the stress and inconvenience of switching hosts when your business grows. It's like moving from a studio apartment to a 4-bedroom floor plan without changing houses. That's the convenience you want when all the hard work you've been putting into your business finally begins to show.
FREE BoldGrid site builder and templates
FREE website, domain, and cPanel migrations
SSD storage makes your site load up to 20x faster
Security suite includes SSL and hack protection
Unlimited bandwidth and email accounts
CHEAP
RATING 4.7 ★★★★★ Our Review
InMotion: Our Expert's Review
PJ Fancher (HostingAdvice.com): InMotion Hosting offers an excellent business-class shared hosting plan — with a price tag lower than several other budget hosts. For the IT crowd in the audience, you'll appreciate SSH access, as well as support for PHP, Ruby, Perl, Python, WP-CLI, and other popular languages. Go to full review »
| Money Back Guarantee | Disk Space | Domain Name | Setup Time |
| --- | --- | --- | --- |
| 90 days | 100 GB SSD – Unlimited | FREE (1 year) | 5 minutes |
Thanks to its advanced marketing tools, this host can also help you cut your marketing costs. InMotion Hosting offers a website builder, free advertising credits, and a host of customer management tools designed to help you promote your business. You can also access your emails on any device, which helps prevent important leads from slipping through the cracks.
This host has an abundance of features for you to choose from. When you sign up for any of its hosting plans, you'll receive a free domain name, a free website builder, and unlimited bandwidth.
But if your business has multiple employees, you will likely want to create custom emails for them. The base shared hosting plan only supports up to 10 email addresses. Above that, the Launch, Power, and Pro shared hosting plans come with unlimited email accounts and even faster speeds.
4. HostArmada — Plans Starting at $2.49/mo
Some businesses have unpredictable growth patterns. One moment, you're swimming in money. The next one, everything dries up. But this doesn't mean your business is not profitable or your products or services are not of great quality.
Take, for example, an eCommerce website that sells outdoor sporting equipment. Such a business will likely make more sales in the summer or fall when it is warmer outside than during winter and spring.
When creating a business website, you should consider a cloud hosting provider because, unlike traditional bare-metal-based servers, cloud-based servers are scalable. In other words, you can scale your hosting needs up and down depending on the demand for your product or services. That is what HostArmada is known for.
FREE cPanel integration and Softaculous apps
Auto daily backups and web application firewall
Reliable and redundant cloud servers
FREE SSL encryption and website migration
99.99% uptime guarantee
CHEAP
RATING 4.8 ★★★★★ Our Review
HostArmada: Our Expert's Review
Lynn Cadet (HostingAdvice.com): HostArmada's cloud network spans four continents, with datacenters in Europe, the US, Asia, and Australia. Its server redundancy and website optimization features allow users to run stable and performant sites for end users across the globe while running a simplified hosting environment. Go to full review »
| Money Back Guarantee | Disk Space | Domain Name | Setup Time |
| --- | --- | --- | --- |
| 45 days | 15 GB SSD – 40 GB SSD | FREE (1 year) | 3 minutes |
HostArmada also deserves a spot on the list of generous web hosting service providers. Its shared hosting plan includes a free SSL certificate, a free domain, a website builder, and server optimization. Remember, you are not bound to the shared hosting plan; this host also offers other hosting plans, including WordPress, reseller, VPS, and dedicated hosting.
5. InterServer — Plans Starting at $2.50/mo
Communication is the oil that runs the engine of a business. If your small business mostly depends on email communication, whether internal or external, InterServer has one of the best web hosting services for emails.
For starters, you can create unlimited email accounts with this host. This can help streamline your business's communications because all these email accounts are accessible via iPhone, BlackBerry, Android, and even Windows Mobile devices.
$0.01 first month (coupon code HOSTINGADV)
$2.50/month after. No contracts or increases
Unlimited storage space, data transfers, and email
Register or transfer domains for less than $10
99.9% uptime and price-lock guarantee
CHEAP
RATING 4.5 ★★★★★ Our Review
InterServer: Our Expert's Review
Laura Bernheim (HostingAdvice.com): It's hard to argue with a shared hosting plan that includes unlimited storage, bandwidth, websites, and email — but shared hosting is a crowded industry that turns on name recognition, reputation, and bargain-basement prices. InterServer outperforms some of our higher-rated hosts, but we understand that many first-time site owners are laser-focused on finding the lowest costs. Go to full review »
| Money Back Guarantee | Disk Space | Domain Name | Setup Time |
| --- | --- | --- | --- |
| 30 days | Unlimited SSD | New or Transfer | 4 minutes |
Communication aside, InterServer is also big on storage. This host offers unlimited storage space which is important to any business that deals with large amounts of data and files. A good example is a photography or videography business. You'll need unlimited storage for your photos, videos, and other resource-intensive files.
This New Jersey-based host has partitioned its services to accommodate different hosting needs. For example, you will find hosting for students, private emails, and even nonprofit organizations. This flexibility allows you to choose a hosting plan tailored to your needs.
6. DreamHost — Plans Starting at $2.59/mo
DreamHost has one of the longest money-back guarantees I have seen in web hosting. That's the dream host for any small business that's not yet ready to fully commit to a hosting plan but wants to test the waters.
You have up to 97 days from the day you sign up for this host to decide whether it fits your small business. If it is not what you want, you can cancel anytime within this time frame and receive your money back. No questions asked. That is more than three months of free web hosting, technically speaking.
Automated malware scans
Unlimited domain hosting
Unlimited email accounts with POP/IMAP/SMTP
FREE eCommerce store tools and PCI compliance
Streamlined proprietary control panel
CHEAP
RATING 4.3 ★★★★★ Our Review
DreamHost: Our Expert's Review
Laura Bernheim (HostingAdvice.com): While DreamHost's price might be a little steep compared to other high-value hosting providers, the company gives customers ample time and reasons to get hooked and stick around. The company, which started in the founders' dorm room in 1997, offers an industry-leading 97-day money-back guarantee. Go to full review »
| Money Back Guarantee | Disk Space | Domain Name | Setup Time |
| --- | --- | --- | --- |
| 97 days | Unlimited | FREE (1 year) | 4 minutes |
This host also has many resources small businesses can use to accelerate their growth. These include, but are not limited to tutorials, hosting deals for small businesses, and useful marketing tools.
So if you're launching a new business and are unsure if you are on the right path, DreamHost gives you a sense of direction thanks to its useful resources for small businesses.
Don't worry if you do not have the technical skills to set up your website or market your products and services. DreamHost also offers professional design and marketing services to help showcase your brand to the world.
And if you need someone to manage your web software and take care of the backend, this host will do that at a small fee. What this means is that you'll have more time to focus on the core of your business, and a separate team works on creating the kind of website that keeps your visitors coming back for more.
7. HostGator — Plans Starting at $2.64/mo
Not even my own aligatoraphobia (the fear of alligators and reptiles in general) could prevent me from adding HostGator to this list.
Despite being one of the oldest web hosting providers, HostGator still stands tall and proud, offering critical solutions for small businesses. To begin with, HostGator is affordable, a reputation it has held since 2002. But that's not the only thing this host is known for.
Host up to unlimited websites on a single plan
FREE SSL certificate included on all plans
Unlimited bandwidth & email addresses
1-click WordPress installs & FREE blog tools
Get 67% OFF by buying 36 months upfront
CHEAP
RATING 4.6 ★★★★★ Our Review
HostGator: Our Expert's Review
Ryan Frankel (HostingAdvice.com): HostGator is a great compromise between performance and price. The company offers unlimited emails, MySQL databases, disk space, and bandwidth, plus one-click installs of popular open-source projects, in addition to a 99. Go to full review »
| Money Back Guarantee | Disk Space | Domain Name | Setup Time |
| --- | --- | --- | --- |
| 30 days | Unlimited | FREE (1 year) | 4 minutes |
As a small business owner, you can choose between the Hatchling, Baby, and Business plans when you host your website with HostGator. The Hatchling plan is great if you're just getting started and want to build a website that does not require a lot of resources.
The Baby plan works best when you want to raise the bar a notch higher. Let's say you are a professional writer who specializes in different niches. Putting all your samples on one website could prevent you from reaching a niche-specific audience, but splitting them allows you to stand out to your prospective clients.
Finally, as the name implies, the Business plan is what you need to host an online store. An eCommerce website is a good example of an online business that will fit this hosting plan.
The plan comes with advertising credits, powerful SEO tools, and a free domain. It's like renting an office space that comes fully furnished with everything you need to run your business and start making profits.
8. Bluehost — Plans Starting at $2.95/mo
Bluehost has kept its prices low and quality high since 2003, one year after HostGator came into the picture. This is one of the few hosting providers endorsed by WordPress, a badge of honor it has worn proudly since 2005. It is also worth noting that this host also works with many other content management systems, so you're safe if your website doesn't run on WordPress.
Cheap shared hosting from a trusted provider
Ideal for hosting a WordPress website
FREE Weebly website builder and Cloudflare CDN
Unlimited traffic and 24/7 live chat support
Get 70% off today with our Bluehost coupon
CHEAP
RATING 4.8 ★★★★★ Our Review
Bluehost: Our Expert's Review
Ryan Frankel (HostingAdvice.com): Bluehost pricing is about as competitive as the industry offers. Sign up for a shared hosting plan for as little as $2.95 per month, and WordPress hosting packages are consistently priced; a VPS plan starts at around $19.99 per month; and the dedicated hosting rates are as little as $79.99 per month. Go to full review »
| Money Back Guarantee | Disk Space | Domain Name | Setup Time |
| --- | --- | --- | --- |
| 30 days | 10 GB SSD – 100 GB SSD | FREE (1 year) | 5 minutes |
Some hosts have the tools to help you build a website and figure out the rest yourself. Not Bluehost. In addition to hosting, this company also offers professional digital marketing services to help you market your business without lifting a finger. So whether you need search engine optimization, pay-per-click advertising, email marketing, or anything in between, Bluehost has you covered.
Bluehost is particularly big on WooCommerce and has the essential tools you need to get started. For context, your customers can make secure online payments, receive gift cards, and even create online accounts. As the administrator, you can upload unlimited products, add shipping labels, set appointments, and enjoy multichannel inventory management systems.
9. HostPapa — Plans Starting at $2.95/mo
HostPapa is another great option if you're looking for an affordable host for your small business. The award-winning customer support team, in particular, is what I love the most about it. Let's face it: You may be good at running your business, but you may not know the technical aspects of managing a website or even creating one.
HostPapa should be your go-to hosting provider if that strikes a chord with you. This host has one of the best customer support teams I have interacted with. To give you some perspective, it takes less than a minute to reach its live chat team and a couple of seconds to get a hold of someone from the team via phone.
But if you submit a support ticket, you'll receive a response within 30 minutes at most. The ability to reach the customer support team may seem underrated until you realize how important it is to get the help you need when you need it.
FREE drag-and-drop HostPapa website builder
Host unlimited WordPress sites on one account
24/7 support via phone, email, and live chat
FREE domain registration and email accounts
99.9% uptime guarantee and unlimited bandwidth
CHEAP
RATING 4.4 ★★★★★ Our Review
HostPapa: Our Expert's Review
Laura Bernheim (HostingAdvice.com): Where HostPapa shines is with shared hosting, which offers affordable and feature-rich plans geared toward helping both website and small business owners grow their online presence. HostPapa wants to be more than just a web host, according to CEO Jamie Opalchuck, who told us that the company aims to be a 1-stop shop for small businesses looking for a seamless and simple experience to help them grow. Go to full review »
| Money Back Guarantee | Disk Space | Domain Name | Setup Time |
| --- | --- | --- | --- |
| 30 days | 100 GB SSD – Unlimited SSD | FREE (1 year) | 5 minutes |
We live in a world where customers have so many distractions online. For this reason, it's unlikely that they will hang around your website for longer than three seconds to place an order. Having a host that responds quickly to your questions or concerns gives you peace of mind as you run your business.
In addition, HostPapa offers more than 400 applications you can use to make your website or application more functional for you and your customers. The possibilities are endless, from adding shopping carts to creating blogs to sending alerts whenever a product becomes available.
10. SiteGround — Plans Starting at $2.99/mo
SiteGround combines affordability, speed, and reliability to create the perfect hosting environment for your small business website. This host also has one of the most generous welcome offers I have encountered. The shared hosting plan alone has unlimited email addresses, unmetered traffic, and unlimited databases.
All its hosting servers are eCommerce-enabled, meaning you can start building your small business website or digital store immediately after signing up. And if you want to create a website on WordPress or sell your products via WooCommerce, this host has all the scripts you need to run your WordPress website and experience top-notch performance thanks to its managed WordPress hosting services.
FREE website transfer service to get started
99.9% uptime guarantee and unlimited traffic
User-friendly WordPress installation
24/7 support featuring custom systems
4 caching options plus staging and Git
CHEAP
RATING 4.6 ★★★★★ Our Review
SiteGround: Our Expert's Review
Alexandra Anderson (HostingAdvice.com): Providing hosting with the perfect balance of technological innovation and superior customer support, SiteGround offers a range of affordable hosting services to meet your needs. In addition to the expected cheap web hosting perks — a free website builder and unlimited bandwidth — the company specializes in custom-built tools to deliver strong and positive user experiences. Go to full review »
| Money Back Guarantee | Disk Space | Domain Name | Setup Time |
| --- | --- | --- | --- |
| 30 days | 10 GB SSD – 40 GB SSD | New or Transfer | 6 minutes |
A quick look at its features tells you why SiteGround is a top hosting provider for small businesses. If you want to build an eCommerce website, SiteGround will install a shopping cart for free, throw in a free SSL certificate, and back up your data daily.
That may sound a cliché in the web hosting world until you analyze the benefits individually. Daily backups, for example, mean you will always have access to your most recent orders, products, and client database if anything goes wrong with your website.
11. A2 Hosting — Plans Starting at $2.99/mo
A2 Hosting uses Turbo-charged servers to boost its speeds, which leads to better performance for your small business website. Speed is one of the things search engines such as Google and Bing look at when ranking a website.
As a result, fast websites rank higher and enjoy more brand visibility. Also, as mentioned earlier, a fast website leads to a better customer experience, especially in a world where internet users are known to be impatient.
For context, would someone want to buy a product or service from your website if it takes too long to load? Granted, many other businesses offer similar services or products, and if their websites load faster, you risk losing potential clients to your competitor.
FREE Cloudflare CDN and SSD speed boost
Optimized caching and 1-click installs
Unlimited email, domains, and databases
Advanced security and FREE HackScan
24/7 support via phone, chat & tickets
CHEAP
RATING 4.6 ★★★★★ Our Review
A2 Hosting: Our Expert's Review
Alexandra Anderson (HostingAdvice.com): There are plenty of excellent cPanel shared hosting providers out there, so what sets A2 Hosting apart from the rest. Not only does the company offer a ton of features, but it has custom-built its packages for enhanced performance, speed, and security — putting your priorities above pricing. Go to full review »
| Money Back Guarantee | Disk Space | Domain Name | Setup Time |
| --- | --- | --- | --- |
| 30 days | 100 GB SSD – Unlimited SSD | New or Transfer | 4 minutes |
The key lesson here is that in the business world, speed does more than shorten the time customers find your products or services. It creates a better user experience, better rankings in search engines, and increases the likelihood that your customers will complete a transaction.
12. GoDaddy — Plans Starting At $2.99/mo
GoDaddy, the world's largest domain registrar, has a hosting package tailored specifically for small businesses. This package features a digital marketing suite with everything you need to create a marketing campaign for your small business.
Manage your domain and hosting under one roof
Choice of cPanel or Plesk control panels
Up to unlimited bandwidth and storage
Microsoft 365 inboxes included FREE for first year
Get 70% OFF by signing up today
CHEAP
RATING 4.5 ★★★★★ Our Review
GoDaddy: Our Expert's Review
Ryan Frankel (HostingAdvice.com): A major pull factor for GoDaddy's hosting services is certainly the cost. It's hard to beat web hosting for just a few dollars per month, especially when the company includes a free domain name, control panel, impressively fast load times, and unlimited websites with most plans. Go to full review »
| Money Back Guarantee | Disk Space | Domain Name | Setup Time |
| --- | --- | --- | --- |
| 30 days | 25 GB – Unlimited | FREE (1 year) | 4 minutes |
It even offers a conversation app for separating business calls and texts from personal ones. And the best thing about it is you won't need a new phone to use this feature; you can connect it directly to your existing smartphone.
Note that the conversation app comes at an extra cost. And if you want to go check it out to determine if it is the best fit for you, GoDaddy will give you a free seven-day trial. If you like it, you can sign up for a monthly subscription.
Businesswise, the cellphone package makes GoDaddy even more affordable. Research shows that small businesses spend around $127 monthly on cellphone bills alone. So rather than going the expensive route, one GoDaddy small business package should cater to all your communication and hosting needs.
13. Hostwinds — Plans Starting at $5.24/mo
Hostwinds is not only budget-friendly but also has some great features any small business can use to grow. Let's start with the free stuff: When you sign up for its small business plan, you'll get an SSL certificate, a dedicated IP address, and website migration services, all for free.
Unlimited SSD storage, databases, and email
FREE site migration with cPanel and Softaculous
Instant upgrades without downtime
FREE around-the-clock monitoring
Automatic nightly backups available
CHEAP
RATING 4.3 ★★★★★ Our Review
Hostwinds: Our Expert's Review
Laura Bernheim (HostingAdvice.com): A recurring theme in the Hostwinds product lineup, the company offers multiple configurations to ensure every customer's needs are perfectly met. Between the SSDs and LiteSpeed web servers, Hostwinds ekes out 500% faster performance compared with typical shared hosting plans. Go to full review »
| Money Back Guarantee | Disk Space | Domain Name | Setup Time |
| --- | --- | --- | --- |
| 3 days | Unlimited SSD | New or Transfer | 6 minutes |
Hostwinds will throw in some tremendous unlimited features if free isn't enough. These include unlimited bandwidth, disc space, domains, subdomains, email accounts, databases, and FTP accounts.
Not impressed? Hang on there: Hostwinds has one more to offer for small businesses.
This hosting provider offers a free Weebly site builder to help you build an eye-catching and functional website for your small business. The best part? You don't need to sign up for coding classes to understand how it works. You have many customizable niche-specific themes to choose from to get your small business website off the ground.
Which Hosting Provider Is Best for Small Businesses?
1&1 IONOS is the best overall if you're looking for an affordable web host. But if money isn't an issue, you have several other hosting options. I'll sum up with three of my favorites besides IONOS.
Best for customer service: SiteGround is perfect if you need excellent customer service. Its live chat feature will connect you with a live agent almost instantly.
Best for speed: A2 Hosting is the Flash of the web hosting industry, thanks to its Turbo servers. (Remember that legendary series back in 1990?)
Best for unlimited features: If you need unlimited features, I'm yet to see a web hosting company that beats Hostwinds.
Choosing any one of these stellar hosts will set your small business up for success. Your choice will come down to the features that you can benefit from the most.
What Is the Best Type of Hosting for Small Businesses?
Technically, there is no "best" type of hosting for small businesses. Each business has unique needs, including those in the same industry. So the best web host for your business will depend on your unique hosting needs.
Here's what I mean:
Shared Hosting: 1&1 IONOS comes at the very top because it is the most affordable. You won't find a better mix of quality and affordability.
WordPress Hosting: SiteGround, Bluehost, and DreamHost proudly bear the WordPress seal of approval. We recommend Bluehost for your WordPress site if you're a first-time site owner or blogger.
VPS Hosting: 1&1 IONOS graces the stage once again if you're looking for affordability with a little more power and server control, but I also highly recommend A2 Hosting.
Before you even start shopping for a web host for your small business, you should jot down what your business needs in a hosting service.
For example, is having several email accounts important to your company? If so, choose a host that offers unlimited email addresses. Or will you need more disc space? There's always a hosting provider that suits your needs.
Which Web Host Is the Cheapest?
IONOS is by far the cheapest. Most web hosts I've seen that claim to be affordable are usually only reasonably priced in one area. But IONOS offers affordable rates for all of its hosting plans.
For example, its dedicated server plans start at just $33.00 per month, which is far more affordable compared to the typical starting price of $100 per month.
So whether you need shared, VPS, or dedicated hosting, IONOS has it all at pocket-friendly prices. The same applies to its eCommerce or email hosting plans. They are all affordable.
See the cheapest hosting plans in 2023 >>
Can You Have a Website Hosted for Free?
Yes, you can, and there are three options. The first option is signing up for an always-free hosting service. But you'll likely have to sacrifice speed, uptime guarantee, a custom domain, and advanced security when you choose this option. The host may also show ads on your sites, which can come across as unprofessional.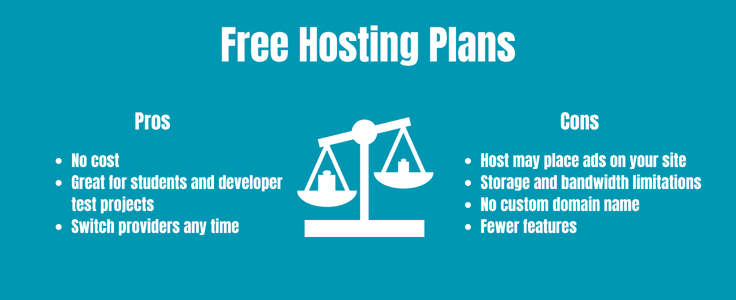 The second option is choosing a paid hosting provider that offers a free trial. Some web hosts offer between 3 to 30 days of free hosting that you can use to find out if it's the perfect fit for your small business.
Hosts with a free trial include:
The best option, finally, is opting for a premium hosting provider that offers a money-back guarantee, usually between 30 to 90 days. A money-back guarantee lets you try a host for free if things don't work out. DreamHost offers the longest money-back guarantee at a whopping 97 days. That's three months and one week of free hosting if you decide to part ways.
See more of our favorite hosting plans with free trials >>
Which Features Do I Need for Small Business Web Hosting?
Many features can make a hosting plan the perfect fit for your business. You must consider uptime, storage, cost, and other perks to make the best choice. Here are some key considerations to keep in mind when you're shopping for a plan:
#1: Speed
A small business web host should have fast servers. Speed is one of the most important things Google and other search engines consider when ranking websites and the ultimate determiner of how long your visitors will interact with your website. Look for a host with SSD storage and a free CDN to supercharge your site's speed.
#2: Security
You also need a web host with advanced security features, especially when handling your customer's confidential information, such as their credit and debit card details. Your web host should support PCI compliance if you're handling card information. And don't forget to check for an SSL certificate. Many hosts include this for free.
#3: eCommerce Functionality
If you plan on running an eCommerce business, the web host should have features that support this business model. For example, if the website runs on WordPress, the host should support WooCommerce plugins and features. At some point, you'll want to market your business online, so you must choose a host that also offers marketing tools to help your business grow.
How Do I Build a Website for My Small Business?
The right process will depend on your skill level. Even if you know nothing about web design, that shouldn't stop you from building a beautiful website for your business.
There are three ways to build a website:
Beginner: Use a drag-and-drop site builder
Intermediate: Use a CMS such as WordPress
Advanced: Code a site from scratch
Most web hosts feature drag-and-drop site builders and tons of tutorials you can use to build a decent website for your small business. But you should only go down this road if you want to create a simple website.

WordPress lets you add greater functionality and customization to your site than a typical site builder, but it comes with a steeper learning curve.
If you need advanced features for a web application, I recommend hiring a professional web designer to help build the website. That way, you'll save time (you know that time is money in the business world). Also, you'll get a fully functional website as you focus on running your business.
Learn how to make a website from scratch >>
How Much Does a Small Business Website Cost?
The cost depends mostly on the kind of features you want to have on your website and how you choose to build it.
Cost of using site builders or WordPress: FREE to $600 yearly
When you use a site builder or WordPress, your costs are directly related to the monthly purchase price of your plan and any premium themes or plugins you choose to pay for. If you're on a tight budget, some platforms, such as Wix, offer a free plan. Otherwise, most site builders and WordPress plans rarely cost more than $5 to $50 per month.
Cost of professional site design: $12,000+
Professional website design is the most expensive choice, but is worth the cost for well-established businesses that have unique requirements. For example, if you want your website to have a custom look and feel (beyond what website builder templates have to offer) you'll need to hire a web designer.
You may also decide to hire a professional if you're building a custom web application with complex functionality that a site builder can't tackle.
The cost of a website will vary greatly depending on its features, purpose, and ongoing maintenance, so consider these prices as a guide rather than a guarantee.
Getting a Website for Your Small Business With Big Dreams
You should now be able to choose a web hosting provider and package that suits your small business needs. Remember, the most important thing you should do before selecting a host is to learn what your business needs are.
But keep in mind that small businesses are not all the same, and neither are web hosting services.
Some small businesses operate on a tight budget, while others can afford to spend a little extra on a web host. Keep in mind the prospect of growth when considering which host best suits your needs. If you expect rapid growth within the next couple of months or years, choose a host that offers mostly unlimited features so you won't have to migrate to another host when you need to expand.
Further Reading: "13 Cheapest Small Business Web Hosting (Oct. 2023)"
Hopefully, our recommendation of 1&1 IONOS fulfills all your web hosting needs. Starting at just $1.00 per month and rated 4.8 overall, 1&1 IONOS gives users plenty of bang for the buck. Among our favorite features:
$1/month for 12 months
No hidden fees, pay just $12 at checkout
Easy setup and 24/7 expert support
FREE domain or transfer, plus FREE SSL certificate
Unlimited storage and databases with most plans
If you'd like recommendations similar to 1&1 IONOS and others in 13 Cheapest Small Business Web Hosting (Oct. 2023), check out these popular guides. You'll find comparisons of 1&1 IONOS to other hosts on pricing, features, support and more:
And of course, if 1&1 IONOS is your top choice, you can get started now at just $1.00/month. 1&1 IONOS is easy to set up and scale, no matter the size of your next project.
Advertiser Disclosure
HostingAdvice.com is a free online resource that offers valuable content and comparison services to users. To keep this resource 100% free, we receive compensation from many of the offers listed on the site. Along with key review factors, this compensation may impact how and where products appear across the site (including, for example, the order in which they appear). HostingAdvice.com does not include the entire universe of available offers. Editorial opinions expressed on the site are strictly our own and are not provided, endorsed, or approved by advertisers.
Our Editorial Review Policy
Our site is committed to publishing independent, accurate content guided by strict editorial guidelines. Before articles and reviews are published on our site, they undergo a thorough review process performed by a team of independent editors and subject-matter experts to ensure the content's accuracy, timeliness, and impartiality. Our editorial team is separate and independent of our site's advertisers, and the opinions they express on our site are their own. To read more about our team members and their editorial backgrounds, please visit our site's About page.