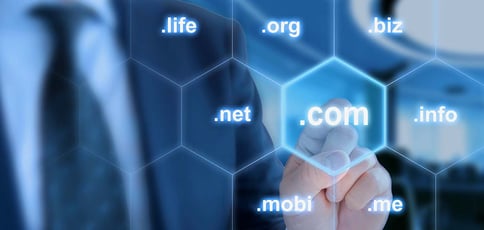 Cheap web hosting with unlimited domains may seem like opposite ends of the feature spectrum, but pairing affordable services with infinite websites is more common than you likely expect.
Whether you're running a few separate websites or looking to protect your online brand by hosting multiple domains that point to the same site, we're here to highlight the best hosting services that will help you achieve your goals without breaking the bank.
Read on to discover where you can safely save money on hosting — then have fun deciding how many domains you should buy on your upcoming shopping spree.
1. Bluehost – Best Overall Hosting for Unlimited Domains
One of the most trusted web hosting providers in the industry, Bluehost offers a slew of features and web hosting services hard to find elsewhere.
Customers can find unlimited domains and SSD storage on most of the company's shared and WordPress hosting plans, along with perks including an integrated website builder, free migration for WordPress sites, and competitive uptime (even though no guarantee is provided).
Bluehost also offers free domain registration, SSL certificate, and content delivery network.
Cheap shared hosting from a trusted provider
Ideal for hosting a WordPress website
FREE Weebly website builder and Cloudflare CDN
Unlimited traffic and 24/7 live chat support
Get 70% off today with our Bluehost coupon
CHEAP
RATING 4.8 ★★★★★ Our Review
Bluehost: Our Expert's Review
Ryan Frankel (HostingAdvice.com): Bluehost pricing is about as competitive as the industry offers. Sign up for a shared hosting plan for as little as $2.95 per month, and WordPress hosting packages are consistently priced; a VPS plan starts at around $19.99 per month; and the dedicated hosting rates are as little as $79.99 per month. Go to full review »
| Money Back Guarantee | Disk Space | Domain Name | Setup Time |
| --- | --- | --- | --- |
| 30 days | 10 GB SSD – 100 GB SSD | FREE (1 year) | 5 minutes |
The wide variety of hosting packages, combined with the multitude of features and surprisingly low price tags, has enabled Bluehost customers to create millions of websites throughout the years.
Users interested in hosting multiple domains will appreciate the easy-to-use cPanel interface and resource management capabilities. Upgrading to top plans will even unlock free domain privacy, which protects your personal information from spammers and attackers.
Further vouching for Bluehost's commitment to excellence, WordPress leadership includes the hosting provider on its list of just three endorsed services.
In addition to contributing to the WordPress community, Bluehost provides WordPress users with easy installations and updates, optimized performance, and the full suite of domain tools.
2. Hostinger – Cheapest Shared Hosting Plan
OK, we confess: Hostinger technically offers support for "only" 100 domains — but 100 is pretty close to 100 million, right?
Trust us, though, you would be upset if we didn't tell you about Hostinger's low prices, seemingly endless list of features, and refreshing transparency.
You see, unlimited hosting is a myth — infrastructure simply has finite computing resources. A web host expects something like 99% of its customers to use less than their allocated storage and bandwidth, enabling them to fit more customers on a server.
Unlimited everything, from storage to databases
FREE site builder & WP performance upgrades
FREE daily or weekly backups
Custom control panel and auto-installation scripts
SSH access & unlimited FREE SSL certificates
CHEAP
RATING 4.9 ★★★★★ Our Review
Hostinger: Our Expert's Review
Laura Bernheim (HostingAdvice.com): As the shared hosting market becomes increasingly saturated, unlimited storage, bandwidth, and email accounts have become surprisingly average. Hostinger, however, extends the routine, expected metrics to greater lengths — the number of websites, databases, FTP users, subdomains, and parked domains are all unrestricted for most customers. Go to full review »
| Money Back Guarantee | Disk Space | Domain Name | Setup Time |
| --- | --- | --- | --- |
| 30 days | 50 GB SSD – 200 GB SSD | FREE (1 year) | 3 minutes |
When the hardware or network starts to get overwhelmed, the web hosting company will suspend (temporarily, in most cases) the accounts consuming the most resources. So unlimited hosting often means, "we don't pay attention unless there's a problem."
Hostinger, however, tells customers exactly what they can expect from their hosting package: ample storage space, an estimated amount of traffic, and up to 100 domains.
In addition to its excellent web hosting service, Hostinger also offers frequent sales and promotions that drop the price to less than $1 per month.
It doesn't just stop with low introductory prices either; Hostinger's renewal rates are low enough to compete with other web hosting provider's introductory rates!
While some services will have you paying $10 to $15 each month after the first year, a long-term plan from Hostinger renews at just shy of $6 per month.
The single-domain base package is great for those just getting started, but a simple upgrade to the Premium or Business shared hosting plan will unlock essentially unlimited websites accompanied by SSH access, automatic backups, and unlimited bandwidth.
Hostinger doesn't cut corners to make its price point more profitable. The company includes a free domain registration, SSL certificate, email accounts, and CDN. Plus, it's all backed by a 30-day money-back guarantee and 24/7 customer support.
3. HostGator – Best Hosting With Free Domain
HostGator is known for enticing packages at prices that won't break your budget. Don't let the low cost fool you; HostGator is high on value.
In addition to unlimited domains, HostGator offers a free SSL certificate, unmetered bandwidth, a free domain registration, and free cPanel migration on most plans. WordPress users will further benefit as the support team will transfer your data for you.
Users looking to host unlimited websites certainly have big goals, so HostGator's easy-to-use cloud management interface with one-click scalability and automatic backups will stand out as particularly beneficial.
Host up to unlimited websites on a single plan
FREE SSL certificate included on all plans
Unlimited bandwidth & email addresses
1-click WordPress installs & FREE blog tools
Get 67% OFF by buying 36 months upfront
CHEAP
RATING 4.6 ★★★★★ Our Review
HostGator: Our Expert's Review
Ryan Frankel (HostingAdvice.com): HostGator is a great compromise between performance and price. The company offers unlimited emails, MySQL databases, disk space, and bandwidth, plus one-click installs of popular open-source projects, in addition to a 99. Go to full review »
| Money Back Guarantee | Disk Space | Domain Name | Setup Time |
| --- | --- | --- | --- |
| 30 days | Unlimited | FREE (1 year) | 4 minutes |
The company's largest shared hosting plan will accommodate up to 500,000 average monthly visitors. HostGator also optimizes its web hosting plans for speed and reliability, touting load times that are more than twice as fast as those of competitors.
HostGator provides customers with continuous monitoring and support, along with DDoS protection and an IP-based firewall for peace of mind.
Plus, the hosting company's online knowledge base comes with more than 500 video tutorials and 700 articles to help you learn about how to run and optimize your site.
HostGator offers the perfect balance between premium services and affordability and is certainly worth checking out on your journey to find the perfect web hosting service for your numerous websites.
4. iPage – Best Unlimited Hosting Provider
This list is proving that a considerable number of providers offering unlimited websites are more than just one-trick ponies — they actually bring a wholly encompassing value with their services.
iPage, in particular, includes unlimited websites, unlimited storage, unlimited bandwidth, and unlimited MySQL databases, as well as an online store for amazing prices.
The hosting company makes life extremely easy for beginners by providing everything in just one simple shared hosting plan. There's no Goldilocks conundrum of worrying whether your landing spot is too big or too small; iPage gives you unlimited resources from the start.
Easy setup and superb reliability since 1998
FREE domain and Google marketing included
Unlimited bandwidth, storage, and emails
FREE site builder and shopping cart
Get more than 38% off today (was $7.99/month)
CHEAP
RATING 4.7 ★★★★★ Our Review
iPage: Our Expert's Review
PJ Fancher (HostingAdvice.com): Whether you're a first-time website owner or a web veteran, iPage's excellent hosting services and a fantastic list of extras make the brand one of the best values in web hosting. Unlimited disk space, scalable bandwidth, and emails are just a part of what makes iPage's shared hosting plan a great deal. Go to full review »
| Money Back Guarantee | Disk Space | Domain Name | Setup Time |
| --- | --- | --- | --- |
| 30 days | Unlimited | FREE (1 year) | 5 minutes |
iPage has been around since 1998 and is a sister company to Bluehost, so the team assuredly knows a thing or two about how to bring a great hosting experience to its users.
The host's wealth of knowledge and resources, combined with its around-the-clock customer support via phone, chat, and email ensures that you'll feel well taken care of through the set-up, launch, and maintenance phases of your web development journey.
5. GoDaddy – Best Overall Domain Registrar
As the largest hosting provider and domain registrar in the world, GoDaddy has made launching a website affordable and accessible for more than 25 years.
The company remains surprisingly nimble and focused on meeting the needs of existing customers while attracting new users with web hosting solutions tailored to their needs.
In addition to GoDaddy's complete range of hosting, productivity, and design services, the hosting provider also offers perks not typically found elsewhere — particularly when it comes to domains.
Manage your domain and hosting under one roof
Choice of cPanel or Plesk control panels
Up to unlimited bandwidth and storage
Microsoft 365 inboxes included FREE for first year
Get 70% OFF by signing up today
CHEAP
RATING 4.5 ★★★★★ Our Review
GoDaddy: Our Expert's Review
Ryan Frankel (HostingAdvice.com): A major pull factor for GoDaddy's hosting services is certainly the cost. It's hard to beat web hosting for just a few dollars per month, especially when the company includes a free domain name, control panel, impressively fast load times, and unlimited websites with most plans. Go to full review »
| Money Back Guarantee | Disk Space | Domain Name | Setup Time |
| --- | --- | --- | --- |
| 30 days | 25 GB – Unlimited | FREE (1 year) | 4 minutes |
All shared hosting comes with a one-year free domain registration, and all but the lowest-tier plan includes unlimited websites.
With more than 82 million domain names under management, GoDaddy is the perfect fit for single-site customers as well as high-powered domain investors looking for help managing their portfolios.
In addition to acting as a domain broker, GoDaddy also coordinates domain name backordering, auctions, and transfers. Already have a handful of unused domains? Check out GoDaddy's CashParking program that helps those vacant sites generate revenue.
GoDaddy even has a tool to help you brainstorm domain names for your site (you can even use our guide as a starting place).
Whether you want to purchase a domain for one of your many websites or become a domain investor, GoDaddy has you covered.
6. A2 Hosting – Fastest Web Hosting With Unlimited Domains
As if the title above didn't give things away already, speed is the name of the game with A2 Hosting.
With so much information available online in the blink of an eye, page load speeds can make or break a website. Visitors are 32% more likely to bounce from a website if the loading times increase from just one to three seconds. Ideally, your site should load within two seconds.
With cutting-edge solid-state storage and optimized software configurations, A2 Hosting is staffed with speed freaks who are looking to deliver better SEO rankings, higher conversions, and lower bounce rates to customers.
FREE Cloudflare CDN and SSD speed boost
Optimized caching and 1-click installs
Unlimited email, domains, and databases
Advanced security and FREE HackScan
24/7 support via phone, chat & tickets
CHEAP
RATING 4.6 ★★★★★ Our Review
A2 Hosting: Our Expert's Review
Alexandra Anderson (HostingAdvice.com): There are plenty of excellent cPanel shared hosting providers out there, so what sets A2 Hosting apart from the rest. Not only does the company offer a ton of features, but it has custom-built its packages for enhanced performance, speed, and security — putting your priorities above pricing. Go to full review »
| Money Back Guarantee | Disk Space | Domain Name | Setup Time |
| --- | --- | --- | --- |
| 30 days | 100 GB SSD – Unlimited SSD | New or Transfer | 4 minutes |
The hosting provider's supercharged Turbo Server configuration promises 20-times-faster page loads thanks to a proprietary blend of caching layers, the LiteSpeed web server, and NVMe storage.
Of course, powerful servers and unrivaled speed aren't all A2 Hosting has to offer. The company's plans all come with a staging environment, optimized WordPress installations, and a free SSL certificate.
All but the lowest tier hosting plans come with unlimited storage, websites, subdomains, and parked domains.
All these perks help us be more forgiving of A2 Hosting for not including a one-year free domain registration with plans. You may have to spend a little more at first, but you'll have access to all the regular domain features like privacy and theft protection, auto renewals, and email forwarding.
7. SiteGround – Best Support for Hosting and Domains
Boasting a premium hosting service with reasonable rates, SiteGround frequently graces our lists of top hosts for everything from WordPress hosting to ecommerce stores.
SiteGround offers top-of-the-line technology and customer support to its users, often relying on platforms created in-house to improve user experience.
For instance, SiteGround developed a system that automatically recommends the fastest and most relevant channel for solving your specific issue or request, be it through phone, ticket, or chat support.
FREE website transfer service to get started
99.9% uptime guarantee and unlimited traffic
User-friendly WordPress installation
24/7 support featuring custom systems
4 caching options plus staging and Git
CHEAP
RATING 4.6 ★★★★★ Our Review
SiteGround: Our Expert's Review
Alexandra Anderson (HostingAdvice.com): Providing hosting with the perfect balance of technological innovation and superior customer support, SiteGround offers a range of affordable hosting services to meet your needs. In addition to the expected cheap web hosting perks — a free website builder and unlimited bandwidth — the company specializes in custom-built tools to deliver strong and positive user experiences. Go to full review »
| Money Back Guarantee | Disk Space | Domain Name | Setup Time |
| --- | --- | --- | --- |
| 30 days | 10 GB SSD – 40 GB SSD | New or Transfer | 6 minutes |
Users can expect a response to tickets within 15 minutes, and 90% of all issues are resolved at first contact.
SiteGround recently moved its hosting services to Google Cloud Platform — resulting in improved speed, reliability, and scalability for its customers.
All but the company's cheapest shared hosting plan includes unlimited websites, along with unmetered traffic, daily backups, and a free SSL certificate.
Although SiteGround doesn't include a free domain with its services, we're really pleased with the provider's domain transfer services and user-friendly management portal.
8. FatCow
Despite the colorful name, FatCow is a robust, professional web host with a longtime reputation for quality service that challenges top providers.
FatCow simplifies the shopping process by offering a single shared hosting plan. Within this hosting plan you get a host of unlimited features, including bandwidth, email, disk space, and domains.
The domain registrar gives customers early access to their desired domain extensions, enabling them to pre-register a domain before it becomes generally available.
Included domain name
CGI, PHP, Python, Perl, Ruby, and MySQL support
1-click script installs
Access to website builders with eCommerce cart
60% off for joining today
CHEAP
RATING 4.4 ★★★★★ Our Review
FatCow: Our Expert's Review
PJ Fancher (HostingAdvice.com): FatCow is one of the better budget hosts out there. They offer great hosting features and server performance for a low price. Go to full review »
| Money Back Guarantee | Disk Space | Domain Name | Setup Time |
| --- | --- | --- | --- |
| 30 days | Unlimited | FREE (1 year) | 5 minutes |
In addition to the free domain registration included with web hosting, customers can purchase more .COM domains for $10 each. Renewals can get a little pricey, though, so be sure to check other options if you're on a strict budget.
If you ever find yourself with questions about FatCow or while using its service, all you need to do is reach out to the Moo Crew support team. They're happy to field your questions 24/7 via phone, email or online chat.
9. Hostwinds
As one of our favorite hosting providers for affordable cloud hosting, Hostwinds prides itself on offering enterprise-grade solutions for small business prices — all while providing excellent customer service.
Hostwinds offers a wide variety of hosting solutions, making it an appealing option for entrepreneurs and startups.
All levels of Hostwinds' shared hosting plans come with unlimited bandwidth, disk space, email accounts, subdomains, MySQL databases, and FTP accounts.
Unlimited SSD storage, databases, and email
FREE site migration with cPanel and Softaculous
Instant upgrades without downtime
FREE around-the-clock monitoring
Automatic nightly backups available
CHEAP
RATING 4.3 ★★★★★ Our Review
Hostwinds: Our Expert's Review
Laura Bernheim (HostingAdvice.com): A recurring theme in the Hostwinds product lineup, the company offers multiple configurations to ensure every customer's needs are perfectly met. Between the SSDs and LiteSpeed web servers, Hostwinds ekes out 500% faster performance compared with typical shared hosting plans. Go to full review »
| Money Back Guarantee | Disk Space | Domain Name | Setup Time |
| --- | --- | --- | --- |
| 3 days | Unlimited SSD | New or Transfer | 6 minutes |
Customers will also enjoy perks like a dedicated IP address, an SSL certificate, nightly backups, free migration, cPanel control panel, and the Weebly site builder.
To unlock unlimited domains, however, you will have to go with the top-tier shared plan. Hostwinds still carries strong value for the price point, but you'll need to pay for all domain registrations.
Site owners can register domains from the Hostwinds account portal, where they'll see options for identity protection and custom nameservers, as well.
We really like the Hostwinds client account area, which provides an easy look at the domains under your control.
Users can easily see when a registration expires, configure automatic renewals, and use the company's cloud DNS management tool.
If you're willing to pay for quality services, be sure to give Hostwinds a look!
10. Web Hosting Hub
If you prefer to obtain services from companies that make you feel like part of the family, you will probably appreciate a cheap hosting plan from Web Hosting Hub.
When you sign up, you'll receive a personalized phone call from a customer service specialist to walk you through the setup process and answer any questions you may have.
Web Hosting Hub focuses solely on shared hosting services and aims to make the setup process as simple and as user-friendly as possible.
Unlimited storage, bandwidth, and email accounts
FREE website builder with ecommerce tools
FREE site transfers and personalized onboarding
$150 in Facebook, Google, and Bing ad credits
400+ Softaculous 1-click app installers
CHEAP
RATING 4.4 ★★★★★ Our Review
Web Hosting Hub: Our Expert's Review
PJ Fancher (HostingAdvice.com): For those on a budget looking for a first-time host, and for those who would like a few extras to go along with it, Web Hosting Hub has a plan for you. With a whole lot of features, the company is a great value — so long as you are willing to sign up for a longer plan. Go to full review »
| Money Back Guarantee | Disk Space | Domain Name | Setup Time |
| --- | --- | --- | --- |
| 90 days | Unlimited | FREE (1 year) | 6 minutes |
All three of the company's plans offer a free domain registration, and two of them enable customers to host unlimited domains.
As a subsidiary of InMotion Hosting, you'll benefit from the innovative solutions and hardware advantages InMotion Hosting is best known for — namely, the solid-state hard drives that can deliver load times up to 20 times faster than those of hard-disk competitors.
To that end, the hosting provider offers more than 400 one-click software applications, including the option to automatically install WordPress while you check out.
Many of its offerings are geared specifically toward small businesses. If you want to outsource some of your work, Web Hosting Hub will build a WordPress site for you for just $99.
If you already have a website hosted on another site, Web Hosting Hub offers free and easy site migration with no downtime.
Not sure if Web Hosting Hub is for you? Give your hosting account a try and rest easy with the extended 90-day money-back guarantee.
In addition to SiteLock security, you'll find a drag-and-drop website builder, Google AdWords marketing credit, and a 30-day money-back guarantee.
Be sure to note, however, that hosts' refund policies do not extend to domain registrations. Even if you don't wish to keep a website, the domain will remain under your ownership for a year. The full-price registration fee will be deducted from any reimbursement from canceled services.
11. HostPapa
As a high-quality host with modern hardware, HostPapa pairs its unlimited domain offerings with unlimited storage and bandwidth resources — giving site owners plenty of room to build upon their domain portfolio.
The company includes free domain transfers and domain forwarding support, enabling you to easily consolidate online properties under one account.
We love the combination of high-speed SSD storage and CloudLinux operating system, along with more than 400 one-click software installations.
FREE drag-and-drop HostPapa website builder
Host unlimited WordPress sites on one account
24/7 support via phone, email, and live chat
FREE domain registration and email accounts
99.9% uptime guarantee and unlimited bandwidth
CHEAP
RATING 4.4 ★★★★★ Our Review
HostPapa: Our Expert's Review
Laura Bernheim (HostingAdvice.com): Where HostPapa shines is with shared hosting, which offers affordable and feature-rich plans geared toward helping both website and small business owners grow their online presence. HostPapa wants to be more than just a web host, according to CEO Jamie Opalchuck, who told us that the company aims to be a 1-stop shop for small businesses looking for a seamless and simple experience to help them grow. Go to full review »
| Money Back Guarantee | Disk Space | Domain Name | Setup Time |
| --- | --- | --- | --- |
| 30 days | 100 GB SSD – Unlimited SSD | FREE (1 year) | 5 minutes |
Although HostPapa's plans aren't the cheapest, upgrading to its top plan unlocks a 300% performance boost thanks to lower server density and access to a content delivery network.
Customer service is no joke to HostPapa. The company offers support in four languages (English, French, Spanish, and German) and localizes services across 18 countries.
We were fascinated — and certainly a little amused — that HostPapa's support channels even include faxes and snail mail. For those with more modern tastes, you can use phone, email, or live chat.
For more independent developers, HostPapa's tremendous library of self-help videos could be all you need. But if you find yourself in a real jam, schedule a 30-minute one-on-one session with one of the company's hosting experts.
12. GreenGeeks
Why wouldn't you want a great hosting service that also saves the planet?
GreenGeeks powers its datacenter operations with 300% renewable energy, meaning it returns three times the energy consumed back into the power grid in the form of wind energy credits.
Founder Trey Gardner applies experience gained from working at several hosts to the GreenGeeks mission to provide a hosting solution that enhances the best parts of the hosting industry and minimizes the worst parts.
Unlimited and scalable computing resources with RAID-10 storage
Proactive server monitoring and real-time security
1-click installations of 150+ apps
Unlimited domains & email accounts
24/7 support via phone, chat, and email
CHEAP
RATING 4.0 ★★★★★ Our Review
GreenGeeks: Our Expert's Review
Laura Bernheim (HostingAdvice.com): Perfect for small business owners, bloggers, or web developers, GreenGeeks offers an impressive blend of features that appeal to all types of site owners. More experienced customers will appreciate the unlimited domain names, SSD RAID-10 storage, and unmetered data transfers, along with nightly backups and built-in caching programs. Go to full review »
| Money Back Guarantee | Disk Space | Domain Name | Setup Time |
| --- | --- | --- | --- |
| 30 days | 50 GB SSD – Unlimited SSD | FREE (1 year) | 4 minutes |
GreenGeeks gives customers a free domain name registration with every shared hosting plan, but support for unlimited domains is reserved for its top two options.
Regardless of the package you choose, prices stay remarkably low. We appreciate the free CDN, built-in caching, and nightly backups as special perks to further justify the expense.
Even better, GreenGeeks' commitment as a Green Power Partner with the Environmental Protection Agency pairs wonderfully with its promise of 100% customer satisfaction.
For the ultimate choice in an environmentally conscious and cheap web hosting plan that allows you to host unlimited domains, look no further than GreenGeeks.
What is Unlimited Domain Hosting?
In a way, unlimited domain hosting gives aspiring site owners complete freedom to explore every creative and entrepreneurial thought running around their head.
With an account from one of the hosts we highlighted above, you can operate a personal blog, online store, and professional portfolio — along with websites for friends, family, and clients.
Hosts that support unlimited domains often complement the feature by removing restrictions on disk space, bandwidth, databases, email accounts, and other similar components.
As you might imagine, multiple websites can chew through those resources quickly — sometimes even leading to slower and less reliable performance.
Be mindful of your sites' consumption habits, as servers obviously have finite capacities. Even plans that tout unlimited storage and bandwidth ask customers to act within reasonable limits on a shared server.
You'll need to purchase or transfer each domain for your account and choose a plan that includes one year of a free registration for new customers.
How Do I Choose the Best Cheap Web Hosting?
That one's easy, we have a cheap hosting guide right here for you!
All joking aside, you'll want to keep a few major elements in mind when choosing the best cheap hosting:
Value: Sure, you can prioritize the lowest cost, but make sure service quality is up to the task.
Performance: Page load speed and uptime rates provide a great way to differentiate between the myriad of plans you'll find.
Storage: There's little point in having dozens of websites if you're only provisioned enough disk space to store the content for two. Unlimited domains are typically paired with unlimited storage.
Security: Virus and malware scans, regular backups, and DDoS protection can all help protect your sensitive data.
Customer service: If something goes wrong, will your host be there to help? Don't accept anything less than 24/7 assistance via phone, chat, and email
Once you've narrowed down your list of potential candidates based on the above features, you can start looking closer at the extras.
Need easy-to-install plugins? Check out providers like Web Hosting Hub. Want WordPress optimization or a managed WordPress plan? BlueHost is excellent!
Do I Need Unlimited Domains?
Let's be honest: Having unlimited domains is probably a bit excessive.
Unless you have plans of buying and selling domains as a business (as does Mike Mann, who owns about 350,000 domains), you'll probably only need to host a few dozen domains at most; that's why we were confident in adding Hostinger to this list even though it limits users to 100 domains.
Owning multiple domains is a strong play for both businesses and those with personal websites. Unilever, for instance, owns the most domains of any company at 1,181. The global corporation owns hundreds of brands, including Ben & Jerry's, Dove, Hellmann's, and Lipton.
Here's why you may want to consider owning multiple domains for one brand or website:
Capture traffic from typos and misspellings
Span several domain extensions or TLDs
Protect against copycat websites
The same reasoning applies if you're operating multiple sites on your account. You'll find that many well-known providers, such as BlueHost, offer unlimited domains.
Even if you're not sure if you need unlimited domains, you can sleep easily knowing that you'll always have the option.
Do Unlimited Websites Mean Unlimited Domains?
Although unlimited domains usually equates to unlimited websites, you may run into a rare domain registrar that offers unlimited websites — but only for subdomains. Plans that only support unlimited subdomains likely won't cover your needs.
As you shop for the best domain hosting and registration services, be sure to understand the differences between various types of domains:
Primary domain: Simply the domain you identified when you created a hosting account. Your public_html folder is assigned to this domain and will house all the files for other websites on the account.
Add-on domain: A fully functional domain name that displays a website different from the primary domain.
Parked domain: A placeholder that forwards all visitors to the primary domain's website.
Subdomain: A prefix to your primary or add-on domains, in the format of subdomain.example.com
Some providers may use the terms unlimited domain and unlimited website interchangeably to use more familiar phrasing that novices can easily understand. Be sure to examine your plan carefully to understand exactly what is being offered.
Recap: Unlimited Domains Don't Have to Break Your Budget
With plans starting as low as a few dollars per month, you can easily find a cheap hosting provider to support your domains.
Even better, you don't need to sacrifice security, customer service, or usability to get started at this low price point. Every provider on this list brings top-notch services to clients at exceedingly reasonable rates.
As you shop around, don't forget to include the cost to register a domain as part of your comparison. Expect to spend between $10 and $15 per year for most websites, but some hosts may charge upward of $20.
When in doubt, be sure to check out our reviews of providers with the best domain services!
Advertiser Disclosure
HostingAdvice.com is a free online resource that offers valuable content and comparison services to users. To keep this resource 100% free, we receive compensation from many of the offers listed on the site. Along with key review factors, this compensation may impact how and where products appear across the site (including, for example, the order in which they appear). HostingAdvice.com does not include the entire universe of available offers. Editorial opinions expressed on the site are strictly our own and are not provided, endorsed, or approved by advertisers.
Our Editorial Review Policy
Our site is committed to publishing independent, accurate content guided by strict editorial guidelines. Before articles and reviews are published on our site, they undergo a thorough review process performed by a team of independent editors and subject-matter experts to ensure the content's accuracy, timeliness, and impartiality. Our editorial team is separate and independent of our site's advertisers, and the opinions they express on our site are their own. To read more about our team members and their editorial backgrounds, please visit our site's About page.