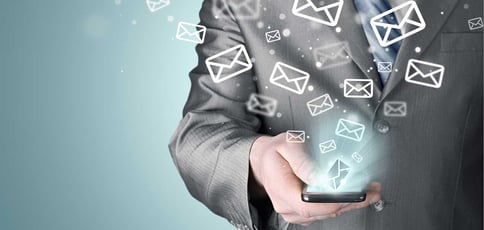 Learning how to create a professional email address is a critical step toward building the trust and credibility of your business or personal brand. From communicating with potential employers to broadcasting your latest marketing campaign, setting up a business email account increases your chances of standing out in cluttered inboxes.
When choosing which emails to open and which to ignore, roughly 70% of subscribers indicated they were likely to open a message based on the sender's name and address. To drill down even further, simply using a personalized business address (instead of the generic info@company.com, for instance) can increase your open rate by 35%.
Luckily, creating a business-grade email identity is not as complicated or as expensive as you may fear. In this article, we'll highlight three low-cost and powerful ways to boost the effectiveness of your communications, as well as provide professional email address ideas, examples, and tips.
1. Creating a Professional Email Address for Free
If you're looking to step up your emailing game, chances are you already have an online portfolio or business website. Did you know that many hosting plans allow you to create unlimited email accounts for free?
Sure, there are a few free email hosting providers that focus solely on your communications, but investing in an all-inclusive and cheap web hosting plan provides much greater bang for your buck; one company (and one meager invoice) can cover all your website, domain name, email, technical support, and even marketing needs.
To create your free professional email address, start off by taking a look in your host's knowledge base for the most accurate guide or tutorial for how to use the company's specific systems. As many popular hosts rely on the popular cPanel management interface, though, the path to new email accounts is usually pretty similar: find the email section of your control panel, add a new account, and simply type in the desired username and password.
The credentials will automatically be used to configure an inbox and access webmail. But before you go down the rabbit hole of comparing the best webmail services, take a look at our reviews of the most popular hosts with the most generous free email plans:
FREE domain and unlimited emails
Secure email with 3 webmail solutions
$200 in advertising credits with Google and Bing
Google app integration available
FREE Office 365 mailbox for your first 30 days
EMAIL
RATING 4.9 ★★★★★ Our Review
Bluehost: Our Expert's Review
Ryan Frankel (HostingAdvice.com): For email hosting with security and tons of available features, Bluehost is one of our favorites. The company includes a free domain name for a year, POP3 and IMAP security for unlimited emails, plus email forwarding and three web-based email solutions…. Go to full review »
| Money Back Guarantee | Disk Space | Domain Name | Setup Time |
| --- | --- | --- | --- |
| 30 days | 50 GB SSD - unlimited | FREE (1 year) | 5 minutes |
FREE software for webmail, newsletters, contact forms, list management, and spam filtering
Unlimited inboxes, forwarding, and autoresponders
Secure POP3, IMAP, and SMTP messaging
Unlimited storage and transfer with FREE SSL
Get more than 50% off today (was $7.99/month)
EMAIL
RATING 4.9 ★★★★★ Our Review
A2 Hosting: Our Expert's Review
Alexandra Anderson (HostingAdvice.com): Combining the internet's most popular and secure email technologies with high-speed and reliable infrastructure, A2 Hosting ensures your messages are delivered on time. As a recipient, you'll appreciate the company's multiple spam filtering programs, along with autoresponders and forwarding. Go to full review »
| Money Back Guarantee | Disk Space | Domain Name | Setup Time |
| --- | --- | --- | --- |
| 30 days | 15 GB per mailbox | New or Transfer | 4 minutes |
Unlimited email accounts and storage
FREE migration, domain, and SSL certificate
Webmail access via Horde and Roundcube
FREE SpamAssassin and weekly backups
Seamless G Suite upgrade for more productivity
EMAIL
RATING 4.8 ★★★★★ Our Review
HostGator: Our Expert's Review
Ryan Frankel (HostingAdvice.com): Woven into HostGator's well-appointed web hosting plans is all the email power you'll ever need. Unlimited addresses and storage, coupled with ready-to-go Horde and Roundcube webmail clients, combine with the host's high-class infrastructure to provide reliable and secure sending environments. Go to full review »
| Money Back Guarantee | Disk Space | Domain Name | Setup Time |
| --- | --- | --- | --- |
| 45 days | unlimited | FREE (1 year) | 4 minutes |
See other top hosts with free email »
2. Creating a Professional Email Address on Your Own Domain
When it comes to communicating with customers, colleagues, or vendors, messages must be able to meet all security standards, pass through spam filters, and present an air of legitimacy. Sending emails from your custom personal or business domain name — instead of common free standards like Gmail, Outlook, or Yahoo — is the first step in gaining email clout.
Even though your original SportsStar83@hotmail.com address may invoke nostalgic memories of your peak athletic prowess, hiring managers, clients, and coworkers will immediately notice the eyesore and likely question your decision-making skills. Like it or not, email addresses define you long before the first interview: inadvertently revealing your age, an avoidance of common and modern technologies, or how you treat your current employer.
Luckily, a custom domain name is surprisingly easy to come by. Whether included for free as part of your current hosting plan or priced at less than $15 per year, website domains do not cost much at all. Registering a domain name does not commit you to building a website, but you will need server space and network access to store, send, and receive emails.
While you can combine your domain name with third-party services like G Suite (more on that in the next section) or Microsoft Office 365, we strongly recommend having the web hosting plan on standby. Here are the best domain registrars that also offer comprehensive website and email hosting plans.
FREE domain registration and site-building tools
Unlimited domains, emails, and bandwidth
Up to $200 in offers with Google, Bing, and Yahoo!
Top-ranked WordPress host with tons of perks
24/7 customer support and online tutorials
DOMAIN
RATING 4.9 ★★★★★ Our Review
Bluehost: Our Expert's Review
Ryan Frankel (HostingAdvice.com): Bluehost offers all the freebies you need to get started with domain hosting. The company includes a free domain or transfer, plus unlimited bandwidth and storage. Go to full review »
| Money Back Guarantee | Disk Space | Domain Name | Setup Time |
| --- | --- | --- | --- |
| 30 days | 50 GB SSD - unlimited | FREE (1 year) | 5 minutes |
Lowest domain prices in the industry
FREE registration on most plans
Host up to 100 domains on most plans
Domain privacy protection safeguards your info
99.9% uptime guarantee and automatic backups
DOMAIN
RATING 4.9 ★★★★★ Our Review
Hostinger: Our Expert's Review
Laura Bernheim (HostingAdvice.com): Don't be turned off by Hostinger's remarkably low prices. The company's insanely low pricing model extends to domain name services, as well as its premium support and impressive list of features. Go to full review »
| Money Back Guarantee | Disk Space | Domain Name | Setup Time |
| --- | --- | --- | --- |
| 30 days | 50 GB to 200 GB SSD | FREE (1 year) | 3 minutes |
FREE domain registration and transfer
Unlimited disk space, domains, and databases
$200 toward Google AdWords and Bing advertising
Unlimited bandwidth and email addresses
FREE online store and website builder
DOMAIN
RATING 4.9 ★★★★★ Our Review
iPage: Our Expert's Review
PJ Fancher (HostingAdvice.com): With iPage domain hosting, users get a free domain name registration or a free domain transfer, and can host unlimited domains. The company offers unlimited bandwidth and emails, plus $200 in advertising credits to help get your website launched…. Go to full review »
| Money Back Guarantee | Disk Space | Domain Name | Setup Time |
| --- | --- | --- | --- |
| 30 days | Unlimited | FREE (1 year) | 5 minutes |
See other top hosts with free domains »
3. Creating a Business Email Address on G Suite
Professional messages account for nearly 140 billion emails sent and received per day around the world, with people individually interacting with more than 120 messages per day on average, according to technology market research firm Radicati Group. With so many emails flying around the world, you should naturally want to partner with the platform leading the global email client marketplace.
Gmail accounted for nearly 28% of email traffic in 2019, claiming the leading spot over the Apple iPhone client for the first time. Although mobile still holds a narrow edge over webmail clients in terms of email opens, Gmail is the clear leader when it comes to webmail, outperforming competitors by more than 20%.
Although G Suite is a paid upgrade when it comes to email services, tons of businesses and individuals — including us — swear by it. G Suite, which is available for $6 per user per month, also includes cloud storage, shared calendars, and other productivity tools like spreadsheets and messaging applications.
In addition to the added cost, G Suite is also the most complicated form of professional email services to set up. Sure, you'll be able to use the wildly popular and comfortably familiar interface, but you'll need to confirm your domain ownership and make sure your registrar and Google are on the same page about where your emails should go. Envato TutsPlus has a fantastic tutorial on getting started with Gmail for Business, aka G Suite, or you can find other relevant instructions with your specific registrar.
What are Professional Email Addresses?
It may be an oversimplification, but professional email addresses are typically the least creative. This is the account that you should use to communicate with current, former, and potential employers, as well as clients, employees, colleagues, vendors, and customers. Sure, you may not mind using boytoy47@domain.com or candygrrrl1999@ domain.com with your friends, but what would your grandma think?
Most commonly, professional email addresses are built around elements of your name and a custom domain. Your name, or some combination of your name, initials, or an abbreviation, will appear as the user name before the @ symbol. If your domain name happens to be your name, you could also consider describing your role or passion: ceo@johnsmith.com or tech@johnsmith.com, for example.
Speaking of John Smith, don't worry if you have a common name or discover that your desired username is taken. Ideas for creating a professional email address range from highlighting your qualifications or location to a greeting or core value. Be sure to avoid jarring prefixes or suffixes, or identifiable information about your age or health. In general, follow similar rules when registering a custom domain name: Make sure it's pronounceable, avoids punctuation, is relatively short, and sounds authoritative.
Is Gmail a Professional Email Address?
As we mentioned earlier, Google's free email service, Gmail, is the world's leading email client. The 15-year-old service boasts more than 1.5 billion active users each month — yes, billion with a B. Using a Gmail or Outlook email address is not inherently unprofessional, especially if you are an individual job seeker or otherwise not expected to maintain a separate business or brand identity.
However, your business aspirations and credibility may take a hit if you use Gmail to represent your brand. In fact, the IE Domain Registry found that 64% of consumers have little to no trust in businesses that use a free email address (like Gmail), while 77% trust a business that uses a brand-specific domain address.
Gmail users can get the best of both worlds by signing up for G Suite, which includes the ultra-popular Gmail interface — along with cloud-based tools for spreadsheets, file sharing, calendar, text and video chat, presentations, and several other business-oriented tasks. Even better, you can combine the user-friendly services with a more professional domain name.
To connect your domain to G Suite, you'll need to prove your ownership of the address. You can use G Suite with any domain registrar or hosting provider, and you're probably best off checking each company's knowledge base for the best setup guides. Otherwise, check out Google's own setup wizard that can help business owners verify the domain name they wish to use.
What is the Best Email Address for a Business?
Once you choose which email provider your business will use, the next step is setting up the individual accounts. Whether your brand is a one-man band or a company with dozens of employees, you'll want to set a particular format for your email addresses. Consistency shows an attention to detail and ensures your employees also create professional email addresses.
Depending on the size and scope of your company, you may find you'll also want to set up more generalized email accounts meant to cover entire departments. Whether or not these offices are staffed, these addresses lend an air of legitimacy and professionalism:
sales@business.com
support@business.com
media@business.com
hello@business.com
careers@business.com
billing@business.com
When it comes to finding the best hosting for small businesses, you'll want to make sure your provider includes helpful email features like a powerful spam filter, integrations with other productivity, marketing, or collaboration tools, stringent security, and ample storage for mailboxes, archives, and backups.
How Do I Set Up My Email Account?
Setting up an email account, whether it's for personal or professional use, entails configuring two basic components: your address and server space or the domain name where your messages will be sent and received, and the software or devices you'll use to access them. We've talked at length about what makes a strong email address and assume you already have a domain name — here are general instructions for how to actually put it all together:
Create your email address: Choose which platform you wish to use. We recommend going through your web hosting provider, domain registrar, or paid service like G Suite or Office 365. Register your username with them (you'll have to log into your hosting account's management portal or navigate to the appropriate Google or Microsoft site first).
Connect your inbox: OK, you have a mailbox; now, let's make sure you can open it and actually get your messages. Whether you want to use webmail vs. email clients (the interface or program you use to write, send, and read emails), you'll need to potentially download or install an application, verify your ownership of the domain, and provide login or access credentials so that all pieces and devices are working together.
Of course, those instructions are a major oversimplification of the specific steps you'll need to take. You'll definitely want to do your own research for how to set up email accounts for your specific platforms because each company's systems are slightly different.
How a Strong Email Account Can Boost Your Business
Once you get all the annoying technical details set up for your email accounts, it's finally time to leverage this all-important communication method. Amazingly, the history of email communication can trace its roots back to even before the internet: Mainframe users in the mid-1960s could leave messages in other users' directories. As emerging computer networks enabled users to communicate to different locations, email as we currently know it took shape about a decade later.
Now, more than a third of the world's population operates an active email account, with business addresses accounting for roughly 25% of all inboxes. Professionals and marketers consistently rank email as the preferred communication method for business-oriented messages, and email marketing returns a 42:1 return on investment.
Considering nearly 58% of adults check their email first thing in the morning, email marketing and newsletters represent a vital way for your business to reach out to and connect with potential customers. Regular communication with your site visitors and current customers enable you to build trust, troubleshoot any problems, and build brand loyalty.
Naturally, we've tested and ranked the best email marketing platforms, as well as other helpful email applications like customer relationship management (CRM) hosting. Be sure to check out how your business email accounts can make the most impact!
Advertiser Disclosure
HostingAdvice.com is a free online resource that offers valuable content and comparison services to users. To keep this resource 100% free, we receive compensation from many of the offers listed on the site. Along with key review factors, this compensation may impact how and where products appear across the site (including, for example, the order in which they appear). HostingAdvice.com does not include the entire universe of available offers. Editorial opinions expressed on the site are strictly our own and are not provided, endorsed, or approved by advertisers.
Our Editorial Review Policy
Our site is committed to publishing independent, accurate content guided by strict editorial guidelines. Before articles and reviews are published on our site, they undergo a thorough review process performed by a team of independent editors and subject-matter experts to ensure the content's accuracy, timeliness, and impartiality. Our editorial team is separate and independent of our site's advertisers, and the opinions they express on our site are their own. To read more about our team members and their editorial backgrounds, please visit our site's About page.