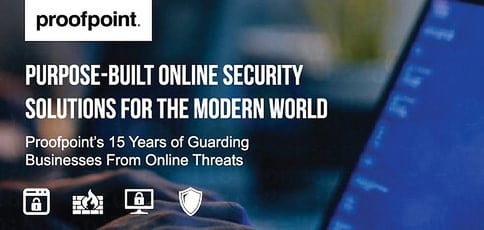 TL; DR: It's not news that the internet has improved the world's access to information and changed the ways we do business. But the rise of the web has also ushered in an evolving set of threats aimed at nabbing valuable data. For 15 years, Proofpoint has been helping businesses guard against malicious attacks through its set of purpose-built security solutions. The company's Nexus Platform offers a comprehensive SaaS platform that protects users where they work — shielding email, social media, and mobile devices from advanced threats. All businesses operate with the goal to keep revenue streams flowing, and Proofpoint allows them to do that by quickly identifying and mitigating online threats to optimize efficiencies and maximize uptime.
Maintaining an online presence has become a prerequisite for businesses to succeed in today's digital-centric world. However, the benefits that come with opening revenue streams online also carry risks that can negatively impact bottom lines and reputations.
Always a persistent threat to businesses and their customers, phishing scams, malware, and data leaks claim millions of victims every day.
Nearly one in every five financial institutions unknowingly employs a vulnerable email provider. In the case of Pinnacle Capital Mortgage (PCM), the firm had long been utilizing an on-premise security system that fell short when the company began to scale. PCM was in need of more advanced email security capabilities but lacked the bandwidth to implement most mainstream solutions. That's when the organization decided to partner with Proofpoint.
By implementing Proofpoint's enterprise-grade protection on a virtual machine, PCM was able to enforce anti-spam, anti-virus, and both inbound and outbound policies — all with a few simple clicks of a mouse. Proofpoint offered a cost-efficient, effective, and flexible option for email security. But the company protects more than just messages.
"When we started out, it was really all about email security and spam, but we didn't stop there," said Mark Guntrip, Proofpoint's Director of Product Marketing. "We are proud to be one of the first companies that delivered security solutions through the cloud. And we continue to strengthen and transform our offerings as communication channels and workplace behaviors change with new technology."
Proofpoint's award-winning security products have been used by a wide range of organizations and cover an array of offerings that has grown in conjunction with changing technology and its accompanying threat risks. The company's Nexus Platform marries all of Proofpoint's solutions together to provide comprehensive protection that identifies and mitigates threats — across all communication channels — before they can impact a business.
Evolving Security Solutions Alongside the Ever-Changing Threat Matrix
In the early 2000s, the rising popularity of email scams gave way to many cases of stolen information. Unsecured email attachments allowed an easy way for malware to propagate in the days just before the file sharing heyday.
In fact, unsecured email remains a significant threat to many companies because vulnerabilities are easy to overlook in otherwise legitimate-looking messages. Proofpoint's initial email protection product employed proprietary AI algorithms to identify spam according to 10,000 different reference attributes. File sharing became massively popular in the following years, and the complexity of viruses and the secretive methodology criminals employ grew alongside it.
"While email is still a very big issue, it is no longer the only thing we do in terms of protection," Mark said. "We have aggressively pursued cloud development innovation and advanced protection to manage digital risk across all communication platforms."
Since the way we share information has changed, those with nefarious intent have acquired increasingly quick methods of malware distribution. Proofpoint now protects businesses from threats related to social media and mobile platforms, and assists with compliance, archiving, and data loss prevention.
As social media pages attract more traffic, they become targets for spammers to post malicious links to malware and scam sites — it's similar to the spam email approach. These types of spam ads are also surprisingly common in mobile apps. And, because social media and email accounts may be accessed from a number of platforms, including mobile, an unsecured phone or tablet is all an attacker needs to compromise an employee's data.
"It's come down to protecting how people work today," Mark said. "We zero in on where the threat is likely to come into your organization."
Mark told us attackers have an easier time taking advantage of people and their communications, as opposed to penetrating data sources directly. Since company workstations often have limited access to the internet, unsecured files from emails, flash drives, social media links, and mobile devices may be the only means of infection in an otherwise secure office. Luckily, Proofpoint ties up these loose ends with its myriad solutions.
An All-in-One Platform to Protect Data at Every Stage of an Attack
Proofpoint's Nexus Platform is a comprehensive security suite that protects users from advanced threats. Featuring email and social media protection, the Nexus Platform is a centralized command center that gathers threat data daily from 250,000 malware samples, 1 billion emails, 20 million mobile apps, and 200 million social media accounts.
"Businesses have to look at email, social, and mobile," Mark said. "In terms of intelligence, they are all intertwined."
Proofpoint understands criminals will use whatever works to find the information they're looking for, and points of contact are often where vulnerabilities hide.
"Using the Nexus Platform, you can see attacks that have traversed from social media," Mark said. "We've seen attacks simultaneously from social media and email to the same customer, like a brute force approach to get someone to click that malicious link."
TAP (targeted attack protection) lets users block messages with suspect URLs and scan links and files using Proofpoint's cloud-based malware analysis.
Sensitive data could potentially be anywhere — not simply stored on a company server, but accessible from an employee's smartphone via popular yet risky and unsecured applications. Interestingly, Proofpoint made the discovery of a backdoor-infected version of the massively popular Pokemon GO game for Android almost immediately following its official release.
Proofpoint's mobile defense detects potentially threatening apps that have already been vetted by app stores and deemed safe enough for publication. A surprisingly high number of vetted apps either lack privacy policies, or contain third-party code that poses privacy and data loss risks.
"One thing that differentiates us in the marketplace is that we don't keep all that behind the curtains," Mark said. "We provide visibility into that intelligence. We're not asking you to believe us — you can actually go in and see the attacks and their impacts."
When a threat is positively identified, the Nexus Platform shows any linked threat campaigns. The platform also includes information on the vertical markets these campaigns usually target. Often these targets are financial institutions, like PCM, as attackers see the profit in stolen identities. Mark gave an example of a very common threat.
"If you notice a highly targeted attack that comes in from a group that normally targets credit card companies, you may want to double down on security," he said.
Maximizing Efficiencies & Uptime to Keep Businesses Running
With increased insight into vulnerabilities, IT teams can quickly identify and mitigate potential exploits before they cause information theft, data destruction, and downtime. TAP and ET (emerging threats) analysis equips teams to protect users on any device or network.
This is done through URL sandboxing, prognostic analysis, and phishing template comparisons, as well as supplying metadata on IPs, domains, and trends for advanced predictive research. Proofpoint's cloud-based sandbox can detect malware using static and dynamic techniques that actually learn from threat patterns and behaviors — making it possible to nullify attacks before they even have a chance to cause downtime or damage.
"The main benefit is that those threats are not going to get through," Mark said.
Aside from time and money spent on troubleshooting, data forensics, and device reboots, threats may still linger on a device's folder or an employee's inbox if not detected. Mark presented the following scenario.
"If something did get through, how would you know if you've cleaned everything up?" he said. "From an IT perspective, this can take a very long time and be all-consuming."
Proofpoint offers automated response systems and alerts through its Nexus Platform to guide IT teams toward preventive methodology — even in cases where threats are not immediately eliminated by software.
Continuing a 15-Year Tradition of Safeguarding the World Online
Born from a need for security in the days when email was the only digital communication tool, Proofpoint has kept stride with the increasingly clever attackers. According to Proofpoint, more than 90% of targeted attacks still begin with email, and these threats are ever-evolving alongside attacks from other communication methods. This is why organizations around the world, like PCM, are employing Proofpoint's solutions. And the company doesn't show any signs of slowing down.
"It's clear to see that there's still a very dynamic landscape," Mark said. "We need to keep pace with that and keep our customers secure from whatever the next threat is."
Mark told us Proofpoint is positioned to pull all of its tools together to identify alerts coming from email, firewalls, endpoints, routers, and every possible entry point and quickly remediate any issues.
"Our goal is complete protection," Mark said. "We want to save businesses the heartache, headache, and lost revenue that happens when service goes down."
Proofpoint prides itself as the only comprehensive solution to encompass email, networks, social media, and mobile apps simultaneously. With 15 years of service and a dedication to innovation, Proofpoint is sure to give businesses peace of mind well into the future.
"From a product standpoint, it's about continuing and extending what we've set out to do," Mark said, "which is to protect users any way that they work."
Advertiser Disclosure
HostingAdvice.com is a free online resource that offers valuable content and comparison services to users. To keep this resource 100% free, we receive compensation from many of the offers listed on the site. Along with key review factors, this compensation may impact how and where products appear across the site (including, for example, the order in which they appear). HostingAdvice.com does not include the entire universe of available offers. Editorial opinions expressed on the site are strictly our own and are not provided, endorsed, or approved by advertisers.
Our Editorial Review Policy
Our site is committed to publishing independent, accurate content guided by strict editorial guidelines. Before articles and reviews are published on our site, they undergo a thorough review process performed by a team of independent editors and subject-matter experts to ensure the content's accuracy, timeliness, and impartiality. Our editorial team is separate and independent of our site's advertisers, and the opinions they express on our site are their own. To read more about our team members and their editorial backgrounds, please visit our site's About page.