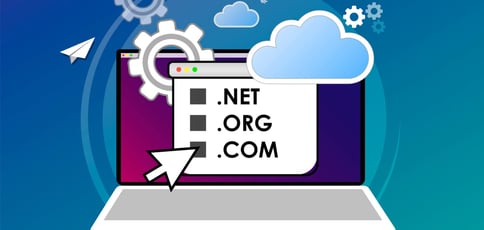 Unless you're a celebrity or public persona, your website's name is more important than your own in terms of web presence. After all, the domain name is one of the first elements of a website a visitor sees, serving as your brand's introduction to the online world. And first impressions matter.
There's a lot to consider when choosing domain names. The best ones, in general, are relevant, memorable, and to the point. But selecting an impactful name is just the first step. Choosing a domain registrar — a company that manages the reservation of internet domain names — is equally important.
Short on time? We'll start by highlighting the five largest domain registrars in the business based on registered domains as determined by Domain Name Stat. Click on each for a quick-start guide:
Or, if you're in it for the long haul, read on to explore the 20 largest registrars, plus web hosting services that include registered domain names as part of a larger package. Searching for a provider in a crowded market can be overwhelming, but we're here to help.
Thankfully, the Internet Corporation for Assigned Names and Numbers (ICANN), a nonprofit responsible for keeping the internet stable, secure, and interoperable, does some of the work for us. Any businesses looking to become a domain registrar must receive ICANN accreditation before getting direct access to the ICANN-designated top level domain (TLD) catalog.
The TLD, also known as the domain extension, is an essential consideration in itself. The most widely known TLDs are .com, .net, and .org, but numerous options, including premium domain offerings, exist.
The country code top level domain (ccTLD), for example, provides a way for countries, sovereign states, and dependent territories to identify themselves online.
In terms of the number of registered domain extensions, .com reigns supreme, with more than 185 million domains registered representing 36.83% of the market share, according to Domain Name Stat. The second category, a mixed bag of "others," represents 34.4% of the market share.
The majority holders are followed by three ccTLDs: .cn, for the People's Republic of China (24 million domains); .tk, for Tokelau, a territory of New Zealand in the South Pacific (23 million); and .de, representing Germany (21 million). The fifth most popular domain name is .net, with nearly 19 million domains registered amounting to 3.68% of the market share.
The number of domains registered also varies by country, according to Domain Name Stat. Of the domains associated with a particular country, the majority (20.97%) come from the U.S., followed by China (6.36%) and Canada (3.05%).
Most domain providers strive to offer a variety of popular TLDs, but some offer a more generous selection than others. Keep this in mind when making a domain purchase.
Domain privacy protection is another crucial factor to consider when choosing a domain provider. ICANN requires every domain registrar to maintain a publicly available WHOIS database that displays the personal contact information (including home address and phone numbers) for every registered domain. To preserve domain privacy, look for a registrar that offers WHOIS privacy, a service that will hide your contact information.
Finally, if you're looking to switch from your current registrar to another domain registration provider, it's a good idea to check out the various pricing structures around domain transfer. A provider with a reputation for fast, seamless, and secure domain transfer is ideal.
1. GoDaddy.com: 76.2 Million Domains
GoDaddy is one of the most recognizable names in the industry — and for good reason. It is the world's largest domain registrar, with more than 20 million customers, 76.2 million domains, and 7,000 employees across the globe. It's also one of the oldest, founded in 1994 as Jomax Technologies.
GoDaddy's domain services are wide-ranging, including automated and affordable domain transfers, private registration and protection, and domain value appraisal. The company even offers an AI-powered business name generator that formulates ideas based on your name, location, and business category, among other keywords. Remember: The goal is to come up with something that visitors can readily recall and type into browsers. For this reason, avoiding abbreviations, hyphens, and uncommon spelling conventions is a must.
The ICANN accredited registrar also delivers Personal Domain features that make it possible to build an online presence without even setting up a website. The process is simple: GoDaddy will point your domain to an existing page, such as your LinkedIn profile, YouTube channel, or any other social media channel or site that's already online. This feature makes it easier for people to find your business online when you don't have time to create your own website. (But don't give up: today's website builders make the process faster and easier than ever before).
In addition to the most popular TLDs, GoDaddy includes 436 choices in total, including .app, .club, .site, .space, .shop, .store, .online, and many others.
While GoDaddy is mostly known for its domain services (Google domain, and it's the first result to pop up), it's also a hosting company. The company's primary offering is a range of shared hosting services, but it also provides options for virtual and dedicated servers. Many plans offer free domain names and setup, so look for a bundle deal if you want to save some money.
Finally, GoDaddy offers support through a staff of friendly domain experts. If you encounter any road blocks, you'll always have someone to call.
2. Namecheap: 12.6 Million Domains
Coming in second on our list is Namecheap, a budget-friendly, ICANN accredited domain registrar based in Phoenix, Arizona. The company, which offers 419 affordable TLDs, boasts more than 11 million domains under management and has registered 12.6 million domain names.
After .com, Namecheap's second most frequently used TLD is .xyz, with 599,817 domains registered. If you're looking for a generic TLD other than .com, .xyz is a good option, offering a bold yet memorable alternative to the status quo.
Like GoDaddy, Namecheap is known primarily for its cheap domain names and serves as a web hosting provider that offers discounts on domain names. Namecheap's shared hosting package, for example, provides discounts of up to 100% off Namecheap domains for the first year (premium domain names are not eligible). After that, the name will renew at a standard rate, so be sure to read the terms and conditions on domain renewal.
Another perk Namecheap offers is access to its advanced DNS hosting service, FreeDNS. Users who purchase a domain from another registry that does not provide DNS can use the service at no cost. Many site owners opt to use Namecheap's free domain name service as a backup option for their own DNS server. Such considerations are important when formulating a DNS management strategy.
3. Tucows Domains Inc.: 11.9 Million Domains
Unlike many of the other registrars on our list, Tucows Domains is a wholesale provider. For years, buyers have been snapping up multiple domain names, creating a costly secondary market. Tucows has registered 11.9 million domain names in this capacity.
While Tucows does not sell directly to customers, individuals can purchase domains through one of the company's affiliated domain providers, or its in-house provider, Hover.
Hover's domain management platform is intuitive enough for those setting up their first domain but powerful enough for domain experts with advanced requirements. If you're looking for a deal, check in with Hover regularly. Each month the company features three or four domain extensions with discounted pricing.
Other opportunities for savings exist. For instance, agencies and entrepreneurs looking to secure multiple related domains and extensions for brand protection purposes can take advantage of Hover's bulk pricing structure.
4. Network Solutions: 7.5 Million Domains
Network Solutions, founded in Virginia in 1979, is the world's oldest domain registrar and also one of the largest, with 7.5 million domains and 430 TLDs.
Over its many years in business, Network Solutions has added a wide range of features and services to its catalog. The domain registrar offers a streamlined online dashboard that makes it easy for users to create subdomains, change IP addresses, and access DNS management tools — whether you have one domain name or 100.
Network Solutions works to ensure customer domains are secure, with domain transfer lock services to prevent unauthorized actions, an auto-renew feature, and WHOIS privacy.
The time-tested domain registrar, now just over 40 years old, is also known for its premium domain names and vast marketplace.
The latter can help customers secure domain names that others have already taken.
In addition to being one of the largest domain registrars, the company offers cloud-based web hosting. However, free domains are limited to cloud packages with annual terms, so don't expect a deal unless you're OK with a long-term commitment.
5. Alibaba Cloud Computing Beijing: 7.3 Million Domains
Alibaba Cloud Computing Beijing provides cloud computing services throughout China and is the largest company of its kind in the country. The company has datacenters worldwide, with three locations in China: China North, China South, and China East.
Founded in 2009, Alibaba Beijing is known for its cloud computing and artificial intelligence offerings. The internet infrastructure provider serves 22 global regions, made up of 67 strategically located zones.
In terms of domain services, Alibaba Beijing prides itself on providing competitively priced domain names, free presale consultations, domain privacy services, and 24/7 technical support.
Alibaba Beijing has registered an impressive 7.3 million domains over the past 11 years. But, compared with some of the other providers on this list, Alibaba Beijing's focus goes far beyond domain registration.
It provides reliable and secure cloud computing, web hosting, data processing capabilities, security solutions, enterprise application services, and management of the Internet of Things (IoT).
So if you're looking for a provider that concentrates primarily on the domain extension space, another registrar may be a better fit. But if you need a full-service IT provider, you're in luck. Refer to the 11th company on this list, Alibaba Cloud Computing Ltd., for information on a related business entity.
6. PDR: 6.3 Million Domains
PublicDomainRegistry (PDR) is the sixth-largest domain registrar, with a whopping 6.3 million domains and nearly every TLD and ccTLD.
The company, a subsidiary of The Endurance International Group, Inc., provides domain registration solutions through a global network of partners. PDR's relationships with domain registries across the globe allow the company to provide partners and clients with a single point of management.
Like Tucows, PDR does not sell services directly to customers. Instead, it offers white-labeled registrar services through a robust API that helps developers integrate domain registration services into their websites. Users have a choice of programming languages, with downloadable integration kits in ASP.NET, Perl, PHP, and Java.
Its goal is to serve as a one-stop-shop, empowering those in the business of selling domains to manage large portfolios. Individuals, entrepreneurs, and business owners looking to secure a domain name and related services should look elsewhere.
7. Enom, LLC: 6.3 Million Domains
Whatever your needs in the domain space, Enom, an affiliate of Tucows, likely has a solution. The company, which has registered 6.3 million domains, helps small businesses, enterprises, domain investors, and domain resellers achieve their respective business goals.
It is known for its unique set of 436 TLDs.
"We were in the naming process for the project, and we were gravitating around the name assemble," said a customer in a review on the Enom website. "Problem is, most major domains are taken for any variation of that name… We found .haus and immediately knew it was perfect. It was great to keep that 'assemble' base name and then mash it up with that modern design oriented term like .haus."
Enom's services range from the simple to the complex. The registrar can help small business owners purchase a domain name, set up email addresses, and protect their brand from cybercriminals.
Its trusted platform can help users register, manage, and sell a portfolio of domain names quickly and easily. It can even help customers build a domain and internet services business via an API or a custom storefront.
Enom is also focused on securing customers' digital assets through WHOIS domain privacy. With ID Protect, customers can replace the personal information in their WHOIS record with generic contact information for Enom itself. According to the company, this information is a goldmine for spammers. No matter what provider you choose, it's a good idea to take domain privacy into serious consideration.
8. IONOS by 1&1: 5.9 Million Domains
IONOS by 1&1 is a web hosting company that was founded in Germany in 1988. It was known as just 1&1 until it merged with the cloud infrastructure specialist ProfitBricks in 2018. Today, IONOS by 1&1 serves individuals and businesses across 13 countries, including the UK, the U.S., Germany, Poland, and Spain. It has registered 5.9 million domains.
In addition to shared, virtual, and dedicated server pages, it provides website-building tools, email services, and, of course, domain registration.
IONOS by 1&1 stands out from the pack in that all new domain contracts come bundled with email, private registration, and a Wildcard SSL certificate. (These certificates allow users to secure multiple subdomain names).
Users receive a professional email address, such as name@company.com, with 2GB of mailbox space with each domain and convenient upgrading opportunities. The company is also unique in that it offers each customer access to a free personal consultant during standard business hours.
Customers can contact their consultant via a direct phone number, chat, or email. Consultants will offer explanations on a range of topics related to building an online presence, from developing the right content for effective marketing emails to becoming more visible on Google Maps.
9. GMO Internet, Inc.: 5.6 Million Domains
GMO Internet, Inc., founded in 1995 and headquartered in Tokyo, is an internet services provider made up of 102 group companies, including 10 publicly traded companies listed on the Tokyo Stock Exchange. Over its 25 years of existence, the company has registered 5.6 million domains.
Through these companies, GMO offers everything under the sun in terms of IT, including internet infrastructure, online advertisement, and media services.
It also provides internet finance resources, online banking services, and tools for mining and trading cryptocurrency.
Eight of GMO's group companies — TenTen.vn, Z.com Thailand, Z.com Philippines, Z.com Mayanmar, Z.com Singapore, and Z.com Vietnam, Value-Domain.com, and GMO Registry — offer domains. Collectively, these groups handle 5.6 million domains.
Z.com Philippines offers affordable domains inclusive of domain forwarding, WHOIS privacy protection, and ICANN fees. Among other TLDs, the company provides .ph, the ccTLD of the Philippines.
Japan-based GMO Registry, on the other hand, is known for providing TLDs that identify local websites in Tokyo, Nagoya, and Yokohama (.Tokyo, .Nagoya, and .Yokohama). The company also offers .shop, a new TLD suitable for ecommerce websites and brick-and-mortar stores that is quickly gaining popularity.
Companies that were looking to purchase the .shop domain extension sent in a massive number of applications during the priority registration period exclusively for trademark holders, according to GMO Registry.
10. Google LLC: 5.5 Million Domains
It makes sense that Google made it in the top 10 of the 20 largest companies in the domain business. As of June 2019, Alphabet, the parent company of Google, was ranked the fourth largest internet business globally (based on market value). And we all know that the company is constantly innovating and expanding its reach.
Google entered the domain provider space in January 2015, when it released Google Domains in a public beta. As of November 2020, the service remains in beta. That said, the fact that Google Domains has registered 5.5 million domains, and offers premium features, bodes well for its longevity. Other Google products have not fared as well.
Google Domains offers robust security and data privacy tools. Its privacy protection feature, for example, protects customers from spam and identity abuse, while one-click Domain Name System Security Extensions (DNSSEC) safeguards users from DNS spoofing.
The company also provides users with a suite of tools that help them build professional websites. Customers can upgrade their email to match their new domain and receive email service for up to 200 alias addresses via email forwarding.
They can also leverage tools Google offers, such as Google Sites and Google Cloud, to design and host their sites.
11. Alibaba Cloud Computing Ltd.: 5.2 Million Domains
We've already provided an overview of Alibaba Cloud Computing Beijing, which was fifth on this list with 7.3 million domains — the majority of which feature the .com extension.
Domain Name Stat, from which we derived these rankings, lists Alibaba Cloud Computing Ltd. in the 11th spot as a separate business entity.
This segment of the company has just 5.2 million domains registered but features a broader selection of TLDs. The three most popular are .icu, .top, and .wang (a Chinese translation for the word website). The most popular domain extension for Alibaba Cloud Computing Beijing is .com, followed by .net and .info.
12. OVHcloud: 4.7 Million Domains
Founded in 1999, OVH Cloud is a French cloud computing provider known for its sprawling global infrastructure, comprising 28 data centers in seven countries. Among them are some of the largest datacenters in the world by surface area. In terms of physical servers, OVHcloud is also the largest hosting provider in Europe and the third-largest on the globe.
The company is a popular registrar, with 4.7 million domain names registered and more than 100 available extensions. It helps businesses communicate professionally via custom email addresses linked to domain names. OVHcloud also offers opportunities to optimize security through its DNSSEC service and domain theft protection.
OVHcloud also offers a WHOIS privacy service that includes an email address to replace one's personal address in the WHOIS database. The company can then redirect the email account to the user without disclosing personal details.
OVHcloud makes the resellers' lives easier with tools for DNS management and access to API management software. In addition, the OVHcloud Partner Program helps domain resellers expand into new markets, such as hosting, by tapping into OVHcloud's established infrastructure.
13. REG.RU LLC: 4.4 Million Domains
REG.RU, established in 2006, is Russia's largest accredited registrar and one of the country's top hosting providers.
It has 30 offices in Russia and across the Commonwealth of Independent States (CIS) and has registered 4.4 million domains.
The registrar offers domain name registration in more than 220 national and international domain zones. REG.RU also ranks first in terms of the number of registered domains and hosted sites using the .RU and .РФ extensions.
If you're looking to purchase a domain that someone else has already snatched up, REG.RU's Domain Broker service can help. Once a user pays for the service, REG.RU representatives will contact the domain owner, negotiate a price, and conduct a transaction.
If successful, the company will handle all associated paperwork and reregister the domain. If not, REG.RU will select a similar domain for free or begin negotiations on another one.
To serve a broader range of customers, REG.RU registrar offers support in Russian and English and has both a Russian and an English version of its site.
14. NameSilo, LLC: 3.7 Million Domains
NameSilo is a Phoenix-based internet domain registrar and hosting provider known for affordable domain registration and renewal prices. It has registered 3.67 million domains.
According to the NameSilo website, the company is able to offer some of the lowest everyday domain prices on the web because it focuses primarily on domains. That includes a promise never to inflate prices to cover nonessentials, such as celebrity spokespersons or Super Bowl advertisements.
Plus, while many competitors rely on third-party backend platforms of other registrars, NameSilo takes a different approach.
"Many of our most notable competitors are reliant on systems developed and supported by third-parties," the NameSilo site states. "This has many potential problems and drawbacks including having to wait for upgrades, multiple parties being involved in domain disputes and other possible issues, and, most importantly, the fact that third-parties must be paid for their services, which inflates the pricing for customers."
But don't take NameSilo's word for it. The company offers transparent comparison tables that outline differences in pricing and features between NameSilo and its competitors, including NameCheap, GoDaddy, and Network Solutions.
In addition to consistent low prices, NameSilo offers an entire page of promotions that change with the seasons, such as Black Friday and Cyber Monday flash deals.
Features-wise, NameSilo offers several advanced security options to help protect domain name assets. The company's Domain Defender, for example, helps protect customer accounts and domains from unauthorized access and malicious attacks. It even remains effective in the case that a hacker compromises one's username and password.
NameSilo also offers quick and easy registration, transfers, and renewals, focusing on usability via powerful domain management tools.
15. West263 International Limited (Hong Kong): 3.5 Million Domains
West263 International Limited owns the hosting company hkdns.hk, which is also referred to as Global Wanwei.
The Hong Kong-based company provides internet-related products and services to customers worldwide, including cloud servers, website construction, and corporate mailboxes. It has registered 3.5 million domains to date.
The company is an ICANN-certified domain name registrar that's also certified by the China Internet Network Information Center (CNNIC). Global Wanwei offers 110 TLDs in total. The three most popular are .icu (1.6 million registrations), .cn (more than 663,000 registrations), and .com (nearly 494,000 registrations), according to Domain Name Stat.
Ultimately, Global Wanwei aims to provide convenient and safe domain management via features like batch queries, offline registration, free transfers, automatic renewals, and privacy protection.
16. Wild West Domains, LLC: 3.1 Million Domains
Like Tucows and PDR, Wild West Domains offers its services to resellers, not directly to customers. Unlike its counterparts, Wild West Domains operates as the reseller arm of GoDaddy.
The registrar, founded in 2002, is ICANN-accredited and known for its knowledgeable customer service, talented product development staff, and strong company backbone.
The company provides customer support via telephone 24 hours a day, seven days a week, and 365 days a year.
According to the Wild West Domains website, the majority of issues are resolved within 72 hours when an escalation is required. If you're in the reseller market, this company is one to consider.
17. Chengdu West Dimension Digital Technology Co., Ltd.: 2.9 Million Domains
Chengdu West Dimension Digital Technology Co., Ltd., which operates under the website West.cn, is a Chinese domain registrar with 18 years of experience. The company shines in terms of registrations for new TLD domain names.
In 2015, The Domains reported that Chengdu temporarily surpassed GoDaddy in terms of domains registered with new domain extensions. As of late November 2020, Chengdu had long lost that title but still registered 1.4 million new TLD domain names, or 4% of the market share, according to nTLDStats.
Today, the company's most popular domain extensions are .com (1 million registrations), .wang (327,000 registrations), and .icu (288,924 registrations).
When it comes to new TLDs, .icu (an acronym for I See You) is one to watch. On May 29, 2018, the Luxembourg-based ShortDot SA registry announced that .icu domain registrations were officially open to the public.
".icu, shorthand for 'I See You,' is a new extension designed to provide an easy, innovative, and universal alternative to traditional domains," ShotDot representatives NameSilo. "The extension already has over 100 registrars in more than 30 countries signed up to distribute the names to end users."
18. FastDomain Inc.: 2.7 Million Domains
FastDomain is a sister company to BlueHost and HostMonster and a wholly-owned subsidiary of Endurance International Group Holdings, Inc. Formerly known as BizLand, Endurance International Group (EIG) Holdings is an international hosting and IT services company that was founded in 1997 and is headquartered in Burlington, Massachusetts. In addition to FastDomain, EIG owns several major hosting companies, including HostGator and A Small Orange.
Founded in 2005 and based in Temple, Arizona, FastDomain is known for powering business and personal websites at affordable rates. The company has long aimed to offer superior customer service from a veteran hosting team, quality equipment, high uptime rates, functional administration tools, and secure backups.
On the domain side, FastDomain offers several perks, including a free domain name for one year with each hosting contract and support for international domain names. The company, which has registered 2.7 million domains, also offers unlimited and secure POP3 and IMAP email support.
According to Domain Name Stat, FastDomain currently offers 11 TLDs. The company's most popular TLDs are .com (2.3 million registrations), .org (205,727 registrations) and .net (166,534 registrations).
19. Xin Net Technology Corporation: 2.6 Million Domains
Xin Net may have registered 2.6 million domains, but it had to navigate significant trouble along the way. In 2009, Network World reported that a security expert was calling for action against the company for facilitating spam and cybercrime online.
"Xin Net came in at the top spot on a list of the most abused registrars released earlier this year by KnujOn, an organization dedicated to fighting spam," author Jeremy Kirk stated. "From June 2008 through February, KnujOn said it found 34,283 illicit domains linked to Xin Net, covering unregulated prescription drugs, pirate software, and counterfeit consumer goods."
On January 17, 2018, ICANN sent an official notice of a breach to Xin Net Technology Corporation for failure to pay past-due accreditation fees and noncompliance in several areas. By February 6, 2018, the company remedied the violations, according to ICANN.
20. Dynadot, LLC: 2.5 Million Domains
Dynadot is an ICANN accredited domain name registrar and web host founded in 2002. The company's headquarters are located in San Mateo, California, with additional offices in Canada and China.
The company, which has registered 2.5 million domains as of this writing, is the last on our list, but it stands out for other reasons. With Dynadot's Grace Deletions feature, for example, users can register multiple domains and return the ones they don't like for a small fee within a specified number of hours.
Dynadot was also one of the first registrars to offer Internationalized Domain Names (IDNs). As of 2020, English was the top languages by population (370 million speakers), followed by Mandarin Chinese (921 million speakers) and Hindi (342 million speakers).
As internet usage increases across the globe, demand for international domains will likely rise accordingly.
Standard Code for Information Interchange (ASCII) domains are based on the English alphabet and limited to dashes, the characters A-Z, and the numbers 0-9. Non-ASCII domain names, or IDNs, may contain non-ASCII characters such as Chinese, Arabic, or Russian.
An Alternative Route: Purchase Domain Management Services from a Web Host
If you've made it this far in our guide, you deserve a pat on the back. You also know that many domain registrars will also provide users with a web hosting service. In this guide, nearly every domain registrar is also a web host — with the exception of Tucows, PDR, and Wild West Domains, all of which do not sell directly to consumers.
That's why, it makes sense that in addition to exploring your options in terms of domain providers, it's a good idea to vet your hosting providers as well. Many web hosting providers will throw in free domain registration, domain transfer, or SSL certificate services within a larger hosting plan to draw in customers. But you still need to make sure that the hosting plan that comes with that free domain is right for you.
The best web hosting providers meet enormous challenges across the board, offering shared, virtual, and dedicated hosting with high uptime guarantees, 24/7 support via chat and phone, and affordable price points.
Ultimately, the best hosting package for each customer depends heavily on individual needs. Money-back guarantees, packages optimized for WordPress and WooCommerce, and managed hosting services are the icing on the cake.
The intricacies of choosing to build the perfect web host may be another story — but rest assured, it's one that we're already written. In addition, Hosting Advice team members have compiled our first-hand experiences into cost comparisons and in-depth reviews designed to make navigating the market a little easier.
To add another twist, there are also situations where you don't need your own domain to host a website, but you may have to deal with obtrusive branding and risks that free web hosting services will shut down, taking your site with it.
Whatever path you choose toward building a web presence, remember: reading the fine print is essential. Happy domain shopping!
Advertiser Disclosure
HostingAdvice.com is a free online resource that offers valuable content and comparison services to users. To keep this resource 100% free, we receive compensation from many of the offers listed on the site. Along with key review factors, this compensation may impact how and where products appear across the site (including, for example, the order in which they appear). HostingAdvice.com does not include the entire universe of available offers. Editorial opinions expressed on the site are strictly our own and are not provided, endorsed, or approved by advertisers.
Our Editorial Review Policy
Our site is committed to publishing independent, accurate content guided by strict editorial guidelines. Before articles and reviews are published on our site, they undergo a thorough review process performed by a team of independent editors and subject-matter experts to ensure the content's accuracy, timeliness, and impartiality. Our editorial team is separate and independent of our site's advertisers, and the opinions they express on our site are their own. To read more about our team members and their editorial backgrounds, please visit our site's About page.