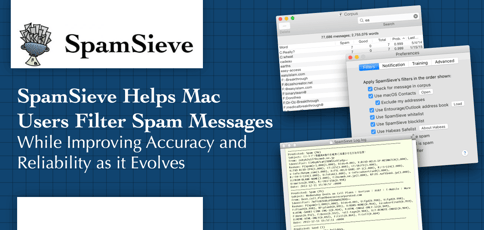 TL; DR: C-Command's SpamSieve has helped Mac users eliminate spam from their email inboxes for more than 17 years. The solution differentiates itself by working within a user's email application, rather than as a separate app or cloud-based service layer. And SpamSieve offers a broad range of customizable, innovative spam-blocking features that ensure a clean experience. The solution also incorporates a hybrid technique that leverages machine learning and statistical filtering to learn new spam patterns.
The first spam message was sent in 1978 by the marketing manager for a computer vendor to promote the company's products. Then, as now, many recipients bemoaned the unwanted solicitation — but others placed orders. With that successful campaign, spam had arrived, and it has been an annoyance for email users ever since.
Unsolicited bulk emails account for 14.5 billion messages per day, globally. That means spam could make up as much as 45% of all emails. And a significant amount of those messages evade filter systems designed to keep them out, ending up in the recipient's inbox alongside important communications.
Spam today is also far from harmless junk mail. Instead, the messages are often loaded with malware, including viruses and phishing attacks. According to Kaspersky, spam poses a legitimate threat to both individuals and organizations.
That's why C-command designed SpamSieve as a robust defense against unwanted — and potentially harmful — spam messages.
The solution caters to Mac email clients and over its 17 years in operation has won the praise of its loyal clientele. And those users continue to play an integral role in shaping the product's development, as C-Command Founder Michael Tsai said feedback helps his team continually improve the product.
"SpamSieve aims to be the most accurate spam filter available and be highly adaptable to user preferences and requirements," Michael said.
An Anti-Spam Solution Born of its Founder's Frustration
Michael founded C-Command in 2002, at a time when spam levels were starting to escalate and become a significant problem for Mac devotees. This trend coincided with the expansion of the Mac installed base that came with the launch of Mac OS X version 10.0 operating system — aka Cheetah — the year before.
The early-2000s were also a heady era for Mac software development, and visitors to c-command.com might wonder if they are seeing somewhat of an homage to website design from that era. It offers no fancy graphics or embedded videos, just simple imagery, helpful information, and straightforward product guidance.
SpamSieve is now part of the C-Command software portfolio that includes a file organizer (EagleFilter), DMG management (DropDMG), and Bluetooth headphone connector (ToothFairy) utilities, among others.
Judging by the page of SpamSieve satisfied user testimonials, the product seems to be hitting its mark. C-Command also hosts an on-site forum for SpamSieve users to post questions and exchange advice.
"I started to develop SpamSieve for personal reasons," said Michael. "At the time, I ran a website, which meant I received tons of emails — including tons of spam. But I couldn't find any effective tools to help me block it. Eventually, I decided to do something about that situation myself. So SpamSieve was conceived to address my own email pain points."
Keeping Pace with an Ever-Challenging Onslaught of Messages
Despite its enthusiastic user base and constant adoption, development on SpamSieve is ongoing. Like many other forms of software, spam has evolved during the years of SpamSieve's existence, and the product must keep pace with the latest iterations and techniques.
"Types of spam have changed and evolved. Spammers always try to work out what the filters are doing to see if they can adapt their messages to beat them and get through to the inboxes," Michael said. "They've tried all kinds of tricks to obscure the content of messages, for instance, so that spam filters cannot figure out what's going on. An initial challenge for SpamSieve is to stay one step ahead of those spammer tactics."
Another challenge is in keeping C-Command's products in step with the evolution of Apple technology, Michael added. "Apple has gone through many changes with its operating systems. One of the unique features of SpamSieve is that it works inside your email program, rather than as a separate application or hosted service," he said. "And because it integrates with email programs, it has to be fully compatible with version updates, and even new email programs. So staying on top of that challenge has been a big area of focus for SpamSieve."
Because of that dedication, previous versions of the product remain available for users who prefer to stick with older iterations of their email system. Currently, SpamSieve is designed to work with selected versions of Apple Mail, Airmail, GyazMail, MailMate, Mailsmith, Microsoft Outlook, Postbox, and PowerMail.
SpamSieve also differentiates itself through its unlimited use pricing model, and covers those eight popular Apple-specific email systems — including many of their past versions.
A Filtering Configuration that Scales with User Requirements
SpamSieve's feature set combines both innovative and common-sense functionality. For example, it automatically maintains a whitelist to guarantee that messages from previous correspondents are not marked as spam. It also keeps a blocklist to stop any spam messages sent from particular addresses. SpamSieve users can customize their whitelists and blocklists and even add their own rules.
Color indication shows how "spammy" a message is, so users can quickly focus on the borderline instances if they want to check SpamSieve's work. SpamSieve can also take over the job of new mail notification from its email client host, and notify only when new non-spam messages come in. SpamSieve also looks inside attachments for spam-like content, even when the message itself appears empty.
"With a tool like this, most users just want it to do its job," Michael said. "They don't care about the underlying technology, as long as it works. So we aim to make it so that most users can install it and forget about it because it does its job in the background."
But that doesn't mean it isn't customizable.
"If users want to go in and tweak SpamSieve, set different rules for filtering different message types, etc., they can customize it. We have a product that's scalable in that it can scale for different types of users, from the casual to the most demanding," Michael said.
Machine Learning and Bayesian Analysis Aid in Spam Detection
Michael told us SpamSieve leverages a combination of machine learning technology and Bayesian analysis to spot spam.
"Bayesian spam filtering is highly accurate and adapts to new types of spam messages in the field," Michael said. "Users can train SpamSieve with examples of good mail and spam. Then, when they receive a new message, SpamSieve looks at how often its words occur in spam messages versus non-spam messages. Lots of spammy words mean that the message probably is spam. However, the presence of words that are common in a user's good email — but rare in spam messages — can tip the scales the other way."
That comprehensive approach allows SpamSieve to catch just about every spam message, with few false positives (or legitimate messages mistakenly identified as spam).
"It's imperative that users can trust the filter," Michael said.
Because users have the option to train SpamSieve with their own mail, they have complete control of the result, according to Michael.
"If SpamSieve makes a mistake, it can be trained with the message in question so that it will perform better in the future," Michael said. "As spammers don't have access to the messages you trained SpamSieve with, they have no way of knowing how to change their messages to get through to your inbox."
Whereas other spam filters become less effective as spammers figure out their rules, SpamSieve becomes more effective over time because it has a larger set of user spam message data.
Customer Feedback Continues to Inform Features and Direction
SpamSieve was built to solve its creator's pain point, but its appeal derives from its ability to serve as a value-added spam filter for email on Mac systems. Since the solution doesn't rout emails through external servers and clouds, or hold passwords, all of its operations are confined to the user's secure environment.
And while it is quite capable of getting the job done out of the box, it also offers levels of control that leverage advanced self-learning filtering for more hands-on users.
SpamSieve's features reflect decades of customer feedback that has folded into new iterations of the solution.
"We're led by customer feedback. I do support myself, and see a lot of feedback from users," Michael said. "They come up with some great ideas. Many features that have been added to SpamSieve came about as a result of end-user suggestions."
For example, SpamSieve added a function that enables users to reconfigure it from a remote Apple device.
"Users can set SpamSieve on their Macs to keep spam off of their iPhone, iPad, or iPod Touch," he said. "The Mac has much more bandwidth and processing power, so it makes sense to do the spam filtering there, anyway. When you check for mail on your iPhone, you won't waste time or battery power downloading or processing spam messages."
Advertiser Disclosure
HostingAdvice.com is a free online resource that offers valuable content and comparison services to users. To keep this resource 100% free, we receive compensation from many of the offers listed on the site. Along with key review factors, this compensation may impact how and where products appear across the site (including, for example, the order in which they appear). HostingAdvice.com does not include the entire universe of available offers. Editorial opinions expressed on the site are strictly our own and are not provided, endorsed, or approved by advertisers.
Our Editorial Review Policy
Our site is committed to publishing independent, accurate content guided by strict editorial guidelines. Before articles and reviews are published on our site, they undergo a thorough review process performed by a team of independent editors and subject-matter experts to ensure the content's accuracy, timeliness, and impartiality. Our editorial team is separate and independent of our site's advertisers, and the opinions they express on our site are their own. To read more about our team members and their editorial backgrounds, please visit our site's About page.