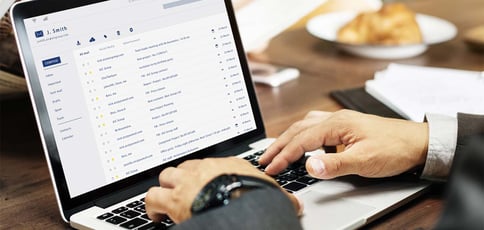 Today's best webmail hosting services dramatically increase the efficiency and speed at which you can communicate — long gone are the days of carrier pigeons and the Pony Express.
Email is one of the most popular forms of communication in both personal and professional settings and is now an essential component of day-to-day life. In fact, more than 3.9 billion email users send more than 293 billion messages each day, according to the 2019-2023 projections from the Radicati Group market research company.
Webmail enables users to send and receive emails from any device as long as there's an internet connection available. Even though there are tons of options for webmail, certain services rise far above the rest when it comes to the hosting behind your account. We'll help you pick which ones work best, whether you're looking to use a free domain, want the simplicity of cPanel, or just want to learn more about the difference between email and webmail.
Best Overall Webmail Hosting Services
Generally speaking, webmail is an online-based email service that enables users to access their inboxes without the need to install any software. You simply sign up for an email address, either from your web hosting provider or a cloud-based service like Gmail, and navigate to that email provider's website to log in to your account; you can do so from any device, anywhere.
Webmail clients are the programs or companies that provide that web-based email access. In mid-2019, Gmail narrowly edged out the iPhone's mail app to become the world's most popular email client. For small businesses or professionals wanting their email address to echo their domain name (email@yourdomain.com instead of email@gmail.com), you'll want to separate your hosting from the webmail-only companies.
Web hosting unites your website, domain registration, and webmail under one easy-to-manage account. In addition to providing the server firepower and security systems needed to safely send and receive messages, hosts will make several webmail options available to customers. Here are our five favorite organizations for webmail hosting that deliver rich feature sets, user-friendly interfaces, and extra control to users.
Best Webmail Hosting With Free Domain
A key feature of hosted webmail services is the chance to break free from generic Gmail, Yahoo, or Hotmail email addresses. With a hosting plan, you can create a customized, brand-specific email address (e.g. yourname@yourdomain.com), which will appear more impressive and trustworthy to potential employers and customers.
In fact, 77% of consumers trust businesses with domain-specific email addresses, while 64% have little to no trust in an organization that uses free email accounts. That customer trust, of course, turns into additional revenue and profits.
In addition to helping configure email services for their customers, many of the best hosting providers will also provide one year of domain name registration for free. You'll have to renew the domain each year if you want to keep it, but the free registration helps site owners get off the ground and start sending emails much quicker. Take a look at our top-rated hosts for domains:
FREE domain registration and transfer
Unlimited disk space, domains, and databases
$200 toward Google AdWords and Bing advertising
Unlimited bandwidth and email addresses
FREE online store and website builder
iPage: Our Expert's Review
Setup time: 5 minutes
Go to full review

»
With iPage domain hosting, users get a free domain name registration or a free domain transfer, and can host unlimited domains. The company offers unlimited bandwidth and emails, plus $200 in advertising credits to help get your website launched….
| Money Back Guarantee | Disk Space | Domain Name | Domain Hosting Plans |
| --- | --- | --- | --- |
| 30 days | Unlimited | FREE (1 year) | www.ipage.com/domain |
FREE domain registration and site-building tools
Unlimited domains, emails, and bandwidth
Up to $200 in offers with Google, Bing, and Yahoo!
Top-ranked WordPress host with tons of perks
24/7 customer support and online tutorials
Bluehost: Our Expert's Review
Setup time: 4 minutes
Go to full review

»
Bluehost offers all the freebies you need to get started with domain hosting. The company includes a free domain or transfer, plus unlimited bandwidth and storage.
| Money Back Guarantee | Disk Space | Domain Name | Domain Hosting Plans |
| --- | --- | --- | --- |
| 30 days | 50 GB - Unlimited | FREE (1 year) | www.bluehost.com/domain |
World's largest domain registrar with 17+ million domains under management
FREE domain included with annual plans
Manage your domains via cPanel or Plesk
FREE email hosting at your domain
99.9% website uptime guaranteed
GoDaddy: Our Expert's Review
Setup time: 4 minutes
Go to full review

»
We'd be remiss not to include GoDaddy on this list of the top domain name hosting providers. Perhaps the most well-known name in the domain space, GoDaddy is widely recognized as the world's top registration services company, and the $1 hosting is tough to beat….
| Money Back Guarantee | Disk Space | Domain Name | Domain Hosting Plans |
| --- | --- | --- | --- |
| 30 days | 100 GB - Unlimited | FREE (1 year) | www.godaddy.com/domain |
Best Webmail Hosting With cPanel
Known for its simplicity and seamless automation capabilities, cPanel is among the most popular features included in user-friendly web hosting plans. The control panel gives users a graphical way to manage and set up their hosting account instead of having to learn the command line interface.
From cPanel, you can access your website files, set up databases, and install popular applications like WordPress, MediaWiki, and others. The platform also includes icons for setting up and checking your webmail, plus access to popular webmail applications, including Horde and RoundCube (more on those later).
Fortunately, cPanel is often included in most of the highest-rated cheap hosting plans at no additional cost. Check out three of our favorite hosts that offer cPanel along with tons of webmail perks and email accounts:
Secure logins for cPanel and WebMail
1-click WordPress installation and ad credits
FREE domain and FREE site-building tools
Expert support available 24/7
Easy access to email tools and site statistics
Bluehost: Our Expert's Review
Setup time: 4 minutes
Go to full review

»
Powering more than two million websites, Bluehost has trusted experts and simple-to-use features to help get your website running and thriving. From a free domain name to 1-click WordPress installation, the company offers everything you want from a cPanel host….
| Money Back Guarantee | Disk Space | Domain Name | cPanel Hosting Plans |
| --- | --- | --- | --- |
| 30 days | 50 GB - Unlimited | FREE (1 year) | www.bluehost.com/cpanel |
SSH and cPanel for easy hosting management
FREE website builder included
Install your choice of CMS or web application
Unlimited emails, site traffic, and databases
FREE account transfer, daily backups, and support
SiteGround: Our Expert's Review
Setup time: 6 minutes
Go to full review

»
SiteGround makes it simple to get started with cPanel hosting, beginning with free setup and migration assistance. Easily manage your unlimited databases, email, and domains from the user-friendly and sought-after control panel, cPanel….
| Money Back Guarantee | Disk Space | Domain Name | cPanel Hosting Plans |
| --- | --- | --- | --- |
| 30 days | 10 GB SSD - 30 GB SSD | New or Transfer | www.siteground.com/cpanel |
Manage your site via cPanel
FREE domain and 1-click installer with 300+ apps
Business-class hardware and email spam filtering
Gain exposure with up to $250 of FREE ad credits
FREE data backups and 24/7 US-based support
InMotion: Our Expert's Review
Setup time: 5 minutes
Go to full review

»
If you're in need of a cPanel host for business, try InMotion. They feature real-time email spam filtering and free SSDs for ultra-fast speeds.
What is the Difference Between Email and Webmail?
On its face, comparing email and webmail is pretty straightforward: email is an electronic message sent across the internet, while webmail is the online interface that lets you send, open, and read the communications.
Where it gets a little murkier, however, is understanding the contrast between webmail and email clients. Introducing the word client means that we're referencing the software or application being used to access your inbox or sent mail folders.
In this comparison, webmail platforms run through a web browser and enable users to access their messages whenever they have an internet connection. Webmail includes services like Gmail, Yahoo, and Hotmail.
Email clients retain as much (if not more) of the same functionality, but is software installed directly on your laptop or mobile device. Those programs, such as Microsoft Outlook, Apple Mail, or Mozilla Thunderbird, connect to your email server and download the information to your devices.
As you may imagine, webmail interfaces tend to be more popular for their portability, security, and compatibility, but users of desktop email clients prefer their softwar usually because they're managing multiple email accounts or need a more vigorous backups solution.
Which Webmail Application is Best?
According to the Litmus Email Analytics study, Gmail and the Apple iPhone email client each attracts roughly 28% of the email market worldwide, with runners-up, like Outlook, Yahoo, and other Apple and Andriod devices, lagging rather far behind. Slightly more email users access their inboxes from mobile devices than from a web browser, but both platforms vastly outpace traditional desktop email clients, which register as just 18% of the market.
It's safe to say that webmail clients have stiff competition from established device manufacturers and tech giants. But it's tough to beat the webmail applications from Gmail, Outlook.com, and Yahoo, given their fine-tuned interfaces, trusted reputations, and sheer functionality.
Webmail applications are also popular with open-source developers seeking an alternative, cost-effective, and well-supported experience. Here's a list of other top webmail clients:
When it all comes down to it, webmail is a very personal experience. What works best for one person or small business may not be your first (or second or third) choice. The vast majority of webmail applications are free, so take your time trying each one out to see which one fits most comfortably with your natural habits and technical requirements.
What are the Advantages of Using Webmail?
Right off the bat, webmail appeals to individual site owners and small businesses thanks to its zero-dollar price tag. Using a free webmail service like Gmail or Yahoo unlocks all you need to send and receive messages.
Beyond the no-cost price tag, webmail offers an incredible amount of flexibility. No matter where you are, you can get into your inbox as long as you have an internet connection. Updates to the platform happen automatically and in the background, and your inbox will always be synced to multiple devices if you choose.
On the other hand, the disadvantages of webmail include storage limits, restrictions on attachment size, and general concerns about security. For example, you wouldn't want to access your webmail from a public computer for fear of compromising your account. Even the big names in webmail aren't safe, as attackers recently compromised Microsoft-based email accounts on Outlook.com, MSN, and Hotmail.
As with most free hosting options, you'll likely have to deal with the advertisements, along with scaled-back features and performance. And email client customer support isn't always known for being the best whether it be for a desktop or webmail platform.
Which Email Hosting is Best?
A lack of webmail support is a problem that many people experience, but it's an issue that can be best solved by a web host. Website and email hosting providers fare much better than webmail clients when it comes to creating happy customer experiences. Even better, email hosting support representatives cover all the added services like WordPress, website builders, email, and, you guessed it — webmail.
Many email hosts give customers the ability to create unlimited addresses and inboxes, complete with unrestricted storage. Hosts often provide their own webmail client as part of their account management services, while plans that come with the popular management interface cPanel can find a few other popular webmail options like the ones listed above.
When searching for the best email hosting, we understand that cost is one of the top factors guiding your decision. The companies we've reviewed and tested below come with the biggest bang for the buck, plus all the key features you'll need to get sending and receiving messages.
FREE software for webmail, newsletters, contact forms, list management, and spam filtering
Unlimited inboxes, forwarding & autoresponders
Secure POP3, IMAP, and SMTP messaging
Unlimited storage and transfer with FREE SSL
Get more than 50% off today (was $7.99/month)
A2 Hosting: Our Expert's Review
Setup time: 4 minutes
Go to full review

»
Combining the internet's most popular and secure email technologies with high-speed and reliable infrastructure, A2 Hosting ensures your messages are delivered on time. As a recipient, you'll appreciate the company's multiple spam filtering programs….
| Money Back Guarantee | Disk Space | Domain Name | Email Hosting Plans |
| --- | --- | --- | --- |
| 30 days | Unlimited SSD | New or Transfer | www.a2hosting.com/email |
FREE domain and unlimited emails
Secure email with 3 webmail solutions
$200 in advertising credits with Google and Bing
Google app integration available
FREE Office 365 mailbox for your first 30 days
Bluehost: Our Expert's Review
Setup time: 4 minutes
Go to full review

»
For email hosting with security and tons of available features, Bluehost is one of our favorites. The company includes a free domain name for a year, POP3 and IMAP security for unlimited emails, plus email forwarding and three web-based email solutions….
| Money Back Guarantee | Disk Space | Domain Name | Email Hosting Plans |
| --- | --- | --- | --- |
| 30 days | 50 GB - Unlimited | FREE (1 year) | www.bluehost.com/email |
FREE site transfers and 1-year domain registration
Unlimited domains, storage, and email addresses
Email forwarding, autoresponders, and webmai
Market your site with $200 in ad credits
FREE online store and site-building tools
iPage: Our Expert's Review
Setup time: 5 minutes
Go to full review

»
With iPage, users get a free domain name and email account, plus unlimited bandwidth, disk space, domains, and MySQL databases. The brand offers POP3/IMAP support for unlimited emails, plus autoresponders, virus checking, and spam filters….
| Money Back Guarantee | Disk Space | Domain Name | Email Hosting Plans |
| --- | --- | --- | --- |
| 30 days | Unlimited | FREE (1 year) | www.ipage.com/email |
See other top email hosting options »
Learn to Leverage Your Webmail and Email Marketing Tools
The best email hosting plans can help small businesses and entrepreneurs increase their revenue streams. Finding strong email marketing programs can help you reach new customers, reconnect with those who may have abandoned a cart, or assist customers having trouble.
When done right, email marketing can have a massive return on investment. Thanks to the low cost and general simplicity of sending emails, that marketing channel can return up to $43 for every $1 you spend. Plus, email marketing doesn't have to break the bank — you can find several free services that get you up and running with user-friendly tools as soon as you sign up.
According to a study from Shop.org and Forrester research, 85% of U.S. retailers considered email marketing to be one of the most impressive ways to attract new customers. Once they're on board, existing customers are 50% more likely to try new products and will spend roughly 30% more.
Whether you run a nonprofit organization, small business, or large enterprise, webmail is a massively scalable platform ready to meet the needs of a demanding marketplace.
Advertiser Disclosure
HostingAdvice.com is a free online resource that offers valuable content and comparison services to users. To keep this resource 100% free, we receive compensation from many of the offers listed on the site. Along with key review factors, this compensation may impact how and where products appear across the site (including, for example, the order in which they appear). HostingAdvice.com does not include the entire universe of available offers. Editorial opinions expressed on the site are strictly our own and are not provided, endorsed, or approved by advertisers.
Our Editorial Review Policy
Our site is committed to publishing independent, accurate content guided by strict editorial guidelines. Before articles and reviews are published on our site, they undergo a thorough review process performed by a team of independent editors and subject-matter experts to ensure the content's accuracy, timeliness, and impartiality. Our editorial team is separate and independent of our site's advertisers, and the opinions they express on our site are their own. To read more about our team members and their editorial backgrounds, please visit our site's About page.