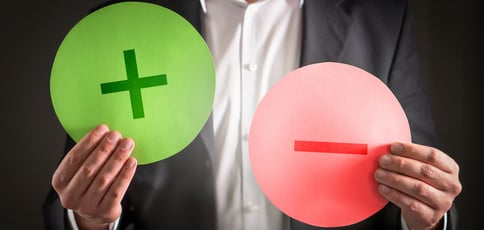 Assessing the pros and cons of web hosting helps new or aspiring website owners figure out which services and providers are the best fit for their needs. Writing out a list of the advantages and disadvantages of a particular choice — whether it's to have tacos for dinner or deciding on which apartment to rent — is a long-established part of the decision-making process.
You may be debating whether to house your website on your on-premises infrastructure or if you even want to open the web hosting can of worms in the first place. We've already explored the benefits of each web hosting service, from shared to dedicated servers, but here we'll take a broader view of the concepts you need to know as you shop for hosting.
Pros of Web Hosting
Pros and cons lists date back as far as 1772 and can even count Benjamin Franklin among its many fans. The simple methodology promotes rigorous analytical thinking, but many experts use the process as only a high-level, preliminary thinking aid when facing critical decisions such as where or how to host your business website or application.
We are obviously big fans of all (well, most) things web hosting that enable site owners to design and display an online presence without having to learn how to code or optimize and secure a network. Let's take a look at some of the biggest advantages of finding the right hosting plan.
1. Surprisingly Affordable Prices
Thanks to the rampant competition in the industry — particularly with beginner-friendly shared hosting plans — customers and site owners can score some rather incredible deals. Web hosting is a market where the word cheap doesn't necessarily mean shoddy or subpar. Hosting providers are clamoring to offer the extra features, stronger security, better support, faster performance, or easiest design tools needed to attract your business.
According to a report from Market Research Future, prominent hosting companies must continually innovate and expand a cost-effective product portfolio to survive and gain traction in the industry. As a result, you can choose from a plethora of top-tier hosting services for less than $5 per month. Here are some of our favorite deals:
Unlimited everything, from storage to databases
FREE site builder & WP performance upgrades
FREE daily or weekly backups
Custom control panel and auto-installation scripts
SSH access & unlimited FREE SSL certificates
CHEAP
RATING 4.9 ★★★★★ Our Review
Hostinger: Our Expert's Review
Laura Bernheim (HostingAdvice.com): As the shared hosting market becomes increasingly saturated, unlimited storage, bandwidth, and email accounts have become surprisingly average. Hostinger, however, extends the routine, expected metrics to greater lengths — the number of websites, databases, FTP users, subdomains, and parked domains are all unrestricted for most customers. Go to full review »
| Money Back Guarantee | Disk Space | Domain Name | Setup Time |
| --- | --- | --- | --- |
| 30 days | 50 GB SSD - 200 GB SSD | FREE (1 year) | 3 minutes |
FREE cPanel integration and Softaculous apps
Auto daily backups and web application firewall
Reliable and redundant cloud servers
FREE SSL encryption and website migration
99.99% uptime guarantee
CHEAP
RATING 4.8 ★★★★★ Our Review
HostArmada: Our Expert's Review
Lynn Cadet (HostingAdvice.com): HostArmada's cloud network spans four continents, with datacenters in Europe, the US, Asia, and Australia. Its server redundancy and website optimization features allow users to run stable and performant sites for end users across the globe while running a simplified hosting environment. Go to full review »
| Money Back Guarantee | Disk Space | Domain Name | Setup Time |
| --- | --- | --- | --- |
| 45 days | 15 GB SSD - 40 GB SSD | FREE (1 year) | 3 minutes |
$1/month for 12 months
No hidden fees, pay just $12 at checkout
Easy setup and 24/7 expert support
FREE domain or transfer, plus FREE SSL certificate
Unlimited storage and databases with most plans
CHEAP
RATING 4.8 ★★★★★ Our Review
1&1 IONOS: Our Expert's Review
Alexandra Anderson (HostingAdvice.com): If budget is the main factor on your mind when searching for your next web host, search no more. 1&1 IONOS has an impressive range of robust web hosting and website building packages for what may be the best price we've ever seen in the world of hosting. Go to full review »
| Money Back Guarantee | Disk Space | Domain Name | Setup Time |
| --- | --- | --- | --- |
| 30 days | 10 GB - Unlimited | FREE (1 year) | 4 minutes |
See other top affordable hosts »
2. Performance is a Top Priority
Just like runners crossing the finish line, the first website to load wins fame and glory. Web hosting performance has a direct impact on the traffic your site attracts and how many readers you convert to customers, as 1 in 4 visitors will abandon a site if it takes longer than four seconds to load. Instead of slaving away and painstakingly optimizing your network and infrastructure manually, hosts leverage the expertise of dozens or even hundreds of system administrators in massive datacenters to ensure their customers' sites appear as quickly as possible.
In addition to pairing customers with free access to content delivery networks, which reduces load times by storing files and cached pages on servers as geographically close as possible to visitors, hosts can choose to deploy more modern technologies in their servers. A solid-state drive, or SSD, is always a good sign that a provider values customer success by offering them high-quality services. Although the storage device is more expensive, SSDs can transfer data up to 20 times faster than traditional hard disk drives. The host listed below is our go-to option for high-speed hosting:
FREE SSD speed and optional Turbo Server
1-click installs for all popular apps and scripts
FREE CloudFlare CDN and A2-optimized caching
Get up to unlimited domains and databases
Help from the Guru Crew available 24/7
SSD
RATING 4.7 ★★★★★ Our Review
A2 Hosting: Our Expert's Review
Alexandra Anderson (HostingAdvice.com): A2 Hosting aimed to conquer SSD hosting long before it became a trend. With free SSDs, optimized software, and the host's in-house-built Turbo Servers, your website will experience screaming-fast page loads. Go to full review »
| Money Back Guarantee | Disk Space | Domain Name | Setup Time |
| --- | --- | --- | --- |
| 30 days | 100 GB SSD - Unlimited SSD | New or Transfer | 4 minutes |
See other top hosts for performance »
3. Tons of Free Perks
What good is that cheap, fast web hosting plan if you can't do much with it? In the quest to provide customers with easy-to-use and comprehensive services, many hosts prefer to hook up customers with hundreds of free features and tools that cover seemingly everything you'd want to do with server space.
From a graphical control panel interface and free email accounts to SSL certificates and hundreds of one-click software installations, customers can find easy ways to access the programs and services they're most interested in. We opted to focus on our favorite host for easy WordPress installations, but you can also find superb options for website builders, ecommerce, and countless other specialties.
Recommended by WordPress.org since 2005
Automatic WordPress updates and initial install
FREE WordPress themes in the Bluehost Marketplace
24/7 support via live chat, phone, and email
Get exclusive discounts on WordPress plans
WORDPRESS
RATING 4.9 ★★★★★ Our Review
Bluehost: Our Expert's Review
Ryan Frankel (HostingAdvice.com): Bluehost's WordPress hosting packages are aimed at first-time site owners and personal bloggers. These services come at a premium compared to the standard Bluehost web hosting (basic shared hosting) plans, but the WordPress optimization and platform-specific resources are arguably worth the cost. Go to full review »
| Money Back Guarantee | Disk Space | Domain Name | Setup Time |
| --- | --- | --- | --- |
| 30 days | 50 GB SSD - 100 GB SSD | FREE (1 year) | 7 minutes |
See other top WordPress hosts »
4. Hands-On Expert Support
Once you're equipped with all the tools you'll need to succeed (and then some), perhaps one of the most comforting advantages of web hosting plans is the army of customer support agents available to help 24/7 in case something goes wrong. Pretty much any host worth your interest should offer around-the-clock support via phone, chat, and email, with bonus points going to those companies that prioritize fast response times, employ knowledgeable experts, and supply extensive knowledge base articles and tutorials.
SiteGround is synonymous with the best web hosting support, having built multiple proprietary systems and promising responses to email support tickets in 10 minutes or less. Learn more about the experts by clicking on our review below:
FREE site transfer or new site setup
FREE daily backups, CDN, email, and SSL
24/7 expert support with no wait on phone or chat
Recommended by WordPress as a top host
Ideal for business email hosting
BEST OVERALL
RATING 5.0 ★★★★★ Our Review
SiteGround: Our Expert's Review
Alexandra Anderson (HostingAdvice.com): With an impressive breadth of overall hosting services offered, SiteGround is a leading innovator in the hosting space — from custom software solutions to premier customer support. The company offers the full range of web hosting features, including a free Cloudflare CDN, cPanel with SSH access, and unlimited MySQL databases and bandwidth — not to mention prize-worthy customer support. Go to full review »
| Money Back Guarantee | Disk Space | Domain Name | Setup Time |
| --- | --- | --- | --- |
| 30 days | 10 GB SSD - 40 GB SSD | New or Transfer | 6 minutes |
Cons of Web Hosting
Rainbows may be beautiful, but you wouldn't be able to see them if not for the rain. Web hosting is a complicated, tangled mess of wires and cables that few people understand. The cutting-edge technologies can add some stress to the site-owning experience if they aren't implemented properly or completely understood.
Much of these drawbacks can be alleviated by skipping over the free or bargain-basement hosting services in favor of seeking a reputable, established provider already serving thousands or millions of customers. Be sure to do your research to avoid being ensnared by one of these potential pitfalls of web hosting:
1. Not Necessarily Having the Room to Grow
If you sign up for a shared hosting plan, as most novices and aspiring developers do, you'll be sharing a server with hundreds or thousands of other customers. Given the finite resources available, you'll be slightly constrained if your website or big idea becomes a viral sensation. Many of our favorite affordable providers tout unlimited hosting resources, but you still may be penalized for exceeding a certain threshold.
The solution here is moving from shared servers into a more scalable solution like cloud or VPS hosting. These plans offer ample resources that can be allocated as you need. Cloud hosting entails leveraging a wide network of multiple servers to share the workload of delivering your website, while a virtual private server gives you more control over a much larger slice of a server's resources. Our recommended cloud provider, below, offers simple scalability at an affordable rate.
Ultimate scalability with limitless customizations
Create and deploy servers in 60 seconds
Easily add load balancers and firewalls
Stellar 99.95% uptime guarantee
Sign up today for a 30-day FREE trial
CLOUD
RATING 4.9 ★★★★★ Our Review
Kamatera: Our Expert's Review
Laura Bernheim (HostingAdvice.com): Starting with more than 60 operating system images to choose from, Kamatera is a strong option for developers who know exactly what environment works best for their project. Customize your cloud server as needed and deploy in less than a minute. Go to full review »
| Setup Time | Disk Space | CPU | RAM |
| --- | --- | --- | --- |
| 5 minutes | 20 GB SSD - 4 TB SSD | 1 - 104 cores | 1 GB - 525 GB |
2. Lax Security Protections
You see the headlines every day; seemingly no company is immune from data breaches. Storing your website data — to say nothing of potential customers' personal or financial information — in a server hundreds of miles away, in a datacenter you can't access, is certainly an exercise in trust.
Fortunately, though, the web hosting industry employs many of the world's foremost security experts, who keep an eye out for both emerging threats as well as promising solutions and safeguards. Unless you know more than they do about how to secure a network, you're probably better off following some website security best practices and finding a highly regarded company, like the one below, to protect your data.
Familiar and easy-to-use cPanel control panel
FREE drag-and-drop custom website builder
Unlimited disk space, email, and bandwidth
Flexible term lengths with no contract required
67% off your first three years
BEST OVERALL
RATING 4.5 ★★★★★ Our Review
HostGator: Our Expert's Review
Ryan Frankel (HostingAdvice.com): HostGator has been around for more than a decade and is well-respected for its large number of servers and consistent reliability. Known mostly as a shared hosting provider, HostGator still supplies decent dedicated and VPS options if you need your site to scale. Go to full review »
| Money Back Guarantee | Disk Space | Domain Name | Setup Time |
| --- | --- | --- | --- |
| 30 days | Unlimited | FREE (1 year) | 6 minutes |
3. Can Get Costly as Your Site Grows
Figuring out how much to pay for web hosting is usually a pretty straightforward endeavor, especially for your first year of service. Most new site owners will opt for a shared hosting plan, which should cost less than $5 per month. However, the introductory discounts you enjoyed that first year will expire and bump up costs either slightly or exponentially, depending on the host. Plus, with any luck, your online presence is growing and will soon need the additional resources of a cloud or VPS plan. Once you cross that bridge, web hosting prices may get prohibitive and hard to calculate.
This is another case where your upfront research will pay off in the long run. Comparing web hosting prices will separate the scammers from the best values, revealing where you can find high-quality service that doesn't break the bank. We recommend staying away from most free VPS hosting providers for anything other than development or testing purposes, but check out the value a company like Hostwinds brings to the table:
Managed or unmanaged, in Windows or Linux
Cloud hosting with hourly or monthly billing
Instant upgrades without downtime
FREE around-the-clock monitoring
Automatic nightly backups available
VPS
RATING 4.8 ★★★★★ Our Review
Hostwinds: Our Expert's Review
Laura Bernheim (HostingAdvice.com): Does any hosting provider have more virtual private server packages than Hostwinds. The company offers 10 configurations — and that's just for managed Linux server partitions. Go to full review »
| Setup Time | Disk Space | CPU | RAM |
| --- | --- | --- | --- |
| 6 minutes | 30 GB SSD - 750 GB SSD | 1 - 16 cores | 1 - 96 GB |
See other affordable VPS hosts »
Should You Host Your Own Website?
No. Trust us — just don't do it. Taking matters into your own hands probably sounds like an excitingly nerdy way to cut costs and cut out corporate interests, but neither ends up being the case. Hosting your own site inevitably leads to headaches, hassles, and an empty wallet.
Buying, installing, and configuring the hardware is challenging enough, to say nothing of the constant stream of updates and security patches that need to be installed. You'll also need a redundant high-speed internet connection, lots of time, and loads of experience — all to deliver service that probably isn't as secure or fast as what the professionals can give you.
Sure, we can tell you how to host your own website from home, but tons of experts will agree with us in providing reasons why you shouldn't. Do the research, and find the respected hosting provider that can deliver top-notch service and support for affordable rates. What's more, many of our favorites actively contribute back to open-source communities, like WordPress, helping internet users worldwide discover and use stronger and safer technologies.
If you're looking to fashion yourself into a web hosting provider, consider going the reseller hosting route. These hosting plans give you a larger portion of a server that you can then divide up and sell (or give) to clients, friends, or family. The reseller hosting path enables you to take more of an administrative role without the headaches of running your own on-prem server. Plus, you can even make a little money doing it!
What are the Different Types of Web Hosting?
Given the ultra-crowded and competitive web hosting industry, providers are clamoring to stand out with specialized services. We'll get into the niche markets later, but here are the standard hosting plans you'll encounter:
Shared hosting entails hundreds or thousands of customers sharing one server's resources. The service is extremely affordable and beginner-friendly, thanks to high levels of support and design tools.
VPS hosting reduces the number of clients on physical servers and allocates more control and flexibility. Servers are virtually partitioned into smaller environments, or virtual machines, that run independently from each other.
Cloud hosting spreads the computing workloads of virtual machines across several physical servers. Customers can easily add or remove computing resources as traffic fluctuates, and they enjoy extra redundancy and stability.
Dedicated server hosting allocates an entire physical server to one customer. While these plans include the most security, performance, reliability, and control, dedicated servers are also the most expensive.
Generally speaking, every other service fits into one of these categories. Managed hosting simply alludes to the providers taking a more hands-on approach to your site's performance and security, as well as mundane management and maintenance tasks. Reseller hosting enables entrepreneurs to start their own hosting business by portioning off parts of their computing resources to other customers.
Some services are marketed based on the software the platform is optimized to run, such as those touting WordPress hosting, website builders, and ecommerce, while others represent specific services or functionalities that might differ slightly from standard web hosting, including domain hosting and email services.
What are the Disadvantages of Free Web Hosting?
We get the allure of free web hosting — why pay for something if you can get it for free? Free web hosting plans sure seem to be a good bet, as they often seem to come with many of the same perks as our recommended high-value hosts: unlimited storage and bandwidth, email accounts, design tools, and maybe even ecommerce functionality.
But as the saying goes: If something seems too good to be true, it probably is. Many free hosting services lack the modern hardware and security protections to deliver high-quality services, and many companies resort to placing ads on their users' sites or insisting they use subdomains instead of a custom domain name. Free web hosting, at whatever level, is best used only temporarily. As long as you're aware of the dangers and potential pitfalls, free hosting can be a helpful method to try out a new idea or get comfortable with a different technology. Use it to prove a concept, then look elsewhere for long-term hosting.
Instead of searching for less-than-desirable free hosting services, look around for reputable hosts that offer lengthy money-back guarantee policies. Sure, you'll likely have to commit some funds up front, but companies like InMotion Hosting give customers more than three months to request a full refund — more time with better hosting services.
Review All Your Options When Getting Started Online
Now that you've seen all the options out there, you may be wondering: How do I choose a web host? As you may expect, though, there's no one-size-fits-all answer to that question. Certainly, the first step involves taking stock of where you need to start. Are you a first-time site owner, or are you a developer looking to finally take on a side project?
Having a realistic inventory of your tech experience, timeline, and website traffic goals will help steer you to the right type of hosting plan. You'll most likely start with shared hosting, but don't be afraid to start bigger if you're creating a website for an established brick-and-mortar business or plan on developing other websites for clients.
From there, shopping for web hosting is a balancing act between your budget and the number or types of features you'd like to have. Plans with faster solid-state drives tend to be more expensive and come with less storage, for example, but businesses will likely see a greater return on investment and higher conversion rates.
The options are endless: free domain registration, domain privacy, SSL certificate, content delivery network, live-chat support, and so on. The process of choosing your web hosting is much like that of going to a restaurant. Spend the time thinking about the meal you want to have and how much you want to spend — then go out and find it!
See Our Full Review of Hostinger
Whatever type of hosting plan you're looking for, Hostinger is a solid choice no matter the scale. Our reviewer Laura Bernheim recently took Hostinger for a spin, and rated the popular host a 4.9 in the Cheap Hosting category out of a perfect score of 5.0. Here's what Laura had to say about Hostinger:
A champion of affordable hosting, Hostinger is a popular pick for site owners looking for beginner-friendly shared servers. More than 29 million customers call Hostinger home as they scale websites through site builder, VPS, and WordPress hosting plans. When searching for a new plan, Hostinger is among the best at balancing high quality with low prices.
Before signing up for Hostinger, it's a good idea to read through Laura's full review to learn about all the features Hostinger offers. You can also compare it to other web hosts to ensure you're getting the best deal possible:
If you decide Hostinger is the right choice, keep in mind that it takes just minutes to deploy your Hostinger server space. And at $1.99 per month, it's a bargain considering the many great features that come in any Hostinger plan.
Advertiser Disclosure
HostingAdvice.com is a free online resource that offers valuable content and comparison services to users. To keep this resource 100% free, we receive compensation from many of the offers listed on the site. Along with key review factors, this compensation may impact how and where products appear across the site (including, for example, the order in which they appear). HostingAdvice.com does not include the entire universe of available offers. Editorial opinions expressed on the site are strictly our own and are not provided, endorsed, or approved by advertisers.
Our Editorial Review Policy
Our site is committed to publishing independent, accurate content guided by strict editorial guidelines. Before articles and reviews are published on our site, they undergo a thorough review process performed by a team of independent editors and subject-matter experts to ensure the content's accuracy, timeliness, and impartiality. Our editorial team is separate and independent of our site's advertisers, and the opinions they express on our site are their own. To read more about our team members and their editorial backgrounds, please visit our site's About page.