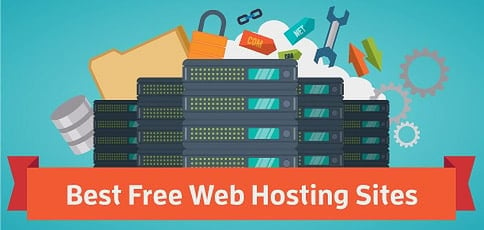 Let's face it — we all love free stuff. Free tacos, free beer, or even a free T-shirt we know we'll never wear. When people hear the word "free," we just can't help ourselves.
So why should free web hosting be any different?
While there are certainly times you should use paid hosting plans, sometimes you just want to throw your latest project up quickly and be done with it — at no cost to you.
If that sounds like your situation, you're in luck. Below, we take an in-depth look at how to save money with the top free (and nearly free) web hosts on the market.
5 Best "Almost Free" Web Hosting Sites
While it's easy to set out thinking you want 100% free web hosting, part of our job is to illuminate the fine print. You get what you pay for with free services, which often means additional fees, storage and bandwidth limitations, and pesky ads.
And while the free hosts we recommend guarantee you can keep your free hosting as long as you'd like, you will want to take advantage of additional (paid) features as your site grows. Those same providers offer paid plans to upgrade your service, however, serious site owners should strongly consider opting for a reputable, affordable, full-featured hosting provider.
The majority of shared hosts will include a free domain, free email accounts, a boatload of storage, and more eCommerce functionalities for the ridiculously-close-to-free cost of between $3 and $10 per month. Here are our favorite value hosting companies:
Known for high performance at a low price
Endorsed by WordPress.org team
FREE Weebly site builder and CloudFlare CDN
FREE domain and unlimited storage
Get 63% off today (was $7.99/month)
Bluehost: Our Expert's Review
Setup time: 4 minutes
Go to full review

»
If you're looking for an affordable host, Bluehost is a solid, reputable choice; The company's low costs, coupled with its supremacy in the shared hosting arena, is what makes this provider such a valuable deal. The Bluehost name is listed toward the top of many of our reviews categories, and with good reason.
| Money Back Guarantee | Disk Space | Domain Name | Cheap Hosting Plans |
| --- | --- | --- | --- |
| 30 days | 50 GB - Unlimited | FREE (1 year) | www.bluehost.com/shared |
Unlimited everything, from storage to databases
FREE site builder & WP performance upgrades
FREE daily or weekly backups
Custom control panel and auto-installation scripts
SSH access & SSL certificates
Hostinger: Our Expert's Review
Setup time: 3 minutes
Go to full review

»
As the shared hosting market becomes increasingly saturated, unlimited storage, bandwidth, and email accounts have become surprisingly average. Hostinger, however, extends the routine, expected metrics to greater lengths — the number of websites, databases, FTP users, subdomains, and parked domains are all unrestricted for most customers.
| Money Back Guarantee | Disk Space | Domain Name | Cheap Hosting Plans |
| --- | --- | --- | --- |
| 30 days | 10 GB SSD - 30 GB SSD | FREE (1 year) | www.hostinger.com/shared |
FREE Cloudflare CDN and SSD speed boost
Optimized caching and 1-click installs
Unlimited email, domains, and databases
Advanced security and FREE HackScan
24/7 support via phone, chat & tickets
A2 Hosting: Our Expert's Review
Setup time: 4 minutes
Go to full review

»
There are plenty of excellent cPanel shared hosting providers out there, so what sets A2 Hosting apart from the rest. Not only does the company offer a ton of features, but it has custom-built its packages for enhanced performance, speed, and security — putting your priorities above pricing.
| Money Back Guarantee | Disk Space | Domain Name | Cheap Hosting Plans |
| --- | --- | --- | --- |
| 30 days | Unlimited SSD | New or Transfer | www.a2hosting.com/shared |
Get 62% off by buying 36 months up front
Unmetered disk space & bandwidth
Unlimited email addresses & free SSL certificate
One-click WordPress install & free blog tools
Free 1-year domain registration on select plans
HostGator: Our Expert's Review
Setup time: 4 minutes
Go to full review

»
HostGator is a great compromise between performance and price. The company offers unlimited emails, MySQL databases, disk space, and bandwidth, plus one-click installs of popular open-source projects, in addition to a 99.
| Money Back Guarantee | Disk Space | Domain Name | Cheap Hosting Plans |
| --- | --- | --- | --- |
| 45 days | Unlimited | FREE (1 year) | www.hostgator.com/shared |
Easy setup and superb reliability since 1998
FREE domain and Google marketing included
Unlimited disk, bandwidth, and emails
FREE site builder and shopping cart
Get more than 75% off today (was $7.99/month)
iPage: Our Expert's Review
Setup time: 5 minutes
Go to full review

»
Whether you're a first-time website owner or a web veteran, iPage's excellent hosting services and a fantastic list of extras make the brand one of the best values in web hosting. Unlimited disk space, bandwidth, and emails are just a part of what makes iPage's shared hosting plans a great deal.
| Money Back Guarantee | Disk Space | Domain Name | Cheap Hosting Plans |
| --- | --- | --- | --- |
| 30 days | Unlimited | FREE (1 year) | www.ipage.com/shared |
See all the best cheap hosts »
9 Best "Free" Web Hosting Sites
I'll refer back to my intro: It's human nature to look for the free route in any new business or personal venture. And dozens of companies have emerged to capitalize on that instinct. Some are worth your time; others are bogus. By partnering with sites like ours, you are privy to the latest deals made available by quality providers.
Take a look at 2020's best online promotions for hosting services we've already covered, or check out what the experts have to say about the free runnerup hosting sites and website builders below. See any familiar faces?

A strong, browser-based website builder, Wix.com reigns supreme if you want a simple, drag-and-drop interface for building basic sites (i.e., for portfolios, small sites, etc.).
While it's not for those who are looking to work out their coding skills, house various video files, or host an app they've been tinkering with (If you match these descriptions, read on!), Wix leads the way when it comes to easy setup and robust features.
Note that advanced email, domain, and eCommerce features are available from Wix by upgrading to its non-free plans. Their support isn't always great, but it almost doesn't matter. We find Wix.com's offering to be ideal for beginner site owners:
Storage: 500MB
Domain: Wix.com subdomain
eCommerce: No
Bandwidth: 500MB
Email: Yes
Website Builder/Design: Drag-and-drop editor with lots of templates and apps
FREE signup with email or Facebook
Drag-and-drop designing is super easy
1-year domain free with most plans
Up to $300-worth of ad credits
Access to 1,000s of templates and additional tools in the App Market
Wix: Our Expert's Review
Setup time: 4 minutes
Go to full review

»
As a web builder, Wix is an industry leader when it comes to ease of use, setup time, and available features. The browser-based, WYSIWYG (What You See Is What You Get) site-building service is hands down one of the foremost brands in this industry niche, and that's not without just cause.
| Money Back Guarantee | Disk Space | Domain Name | Best Overall Hosting Plans |
| --- | --- | --- | --- |
| 14 days | 500 MB - 20 GB | Transfer | www.wix.com |

One of the most well-known brands when it comes to getting online, WordPress powers 30% of all websites. The open-source version of the content management requires site owners to purchase and configure a web hosting plan, but WordPress.com removes all that hassle by pairing the popular system with plenty of online storage and support.
The biggest knock on WordPress is that it's not as simple as some of the drag-and-drop site builders such as Wix and Weebly. But with hundreds of themes and customization options to choose from, WordPress gives users an extraordinarily high ceiling with which to create and grow an online presence.
Storage: 3GB
Domain: WordPress.com subdomain
eCommerce: No
Bandwidth: 3 GB
Email: Yes
Website Builder/Design: Hundreds of mobile-friendly themes and customizations
Jetpack Essential included for FREE
Search dozens of professional theme templates
FREE pre-installed SSL certificate
Upgrade for custom domain, plugins, and more

The well-known website builder also offers a variety of hosting plans that integrate with their brilliant platform. Weebly's templates are among the most polished and modern you can find.
Storage: 500MB
Domain: Weebly.com subdomain
eCommerce: No
Bandwidth: Unlimited
Email: No
Website Builder/Design: Free templates; can edit via HTML, CSS, or drag-and-drop
By upgrading to the $8/month plan, you can add an eCommerce store. The free plan has no ads, but Weebly does include their branding in the footer of your website.
All-in-one hosting and drag-and-drop builder
Start designing for FREE, upgrade whenever
Easily build a blog, personal site, or online store
100s of FREE templates for websites
$100 credit toward Google advertising
Weebly: Our Expert's Review
Setup time: 3 minutes
Go to full review

»
Weebly is a well-known name in the cheap shared hosting space — not necessarily due to competitive pricing but because several of the web's leading low-cost hosting providers have opted to include Weebly software for free, adding value to their existing offerings. It's worth noting Weebly does offer a free plan, but websites are found on a Weebly subdomain and display Weebly advertising.
| Money Back Guarantee | Disk Space | Domain Name | Cheap Hosting Plans |
| --- | --- | --- | --- |
| 30 days | 500 MB - Unlimited | FREE (w/ paid plans) | www.weebly.com/site-builder |

Serving more than 15 million members, Bravenet provides a full-service hosting option for people looking for the complete package. In addition to a drag-and-drop site builder and unlimited storage, the Canadian company is one of the only free web hosters with an email marketing platform. Customers can also enjoy community-building features such as message boards, mailing lists, blogs, contact forms, polls, and other tools.
Storage: 500mb
Domain: Free Bravenet subdomain
eCommerce: Ecwid shopping cart, product search, and product listings
Bandwidth: 1 GB
Email: Unlocked with paid upgrades
Website Builder/Design: Free drag-and-drop website builder
Bravenet's email marketing tool helps you build a contact list and design your messages through templates or customized solutions. Plus, the company's in-depth analytics dashboard will help you gauge your success.
Bravenet is currently revamping its site builder and preparing to roll out 400 top-level domains for customers who want to upgrade to their own registration, according to Founder and CEO Dave Shworan. With plans starting as low as 99 cents per month, the company provides a pain-free entry into paid hosting services.

The veterans at x10Hosting pride themselves on giving their free hosting customers a stable and high-performance environment with the latest versions of PHP, MySQL, and cPanel.
Storage: 1 GB
Domain: 2 add-on domains, 1 parked domain, and 2 subdomains
eCommerce: 1-click installs for eCommerce platforms such as Magento
Bandwidth: Unlimited
Email: 3 free accounts
Website Builder/Design: Website builder with more than 150 templates; other programs available via cPanel installations
Unlimited storage and bandwidth is a major plus for x10Hosting, along with a support community of more than 750,000 members.

A pioneer in the free web hosting industry with more than 10 years experience, AwardSpace.com relies on free hosting to grow their customer base.
Storage: 1GB
Domain: Hosting for 1 domain and 3 subdomains is included
eCommerce: No
Bandwidth: 5GB
Email: 1 email account and spam filter
Website Builder/Design: No, but Joomla and WordPress installers are included
Their free plan, which is ad free, allows hosting newcomers to test the service and see if they want to invest in more features over the long term.

One of the newer free hosting companies on our list, 5GBFree.com focuses on cutting-edge technology and security by recently moving to a top US-based datacenter and using the CloudLinux operating system.
Storage: 5GB
Domain: 1 add-on and 1 parked domain
eCommerce: 1-click installs for Joomla, PHPShop, and ZenCart
Bandwidth: 20GB
Email: No
Website Builder/Design: 1-click WordPress installs; other apps available via cPanel
5GBFree.com stopped advertising on free accounts starting in late 2014. Support is limited to their forums, but you will never be asked to sign a contract for the free hosting plan.

With interesting plan names, Freehostia's Chocolate flavor offers free cloud hosting. The load-balanced server cluster platform is up to 15 times faster than more traditional shared hosting setups.
Storage: 250MB
Domain: 5 hosted domains
eCommerce: 1-click cart installations of several top platforms
Bandwidth: 6GB monthly
Email: 3 email accounts
Website Builder/Design: Free website templates, plus 1-click installs
While the 250 megabytes of storage is a little small, it's hard to argue with Freehostia's 24/7 support and ad-free environment.

Without many of the bells and whistles of the more novice-friendly free hosting plans, Free Web Hosting Area gives the more tech-savvy folks room to explore and experiment with modern versions of PHP, MariaDB, and Apache.
Offering free hosting for more than 13 years, Free Web Hosting Area is a veteran option that upgrades users' experience with multi-CPU servers, ample RAM, and solid-state disks that boost speed and reliability.
For less-experienced users ready to graduate from site builders, Free Web Hosting Area provides above-average support and has many more features in the works: a community forum, site builder, support for SSL certificates, and an auto-installer for popular software.
Storage: 1.5GB
Domain: Free subdomain or transfer your own registered domain
eCommerce: No
Bandwidth: Unlimited
Email: No
Website Builder/Design: In the works, slated for release in 2018
Your free account will never expire so long as your site has at least one visit each month. Free Web Hosting Area guarantees that "small sites" will never have an ad, or you can guarantee no ads for $1 per month.
Ready, Set, Start Hosting!
Whether you're testing out a company's services or looking for an easy, non-committal entry into having your own website, free hosting is a great opportunity.
What better way to get your feet wet with a new (or your first) hosting service without paying a dime? Once you're familiar with a host's services and programs, then you'll likely want to consider upgrading to unlock even more features and value.
We wish you well as you go out and build your online presence — whether it's for free or basically, almost, itty-bitty-bit-more-than free.
If you want to see more options for might-as-well-be-free hosting, be sure to check out our top recommendations for cheap web hosting.
Advertiser Disclosure
HostingAdvice.com is a free online resource that offers valuable content and comparison services to users. To keep this resource 100% free, we receive compensation from many of the offers listed on the site. Along with key review factors, this compensation may impact how and where products appear across the site (including, for example, the order in which they appear). HostingAdvice.com does not include the entire universe of available offers. Editorial opinions expressed on the site are strictly our own and are not provided, endorsed, or approved by advertisers.
Our Editorial Review Policy
Our site is committed to publishing independent, accurate content guided by strict editorial guidelines. Before articles and reviews are published on our site, they undergo a thorough review process performed by a team of independent editors and subject-matter experts to ensure the content's accuracy, timeliness, and impartiality. Our editorial team is separate and independent of our site's advertisers, and the opinions they express on our site are their own. To read more about our team members and their editorial backgrounds, please visit our site's About page.