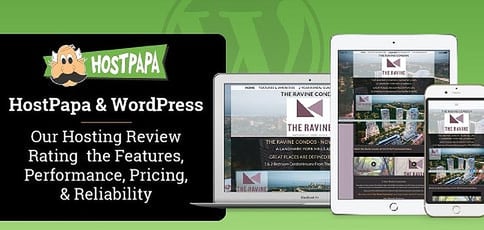 With so many hosting providers creating services optimized for the world's most popular content management system, let's take an in-depth look at one with a HostPapa WordPress review.
We're not big gamblers. But if you own a website or are in the process of building one, we're willing to put money down that you're probably using WordPress. The open-source platform now powers more than 30% of sites on the web and has a 60% market share among the other content management systems in the industry.
If you're looking for a host to power your new WordPress site or if you're unhappy with your current provider, HostPapa might be a fit for you. More than 100,000 site owners have turned to one of Canada's most popular hosts for its robust WordPress hosting packages. Here, we'll take a look at why HostPapa's plans are attracting so much attention and how they can enhance your brand's online presence.
HostPapa WordPress Hosting Review Rating: 4.8 out of 5.0
In today's environmentally conscious landscape, many consumers are seeking to purchase products and services from companies that have solid corporate social responsibility (CSR) initiatives in place. In fact, more than 50% of shoppers say they would rather buy from a business that puts CSR front and center, and the hosting space is no exception. As one of the first providers in the industry to commit to going green, HostPapa is completely powered by renewable energy.
While the company's environmentally conscious approach to hosting may be a selling point for many, HostPapa's 100% WordPress-compatible platform, one-click installation of the CMS, and worry-free site transfers are also a big draw. We'll cover the host's features, performance, reliability, pricing, and pros and cons in the sections that follow. But be sure to click on our comprehensive review in the table below for a deep dive into all the benefits of running a WordPress site with HostPapa. You'll quickly see why we've rated the host 4.8 out of 5.0.
Auto-installed WordPress with caching and FREE CDN
FREE SSL certificate and HTTP/2 support
Jetpack pre-installed for speed and security boosts
Server firewall, monitoring, and intrusion detection
Unlimited MySQL databases and phpMyAdmin
WORDPRESS
RATING 4.8 ★★★★★ Our Review
HostPapa: Our Expert's Review
Laura Bernheim (HostingAdvice.com): Nearly all hosts these days include easy installations and support for WordPress, the world's leading content management system. While HostPapa is no different, we discovered the company's ultra-attentive support team can help new users navigate the sometimes challenging platform. Go to full review »
| Money Back Guarantee | Disk Space | Domain Name | Setup Time |
| --- | --- | --- | --- |
| 30 days | 100 GB SSD - Unlimited SSD | FREE (1 year) | 4 minutes |
See WordPress hosting alternatives »
HostPapa WordPress Hosting Alternatives
As you can see, HostPapa gets solid marks when it comes to WordPress hosting. We especially appreciate how the company includes Jetpack, which enables site owners to take advantage of more than 100 free themes, a content delivery network, and protection from brute force attacks. The SSD-powered infrastructure ensures your sites will perform strongly and securely.
However, HostPapa isn't the only fish in the sea. To really understand the platform's strengths and weaknesses, we examined HostPapa in the context of some of the other strong WordPress hosts out there. You may find that one of these options fits your hosting needs a bit better:
Recommended by WordPress.org since 2005
Automatic WordPress updates and initial install
FREE WordPress themes in the Bluehost Marketplace
24/7 support via live chat, phone, and email
Get exclusive discounts on WordPress plans
WORDPRESS
RATING 4.9 ★★★★★ Our Review
Bluehost: Our Expert's Review
Ryan Frankel (HostingAdvice.com): Bluehost's WordPress hosting packages are aimed at first-time site owners and personal bloggers. These services come at a premium compared to the standard Bluehost web hosting (basic shared hosting) plans, but the WordPress optimization and platform-specific resources are arguably worth the cost. Go to full review »
| Money Back Guarantee | Disk Space | Domain Name | Setup Time |
| --- | --- | --- | --- |
| 30 days | 50 GB SSD - 100 GB SSD | FREE (1 year) | 7 minutes |
Officially endorsed by WordPress.org
FREE migration plugin or automated installation
Pre-installed Git, 3 caching levels, and FREE CDN
FREE WP setup wizard, staging, and auto-updates
Fast, 24/7 support via custom chat system
WORDPRESS
RATING 4.9 ★★★★★ Our Review
SiteGround: Our Expert's Review
Alexandra Anderson (HostingAdvice.com): Want a hassle-free, WordPress-optimized hosting service. SiteGround has thought of everything you need to get your site up and running. Go to full review »
| Money Back Guarantee | Disk Space | Domain Name | Setup Time |
| --- | --- | --- | --- |
| 30 days | 10 GB SSD - 40 GB SSD | New or Transfer | 6 minutes |
1-click WP install, PHP 7+, HTTP/2, and NGINX
All-in-one security protections from BitNinja
WordPress optimizations boost performance
No price markup for WordPress services
Daily backups and FREE SSL certificate
WORDPRESS
RATING 4.9 ★★★★★ Our Review
Hostinger: Our Expert's Review
Laura Bernheim (HostingAdvice.com): As much as we love WordPress, one of our biggest pet peeves is when hosting providers exploit the popularity of the world's most-used content management system by offering so-called WordPress hosting that, in reality, is exactly the same as the host's shared server plans. Fortunately, Hostinger's ultra-fast infrastructure and easy access to SSL certificates and backups sets up the company to outperform the vast majority of the violators of our admittedly made-up rule. Go to full review »
| Money Back Guarantee | Disk Space | Domain Name | Setup Time |
| --- | --- | --- | --- |
| 30 days | 50 GB SSD - 200 GB SSD | FREE (1 year) | 4 minutes |
See other top WordPress hosting options »
HostPapa WordPress "Features" Rating: 4.6 / 5.0
If a feature-rich WordPress hosting plan is what you seek, you're in luck with HostPapa. The company's three hearty WordPress hosting packages are chock-full of solutions to help you broadcast your brand online.
HostPapa's Starter plan is an ideal launching pad for a blog or personal website. Site owners can get up and running for only $3.95 per month — and, with a 30-day money-back guarantee, there's not much risk in trying it out. The low monthly premium gets you two websites, a free domain name, free setups and transfers, 100GB of disk space, and unlimited bandwidth. The plan also includes the starter edition of HostPapa's website builder, which makes site design intuitive.
HostPapa WordPress Hosting Plan Features
Free domain name
24/7/365 support
30-day money-back guarantee
Free setup and transfers
Unlimited websites
Unlimited email addresses
Unlimited disk space
HostPapa site builder
Unlimited bandwidth
Fast load times
Enhanced security features
SSL certificate
HostPapa's most popular package, its Business plan, offers everything included in the Starter plan with some important additions. With the Business package, site owners can power unlimited websites and email addresses, and there's no cap on disk space. Load times are also double that of the Starter plan and so are the security features.
The Cadillac of HostPapa's plans, Business Pro, boosts the performance, speed, and security of WordPress sites. This plan increases performance by up to 300%, includes the host's highest security level, and comes with an SSL certificate to protect your data. An unlimited version of HostPapa's website builder is also part of the plan. The flexibility of its WordPress packages and the number of solutions included have earned HostPapa a features rating of 4.6 out of 5.0.
HostPapa's WordPress "Performance" Rating: 4.6 / 5.0
For those setting up shop online, one of the most important factors for success in the eCommerce space is site performance. If your pages don't load quickly, you're going to lose customers. Nearly half of online consumers expect sites to load within two seconds, and almost 80% of web shoppers who have a poor experience due to performance are less likely to revisit the site again.
HostPapa boasts lightning-fast page load times for all of its WordPress site owners, as the company's servers have been adjusted to power the CMS at peak speeds. For Business Pro customers, HostPapa offers a 300% performance boost to ensure site visitors don't bounce due to slow load times.
Site owners can also find performance-enhancing tools compatible with HostPapa's platform among WordPress's more than 51,000 plugins. One recommended by HostPapa is WP Fastest Cache, which has been downloaded nearly 3 million times.
HostPapa's WordPress "Pricing" Rating: 4.5 / 5.0
The hosting industry has been involved in a competitive pricing war for some time now. Countless providers claim to have the best prices in the market. And, while some of them may actually be the cheapest options, they're not always going to be the best choice.
Consumer perception of pricing is just as important as the actual cost of the product or service. HostPapa knows this, which is why the company doesn't just try to offer the lowest priced plans. Instead, HostPapa aims to provide site owners very affordable hosting packages that are loaded with value.
For only $3.95 per month, HostPapa users get a WordPress-ready backend with one-click installation. With 24/7 multilingual support and all the features discussed in the sections above, the couple bucks you'll be paying each month is a great deal. HostPapa also guarantees a full refund for unhappy users canceling within 30 days of signing up. All of this has earned HostPapa a price rating of 4.5 out of 5.0.
HostPapa's WordPress "Reliability" Rating: 4.8 / 5.0
The importance for eCommerce sites to maintain high uptime percentages cannot be overstated. When sites are unavailable to consumers, you don't make sales. It's really that simple.
In 2013, Google went offline for five minutes. The result? A net revenue loss of roughly $545,000. While a five-minute interruption in services won't likely cost most businesses half a million dollars, even slight interruptions in service for small businesses can work to degrade consumer trust in a brand. In fact, 88% of internet users say if a site is unavailable when they visit they're likely to view it as less credible.
HostPapa operates with an aim to provide very high availability for its customers. By looking at the historical data from a large sampling of its site owners, the host was able to determine that its customer sites are available 99.9% of the time and guarantees that uptime won't dip below that number. As a result, we've granted HostPapa a 4.8 out of 5.0 for reliability.
Why Choose WordPress Hosting with HostPapa
So, we've covered HostPapa's features, performance, pricing, and reliability, and — overall — the host has fared well in our ratings. The host offers big upsides, but there are always areas where a company can improve.
Here, we'll jump into the top factors that influenced our overall 4.8 out of 5.0 rating of HostPapa's WordPress hosting packages. Spoiler: there are a lot of pros and not many cons.
7 Pros
Free Domain — All of HostPapa's WordPress hosting plans allow site owners to connect a new domain or transfer an existing one to their account. For users looking for a new domain, HostPapa's search and registry system makes finding the perfect name simple.
WordPress-Ready Backend — There's not much work to do to get set up for WordPress. HostPapa provides a backend built for one-click installation of the CMS.
Intuitive Interface — HostPapa's user interface provides a platform to manage all of your content from a single location. And, for those building new sites, the host's easy-to-use, drag-and-drop site builder makes page creation a breeze.
High-Uptime Guarantee — You can rest easy that your WordPress site will be available to visitors when they're looking to purchase products and services. HostPapa's 99.9% uptime guarantee meets the industry standard.
Around-the-Clock Support — HostPapa's support personnel are available 24/7 to field questions and provide care. The host also offers an omnichannel support center where users can access information and assistance via live chat, video tutorials, support tickets, and in a vast online knowledge base.
Unlimited Bandwidth — If your site is seeing spikes in visitors, there's no need to worry about downtime or traffic penalties. HostPapa offers unlimited bandwidth in all its WordPress packages.
Green — As one of the industry's first green hosting providers, HostPapa gives its customers peace of mind that their carbon footprint is as low as possible. The host runs on 100% clean energy sources.
3 Cons
Performance — While HostPapa's Starter WordPress plan is quick, site owners going with the Business and Business Pro packages enjoy up to 300 times greater speed than entry-level customers. This may leave some customers who've signed up for the beginner plan wanting a bit more bang for their buck.
Money-Back Guarantee — HostPapa currently offers new customers a 30-day money-back guarantee. This gives site owners a bit of time to change their minds, but other providers around the industry offer users up to 90 days to decide if they like the service.
No Backups in Starter/Business Plans — Subscribers to HostPapa's Business Pro plan enjoy automated backups at no additional cost. However, Starter and Business plan customers do not have the same benefit. Sure, Pro users pay a few dollars more, but because backing up data is so important, this is an area where HostPapa might improve its offering.
If You're Leaning Toward HostPapa WordPress Hosting, Go For It!
WordPress powers most of the web's sites for a reason — it's easy to use and highly customizable. If you're one of the millions of site owners managing web properties with WordPress, you're going to need to partner with a host that provides feature-rich plans and easy installation of the CMS — and HostPapa delivers.
As we've discussed, HostPapa provides a surprising number of upgraded features, like SSD storage and top-tier customer support. The company's prices are a little higher than some competitors, but HostPapa's 30-day money-back guarantee gives customers ample time to gauge the partnership.
If you're thinking about giving HostPapa's WordPress hosting plans a shot, there's no reason to hesitate. Signing up is easy, and there's not much to lose with the host's 30-day trial period. To learn more about what HostPapa has to offer, be sure to read our full review outlining all of the host's features.
Further Reading: "HostPapa WordPress Review (June 2023): Pros & Cons by Experts"
Hopefully, our recommendation of HostPapa fulfills all your web hosting needs. Starting at just $3.95 per month and rated 4.8 overall, HostPapa gives users plenty of bang for the buck. Among our favorite features:
Auto-installed WordPress with caching and FREE CDN
FREE SSL certificate and HTTP/2 support
Jetpack pre-installed for speed and security boosts
Server firewall, monitoring, and intrusion detection
Unlimited MySQL databases and phpMyAdmin
If you'd like recommendations similar to HostPapa and others in HostPapa WordPress Review (June 2023): Pros & Cons by Experts, check out these popular guides. You'll find comparisons of HostPapa to other hosts on pricing, features, support and more:
And of course, if HostPapa is your top choice, you can get started now at just $3.95/month. HostPapa is easy to set up and scale, no matter the size of your next project.
Advertiser Disclosure
HostingAdvice.com is a free online resource that offers valuable content and comparison services to users. To keep this resource 100% free, we receive compensation from many of the offers listed on the site. Along with key review factors, this compensation may impact how and where products appear across the site (including, for example, the order in which they appear). HostingAdvice.com does not include the entire universe of available offers. Editorial opinions expressed on the site are strictly our own and are not provided, endorsed, or approved by advertisers.
Our Editorial Review Policy
Our site is committed to publishing independent, accurate content guided by strict editorial guidelines. Before articles and reviews are published on our site, they undergo a thorough review process performed by a team of independent editors and subject-matter experts to ensure the content's accuracy, timeliness, and impartiality. Our editorial team is separate and independent of our site's advertisers, and the opinions they express on our site are their own. To read more about our team members and their editorial backgrounds, please visit our site's About page.