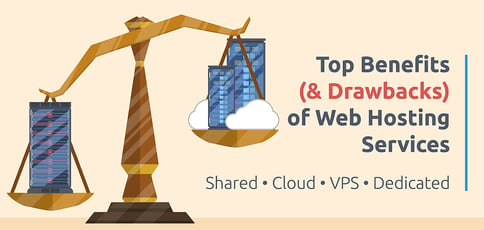 With the ability to broadcast your brand or message to millions of readers and potential customers all around the world, the benefits of web hosting services are tantalizing — but the hassles of setting up that website can make you question whether the attention is worth it at all.
Getting started with exactly the right hosting plan is like finding the perfect pair of pants — a close tailored fit that's comfortable but leaves some room for growth. You want to find a great deal without spending a ton of time shopping, trying things on, and possibly having to return them.
A hosting plan that's too big will tax your budget and sanity, while something too small negatively affects your site's ability to grow and perform as designed. Let's walk through the various benefits of web hosting services, along with the downfalls that might affect your decision.
Benefits & Drawbacks of "Shared" Hosting
Most site owners enter the world of web hosting by signing up for a shared hosting plan. At this level, hundreds or even thousands of customers share the storage space and computing resources of one server. The ultra-popular service is particularly welcoming to beginners and small businesses because of its high levels of customer support, easy-to-use tools, and comprehensive options.
Shared hosting providers take care of all the technical aspects of a website's infrastructure, handling infrastructure security, updates, and other maintenance. Customers just have to focus on building an online presence representative of their brand or business goals, as most basic shared hosting plans include a free domain name registration, unlimited email accounts, eCommerce functionality, a drag-and-drop website builder, and hundreds of one-click installations for popular software programs like WordPress, Joomla, and Drupal.
Because so many websites exist on the same server, there is a shared responsibility for security and stability. Neighboring websites can negatively affect a server's performance or availability by requiring an unfair share of processing power, sending spam, or falling victim to a security vulnerability.
BENEFITS:
Supremely affordable prices
Easy for beginners to learn and manage
Tons of free add-on services
DRAWBACKS:
Limited resources
Less control over security and performance
Despite the disadvantages of shared hosting, the service remains a top-notch introduction to website design and management. The full range of customers, from experienced developers to first-time bloggers, can excel in a shared hosting environment. These plans work well for professional portfolios, small business websites, online stores, personal blogs, and much more.
When looking for a shared hosting provider, keep an eye out for unlimited resources like storage, bandwidth, databases, and emails. Perks like free SSL certificates and access to a content delivery network or website builder further secure your site, help it load faster, and look more visually appealing. We've reviewed and listed our three favorite shared hosting providers below, showcasing their upgraded infrastructure, personable support, and supreme affordability. Click on a review to learn more about how a particular host can meet your website's needs.
Known for high-performance, low-cost hosting
FREE website builder with 1,000s of templates
Endorsed by the WordPress.org team as a top WP host
FREE SSL certificate and CDN acceleration
Usually $7.99/month, but our visitors pay $2.95/month
Bluehost: Our Expert's Review
Setup time: 4 minutes
Go to full review

»
If you're looking for an affordable host, Bluehost is a solid, reputable choice; The company's low costs, coupled with its supremacy in the shared hosting arena, is what makes this provider such a valuable deal. The Bluehost name is listed toward the top of many of our reviews categories, and with good reason.
| Money Back Guarantee | Disk Space | Domain Name | Shared Hosting Plans |
| --- | --- | --- | --- |
| 30 days | 50 GB - Unlimited | FREE (1 year) | www.bluehost.com/shared |
An industry-leading shared host with competitive pricing
Attract visitors with a complimentary marketing suite
Lots of extras like Google AdWords & SiteLock security
Start selling in minutes with FREE ecommerce tools
Get more than 75% off today! (usually $7.99/month)
iPage: Our Expert's Review
Setup time: 5 minutes
Go to full review

»
Whether you're a first-time website owner or a web veteran, iPage's excellent hosting services and a fantastic list of extras make the brand one of the best values in web hosting. Unlimited disk space, bandwidth, and emails are just a part of what makes iPage's shared hosting plans a great deal.
| Money Back Guarantee | Disk Space | Domain Name | Shared Hosting Plans |
| --- | --- | --- | --- |
| 30 days | Unlimited | FREE (1 year) | www.ipage.com/shared |
A favorite for shared hosting (and dedicated or cloud)
FREE SSD storage packs 20x the performance
FREE SSL certificate and 24/7 support
1-click installs for WordPress and popular CMSes
Get started with FREE website transfer service
InMotion: Our Expert's Review
Setup time: 5 minutes
Go to full review

»
InMotion Hosting offers an excellent business-class shared hosting plan. While carrying a higher price tag than some other cheap hosts, it has a very nice list of features to help justify the extra cost.
| Money Back Guarantee | Disk Space | Domain Name | Shared Hosting Plans |
| --- | --- | --- | --- |
| 90 days | Unlimited | New or Transfer | www.inmotion.com/shared |
Benefits & Drawbacks of "Cloud" Hosting
As your site gains traction and builds a following, be ready to upgrade to a new service — don't be the shared hosting consumer whose successful website overwhelms the server and affects fellow customers. Fortunately, most providers will happily transfer your website and files to higher-tier plans that add more storage space, bandwidth, and fine-tuned control. Graduates of shared web hosting typically have two options — cloud or virtual private server hosting — both of which introduce a concept called virtualization.
With cloud hosting, your website files will be spread across a network of multiple servers. With so many servers sharing the workload, your site will load quickly no matter the traffic. Computing resources quickly scale up and down to adapt to the ebb and flow of visitors, and the redundant hardware means your site won't go down if one server crashes.
However, as you scale the web hosting ranks, more and more is expected of the website owner. While customers can frequently purchase managed services where the provider takes care of basic hardware and security maintenance, they have more control in how their site functions and responds to various scenarios.
BENEFITS:
Automatic and scalable resource allocation
Improved performance and reliability
Pay-as-you-go price structure
DRAWBACKS:
More complicated management
Costs can be harder to predict
Cloud hosting can take a variety of forms, from the fairly simple and pain-free services, like the ones we've laid out below, to the more complicated platforms available through Amazon Web Services, Microsoft Azure, and Google Cloud Platform. Whichever route you take depends on your traffic, goals, technical experience, and budget.
Larger businesses with experienced developers or system administrators will do well with AWS, but we tend to recommend most organizations ease the transition from shared hosting by finding a cloud hosting provider that retains some of the user-friendly features of the shared hosting ranks. The companies listed below give site owners the scalability and flexibility of the cloud while streamlining the tedious and technical processes of configuration, deployment, and management.
Ranked #1 for cloud VPS hosting
Fault-tolerant SSD storage and up to 8GB of RAM
FREE control panel with choice of Linux OS
Full root access or managed servers available
FREE live-state or scheduled snapshots
InMotion: Our Expert's Review
Setup time: 6 minutes
Go to full review

»
With leading-edge cloud technology, InMotion offers free site transfer, setup, and SSD drives for the ultimate cloud solution offerings. They include free data backups and offer unmanaged or fully managed servers to help you scale your site with cloud-based hosting….
| Money Back Guarantee | Disk Space | Domain Name | Cloud Hosting Plans |
| --- | --- | --- | --- |
| 90 days | 75 GB SSD - 260 GB SSD | FREE (1 year) | www.inmotion.com/cloud |
Twice as fast and four times the computing resources
Tons of storage with the scalability of the cloud
Low-density servers and multiple caching layers
Unlimited domains and MySQL databases
Upgrades available for security, backups, productivity, and domain privacy
HostGator: Our Expert's Review
Setup time: 7 minutes
Go to full review

»
For those ready to expand beyond shared hosting, HostGator offers a fully featured step into the cloud. With scalable, high-powered resources, customers can easily monitor resources and caching from an intuitive dashboard.
| Money Back Guarantee | Disk Space | Domain Name | Cloud Hosting Plans |
| --- | --- | --- | --- |
| 45 days | 120 GB - 240 GB | New or Transfer | www.hostgator.com/cloud |
Choose your OS or optimized application configuration
Hourly or monthly billing for convenience
Optional upgrades for cPanel, backups, and monitoring
Managed services, SSDs, and HDDs available
Block and object storage, plus enterprise-grade firewall
Hostwinds: Our Expert's Review
Setup time: 6 minutes
Go to full review

»
Hostwinds provides supremely scalable and customizable options for the savvy developer or site owner. Customers can customize their cloud environment or choose pre-built configurations optimized to run apps like WordPress, Drupal, and others.
| Money Back Guarantee | Disk Space | Domain Name | Cloud Hosting Plans |
| --- | --- | --- | --- |
| N/A | 30 GB - 750 GB SSD | New or Transfer | www.hostwinds.com/cloud |
Benefits & Drawbacks of "VPS" Hosting
While cloud hosting represents a smaller step up from shared web hosting, virtual private servers are commonly viewed as the most effective bridge between shared hosting and dedicated servers. Instead of splitting a server with thousands of other site owners (or footing the massive bill to own the whole server), virtual private server resources are distributed to just a few dozen customers.
Although VPS customers share the same underlying hardware, a layer of virtualization effectively creates separate machines capable of running their own operating system. That means users have the ultimate control, otherwise known as root access, over the software programs and security configurations powering their site. Computing resources are dedicated to each virtual machine, meaning you'll be able to count on a specific amount of storage space and bandwidth to deliver your site.
What's more, you can add or remove processing power to scale to your site's audience. With great power, however, comes great responsibility. Given the infrastructure, VPS configurations aren't as instantly scalable as cloud hosting. Although root access enables experienced users to craft the environment to exactly match their performance, security, and reliability goals, those who don't have the technical chops can quickly find themselves in a world of hurt.
BENEFITS:
Complete control over your environment
Dedicated resources at a decent price
Fine-tuned performance and security
Managed services cover the technical stuff
DRAWBACKS:
More upkeep and maintenance required
Can get costly with managed services
Still at the mercy of a shared server
Fortunately, many VPS providers give customers the option of employing their own server technicians to manage the tedious aspects of virtual servers, such as operating system updates and security patches. Usually for an added fee, managed services enable you to focus on building the website or online store of your dreams without getting bogged down in software installations or the command line interface.
When looking for top-notch VPS hosting, be sure to find a host that provides strong hardware to power those dedicated resources. Solid-state drives, or SSDs, for instance, read and write data up to 20 times faster than traditional hard disk drives. The providers below are our favorites for VPS hosting and perfectly pair high-performance computing with a wide range of software options and helpful support to make the transition to VPS hosting a breeze.
Managed or unmanaged virtual servers available in Windows or Linux
Cloud hosting instances with hourly or monthly billing
Instant upgrades without downtime
FREE around-the-clock monitoring
Automatic nightly backups available
Hostwinds: Our Expert's Review
Setup time: 6 minutes
Go to full review

»
Does any hosting provider have more virtual private server packages than Hostwinds. The company offers 10 configurations — and that's just for managed Linux server partitions.
| Money Back Guarantee | Disk Space | Domain Name | VPS Hosting Plans |
| --- | --- | --- | --- |
| N/A | 30 GB - 750 GB SSD | New or Transfer | www.hostwinds.com/vps |
$0.01 for the first month using code HOSTINGADV
Then $6 monthly with no contracts, no price changes
Latest versions of PHP, MySQL, Perl, Python, and Ruby
7 operating system options for Linux or Windows users
Full root access and choice of datacenter included
InterServer: Our Expert's Review
Setup time: 6 minutes
Go to full review

»
InterServer's on-site datacenter and hands-on involvement with configuring and provisioning virtual private servers give customers a level of flexibility not seen with many other hosting providers. InterServer rations VPS and cloud resources through slices.
| Money Back Guarantee | Disk Space | Domain Name | VPS Hosting Plans |
| --- | --- | --- | --- |
| N/A | 30 GB SSD - 480 GB SSD | New or Transfer | www.interserver.net/vps |
High-speed hosting that's faster than AWS, Rackspace, and Digital Ocean
FREE backups, CDN, root access, and DDoS protection
Up to 16 processors with all-SSD storage
Choice between cPanel or Plesk Onyx control panel
Real-time monitoring and 100% uptime guarantee
Liquid Web: Our Expert's Review
Setup time: 7 minutes
Go to full review

»
It's no secret by now that Liquid Web is known for best-in-class technology and reliability that exceeds expectations. The company's cloud VPS environments embody that reputation to its fullest — including managed WordPress and WooCommerce products.
| Money Back Guarantee | Disk Space | Domain Name | VPS Hosting Plans |
| --- | --- | --- | --- |
| N/A | 30 GB SSD - 150 GB SSD | New or Transfer | www.liquidweb.com/vps |
Benefits & Drawbacks of "Dedicated Server" Hosting
Even though VPS customers enjoy dedicated resources, they can still be affected by noisy neighbors that impact the physical server via spam, exposed security vulnerabilities, or an overarch of allocated resources. For those who don't like to share, dedicated servers reside at the top of the web hosting heap.
A dedicated server is exactly what it sounds like — a single server completely devoted to one website or application. That means 100% control over the bandwidth, storage space, and IP address, plus all the components related to security, performance, reliability, and software. As a result, dedicated servers represent the crème de la crème of hosting services. Site owners or application developers can perfectly configure the machine specifically to their exact requirements and specifications.
Naturally, having an entire machine to yourself comes with a hefty price tag (although cheap dedicated servers do exist). And all the responsibility of configuring and maintaining the associated server components requires a good deal of experience. Similar to VPS hosting, you can likely pay for managed services to help manage the workload, but that added expense may be enough to finally break the budget.
BENEFITS:
Exclusive access to server resources
Better security, performance, and reliability
Unlimited customizations and control
DRAWBACKS:
The most expensive hosting option
Technical experience required
Despite the cost and potential headaches of server management, dedicated hosting still beats hosting your own website. You get to leverage your hosting provider's redundant power supplies and global networks, along with around-the-clock customer support. What's more, many hosts will help you with basic server setup and maintenance, and easily add other support services.
While you examine dedicated server hosts, pay attention to both the hardware configurations and added services like migrations, backups, monitoring, and support. Since you'll have an entire machine to yourself, you'll want the entire infrastructure to modernize your organization's online presence and deliver cutting-edge performance, security, and reliability. Check out our three favorite providers below and click on the reviews to learn more.
100% network and power uptime guarantees
Custom configurations, SSDs, and instant provisioning
Auto-migrations, backups, and real-time monitoring
Block/object storage and load balancer add-ons
Windows or Linux servers with 100% uptime guarantee
Liquid Web: Our Expert's Review
Setup time: 8 minutes
Go to full review

»
Liquid Web's strong suit is managed dedicated server hosting. The company owns and operates five state-of-the-art datacenters in the US and Europe works tirelessly to build and maintain custom solutions for added performance and security.
24/7 uptime monitoring and privately owned datacenter
Up to 24 cores, 256GB RAM, and 100TB bandwidth
Choose from 12 operating systems and 3 control panels
Custom configurations built and maintained in-house
Price-lock guarantee without contracts
InterServer: Our Expert's Review
Setup time: 8 minutes
Go to full review

»
You know a hosting company means business when it owns and operates its own datacenters. Because InterServer employees build and manage servers in the same building as company headquarters, dedicated hosting customers get the utmost in flexibility, support, and around-the-clock monitoring.
Root access available with 3 levels of server management
Expertly-tuned managed servers deployed instantly
Choose from 4 datacenters spread across 3 continents
FREE redundant SSD storage in RAID-1 arrays
Choice of 13 Linux operating systems
A2 Hosting: Our Expert's Review
Setup time: 7 minutes
Go to full review

»
Whether you're looking for managed or self-managed hosting, A2 Hosting offers three extremely reliable dedicated server plans to meet your needs, depending on your levels of comfort and experience. With A2 Hosting's Unmanaged Flex Dedicated Server plan, users get administrator-level control with root access and their choice of Linux operating system.
| Money Back Guarantee | Disk Space | Domain Name | Dedicated Hosting Plans |
| --- | --- | --- | --- |
| 30 days | 256 GB SSD - 14 TB HDD | New or Transfer | www.a2hosting.com/dedicated |
See other top dedicated server hosts »
Take Advantage of Professional Web Hosting to Grow Your Business
Hopefully, by now you have a sense of the type of web hosting service that will work best for your website or online business. Understanding the type of server configuration (shared, cloud, virtual, or dedicated) is a huge first step, akin to knowing your pants size. Finding exactly the right provider and plan is more representative of finding the store, brand, or belt that makes the look just right.
Web hosting providers exist in a variety of fabrics, colors, and styles, so be sure to find a well-known and respected brand to deliver a mission-critical service like web hosting. By choosing a professional-grade host, you're more likely to find the extra features and tools to make your experiences more enjoyable; who doesn't like extra pockets?
Do you know how football is commonly described as a game of inches? Well, growing your business online in a crowded market of web hosting companies, is a game of milliseconds. According to Google, a half-second delay in loading search results in a 20% decrease in traffic, and page load times just 400 milliseconds slower can result in millions of abandoned sessions each month.
Hidden gems exist at every level of hosting configuration. Shared servers, for instance, should be well-rounded plans that provide everything you need to get started and grow. Cloud and VPS options need to have the scalability and access needed to hone performance and security, while dedicated server hosting plans rely on impressive network speeds. Each level of hosting comes with a variety of perks and disadvantages — which is most relevant to you?
Advertiser Disclosure
HostingAdvice.com is a free online resource that offers valuable content and comparison services to users. To keep this resource 100% free, we receive compensation from many of the offers listed on the site. Along with key review factors, this compensation may impact how and where products appear across the site (including, for example, the order in which they appear). HostingAdvice.com does not include the entire universe of available offers. Editorial opinions expressed on the site are strictly our own and are not provided, endorsed, or approved by advertisers.
Our Editorial Review Policy
Our site is committed to publishing independent, accurate content guided by strict editorial guidelines. Before articles and reviews are published on our site, they undergo a thorough review process performed by a team of independent editors and subject-matter experts to ensure the content's accuracy, timeliness, and impartiality. Our editorial team is separate and independent of our site's advertisers, and the opinions they express on our site are their own. To read more about our team members and their editorial backgrounds, please visit our site's About page.