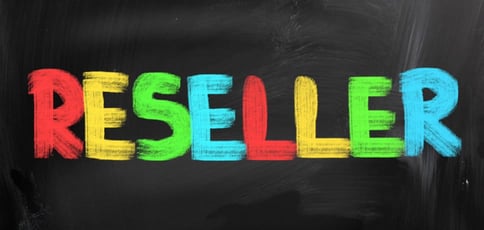 Learning how to resell web hosting isn't as daunting as you may fear. Whether you're looking to add a revenue stream and house your clients' websites or building your own web hosting business, we can draw on the tried-and-true analogy of how web hosting is like real estate (shared hosting is an apartment, a dedicated server is a single-family home, and so on).
A reseller business would be akin to renting out rooms of your home, or perhaps running a bed and breakfast. By making your home available to clients, you're able to generate revenue without having to hire contractors to build a brand new hotel. The best reseller web hosting opportunities enable you to start a new business without a prohibitive investment or decades of experience.
To really succeed, however, you'll want to spend the time learning about the tools and technologies that will help you on your journey and develop a business plan that outlines the steps to lasting profitability. Take a look at our guide below to help you get started.
How to Resell Web Hosting | Best Hosts | FAQs
Step 1: Choose a Reseller Web Hosting Partner
Instead of blindly signing up for more server space from your favorite hosting provider, take a few minutes to think of the business you'd like to create and what the immediate future looks like. The path an established web design and development agency may take will likely be quite different than the path taken by a solo hobbyist looking to host a few friends' sites, or someone looking to start an entirely new hosting company.
Beyond affordability, important features to keep in mind include the operating system, hardware, software, and other perks that will make your and your customers' experiences more efficient and enjoyable. Linux or Windows? Do you want to spring for faster solid-state drives or stick with traditional hard disk drives? Do you need the added space and scalable resources of a virtual private server or prefer the hands-free support of shared hosting?
How many customers do you realistically expect to bring on board at the beginning? What type of hosting needs do they have? Have those figures in mind as you compare reviews and ratings of reseller hosting providers to find the plan that fits your criteria and budget. We've compiled a list of the best overall hosts below to give you a good starting point. Each web hosting service has a wide range of plans to help you get off the ground.
See other top reseller hosts »
Step 2: Build Your Hosting Services
You've probably got an idea of what your customers are looking for, but put yourself in their shoes and imagine shopping for a new hosting plan: What are the services and features that would attract you? The price will obviously matter, but we'll get into that later. What about automatic backups or free SSL certificates? Will they need add-on domain names?
Especially if you opt for a Linux reseller hosting plan, you'll likely use cPanel and WHM to construct and oversee your hosting services. If you've had a web hosting account before, you're probably already familiar with the gold standard of control panels. As a reseller and hosting administrator, however, you'll now have access to its sister product, WHM. Short for Web Host Manager, WHM allows you to create cPanel accounts for your clients, monitor and protect your server, and easily transfer or backup customer data.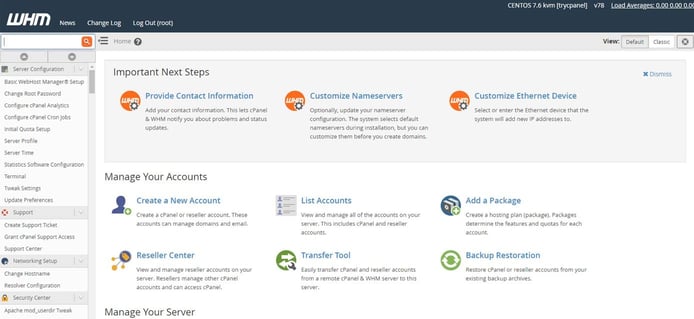 First, however, you'll need to take care of the organizational tasks to properly set up your new business. If your hosting provider supports private nameservers or white-label hosting, you'll want to add your logo and branding to the management portals and update your nameservers. WHM should direct you to exactly where you need to go, otherwise, you can click on Basic Web Host Manager Setup in the menu to the left. Once you've added your contact and nameserver information, scroll through the menu on the left again to tweak the customization options for the cPanel interface.
Finally, you're ready to name your hosting plans and allocate specific resources and limitations. You can accomplish this by clicking on Packages in the WHM menu and following the prompts.
Step 3: Set Your Prices and Configure the Billing System
This isn't a charity, right? By the nature of the word, reselling means that money will need to change hands. Whether you're offering the friends-and-family discount to… well, friends and family… or expecting to turn a profit, you'll need to determine how much to charge and how to notify customers that a payment is due.
Even a simple business plan likely includes some description of your target audience and a basic forecast of sales and expenses. Attaching numbers to your reseller hosting goals helps you predict income and, eventually profits. You have complete control over what you will charge your customers, and learning how to price your products appropriately can be extraordinarily difficult.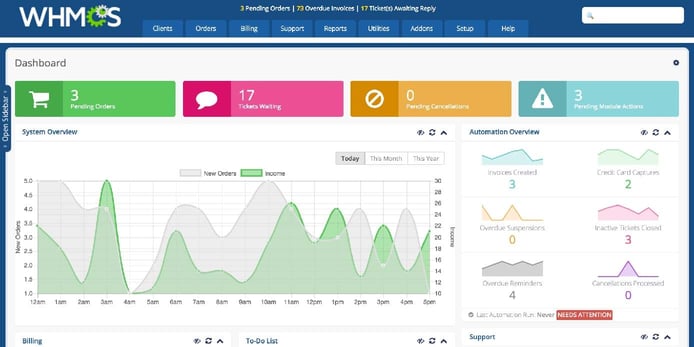 Once you've determined your prices, an automated billing system will come in handy. Most reseller hosting packages that include cPanel and WHM also include WHMCS, which is an extraordinarily popular one-stop solution for client management, invoicing, and customer service tools all integrated into a centralized platform. ResellersPanel created a thorough and detailed guide for configuring WHMCS to work with your products and services.
Step 4: Support Your Customers
Short of perhaps the 99.9% uptime guarantee found on seemingly every hosting plan, offering around-the-clock support is the other must-have component of web hosting you should push to deliver. Not only is it the right thing to do, but helpful customer support can have a tremendous impact on your bottom line.
After experiencing poor service just once, 72% of customers will consider switching companies. Plus, depending on the industry, acquiring a new customer is five to 25 times more expensive than retaining a current client; a modest 5% increase to customer retention rates can increase profits by a staggering 25% to 95%.
That said, don't resign yourself to receiving a perpetual onslaught of emails for the rest of your life or paying for an expensive enterprise-grade support system. Rather fittingly, WHMCS is short for Web Host Manager's Complete Solution. The platform automates tons of tedious steps that would normally fall on your plate. WHMCS can instantly process the payment, provision a cPanel account, and send the client an email with their new account information — all while you sleep.
Even better, WHMCS support tools include a full-featured platform for email tickets and the ability to create a self-help knowledge base. You may still want to check out other customer support tools for small businesses that offer integration with live chat, phone messages, or screen sharing, but WHMCS brings tremendous value to smaller organizations just getting off the ground.
How Much Does It Cost to Start a Web Hosting Company?
Managing the costs of a new business is critical, especially at the beginning. How much you spend on reseller web hosting depends on your initial customer accounts and the audience you're seeking to serve. At the most basic level, you'll need a domain name (roughly $10 per year) and web hosting — not a major investment, but you'll likely need to add more. Here's a very rough estimate of the expenses you may face:
Domain name registration: $10 to $15 per year
Reseller web hosting account: $15 to $400 or more
Website design template: $100 one-time fee
*cPanel/WHM license: $200 to $425 annually
*WHMCS license: $16-$40 per month
*Domain reseller account: $50 one-time fee
Customer support software: $0 to $300 per month
* — sometimes, but not always, included for free with a reseller account
From there, however, things can get interesting. Introductory reseller plans are typically set up on a shared server environment, but you can often resell hosting resources on more expensive VPS or dedicated server plans. You can even resell reseller hosting packages as a master reseller. Additionally, some hosts will use an alternative reseller hosting strategy where you can purchase individual shared hosting accounts for resale (Hostwinds), buy credits that can be redeemed for various services (SiteGround), or take a percentage discount from a portfolio of options (GoDaddy).
If you're a masochist — and extremely experienced in the world of web hosting — you can stop there, for a theoretical investment of less than $30 per month. However, you likely want to quickly launch a professional website; that theme may come with a price tag. And what about those tools we talked about earlier? We strongly recommend selecting a reseller plan that includes free and unlimited cPanel and WHM, plus WHMCS. Otherwise, those licenses can get expensive quickly.
How Do You Make Money Reselling Web Hosting?
Whether you're looking to offset your hosting costs, start a side hustle, or grow into the next major global hosting brand, you can absolutely turn a profit with a reseller web hosting business. The web hosting space has an incredibly low cost of entry, especially compared to starting from scratch as a hosting provider. Even with a small pool of clients, the right reseller plan and correct pricing can quickly translate into regular, recurring revenue.
Once you understand how your goals of making money fit with other business priorities like market share or service quality, you'll want to consider your customer profile, costs, revenue targets, competition, market trends, and other factors to price your hosting plans in a way that maximizes profit.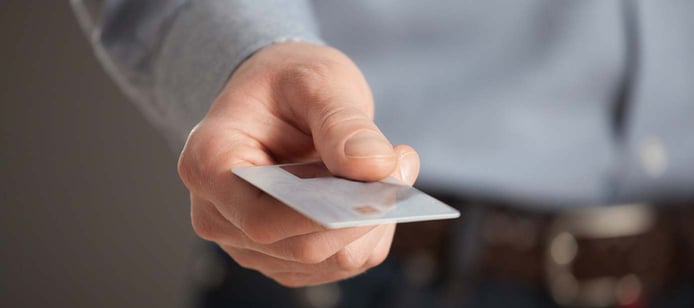 Yes, you'll probably need to set your sights low at first, but spend the time to do the research and understand profit margins. According to a study from NYU, computer services organizations can expect to earn a 6% profit margin. You'll want to cover your costs and remain competitive, no doubt, but don't be afraid to push for more profits — some articles suggest aiming as high as 20%.
How Can I Promote and Grow My Web Hosting Business?
Once you gain that first foothold, don't be afraid to look for more. You may think that solely revolves around continually attracting new customers, but don't forget those who helped you get to where you are. According to experts, the customers you already have are your best bet for increasing sales. Do whatever it takes to help them grow their online presence to a point where they need to upgrade to a more expensive plan, spring for extra add-ons, or want to start an entirely new website. In turn, they'll advocate for your business to others, bringing you even more clients.
Promoting your business doesn't have to cost an arm, a leg, or a massive advertising budget, either. Be sure to leverage social media into an effective way to communicate with existing customers and reach new ones. Nearly 75% of marketers surveyed believe their efforts on Facebook, Twitter, and other platforms have been somewhat or very effective for their business.
Because your reseller web hosting business isn't a brick-and-mortar shop that gains customers based on a geographic radius, adding your business to Google, Yahoo, or Bing's online directories may not be as relevant. You can, however, appeal to the search engines and gain higher placement in search results by optimizing the keywords, page load speed, and other metrics as part of SEO. Those three little letters carry a lot of mystique and power, so we recommend checking out beginner's guides like the one at Moz to understand how to get started.
Why You Should Add Web Hosting Reseller to Your Business Profile
Sure, reselling web hosting has the obvious perk of adding a recurring revenue source to your bank account without the overwhelming complexities and expenses of hooking up a server, running a network, and starting your own hosting company from scratch. Just about everyone, from freelance designers and developers to web agencies and software development organizations, can find efficient ways to leverage existing technology resources into income-generating products that strengthen a brand's portfolio. Some of the basic perks include:
Easy path to entry
Additional revenue stream
Expansion into new markets
Building existing client trust
Relatively low time commitment
Control over your profit margins
Do your friends barely understand how to operate their online résumé and dread each time they need to ask their hosting provider for help? Do your clients just want a beautiful, functional website without caring about the technical nuts and bolts? Act as their representative or intermediary agent and pocket the fees.
To be fair, reseller hosting may not be the best venture for those entering the web hosting industry for the first time. Look for the services you can legitimately offer your clients that make your business a better option than what they currently have. You'll unlock new markets, new audiences, and new insights that may pave the way for still more innovations.
See Our Full Review of InMotion
Whatever type of hosting plan you're looking for, InMotion is a solid choice no matter the scale. Our reviewer PJ Fancher recently took InMotion for a spin, and rated the popular host a 4.9 in the Reseller Hosting category out of a perfect score of 5.0. Here's what PJ had to say about InMotion:
InMotion Hosting is consistently one of the best hosting providers you'll find. You pay a bit of a premium for great support, powerful hardware, and supreme reliability, but the value of the product is market-leading. Whether you need SSD-powered VPSs or are ready to build your first site with its BoldGrid web builder, InMotion should be a top contender for your host.
Before signing up for InMotion, it's a good idea to read through PJ's full review to learn about all the features InMotion offers. You can also compare it to other web hosts to ensure you're getting the best deal possible:
If you decide InMotion is the right choice, keep in mind that it takes just minutes to deploy your InMotion server space. And at $15.99 per month, it's a bargain considering the many great features that come in any InMotion plan.
Advertiser Disclosure
HostingAdvice.com is a free online resource that offers valuable content and comparison services to users. To keep this resource 100% free, we receive compensation from many of the offers listed on the site. Along with key review factors, this compensation may impact how and where products appear across the site (including, for example, the order in which they appear). HostingAdvice.com does not include the entire universe of available offers. Editorial opinions expressed on the site are strictly our own and are not provided, endorsed, or approved by advertisers.
Our Editorial Review Policy
Our site is committed to publishing independent, accurate content guided by strict editorial guidelines. Before articles and reviews are published on our site, they undergo a thorough review process performed by a team of independent editors and subject-matter experts to ensure the content's accuracy, timeliness, and impartiality. Our editorial team is separate and independent of our site's advertisers, and the opinions they express on our site are their own. To read more about our team members and their editorial backgrounds, please visit our site's About page.