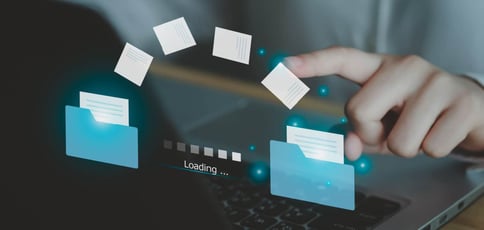 It takes little more than transferring a single export file to move your website from Squarespace to a WordPress blog or WooCommerce store. Site-building platforms like Weebly and Wix are recommended for a manual redesign of Squarespace content, while managed WordPress hosts with cPanel are best for using the automated export file method with third-party plugins.

The Squarespace platform makes the migration process to WordPress easy with its export system designed for WordPress dashboard transfers. You can choose an independent web host from the list below, and follow our step-by-step guide to easily move your site to a new platform.
Step 1: Choose a New Host
Whether your goal is to save money with shared hosting, improve performance through a VPS plan, or simplify operations with a managed hosting platform, you first need to choose a new hosting account to transfer a published Squarespace website to a new WordPress installation.
We have compiled a list of multiple design and web hosting options for developers that may be beneficial for Squarespace migrations depending on the technical requirements of your project.
A Squarespace template can be converted to Wix or Weebly without the use of a WordPress importer at all. This list details the main advantages of Wix and Weebly over Squarespace and offers information on other options.
No coding skills needed with drag-and-drop builder
100s of templates with niche-specific designs
Add features via the App Market and Wix Events
Easily create ecommerce functionality easily
Great way to build small sites on a budget
WEBSITE BUILDER
RATING 4.9 ★★★★★ Our Review
Alexandra Anderson (HostingAdvice.com): Website building is where Wix shines. The thousands of templates, the intuitive editor, the industry-leading designs that cater to a variety of specific fields and use cases — all these facets represent a platform that excels at facilitating easy web design for the non-tech-savvy user. Go to full review »
| Money Back Guarantee | Disk Space | Domain Name | Setup Time |
| --- | --- | --- | --- |
| 14-day FREE trial | 2 GB – Unlimited | FREE (1 year) | 4 minutes |
Wix is similar to Shopify and Squarespace in providing a proprietary design layer in its hosting plans to simplify blog and eCommerce store publication for new site users. Designers, marketers, and small business owners can use Wix themes to transform Squarespace content into new websites. Use the Wix framework as a Squarespace account replacement or Shopify migration solution with WordPress transfers of existing content.
Wix is a mature platform with many of the features of WordPress presented in a simplified way. It also streamlines website development on Wix using prebuilt website template solutions.
Developers need to manually copy text and images to Wix hosting if they do not have WordPress installed on the platform. Wix does not use the WordPress Importer method found in WP-Admin. Developers can use the CMS2CMS plugin or other open-source options instead.
The main advantage of moving from Squarespace to WIx is highlighting content with a better website builder design. If the RSS/XML method is too complex, use a plugin like CMS2CMS to transfer the files from the old website. You will also need to manage the DNS transfer settings for Squarespace sites with configuration changes at the domain name registrar to complete the process.
Design your site with the popular drag-and-drop site builder
Fully hosted, drag-and-drop site-building and marketing
Choose from 100s of customizable, professional themes
Add contact forms and take RSVPs via apps
eCommerce-ready and SEO-friendly with built-in tools
WEBSITE BUILDER
RATING 4.8 ★★★★★ Our Review
Weebly: Our Expert's Review
Alexandra Anderson (HostingAdvice.com): Weebly is in the elite clique of drag-and-drop website builders that includes WordPress and Wix. com. Go to full review »
| Money Back Guarantee | Disk Space | Domain Name | Setup Time |
| --- | --- | --- | --- |
| 30 days | 500 MB – Unlimited | FREE (w/ paid plans) | 3 minutes |
Weebly is a great alternative for web publishers who don't mind manually remixing content to transfer from Squarespace, though it does have some drawbacks. For example, you can't use WP plugins. During migration, you can use a URL mapping service or auto-upload images plugin on complex Squarespace domains to maintain the integrity of web content.
Add Google Analytics to a WordPress website to confirm the URL slug settings. Since many Squarespace blogs and business sites are dated, it makes sense to review and port the old site data to Weebly. The theme design is better overall at Weebly, and you can update your Squarespace content with SEO tools and a better search console for administration.
Like all site transfer methods provided in this list, business owners will also need to transfer their domain name from Squarespace to the new host. It is swift and easy to change your brand domain to Weebly from Squarespace using the DNS settings in the admin section of a registrar.
Some WordPress plugin options like LitExtensions specialize in Weebly to WordPress transfers but cost extra to use for a project. The CMS2CMS plugin has the most options available.
The "Email Archive" function in Squarespace creates an XML file of all the content and makes it available for download. Developers are still going to have difficulty transferring image hosting seamlessly between Squarespace and Weebly in preserving URL structure. Be sure to fully test the site before going live.
No coding skills necessary with MyWebsite Creator
Free domain name or transfer your existing site
FREE social media and marketing widgets
Pro templates with pre-filled text and images
Multilingual support and tools for SEO
WEBSITE BUILDER
RATING 4.8 ★★★★★ Our Review
1&1 IONOS: Our Expert's Review
Alexandra Anderson (HostingAdvice.com): If you're in need of a one-stop shop for designing and launching a website, you should be pleased to hear that 1&1 IONOS offers its own custom website building tools for both desktop and mobile devices. In addition to a free domain and email address, along with unlimited storage space, the 1&1 IONOS MyWebsite platform includes all the essentials for starting a site from scratch. Go to full review »
| Money Back Guarantee | Disk Space | Domain Name | Setup Time |
| --- | --- | --- | --- |
| 30 days | 10 GB – Unlimited | FREE (1 year) | 5 minutes |
With 1&1 IONOS, developers can access a large suite of professionally managed WordPress hosting tools to install a new site.
It is easier to migrate a site from Squarespace directly to a new WordPress installation hosted on 1&1 IONOS than it is to move to Weebly or Wix, but the platform options also differ. 1&1 IONOS does not use cPanel or Softaculous for WordPress website installs.
1&1 IONOS offers many easy options, including CMS2CMS and other plugins that do the work of file transferring and reformatting for Squarespace publishers. The export function provided by Squarespace will transfer the site pages and content to WordPress using a .csv file and XML that imports through WP-Admin.
Plugin options are easier but add extra costs to a website transfer. 1&1 IONOS has staff available 24/7/365 to help with debugging issues.
Drag-and-drop design from custom tools
FREE access to hundreds of specialized templates
Built-in ecommerce and payment processing
Easily switch among widescreen, desktop, tablet, and mobile previews
Support for 31 languages and 99.9% uptime
WEBSITE BUILDER
RATING 4.6 ★★★★★ Our Review
Hostinger: Our Expert's Review
Laura Bernheim (HostingAdvice.com): Whether you're taking your first foray into website hosting or are a developer looking to save some time, a strong website builder can dramatically streamline the creation process and enable users to launch a website in five minutes or less. Fortunately for customers, Hostinger has invested heavily in crafting an impressive visual editor sure to appeal to users of all levels of experience. Go to full review »
| Money Back Guarantee | Disk Space | Domain Name | Setup Time |
| --- | --- | --- | --- |
| 30 days | 30 GB SSD – 200 GB SSD | FREE (1 year) | 3 minutes |
Hostinger is the main cPanel hosting solution we recommend for Squarespace website transfers.
You can install WordPress, Drupal, Joomla, and more than 300 other open-source scripts using Softaculous and CMS2CMS to transfer the site data from Squarespace.
Hostinger is recommended as the best budget cPanel web host. The company manages millions of domain names with security and reliability. Developers appreciate the platform's ease of use, which includes an extensive knowledge base and resources for new users to solve issues.
FREE Weebly site builder or WordPress setup
Worry-free, automated webiste migrations
User-friendly cPanel interface and staging area
Custom ticket and chat systems for 24/7 support
SuperCacher with static and dynamic caching
WEBSITE BUILDER
RATING 4.4 ★★★★★ Our Review
SiteGround: Our Expert's Review
Alexandra Anderson (HostingAdvice.com): Do you know you need to build a website but don't know where to begin. Well, SiteGround will give you not one, but two extremely popular and user-friendly options to create the online presence of your dream. Go to full review »
| Money Back Guarantee | Disk Space | Domain Name | Setup Time |
| --- | --- | --- | --- |
| 30 days | 10 GB SSD – 40 GB SSD | New or Transfer | 5 minutes |
SiteGround is an independent hosting company that has invested more than a decade in building a high-performance managed WordPress publishing solution.
Transferring Squarespace content to new WordPress posts is easy with SiteGround. The company maintains many developer resources for WordPress and specializes in website caching for high performance requirements.
The proprietary AMP system built by SiteGround includes a unique platform for managed WordPress hosting. The Memcached, Varnish Cache, NGINX, and Redis caching options are managed by some of the world's top datacenter engineers.
Migrate from Squarespace to SiteGround with managed WordPress plans that are pre-configured with optimal server settings.
Step 2: Install the WordPress CMS
To transfer a Squarespace site to WordPress, first register the domain name in cPanel and create a folder for the files required by the script on the new web server. You can use cPanel to set up a subdomain for developing and testing the migration, keeping the main domain live on Squarespace. This will allow for the transfer of data from Squarespace using XML and a .csv file after WordPress has been installed on the new host.
Checklist
Register the domain name in cPanel
Create a folder for files required by the script on the new server
Set up a subdomain through cPanel to test the migration
It is recommended to install WordPress with Softaculous or use a pre-installed version from managed WordPress hosting services. To do a manual installation, use File Manager to upload the WordPress .zip file and unpack it to run the install script. Use phpMyAdmin for new database administration. You can install WordPress on any LAMP or WAMP hardware.
Step 3: Export Site Data from Squarespace and Import Files to WordPress
Go to "Settings > Advanced > Import/Export" in your Squarespace admin panel. Click "Export" and download the website archive by clicking on the WordPress icon. Save it to your desktop.
This file includes the data from posts made to your Squarespace site in basic HTML, exported as a compressed .csv file that can be imported with one click into WP-Admin for the transfer.
Next, you need to upload the .csv file provided by the Squarespace platform into WP-Admin. The easiest way to accomplish that is to navigate to "Tools > Import" in the WP-Admin section and click "Install" under the WordPress settings.
Upload the export file that you saved in the previous step to transfer your data from Squarespace into new WordPress content.
Checklist
Upload the Squarespace .csv file into WP-Admin
Navigate to "Tools > Import" in WP-Admin and click "Install"
Upload the export file to transfer your data
Since WordPress manages image files differently from Squarespace, you may need to manually upload .jpg/.png files to preserve the design of pages. Designers using Wix or Weebly can create pages manually and use this method. WordPress users can install plugins like CMS2CMS or LitExtensions for better preservation of page design and image file links.
Step 4: Change the DNS Settings for the Website
Once you transfer the files from the old Squarespace site to the new one with WordPress, make sure to change the DNS settings at your domain name registrar and remove the domain from Squarespace in its admin section. It may take a few hours for the changes to propagate. This assigns a new IP address to the domain or subdomain to publish it.
Most people host domain names on a third-party registrar so the transfer process takes just a few hours to complete. If you registered your domain name with Squarespace directly, you need to follow your new host's process to request a domain name transfer to the new hosting platform. This involves proving ownership and authorizing new DNS settings.
Step 5: Debug & Redesign Web Content Resources
Regardless of how simple or complex your Squarespace site design was, web publishers will need to debug the site and build a new design using WordPress and third-party resources. Experiment with themes, widgets, blocks, and site-builder elements to remix the old data from Squarespace to a new design in WordPress. Add new plugins to enhance site functionality.

The process can be as simple or complex as you desire when transferring a Squarespace site to a new platform. Weebly and Wix allow publishers to continue to use a site builder with managed platform security. WordPress users have access to a vast archive of open-source plugins and themes. Which options you choose depends mainly on the vision you have or your project.
What Is Squarespace?
Squarespace is a widely popular independent blogging platform that lets you create a fully functional website in a fraction of the time coding takes. When you sign up for Squarespace, you get access to pre-made templates with drag-and-drop functionality, allowing you to build a professional-looking website in less than an hour.
You can choose from multiple templates in different categories, including galleries for photography, art, and design, and eCommerce stores and blogs. What's more, each template is dynamic and responsive, meaning it looks beautiful on all devices and screen sizes.

Squarespace's beautiful, dynamic templates and simple interface make it one of the most popular web builders globally, with more than 3 million live websites built on its platform.
What Is the Best Squarespace Alternative?
Wix is another wildly popular website builder, loved by many for its stylish website templates and affordable hosting plans. It functions similarly to Squarespace, letting you drag-and-drop elements into your website's design.

When you sign up you can choose the template for your online shop, gallery, portfolio, or business site, and import the Squarespace content for better SEO results. It's also easier to use than CMS platforms like WordPress, because it doesn't require continual plugin updates or complex administrative duties.
Weebly is our runner-up suggestion for a site builder with more functionality and platform features than Squarespace. Publishers familiar with using Squarespace will find more opportunities for theme design, data analytics, and third-party plugins with Weebly.
Can I Run WordPress on Windows Servers?
WordPress will run with a MySQL-compatible database and PHP installed on Windows servers, making it an option for custom hardware. Squarespace content can also be transferred to numerous ASP.Net frameworks, either through database tables or manual input.
Most Windows developers can use the WordPress export file produced by Squarespace to transfer the content to their sites. You may be required to import the database tables manually or write a conversion script for the URL path mapping.
What Is the Best Linux Solution for Squarespace?
The best Linux solution is a shared hosting plan with cPanel or an equivalent that allows you to publish unlimited domain names on a single account. Most Squarespace site pages are not difficult to transfer to another open-source CMS script, and many options exist besides WordPress. Shared hardware allows business owners to secure the lowest prices on services.

WordPress is the best Linux solution for Squarespace transfers because of the native export method provided by Squarespace. Just re-import your page code to WordPress through the XML file and remix it to take advantage of a wide suite of plugin tools. Drupal is a good alternative to WP and is supported by CMS2CMS on data transfers between hosts.
Choose Wix or Weebly for Squarespace Site Migrations
Wix and Weebly are strong solutions for website migrations if you want to avoid WordPress. You cannot install WordPress on these platforms, so the process of migrating large Squarespace sites can be complex to manage. Each blog post from Squarespace will be converted to a new post page using a migration service with XML or RSS by default.
On cPanel and managed WordPress hosting platforms, professional plugin solutions like CMS2CMS and LitExtensions will transfer a Squarespace URL to a blog post with many other open-source script options and are not limited to WordPress CMS websites.
We recommend Wix and Weebly site-builder solutions for Squarespace website content migration. Squarespace SEO tools can also be replaced with pro options like Shopify Plus, but cPanel solutions with WordPress hosting are cheaper. Use CMS2CMS for the best results in preserving your content, design, tags, and URL structure on the new domain.
Further Reading: "5 Steps: How to Move a Site from Squarespace (Oct. 2023)"
Hopefully, our recommendation of Wix fulfills all your web hosting needs. Starting at just $0.00 per month and rated 4.9 overall, Wix gives users plenty of bang for the buck. Among our favorite features:
No coding skills needed with drag-and-drop builder
100s of templates with niche-specific designs
Add features via the App Market and Wix Events
Easily create ecommerce functionality easily
Great way to build small sites on a budget
If you'd like recommendations similar to Wix and others in 5 Steps: How to Move a Site from Squarespace (Oct. 2023), check out these popular guides. You'll find comparisons of Wix to other hosts on pricing, features, support and more:
And of course, if Wix is your top choice, you can get started now at just $0.00/month. Wix is easy to set up and scale, no matter the size of your next project.
Advertiser Disclosure
HostingAdvice.com is a free online resource that offers valuable content and comparison services to users. To keep this resource 100% free, we receive compensation from many of the offers listed on the site. Along with key review factors, this compensation may impact how and where products appear across the site (including, for example, the order in which they appear). HostingAdvice.com does not include the entire universe of available offers. Editorial opinions expressed on the site are strictly our own and are not provided, endorsed, or approved by advertisers.
Our Editorial Review Policy
Our site is committed to publishing independent, accurate content guided by strict editorial guidelines. Before articles and reviews are published on our site, they undergo a thorough review process performed by a team of independent editors and subject-matter experts to ensure the content's accuracy, timeliness, and impartiality. Our editorial team is separate and independent of our site's advertisers, and the opinions they express on our site are their own. To read more about our team members and their editorial backgrounds, please visit our site's About page.