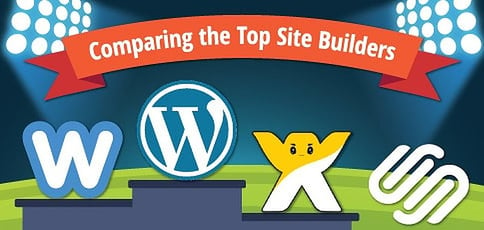 Website builder reviews always seem to boil down to a four-way competition: Wix vs. Squarespace vs. WordPress vs. Weebly. The opinions are endless, but read on for our take after taking each of the platforms through rigorous, hands-on testing.
Whether you're a developer or first-time site owner, creating a web presence is a major point of pride. Website builders are usually thought of as beginners-only tools, but the right program can bring professionals some major time savings and efficiency without sacrificing quality. Simply put, site builders and templates can get the job done in a fraction of the time and with a lot fewer headaches.
We rated the internet's most popular site building platforms — WordPress, Wix, Squarespace, and Weebly — on a variety of factors to help you find the right solution.
Overall Ratings
As experts in the web hosting arena, we've tested out more than our fair share of website builders — in our personal lives and as we continue to build out our reviews on HostingAdvice. We summed up our takes on these leading site builders in the summary table that follows. You'll see we take note of not only the initial costs but the scaling potential for each builder.
| | OVERALL RATING | BEST FOR | COST vs. COMPETITORS |
| --- | --- | --- | --- |
| WIX (WINNER!) | 4.9 out of 5.0 | Small Businesses or Side Projects | Average |
| SQUARESPACE | 4.5 out of 5.0 | Design-Oriented Sites | Too High |
| WORDPRESS | 4.8 out of 5.0 | Any Size Business or Blogging | Cheap |
| WEEBLY | 4.8 out of 5.0 | Small to Mid-Sized Businesses | Cheap |
See all the best website builders »
Read on to get the rundown on everything from usability and customization to blogging tools and cost for Wix, Weebly, Squarespace, and WordPress.
1. Design & Customization: Why We Choose Wix
Unlike other builders, Wix gives you an option to select a blank layout or choose to start completely from scratch to make sure your site is unique and truly personal. That option is sure to appeal to more advanced site owners who know specifically what they want their website to look like. Users can take advantage of Wix's powerful what-you-see-is-what-you-get, or WYSIWYG, site builder for the same affordable price as most shared hosting plans.
No coding skills needed with drag-and-drop builder
100s of templates with niche-specific designs
Add features via the App Market and Wix Events
Easily create ecommerce functionality easily
Great way to build small sites on a budget
WEBSITE BUILDER
RATING 4.9 ★★★★★ Our Review
Alexandra Anderson (HostingAdvice.com): Website building is where Wix shines. The thousands of templates, the intuitive editor, the industry-leading designs that cater to a variety of specific fields and use cases — all these facets represent a platform that excels at facilitating easy web design for the non-tech-savvy user. Go to full review »
| Money Back Guarantee | Disk Space | Domain Name | Setup Time |
| --- | --- | --- | --- |
| 14-day FREE trial | 2 GB - Unlimited | FREE (1 year) | 4 minutes |
See more website builder plans »
Wix Offers Industry-Specific Designs and Blank Templates (4.9 out of 5.0): Wix templates come to you completely set up with imagery and text geared for your specific use, giving even the most cautious customers a safe place to test their wings. While your site is still under construction, Wix even offers customizable landing pages that tell visitors your site is coming soon.
Squarespace Is Known For Sleek, Modern Layouts (4.8 out of 5.0): Squarespace templates make strong use of typography, imagery, and open spaces to optimize their stunning designs for your site's need. Their builder lets you drag and drop photos or blocks of text within sections of your page. By suggesting various page configurations and enabling you to move, add, or delete sections of the website, your content will look undeniably yours.
WordPress Represents the Utmost Design Flexibility (5.0 out of 5.0): With a community of millions contributing to both the platform's functionality and the themes and plugins to complement it, WordPress knows no bounds when it comes to design. Most designs are free, but spending as little as $50 unlocks a new world of flexibility and stunning, professional designs. Most WordPress themes let you change color schemes, fonts, and more, while plugins can add different features like photo galleries and social media integrations.
Weebly is a WYSIWYG Editor With a Powerful End Result (4.8 out of 5.0): Just because you're starting with a template doesn't mean your website has to look like it was made with a cookie cutter. A strong WYSIWYG builder gives you the tools to drag and drop your way to a custom, professional design. Weebly themes are responsive, and you can preview exactly what your site will look like on desktops, tablets, or mobile.
2. Ease of Use: Why We Choose Weebly
The program behind more than 40 million websites, Weebly offers a drag-and-drop editor with step-by-step guidance and hundreds of how-to articles. Don't confuse their robust feature set with complications; Weebly packages all the tools you need in a clean, intuitive program. Top-rated hosting providers, such as Bluehost, include Weebly for free to help customers get online quickly and painlessly.
Design your site with the popular drag-and-drop site builder
Fully hosted, drag-and-drop site-building and marketing
Choose from 100s of customizable, professional themes
Add contact forms and take RSVPs via apps
eCommerce-ready and SEO-friendly with built-in tools
WEBSITE BUILDER
RATING 4.8 ★★★★★ Our Review
Weebly: Our Expert's Review
Alexandra Anderson (HostingAdvice.com): Weebly is in the elite clique of drag-and-drop website builders that includes WordPress and Wix. com. Go to full review »
| Money Back Guarantee | Disk Space | Domain Name | Setup Time |
| --- | --- | --- | --- |
| 30 days | 500 MB - Unlimited | FREE (w/ paid plans) | 3 minutes |
See more website builder plans »
Wix Has Easy Setup With Site Categories (4.8 out of 5.0): A one-stop shop for hosting, domains, and impressive designs, Wix organizes their hundreds of templates into surprisingly specific use cases such as restaurants, music, events, business, or fashion. Offering designs for everyone from architects to graffiti artists, Wix lets you get started for absolutely free — log in with a Facebook or Gmail account and immediately get to work.
Squarespace Offers Simple, Drag-and-Drop Design (4.7 out of 5.0): Squarespace offers only 60 templates, which can be a blessing and a curse. You won't get overwhelmed with options when starting your site, but your selected design might not have all the options you desire. Regardless, Squarespace offers the most impressive designs on the market and includes a comprehensive platform that is simple for both beginners and experts to use.
WordPress Has a Steep Learning Curve But Maximum Flexibility (4.4 out of 5.0): It's hard to argue with the most popular content management system in the galaxy — more than a quarter of all websites on the internet rely on WordPress — but the platform's biggest knock is that its ultimate power and flexibility is a bit much for first-time site owners who need a bit more hand-holding. Because WordPress needs to be installed on a hosting account, you'll need to go through a few extra steps before you get started on your site.
Weebly Offers the Most Customization for Minimal Confusion (4.9 out of 5.0): Many of our favorite hosts include Weebly for free in their plans, but you also can sign up for hosting directly through Weebly. That capability might seem trivial, but it illustrates the utmost flexibility users can discover with the site builder. Weebly's responsive, professional templates can be pushed even further with a full set of design tools at your fingertips.
3. Blogging: Why We Choose WordPress
Built for bloggers, WordPress comes ready to help you share your ideas with the world. Once you settle on a design, WordPress provides the quickest path to publishing your posts. Because you'll need a separate web hosting account with WordPress, finding a provider who optimizes their infrastructure for WordPress performance and reliability is key. InMotion Hosting, Bluehost, and SiteGround have all been go-to standards in this arena for years.
Trusted as the #1 platform for bloggers
1-click installs or preinstallations by top hosts
Thousands of blog themes available
Easily publish posts, pages, and galleries
Add plugins to extend your site's functionality
BLOG
RATING 5.0 ★★★★★ Our Review
WordPress: Our Expert's Review
Alexandra Anderson (HostingAdvice.com): Trusted by more than 26% of website owners, WordPress bears the #1 blog software status with pride. Easily install the software on your server, hosted by a top-rated WordPress hosting provider, and begin writing…. Go to full review »
| Money Back Guarantee | Disk Space | Domain Name | Setup Time |
| --- | --- | --- | --- |
| 90 days | 100 GB SSD - Unlimited SSD | FREE (1 year) | 5 minutes |
Wix Is a Great Way to Start Blogging for Free (4.2 out of 5.0): Wix is one of the few site building platforms to offer a full range of services available for free. Enjoy their drag-and-drop editor, unlimited pages, 500MB of storage, a mobile site, and hosting just by entering your Facebook or Gmail login information. Once your blog is humming along, you can easily upgrade to affordable paid plans to unlock more features such as a custom domain name, analytics, and more storage.
Squarespace Is Not Cost-Effective for Bloggers (3.5 out of 5.0): We love Squarespace's templates and builder, but our biggest hesitation is their price tag — at $12 a month for their cheapest plan, Squarespace is nearly twice as expensive as the other options. If you want to pair your blog with an online store, the cost soars to $26 monthly. Squarespace plans do come with some nice perks, including unlimited bandwidth and storage, SSL certificates, and a free domain, but bloggers just starting out won't need many of those features right out of the gate.
WordPress is the Web's #1 Blogging Platform for a Reason (5.0 out of 5.0): We mentioned the setup process with WordPress can be a bit more challenging than some of the other options. Once you get over the hump, however, WordPress gives bloggers unlimited options and tools to grow your audience. An inexhaustible supply of plugins can optimize your site's speed, designs, search engine rankings, and analytics to help you cater to readers' interests.
Weebly is Second to WordPress, but First for Usability (4.8 out of 5.0): For those not quite up to the WordPress challenge, Weebly is your next best bet. The intuitive builder combines ease of use with powerful functionality, enabling you to create a site that showcases your best content. With an emphasis on connecting with your audience and providing readers a positive experience, Weebly's hosting resources ensure your blog posts load quickly, every time.
4. eCommerce: Why We Choose Weebly
The best online stores are convenient for both customers and site owners. Weebly's shopping cart is automatically set up when you start your store, and the software is fully integrated with your site to provide a seamless checkout experience. The full-featured platform lets you track and manage inventory, while shoppers will appreciate the dynamic search and filter tools.
Quickly create stores via drag-and-drop editor
Hundreds of ready-made themes available
Fully integrated shopping cart and secure checkout
Inventory tracking for you, filtered search for customers
Get a complete mobile store, too!
ECOMMERCE
RATING 4.7 ★★★★★ Our Review
Weebly: Our Expert's Review
Alexandra Anderson (HostingAdvice.com): Weebly is one of the internet's most trusted website builders, included for free in many of the top eCommerce hosting plans. Get started with the robust eCommerce store builder platform and display, sell, and manage digital or physical good and services with ease…. Go to full review »
| Money Back Guarantee | Disk Space | Domain Name | Setup Time |
| --- | --- | --- | --- |
| 30 days | 500 MB - Unlimited | FREE (w/ paid plans) | 3 minutes |
Wix Categories Cater to Hotels, Musicians, and Restaurants (4.8 out of 5.0): Wix gives you everything you need to create, manage, and sell your products online. Choose the layout or template that best fits your specific store, whether you're a musician, fashion designer, or run a bed-and-breakfast. We also appreciate that not only does Wix accept multiple payment methods, but they do everything without taking a commission or cut of your sales.
Squarespace Storefronts are Beautiful but Limited (4.2 out of 5.0): Squarespace's strong designs are better suited for portfolios or informative websites. Their eCommerce tools are great for those who have found success through Squarespace with their online brand or blog and want to explore ways to monetize the popularity. Dip your toes into running an online store with Squarespace but keep in mind that you'll probably have to go elsewhere when your selling and payment processing needs become more complex.
WordPress Has Payment Integrations and eCommerce Plugins (4.4 out of 5.0): The WordPress platform itself does not come with any selling functionality but never fear, your online store is only a plugin away. There are tons of options available, but WooCommerce reigns supreme — so much so that Automattic, the team behind WordPress, acquired the popular plugin in 2015 to further integrate the two platforms. As with many things in WordPress, you'll have to put in more work to get started, but the end result is spectacular.
Weebly Intuitive Site Building Lets You Focus on Your Business (4.7 out of 5.0): The surprisingly intuitive, yet impressive, eCommerce tools within Weebly can adapt to handle a wide range of products and services. By doing all the heavy lifting with web design, inventory management, and transactions, online entrepreneurs can concentrate their efforts on their passions instead of IT dilemmas. Weebly also offers convenient iOS and Android apps, meaning you can process and fulfill orders, respond to customer inquiries, add new products, and sales records from anywhere.
5. SEO: Why We Choose WordPress
The beauty of WordPress rests in the extra features and functionality you can add to the content management system with just a few clicks of your mouse. WordPress is naturally set up well for SEO success, but adding plugins will help you rise even higher in search results. Again, you'll want to find a hosting plan that is optimal for WordPress performance and let the CMS and plugins take it from there.
FREE software with 1-click install
Trusted by millions of site owners
1,000s of drag-and-drop themes
#1 blogging platform
Huge online community
BEST OVERALL
RATING 4.7 ★★★★★ Our Review
WordPress: Our Expert's Review
Alexandra Anderson (HostingAdvice.com): WordPress, the best blogging platform and content management system in the world, powers the online presence of brands such as Disney, Sony, and Spotify. Rookie website owners can turn toward WordPress. Go to full review »
| Money Back Guarantee | Disk Space | Domain Name | Setup Time |
| --- | --- | --- | --- |
| 90 days | 100 GB SSD - Unlimited SSD | FREE (1 year) | 5 minutes |
Wix Covers Their Bases but They're Not Wowing Google (4.0 out of 5.0): Wix handles the basics of SEO with meta tags, headers, keywords, links, and alt text, but you'll need to go beyond the platform for the most effect. They recommend two Google plugins and a handful of their own apps, but we wish Wix included the advanced settings and tools in the main platform. However, users will appreciate the traffic boosts from automatic XML sitemaps and included content delivery network.
Squarespace SEO is Improved But Not Spectacular (4.0 out of 5.0): We really appreciate that Squarespace includes many SEO best practices right in their platform, without the need for installing additional plugins. Automatically generated XML sitemaps and HTML tags are a great perk, as well, but the other SEO services only cover standard features such as page titles, clean HTML markup, and automatic redirects.
WordPress SEO is Easy and Effective with Plugins Like Yoast (5.0 out of 5.0): As with so much when it comes to WordPress, the sky is the limit when it comes to the richness of features you can add with plugins. SEO is no exception. Yoast SEO, one of the most downloaded WordPress plugins ever, is an incredibly comprehensive SEO solution that balances technical optimizations with helping you write better keyword-driven content.
Weebly SEO May Leave Seasoned Site Owners Wanting More (4.8 out of 5.0): Weebly takes a somewhat puzzling approach to SEO features. All their sites come with a sitemap, SEO-friendly HTML formatting, meta descriptions, and mobile optimization, but you have to dig for other simple SEO tools such as alt tags and page-specific descriptions. If you're relying on SEO to drive traffic and success to your site, you'll need to turn to third-party apps.
6. Cost: Why We Choose Weebly
When it comes to getting the best bang for your buck, look no further than Bluehost and Weebly. The longtime favorite hosting provider offers rock-solid support and modern infrastructure on top of one our favorite site builders. The combination will work wonders for both beginners and experts as their site grows.
All-in-one hosting and drag-and-drop builder
Start designing for FREE, upgrade whenever
Easily build a blog, personal site, or online store
100s of FREE templates for websites
$100 credit toward Google advertising
CHEAP
RATING 4.6 ★★★★★ Our Review
Weebly: Our Expert's Review
Alexandra Anderson (HostingAdvice.com): Weebly is a well-known name in the cheap shared hosting space — not necessarily due to competitive pricing but because several of the web's leading low-cost hosting providers have opted to include Weebly software for free, adding value to their existing offerings. It's worth noting Weebly does offer a free plan, but websites are found on a Weebly subdomain and display Weebly advertising. Go to full review »
| Money Back Guarantee | Disk Space | Domain Name | Setup Time |
| --- | --- | --- | --- |
| 30 days | 500 MB - Unlimited | FREE (w/ paid plans) | 3 minutes |
Wix is Best For Beginners (4.3 out of 5.0): Free is hard to beat, especially when you're getting started. Moving up to paid subscriptions to Wix, however, won't give you sticker shock. The most basic Wix plan costs a touch more than our favorite shared hosting plans, and you have five levels that cater to your site's needs as it grows. Nervous beginners, however, might still appreciate the added support that comes with an outside hosting provider.
Squarespace Can't Compete With Cheaper Builders (4.0 out of 5.0): Squarespace is like a luxury car — worth the investment to some but hard for others to afford. With such affordable options elsewhere, you can speed off the lot with many of the same features and functionalities at closeout prices. Look elsewhere, especially if you need strong eCommerce and SEO support.
WordPress Offers the Best Long-Term Value (5.0 out of 5.0): By itself, the free price tag with WordPress can't be beat. However, you can't have WordPress without a separate hosting plan and time to connect the two. The price evens out with Weebly, but the time for setup and learning the program can be costly. If you're dedicated to making WordPress work for you, though, a lifetime of updates, free plugins, and cheap themes make a WordPress hosting plan an investment that will pay dividends for years.
Weebly Offers the Most for the Least (5.0 out of 5.0): We love a bargain — and the deal is even sweeter when the best product is the one that costs the least. Weebly gets developers online in a snap while still assisting rookies through every step of site creation. We appreciate the well-rounded package Weebly gives their users; from strong designs to robust features at an affordable price, you'd be hard-pressed to find a more flexible site building solution.
Cheap, Easy, and Effective Builders Abound If You Know Where to Look
When accounting for the time it takes to create a custom, coded website, I've come to appreciate site builders as more than just the easy way out. Even though I love developing something by myself, I'm learning to kick back, relax, and be at the finish line in a fraction of the time.
Continue comparing with similar articles on popular site-building options:
We've covered some of the most widely used site builders with this comparison guide, but many hosting providers have taken the time to craft their own custom tools — be sure to check out our comprehensive website builder rankings to read about even more options. Many hosting providers offer free builders and themes as part of their plans, and sometimes the companies even develop their own builders to meet customer needs. Don't limit yourself to the four main options we've discussed above!
Further Reading: "Wix vs. Squarespace vs. WordPress vs. Weebly (Oct. 2023 Guide)"
Hopefully, our recommendation of Wix fulfills all your web hosting needs. Starting at just $16.00 per month and rated 4.6 overall, Wix gives users plenty of bang for the buck. Among our favorite features:
FREE signup with email or Facebook
Drag-and-drop designing is super easy
1-year domain free with most plans
Up to $300-worth of ad credits
Access to 1,000s of templates and additional tools in the App Market
If you'd like recommendations similar to Wix and others in Wix vs. Squarespace vs. WordPress vs. Weebly (Oct. 2023 Guide), check out these popular guides. You'll find comparisons of Wix to other hosts on pricing, features, support and more:
And of course, if Wix is your top choice, you can get started now at just $16.00/month. Wix is easy to set up and scale, no matter the size of your next project.
Advertiser Disclosure
HostingAdvice.com is a free online resource that offers valuable content and comparison services to users. To keep this resource 100% free, we receive compensation from many of the offers listed on the site. Along with key review factors, this compensation may impact how and where products appear across the site (including, for example, the order in which they appear). HostingAdvice.com does not include the entire universe of available offers. Editorial opinions expressed on the site are strictly our own and are not provided, endorsed, or approved by advertisers.
Our Editorial Review Policy
Our site is committed to publishing independent, accurate content guided by strict editorial guidelines. Before articles and reviews are published on our site, they undergo a thorough review process performed by a team of independent editors and subject-matter experts to ensure the content's accuracy, timeliness, and impartiality. Our editorial team is separate and independent of our site's advertisers, and the opinions they express on our site are their own. To read more about our team members and their editorial backgrounds, please visit our site's About page.