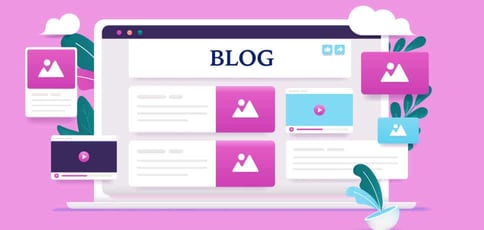 Since blogging debuted in 1994, it has gradually expanded to become a powerhouse in culture, the internet, and beyond. Users can find websites on almost any topic, from mommy blogs and travel diaries to more niche subjects such as study hacks and craft beers. These digital webpages have helped people through everyday life and continue to make an impact by being a source of inspiration, marketing, and revenue for many users and businesses.
But getting into blogging isn't always an easy feat. Similar to how it took blogging some time to evolve and land on its two feet on the internet, bloggers need time and research to find that same success. If you're a beginner blogger, take it from me, a previous amateur, finding the right blogging platform improves the trajectory of your digital success.
You'll need a reliable hosting platform with the tools and server features to take your blog where you need it to be, whether you're blogging as a pastime or aspiring to establish a solid revenue stream. I know that having a simple website builder, user-friendly interface, and support came through for me when I created my first blog. It took some time before I could publish my first post, but navigating the process was possible because of the fluidity and performance of my web hosting platform.
If you're a beginner, a smooth user interface is key to navigate the novelty of blogging and tackle obstacles that may come your way. We'll discuss what to look for in a blogging platform so you have an excellent user experience while publishing an impressive and beautifully designed website for your visitors. Read below to learn more about our top recommendations for the best beginner blog hosting platforms and their essential features.
Best Overall Blogging Platforms
The best blogs not only have great information but also a smooth user experience. Most readers avoid websites with lagging page loading and clunky navigation. Blog readers want to glide through webpages, making engagement easier and allowing them to remain on the site longer. The quality of user experience comes down to web design and, most importantly, server performance.
Blog owners should invest in high-performing web hosting services from companies with reliable reputations. Many web hosts offer a comprehensive suite of blogging tools, including intuitive web builders, SEO enhancers, and top-notch server features, to make your website journey as smooth as possible. But finding the right web host for your blog can take some time.
Fortunately, we did the homework for you and listed our top recommended blogging platforms below. These hosts excel in different areas but provide all a user needs to start blogging. Most also deliver stellar customer support and an extensive knowledge base for assistance in creating functional websites and top-tier blog posts.
1. Bluehost: Best for WordPress Sites
If you're looking for the best in blogging, WordPress should be your go-to resource. WordPress, a CMS software, powers a majority of the web, with around 43% of all sites on the internet leveraging its use. If that's not enough to show its reliability and power, it is also the foundation of multiple major online brands, including Bloomberg and The New York Times.
Although WordPress is a CMS software, many web hosting providers offer it with their plans to help users power their blog platform, which shows its popularity and reach. We picked Bluehost as the best company to host WordPress sites because it is reliable, easy to use, and has been recommended by the WordPress community for years.
Recommended by WordPress.org since 2005
Automatic WordPress updates and initial install
FREE WordPress themes in the Bluehost Marketplace
24/7 support via live chat, phone, and email
Get exclusive discounts on WordPress plans
WORDPRESS
RATING 4.9 ★★★★★ Our Review
Bluehost: Our Expert's Review
Ryan Frankel (HostingAdvice.com): Bluehost's WordPress hosting packages are aimed at first-time site owners and personal bloggers. These services come at a premium compared to the standard Bluehost web hosting (basic shared hosting) plans, but the WordPress optimization and platform-specific resources are arguably worth the cost. Go to full review »
| Money Back Guarantee | Disk Space | Domain Name | Setup Time |
| --- | --- | --- | --- |
| 30 days | 50 GB SSD – 100 GB SSD | FREE (1 year) | 7 minutes |
Bluehost delivers WordPress preinstalled with its plans. It also built a WordPress-specific hosting environment and sleek control panel so customers can seamlessly create and manage their websites and domain registrations. Users can leverage multiple tools, a custom WordPress theme collection, and a plugin catalog to easily build and make their WordPress blog stand out.
2. Weebly: Most User-Friendly
Launched in 2007, Weebly has made a statement in the web hosting community by delivering an easy-to-use web-building interface and now powers more than 50 million websites across the globe. It was acquired by Square in May 2018, which helped shape it into an eCommerce behemoth, allowing it to enable users to turn ideas into businesses. Although the web host has seen transformation and tremendous growth, it hasn't lost what made it so valuable and successful — its user-friendliness.
Weebly's extensive and well-designed gallery of custom templates is mobile-optimized and varied enough to fit any brand or blogging category. Its web management panel has integrated marketing and advanced analytics to help users tackle metrics and boost their digital footprint. The web hosting company also provides mobile apps, which allows website owners to track performance and interact with visitors wherever they are.
All-in-one hosting and drag-and-drop builder
Start designing for FREE, upgrade whenever
Easily build a blog, personal site, or online store
100s of FREE templates for websites
$100 credit toward Google advertising
CHEAP
RATING 4.6 ★★★★★ Our Review
Weebly: Our Expert's Review
Alexandra Anderson (HostingAdvice.com): Weebly is a well-known name in the cheap shared hosting space — not necessarily due to competitive pricing but because several of the web's leading low-cost hosting providers have opted to include Weebly software for free, adding value to their existing offerings. It's worth noting Weebly does offer a free plan, but websites are found on a Weebly subdomain and display Weebly advertising. Go to full review »
| Money Back Guarantee | Disk Space | Domain Name | Setup Time |
| --- | --- | --- | --- |
| 30 days | 500 MB – Unlimited | FREE (w/ paid plans) | 3 minutes |
Locked and loaded with security and solid infrastructure, Weebly handles the tough stuff and allows users to offload technical burdens, ensuring fast performance. Weebly's accessibility and ease help users along their journeys and make the web host a contender among other web hosting competitors.
3. Hostinger: Great Value
If you're a beginner blogger with a tight budget, Hostinger is not only an affordable option but also has a simply designed and performant hosting environment. Its shared hosting plans start below $2 and deliver everything a website needs to function and perform on a high level. Hostinger accomplishes this with its infrastructure design. The company uses advanced technologies, including self-healing infrastructure, full SSD servers, and LiteSpeed innovation, to produce a high-performance service.
Unlimited everything, from storage to databases
FREE site builder & WP performance upgrades
FREE daily or weekly backups
Custom control panel and auto-installation scripts
SSH access & unlimited FREE SSL certificates
CHEAP
RATING 4.9 ★★★★★ Our Review
Hostinger: Our Expert's Review
Laura Bernheim (HostingAdvice.com): As the shared hosting market becomes increasingly saturated, unlimited storage, bandwidth, and email accounts have become surprisingly average. Hostinger, however, extends the routine, expected metrics to greater lengths — the number of websites, databases, FTP users, subdomains, and parked domains are all unrestricted for most customers. Go to full review »
| Money Back Guarantee | Disk Space | Domain Name | Setup Time |
| --- | --- | --- | --- |
| 30 days | 50 GB SSD – 200 GB SSD | FREE (1 year) | 3 minutes |
Hostinger also optimizes for WordPress websites and has a visually appealing control panel to help users manage their sites easily. As for other add-ons, the web host has free domain registration, SSL encryption, and 24/7 customer support to help novices reach the finish line. Hostinger's pricing and performance make it hard to beat as a long-term web hosting provider.
4. Wix: Best Web Builder
Customization and web building go hand in hand with Wix's extensive design platform. The web company is world-renowned, facilitating design with its drag-and-drop builder for more than 200 million global customers — enabling them to take their ideas to the finished product. Users from any background and niche expertise can leverage Wix to build a tailored experience for their audiences.
No coding skills needed with drag-and-drop builder
100s of templates with niche-specific designs
Add features via the App Market and Wix Events
Easily create ecommerce functionality easily
Great way to build small sites on a budget
WEBSITE BUILDER
RATING 4.9 ★★★★★ Our Review
Alexandra Anderson (HostingAdvice.com): Website building is where Wix shines. The thousands of templates, the intuitive editor, the industry-leading designs that cater to a variety of specific fields and use cases — all these facets represent a platform that excels at facilitating easy web design for the non-tech-savvy user. Go to full review »
| Money Back Guarantee | Disk Space | Domain Name | Setup Time |
| --- | --- | --- | --- |
| 14-day FREE trial | 2 GB – Unlimited | FREE (1 year) | 4 minutes |
Wix's web builder makes user content the focus by offering functionally designed templates and solutions to help bloggers grow their businesses. Users can leverage custom domain name registration, SEO capabilities, logo and brand tools, and advanced design functionality, including AI technology that can generate a blog site on queue. With so many tools at your fingertips, building and managing a blog platform with Wix won't be difficult.
Other Blog Hosting Platforms
The following hosts also excel in delivering top-notch hosting environments, especially for blogs. DreamHost offers a specialized platform for WordPress sites, iPage is easy to use, affordable, and reliable, and SiteGround has excellent customer support backed by a WordPress endorsement. Read below to learn more details about each host.
WordPress hosting for up to unlimited sites
FREE WordPress website migration
Fully managed hosting with DreamPress plan
NEW WordPress website builder tool
1 of 3 providers endorsed by WordPress.org
WORDPRESS
RATING 4.9 ★★★★★ Our Review
DreamHost: Our Expert's Review
Laura Bernheim (HostingAdvice.com): One of only three hosting providers recommended by the WordPress Core team, DreamHost has actively contributed to the WordPress community for more than a decade. The company's platform is optimized for the incredibly popular content management system, and plans include easy setup, automated updates and backups, unlimited bandwidth, and 24/7 specialized support. Go to full review »
| Money Back Guarantee | Disk Space | Domain Name | Setup Time |
| --- | --- | --- | --- |
| 97 days | unlimited | FREE (1 year) | 4 minutes |
FREE website transfer service to get started
99.9% uptime guarantee and unlimited traffic
User-friendly WordPress installation
24/7 support featuring custom systems
4 caching options plus staging and Git
CHEAP
RATING 4.6 ★★★★★ Our Review
SiteGround: Our Expert's Review
Alexandra Anderson (HostingAdvice.com): Providing hosting with the perfect balance of technological innovation and superior customer support, SiteGround offers a range of affordable hosting services to meet your needs. In addition to the expected cheap web hosting perks — a free website builder and unlimited bandwidth — the company specializes in custom-built tools to deliver strong and positive user experiences. Go to full review »
| Money Back Guarantee | Disk Space | Domain Name | Setup Time |
| --- | --- | --- | --- |
| 30 days | 10 GB SSD – 40 GB SSD | New or Transfer | 6 minutes |
Easy setup and superb reliability since 1998
FREE domain and Google marketing included
Unlimited bandwidth, storage, and emails
FREE site builder and shopping cart
Get more than 38% off today (was $7.99/month)
CHEAP
RATING 4.7 ★★★★★ Our Review
iPage: Our Expert's Review
PJ Fancher (HostingAdvice.com): Whether you're a first-time website owner or a web veteran, iPage's excellent hosting services and a fantastic list of extras make the brand one of the best values in web hosting. Unlimited disk space, scalable bandwidth, and emails are just a part of what makes iPage's shared hosting plan a great deal. Go to full review »
| Money Back Guarantee | Disk Space | Domain Name | Setup Time |
| --- | --- | --- | --- |
| 30 days | Unlimited | FREE (1 year) | 5 minutes |
Squarespace is a top-name web builder with a vast collection of templates and tools to create any website. It's no surprise that Squarespace is so popular. The company offers best-in-class, sleek designs, hosting, branding and SEO tools, and marketing features, everything a user needs to embark on a successful website journey. Bloggers can add eCommerce functionality to their sites and customize web layouts to fit their niche. Squarespace also leads the user through the design process with a personalized questionnaire.
WordPress.com offers a free blogging platform for WordPress users who want to get a feel for the software before committing to long-term website management. Bloggers can quickly sign up and get started right away on developing a blog. Its built-in block editor makes designing a breeze and supplies users with templates, themes, and functionality to build a professional website. But because WordPress.com is free, its performance and other features are limited; there is no free domain name, ad-free experience, or customer support.
How Much Does It Cost to Host a Website?
Creating and managing a website can be an excellent opportunity. But how much you pay for web hosting can depend on your long-term goals. Some website owners only use their website to showcase their hobby work, while others use it to grow a following and market themselves. Understanding what you want from your website journey will help you determine not only the right platform but also the hosting form you need.

When it comes down to pricing, web hosts divide their price model by server types and then into tiers within those server types. Pricing between server types varies because of the resources and performance features each offers. For instance, shared hosting will be dramatically less than dedicated hosting because users share server space instead of owning a dedicated server.
Below, we'll discuss the differences between each hosting type to help you distinguish between them and their prices.
Shared hosting costs on average less than $10 a month, with most monthly plans starting between $2 and $5. Shared hosting packages are more affordable than hosting plans because of their server makeup and resource distribution. With shared plans, web hosts provide a server environment that multiple users share. There are no dedicated resources, which means users can experience performance issues if another tenant's website drains server resources to meet traffic demands.
See 2023's best shared hosting plans >>
VPS hosting, on the other hand, delivers a different environment. Most VPS plans run from $5 to $17 a month. The reason behind the increase is the uptick in resources and performance. VPS infrastructure leverages virtualization technology to separate and isolate server space so every customer can get their own dedicated and private space, although they technically share one server.

VPS hosting, however, can be challenging to manage without technical expertise. Many VPS users pay extra and purchase managed VPS hosting plans to shift management duties to the host's hands. Managed services typically add around $10 to the base price.
See 2023's best VPS hosting plans >>
Dedicated server hosting is the most expensive type of hosting, with prices that start at $50 and reach hundreds to thousands of dollars for custom configurations. But dedicated hosting is also the most generous. Users receive a complete server to themselves and can power multiple websites or applications with its resources. With advanced security, reliability, and management, it's no surprise that the price tags for dedicated server hosting are the highest.
See 2023's best dedicated server hosting plans >>
As for hosting a blog, most beginner bloggers start with shared hosting because of its lower price, resources, and easy-to-manage framework. Beginner blogging sites typically don't have a lot of traffic, so website owners won't need too many resources to power their sites. Web hosts also handle most of the administration tasks for users. That's why shared hosting would be the best bet for beginner bloggers.
What Should I Look for in a Blog Hosting Plan?
Before establishing a blog that will draw visitors, users need a quality web hosting service. A great blogging site should have a creative and smooth design, readable content, custom functionality, and fantastic server performance. And all of these characteristics rely on the web hosting plan.

Web hosts typically supply users with the website builder, functionality, and server resources to create a successful website. But not all hosting providers have the essentials to be a top-notch blogging platform. Let's take a look at what constitutes an exceptional blogging platform.
At a base level, a valuable web host should offer reliable performance and complimentary add-ons. Add-ons can include free domain registration, SSL encryption, and security features such as a web application firewall and malware scanning. CDN and daily backups are also popular add-ons in their plans. Customer support also marks a quality web host, as it shows the reliability of a hosting provider. Knowing that your web host can assist around the clock will be crucial if you encounter any obstacles.

As for blog-specific features, users should look for a hosting plan with an intuitive web builder with a simple interface, such as drag-and-drop functionality, various custom templates, SEO tools, and blog post management. If you want to use WordPress for your blog, you can also look for a host that has custom WordPress themes, WordPress acceleration, and other features specific to the CMS. Personalization is essential to any blog, so having features that allow you to customize the design to fit your brand would be crucial.
What is Self-Hosted WordPress?
Although many hosts provide WordPress hosting, WordPress is not a hosting service at its core. WordPress is actually a content management system. Web hosts began offering WordPress hosting, a server environment tailored and optimized for WordPress software, because top brands and many users leverage WordPress for their web building. WordPress currently owns 70% of the CMS market share, proving why it has its own hosting category.
As a content management system, WordPress enables users to create, manage, and modify content without using code. So essentially, it gives users the freedom and capabilities to develop high-functioning websites without needing technical expertise or a web agency to do so.
Users can leverage WordPress software in two ways: WordPress.com or WordPress.org.
WordPress.com is a fully hosted platform solution that allows users to create and manage websites through a quick and easy signup and setup process. Users can host their blogging sites for free or upgrade to a higher plan to receive more perks, including a free domain name, SSL encryption, and premium WordPress themes.

WordPress.org is where self-hosting steps in. On WordPress.org, users can download the CMS software as an application. From there, they can find a domain provider and a web hosting service to power websites using the CMS as the foundation. This is called self-hosted WordPress. Web hosts also offer one-click WordPress installation with their hosting plans, so customers don't have to worry about doing it themselves using WordPress.org.
The main difference between self-hosted WordPress and WordPress.com is the value that you receive. The free version of WordPress.com has various customization limitations and lacks essential features, including domain registration, SSL certificates, and customer support. And upgrading isn't worth the trouble because users can find better performance and advanced features for a lower price with other hosts that deliver WordPress through their hosting plans.
Self-hosted WordPress gives users access to more resources, including server specifications. Hosting the software with a web hosting service allows users to leverage a massive WordPress plugin library that features social media integrations, SEO tools, marketing, and more theme-tailored widgets.
How Do I Leverage Google Analytics and SEO for My Blog?
Setting up a blog involves several steps before reaching the finish line. But blogging isn't an obstacle course. It's more like a marathon. If you're looking to turn your website into a business opportunity, building your website is only the first step. A blog requires more than creative content to be noticed and climb the ranks on the web. Blog posts also need something called search engine optimization.

Search engine optimization (SEO) involves maximizing the quantity and quality of traffic to a website from a search engine. SEO tactics help website owners gain more visibility in search engine results, enabling their websites to move up Google or Bing rankings to improve the likelihood of clicks.
If you want to grow your website's organic traffic, understanding SEO and its analytics will help you create quality content to position yourself for better rankings.
Most web hosting companies offer SEO tools to help users along their blogging journey. By leveraging these tools, users learn how to outline their posts, which keywords to include, and how to monitor their SEO performance on the web with real-time data analytics. Analyzing SEO performance is the key to making adjustments for content strategy and optimizing blog posts for the best results.

Google Analytics is a popular SEO analytics tool users employ to monitor their content performance and address areas for improvement for search engine results. Google Analytics allows website owners to collect visitor data, spot patterns in user engagement, track webpage views, and acquire target demographic information. By leveraging analytics tools, users can take a proactive approach and improve their SEO performance through monitoring. SEO analytics can also help them spot areas for growth.
Signing up for Google Analytics is free and only takes a few steps. Users can sign in with a Google account, create an account, tell Google what to track, and then add the tracking ID to their website. Many hosts also offer Google Analytics built-in with their hosting plans. Overall, SEO takes hard work and research, but it is worth it for any brand that wants to grow its business online through organic traffic.
What is the Best Free Blogging Platform?
There are multiple free blogging platforms out there, and each blogging site has its unique selling point. Some of the best include:
These blogging platforms are a great starting point for beginners who want to gain a foothold in the blogging world. But free blogging platforms don't provide the resources needed to grow and scale your business. Instead, they offer a place for users to share their content with a community. If you want to personalize your brand and leave ads placement behind, a budget host with a website builder and reliable server resources would be a better choice.
Running a Great Blog Requires a Great Host
Running a blog requires a great marathon partner, which in this case is a top-notch web hosting provider. Blogging takes a lot of time and effort to perfect, and creating a space that showcases your thoughts and brand is essential. That is why having a reliable host is so important. The best blogging platform will be on the path with you, providing you with the resources, power, and support to maintain a smooth web experience every time you publish a new blog post or update your readers.
A hosting environment with excellent server performance and the right tools can propel bloggers in the right direction, supplying them with what they need to scale and consistently deliver quality content. Whether you prioritize your budget or whimsical theme designs, finding a host that can deliver on the core aspects of hosting, including customer support and reliable performance, will always be your best bet.
See Our Full Review of Bluehost
Whatever type of hosting plan you're looking for, Bluehost is a solid choice no matter the scale. Our reviewer Ryan Frankel recently took Bluehost for a spin, and rated the popular host a 4.9 in the WordPress Hosting category out of a perfect score of 5.0. Here's what Ryan had to say about Bluehost:
Bluehost has a rock-solid reputation in the shared and WordPress hosting communities, and the host is a long-time favorite of mine. Today, Bluehost powers more than 2 million websites, and the team touts years of experience. With well-maintained servers, competitive pricing, and excellent customer support, Bluehost is hardly a pick you'll regret.
Before signing up for Bluehost, it's a good idea to read through Ryan's full review to learn about all the features Bluehost offers. You can also compare it to other web hosts to ensure you're getting the best deal possible:
If you decide Bluehost is the right choice, keep in mind that it takes just minutes to deploy your Bluehost server space. And at $2.95 per month, it's a bargain considering the many great features that come in any Bluehost plan.
Advertiser Disclosure
HostingAdvice.com is a free online resource that offers valuable content and comparison services to users. To keep this resource 100% free, we receive compensation from many of the offers listed on the site. Along with key review factors, this compensation may impact how and where products appear across the site (including, for example, the order in which they appear). HostingAdvice.com does not include the entire universe of available offers. Editorial opinions expressed on the site are strictly our own and are not provided, endorsed, or approved by advertisers.
Our Editorial Review Policy
Our site is committed to publishing independent, accurate content guided by strict editorial guidelines. Before articles and reviews are published on our site, they undergo a thorough review process performed by a team of independent editors and subject-matter experts to ensure the content's accuracy, timeliness, and impartiality. Our editorial team is separate and independent of our site's advertisers, and the opinions they express on our site are their own. To read more about our team members and their editorial backgrounds, please visit our site's About page.