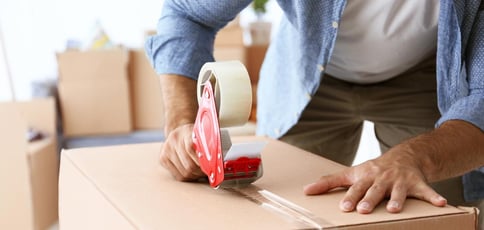 Moving a website to a new domain name is just like all those aggravating moves in your 20s before you settle down. No matter how much stuff you own, it's always a pain. You've got to get everything in boxes, hoping it's all perfectly protected and safe. Schlepping everything over to your new residence is only part of the struggle — next comes unpacking and setting up your new home. Things inevitably get lost, broken, or shoved into a closet and forgotten until the next move.
When you want to relocate a website to a new domain, unfortunately, the digital move can frequently contain many of the same headaches. But at least you can skip the manual labor in favor of a few careful steps that will minimize the disruption to users and your bottom line.
From database backups to DNS records, we've laid out five simple steps — complete with a handy shortcut — to move your site without harming your SEO. Keep reading to learn more, or skip ahead to learn more about the process.
1. Find a Host That Will Help You Migrate
Why struggle through all the work of moving a website to a new domain name if you can find a trustworthy organization full of experts who will do it for you? Sure, you may like your current hosting provider and are really looking to just switch domains — but when was the last time you compared hosts' prices, features, and performance?
Before you register your new domain name, take a look around the hosting marketplace. Moving a website can be a tedious process that doesn't come around often, so now is the perfect opportunity to take stock of your online presence and make improvements anywhere you can.
Look at this move as a chance to do some spring cleaning. In addition to updating that old WordPress installation or finally configuring your free SSL certificate, you should look into other performance and security upgrades that may have become available since you originally started your site. Look for hosts with high-performance solid-state drive storage, for example, or free Cloudflare content delivery network integration.
A surprising number of hosts will transfer your site for free when you sign up for a new plan. Even better, they'll include a free domain name registration. This shortcut of signing up with a new host and having the company move your website to a new domain will help you kill two birds with one extraordinarily cost-effective, hassle-free stone. No matter the type of hosting you need, here's a look at the best hosts that offer simple solutions for domain names and website migrations.
Best Cheap Host With a Free Transfer
Beginners and first-time site owners are particularly vulnerable to complications when transferring a website. Coupling inexperience with a small budget can be dangerous for do-it-yourselfers who want to save a few dollars and migrate to a new host or domain name on their own.
Although some cheap web hosting services scrimp on all-important customer support features, that's not always the case. By doing some careful shopping, you can find trustworthy hosting providers that will hold your hand through the moving process and not break your budget in the process. Our favorite host for value, listed below, excels at this:
Cheap shared hosting from a trusted provider
Ideal for hosting a WordPress website
FREE Weebly website builder and Cloudflare CDN
Unlimited traffic and 24/7 live chat support
Get 63% off today with our Bluehost coupon
CHEAP
RATING 4.8 ★★★★★ Our Review
Bluehost: Our Expert's Review
Ryan Frankel (HostingAdvice.com): Bluehost pricing is about as competitive as the industry offers. Sign up for a shared hosting plan for as little as $2.95 per month, and WordPress hosting packages are consistently priced; a VPS plan starts at around $18.99 per month; and the dedicated hosting rates are as little as $79.99 per month. Go to full review »
| Money Back Guarantee | Disk Space | Domain Name | Setup Time |
| --- | --- | --- | --- |
| 30 days | 50 GB SSD - unlimited | FREE (1 year) | 5 minutes |
See other top affordable hosts »
Best WordPress Host With a Free Transfer
By and large, moving a WordPress website follows the same basic steps as migrating a site that doesn't use the popular content management system: download backups of your website, transfer your files, update the URLs everywhere, and voila. However, the platform's file structure and reliance on databases can make the move a bit more complicated.
According to the WordPress Codex, a comprehensive search and replace operation to update the domain name in your database can potentially cause issues with data serialization, links, and theme display. WordPress provides a variety of methods to avoid the problem, but some involve complex technical requirements such as database administration or command line interface familiarity. Our favorite WordPress host will take care of all that for you without any headaches:
Recommended by WordPress.org since 2005
Automatic WordPress updates and initial install
FREE WordPress themes in the Bluehost Marketplace
24/7 support via live chat, phone, and email
Get exclusive discounts on WordPress plans
WORDPRESS
RATING 4.9 ★★★★★ Our Review
Bluehost: Our Expert's Review
Ryan Frankel (HostingAdvice.com): Bluehost's WordPress hosting packages are aimed at first-time site owners and personal bloggers. These services come at a premium compared to the standard Bluehost web hosting (basic shared hosting) plans, but the WordPress optimization and platform-specific resources are arguably worth the cost. Go to full review »
| Money Back Guarantee | Disk Space | Domain Name | Setup Time |
| --- | --- | --- | --- |
| 30 days | 50 GB SSD - unlimited | FREE (1 year) | 7 minutes |
See other top WordPress hosts »
Best VPS Host With a Free Transfer
As we move to the higher levels of web hosting, many providers will expect customers to know a lot more about server maintenance and management. Those with virtual private servers, root access, or other administrative roles, however, are likely facing higher stakes than those with personal shared hosting accounts or blogs. Because performance and security are critical to an online business, VPS customers may prefer to rely on the experts to move their site. Those types of managed services take the stress out of the move and guarantee any downtime will be minimal.
You'll likely need a VPS host that provides some form of managed services to move your site, as unmanaged plans sometimes tend to resemble the Wild West — anything goes. Managed services and customer support are key to successful experiences with VPS or cloud hosting, in our opinion, and this host is one of the best at blending modern infrastructures with helpful service:
Turbo server & cache options for faster page loads
Well-built plans starting with 4GB RAM
FREE CDN plus auto-installs with Softaculous
Multilingual support and up to unlimited databases
Enhanced security with and daily kernel updates
VPS
RATING 4.9 ★★★★★ Our Review
A2 Hosting: Our Expert's Review
Alexandra Anderson (HostingAdvice.com): While A2 Hosting's turbocharged shared hosting platform gives site owners ample room to grow, the company's tech prowess is on full display with its portfolio of VPS options. Ranging from unmanaged, bare-metal environments to stress-free, fully managed space, A2 Hosting is sure to have the perfect option for your expanding online presence. Go to full review »
| Setup Time | Disk Space | CPU | RAM |
| --- | --- | --- | --- |
| 7 minutes | 150 GB SSD - 450 GB SSD | 1 - 8 Cores | 1 GB - 32 GB |
Best Dedicated Host With a Free Transfer
Clearly, you're doing something right to have scaled your site to the traffic and conversion levels to justify a dedicated server. You may even breeze through server configuration, maintenance, and implementing security patches — but what if you're not a master of search engine optimization or domain name system records? As with semi- or fully managed VPS plans, customer support is important with dedicated server hosting, as well.
Find experts that handle more than just machinery, and trust them to fill in the details you may not be sure of. The host we've reviewed below is one of the all-time greats at optimizing the hosting experience with supremely helpful humans and top-tier hardware:
Plesk, InterWorx, or cPanel (Linux) or Plesk (Windows)
100% network and power uptime guarantees
Custom configurations and instant provisioning
Auto-migrations, backups, and real-time monitoring
Block/object storage and load balancer add-ons
DEDICATED
RATING 4.9 ★★★★★ Our Review
Liquid Web: Our Expert's Review
Alexandra Anderson (HostingAdvice.com): Liquid Web's strong suit is managed dedicated server hosting. The company owns and operates five state-of-the-art datacenters in the US and Europe works tirelessly to build and maintain custom solutions for added performance and security. Go to full review »
| Setup Time | Disk Space | CPU | RAM |
| --- | --- | --- | --- |
| 8 minutes | 250 GB - 500 GB SSD (+ Backup Drives) | 4 cores, 3.6 GHz - 12 cores, 2.4 GHz | 16 GB - 32 GB |
See other top dedicated server hosts »
2. Back Up Your Website Files (and Database for WordPress Sites)
If you end up not having your hosting provider move your website for you, never fear. We're here to walk you through the process, and you should be able to accomplish it without much difficulty. Just in case, however, the first step is so important we recommend doing it twice.
Any time you mess with important parts of your website, you'll want a recent backup on hand to restore your site in case something goes wrong. We recommend having two backups on hand: one for the actual transfer and one as a "just in case." For those using a content management system like WordPress, be sure to get backups of both the database and the static files (don't worry, we'll help you with both).
Depending on how much of a control freak you are or how much you want to get involved, there are a few options for how to go about making a copy of your site. From easiest to hardest:
Use a plugin: WordPress developers will do anything to simplify common tasks like backups, and many programs will help with other steps in the migration. We recommend Updraft Plus, Duplicator, or All-in-One WP Migration.
Create backups in cPanel: Most top hosts include access to the cPanel control panel, which offers simple tools to back up your site. Within the interface, find and click on either the Backup or Backup Wizard program. It may sound counterintuitive, but you'll want to make a partial backup instead of a full archive. You'll want to download copies of your home directory and MySQL database.
Do everything manually: It's not too complicated, just a little more tedious. In your cPanel (or other control panel), use phpMyAdmin to select and export your database. Backing up your static files can be done either with cPanel's File Manager or using the FTP client of your choice (we like FileZilla, Cyberduck, and WinSCP). More detailed instructions on how to manually back up your site can be found here.
Once your website's files have been gathered and packed away, let's make sure the new home — er, domain name — is adequately prepared for the moving truck full of boxes to arrive.
3. Transfer Your Files to the New Domain Name
So you have a bundled-up website and a new domain name — how do you bring the two together? First off, make sure your new domain is all set up and ready to host your website. That entails checking the domain name system, or DNS, settings with your registrar. Your domain registrar may or may not be different from your web host; DNS servers tell your registrar where the domain's website files are located. Your DNS addresses will come from your web hosting provider, while you will need to add that information with your registrar (again, might be the same company). Changes to your DNS can take up to 24 hours to take effect, so be patient.
Once the new domain is set up, it's time to set up the space where your files will reside. Use the MySQL Databases or MySQL Database Wizard components of your control panel to create a new database. WordPress users should be careful to write down their database name, user identification, and password — next step for them will be updating the wp-config.php file in one of the backups with that new information.
From here, you'll have three options that look similar to what you encountered in the previous step. After all, once everything is packed, it must be unpacked, right? (At least, aside from that inevitable box or two of stuff you don't really need but felt bad about throwing out… but we digress.) Anyway, your choices for uploading your database and static file backups in their new home:
Use a plugin: You'll need to install a new version of WordPress on your new domain (never fear, our favorite hosts offer one-click installations) and your chosen plugin, which will walk you through restoring your backup. The plugins may even update your wp-config.php, as well.
Restore via cPanel: Return to your Backups or Backup Wizard apps in cPanel to upload and restore your home directory and database backups.
Upload everything manually: It's the same deal as before: use an FTP client (beware, you'll probably have different login information for the new domain) to upload your static files into your domain's public_html folder, and then turn to phpMyAdmin to import your database tables to the new site.
Taking care of both your static files and your database are critically important to a peaceful, efficient move. Just moving your home directory will give you a blank WordPress installation without any pages or posts, while the database alone is a collection of your content without any means of publishing it.
4. Fix Broken Links and Create 301 Redirects
The movers have left, your boxes are unpacked… now it's time to kick back and enjoy your new home, right? Nope! Your website should look like it's all good to go, but there are still a few more tweaks to make before your new domain is ready to be shared with the world.
For starters, you'll want to spend some time poking around your website and potentially the WordPress backend to make sure things are operating more or less as normal. Your layouts and settings should be the same, but goofy things can happen.
You also may have a handful of old, broken links on your site, so go to a free broken link checker like Dr. Link Check, enter your new domain name, and fix whatever problems are uncovered. Internally, all your links still point to your old domain. Fixing those manually can take forever, but WordPress users can use a plugin like Velvet Blues Update URLs — just be extremely careful about typing in your domain names. Pay attention to http or https, www or not, trailing slashes, and the like.
Finally, your new site should be completely functional. But to make sure your user experience and SEO doesn't suffer, we'll want to set up 301 redirects that automatically send visitors to your old domain, then to your new home — think of it as mail forwarding. Unlike other types of redirects, 301s let users and search engines know that a given website or page has permanently moved to a new location and continues to pass along essentially all the SEO street cred you built up on your old domain.
Ideally, you can redirect the entire site, meaning the URLs are going to stay exactly the same (other than the new domain, of course). Connect to your old domain's hosting account via FTP and find your .htaccess file. It may be hidden, so make sure you are seeing all files. WordPress users will find the file in the wp-includes or wp-admin folder. Open it up in a text editor and insert the following code at the top:
[crayon-5f16fe3308388997826881/]
If you changed your site structure or tweaked some URLs, you'll need to redirect each page individually:
[crayon-5f16fe3308390270326251/]
Naturally, you'll want to replace olddomain.com and newdomain.com with your actual information. Once you have saved and uploaded your update to .htaccess, visit your old domain name; it should automatically redirect you to the new site.
5. Let Google Know About Your New Address
OK. You've moved and unpacked all your stuff, have set up mail forwarding, are living in the new site full time, and are ready to turn in the keys to the old place. You probably even want to throw a housewarming party to let the world know about your new digs.
Assuming you're already using Google Analytics and Google Search Console (here's a good guide if you're not), you can use the search engine's helpful change of address tool to notify the company of the change. Open up your old domain's account and follow the steps, including confirming 301 redirects and verification methods.
You'll also want to create and upload a new XML sitemap into Google's Webmaster Tools. Yes, that sounds complicated, technical, and time-consuming — but we promise it's not too bad. Sitemaps, which are basically a table of contents, make it easy for crawlers to see what's on your website and when it was last updated, and index it for search results. WordPress users can unsurprisingly use a plugin to generate a sitemap, or there are several free tools that will create one for you.
Phew… almost done, we promise. Your last piece of the SEO and site organization puzzle is to make sure your new domain is being tracked via Google Analytics. You'll create a new property and add the tracking code to your site the same as before; it doesn't directly impact your SEO but will provide incredible insights into how your users are perceiving, finding, and navigating the new domain name.
Can You Transfer Your Domain Name to Another Host?
As we alluded to earlier, your domain name can reside somewhere different than your web hosting and site files. Say you took our advice in Step 1, opted to sign up for a new hosting plan, and have the company's support experts handle the move. You've registered your new domain with the host — but you'd like to consolidate all your online properties into one account. What happens to your old domain name?
Just like your website, you can move domains from one host to another. Experts tend to prefer to keep domains separate from hosting accounts, but we favor the simplicity and convenience of having everything under one roof.
That being said, the highly regulated domain name industry means you're less likely to have a reason to move your domain name from one registrar to another. Web hosting providers can upset customers with new policies, pricing, and shoddy support, making it a much more volatile experience. Keeping your domains separate from your web hosting can protect your ownership in the event of a data breach or unexpected expiration.
Also just like your website, moving a domain to a new provider can be annoying, confusing, and complicated. The process can be further exacerbated if you also use the domain for hosting your email, but it's still quite doable. This guide will show you the basic steps, or you can consider following the suggestions in Step 1, sign up with one of the best domain hosts, listed below, and have them transfer your domains for you:
FREE domain registration and site-building tools
Unlimited domains, emails, and bandwidth
Up to $200 in offers with Google, Bing, and Yahoo!
Top-ranked WordPress host with tons of perks
24/7 customer support and online tutorials
DOMAIN
RATING 4.9 ★★★★★ Our Review
Bluehost: Our Expert's Review
Ryan Frankel (HostingAdvice.com): Bluehost offers all the freebies you need to get started with domain hosting. The company includes a free domain or transfer, plus unlimited bandwidth and storage. Go to full review »
| Money Back Guarantee | Disk Space | Domain Name | Setup Time |
| --- | --- | --- | --- |
| 30 days | 50 GB SSD - unlimited | FREE (1 year) | 5 minutes |
Lowest domain prices in the industry
FREE registration on most plans
Host up to 100 domains on most plans
Domain privacy protection safeguards your info
99.9% uptime guarantee and automatic backups
DOMAIN
RATING 4.9 ★★★★★ Our Review
Hostinger: Our Expert's Review
Laura Bernheim (HostingAdvice.com): Don't be turned off by Hostinger's remarkably low prices. The company's insanely low pricing model extends to domain name services, as well as its premium support and impressive list of features. Go to full review »
| Money Back Guarantee | Disk Space | Domain Name | Setup Time |
| --- | --- | --- | --- |
| 30 days | 50 GB to 200 GB SSD | FREE (1 year) | 3 minutes |
FREE domain registration and transfer
Unlimited disk space, domains, and databases
$200 toward Google AdWords and Bing advertising
Unlimited bandwidth and email addresses
FREE online store and website builder
DOMAIN
RATING 4.9 ★★★★★ Our Review
iPage: Our Expert's Review
PJ Fancher (HostingAdvice.com): With iPage domain hosting, users get a free domain name registration or a free domain transfer, and can host unlimited domains. The company offers unlimited bandwidth and emails, plus $200 in advertising credits to help get your website launched…. Go to full review »
| Money Back Guarantee | Disk Space | Domain Name | Setup Time |
| --- | --- | --- | --- |
| 30 days | Unlimited | FREE (1 year) | 5 minutes |
Can I Change My Host and Keep My Domain Name?
Both your web hosting provider and your domain name registrar are interchangeable. They can be the same company or different, and either can change essentially whenever you want. Changing your web host is typically much easier than moving your domain name.
Domain registrations are typically good for at least one year, at which point you need to renew and ensure your WHOIS information is correct. There is a window at the beginning and the end of your domain registration where you may not be able to transfer your domain to another registrar, but otherwise, the domain is yours. Since a domain is purchased separately from web hosting, it is yours as long as you continue paying the registration fees.
You can check out our guide on how to switch web hosts, and then look at our next FAQ for more information about keeping your domain. Updating your domain name so that it continues to send users to your website just takes a few clicks.
How Do I Point My Domain to a Website Hosted Elsewhere?
Once more with feeling! Your web hosting and domain name are two separate entities that act somewhat independently. But despite how complicated the process can be to move one or the other to a different provider, it's extraordinarily easy to make sure the two components of your site are working together.
For that, you'll need to know your web host's name servers. Loosely speaking, name servers tell the web browsers of your visitors where to find your website's files. The name servers, part of the DNS we mentioned earlier, translate the human-friendly domain name like hostingadvice.com to the IP address of the server where your site resides.
Your web host likely sent you the information on its name servers when you first signed up for services, but it should be fairly easy to find otherwise. Name servers typically follow a format of ns1.hostname.com and ns2.hostname.com. You'll need to have both of them handy.
Sign in to your domain registration account and look for DNS management tools. The settings for your name servers should be featured somewhat prominently, so go ahead and input any and all nameservers you were provided with; each acts as a backup in case the one before it fails. Once that's done, all you have to do is wait — it can take a few days for the rest of the computers in the world to make notice of the change.
Does a Domain Transfer Affect My Website?
Even if all goes well, transferring a domain name (or moving a site to a new domain) can still come with some temporary consequences. Fortunately, everything can be managed and mitigated fairly easily.
We briefly alluded to the SEO impact that a new domain will have on your rankings. It's normal and happens to all websites that undergo the same process. A 301 redirect passes the vast majority of your SEO clout to the new address, but you'll want to make sure your new domain name isn't under a penalty thanks to previous owners.
For those who use their domain name as part of their email address, you may experience a slight interruption in service, as well. Those running email through third-party apps like Gmail shouldn't be affected, but you may see some hiccups in your webmail and site performance while the DNS updates propagate.
How to Avoid the Headaches When You Migrate Your Site
Phew… so, are you overwhelmed yet? As you can see, moving a website to a new domain name or web host can take a lot of work and patience. However, you don't need deep technical knowledge to be able to pull off the move. Sure, there are lots of steps, but none of them are truly complicated for beginners to follow.
To ensure a successful transition, take your time and be precise. Rushing through something is a recipe for a disaster, and this is a procedure where a simple typo can render your site useless in a flash.
Don't just guess at something if you don't know the next step. Check out the resources in our guide above, search for an answer online, or reach out to the customer support teams at your web host or registrar.
Although the procedure may look daunting, it's rather low on the totem pole of challenging issues you may encounter. Handle each step with care, and you'll do just fine. Don't be afraid to use trustworthy plugins to ease the pain!
Advertiser Disclosure
HostingAdvice.com is a free online resource that offers valuable content and comparison services to users. To keep this resource 100% free, we receive compensation from many of the offers listed on the site. Along with key review factors, this compensation may impact how and where products appear across the site (including, for example, the order in which they appear). HostingAdvice.com does not include the entire universe of available offers. Editorial opinions expressed on the site are strictly our own and are not provided, endorsed, or approved by advertisers.
Our Editorial Review Policy
Our site is committed to publishing independent, accurate content guided by strict editorial guidelines. Before articles and reviews are published on our site, they undergo a thorough review process performed by a team of independent editors and subject-matter experts to ensure the content's accuracy, timeliness, and impartiality. Our editorial team is separate and independent of our site's advertisers, and the opinions they express on our site are their own. To read more about our team members and their editorial backgrounds, please visit our site's About page.