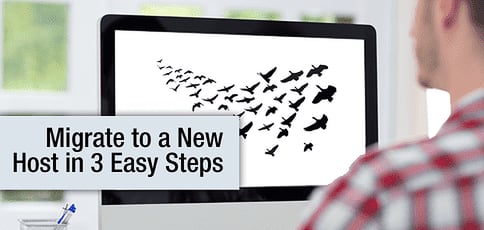 Unfortunately, learning how to move a website to a new host is a reality all site owners must face.
Rates and feature sets are always changing, and hosts are bought and sold all the time. Some providers even overhaul their business models and suddenly want to host only dog-related sites, giving other users 30 days to get off their servers. (That one actually happened to me!)
With a WordPress site, you have to move all your plugins, themes, and the database. Once they are relocated, they still may not even work with your new host because critical server systems may have different paths. I've been through many host-to-host moves with the sites I manage, and I've figured out a few ways to make migration easy and safe. Here, I'll pass along some of that knowledge to you.
1. Find a Host That Suits Your Needs With Hands-on Migration Support
You simply can't expect to start up with one hosting provider, run a website for years, and never have to move to a new host. Web hosting companies compete vigorously with one another, and feature sets and pricing schemes are in a constant state of flux. In some cases, these changes can inspire users to jump ship. In other instances, your website may simply outgrow its current hosting environment. The more popular a website becomes, the more server resources it requires, and not every hosting provider can offer all the resources your site might need. You may also find that you want more features from a hosting provider than your current host offers. Do you want more mailboxes without paying extra? How about a free SSL certificate or stronger DDoS protection? Or maybe your host has just gone to the dogs like that one mentioned above.
Whatever your reason for wanting to make a move, one huge way you can make that easier is to find a new hosting provider that offers free migration and after-move support.
Many web hosts, like those in the table below, are both WordPress-friendly and offer users assistance during migration. When selecting a new host, it's important to ask if it will help move your files, including uploads, themes, and plugins, and your site's database. Dive in and see if the host will help make sure paths are updated in the database and website so that everything works on the new server just as it did on the previous server — and hopefully better.
Here are our top choices of hosts who make migration a breeze:
WordPress pre-installed with NGINX and PHP 7
FREE SSL certificate and unlimited bandwidth
Optional automatic plugin, theme, and core updates
Features a FREE drag-and-drop WP page editor
Premium themes and plugin subscriptions
InMotion: Our Expert's Review
Setup time: 5 minutes
Go to full review

»
InMotion Hosting, long known for affordable and high-performance shared hosting options, entered the WordPress space with a solid option built upon the company's reputation for great support and reliability. Costing a small premium over other budget-minded...
Recommended by WordPress Core since 2005
FREE SSD storage and SSL certificate
FREE domain registration and email
Automatic installation and updates
63% discount exclusively for HostingAdvice shoppers
Bluehost: Our Expert's Review
Setup time: 5 minutes
Go to full review

»
Aimed at personal bloggers and first-time users, Bluehost's WordPress hosting packages are a great alternative to simple shared hosting. These service come at a premium, compared to Bluehost's standard shared plans, but the WordPress optimization and...
| Money Back Guarantee | Disk Space | Domain Name | WordPress Hosting Plans |
| --- | --- | --- | --- |
| 30 days | 50 GB SSD - Unlimited | FREE (1 year) | www.bluehost.com/wordpress |
FREE Cloudflare CDN and 1-click installs for WordPress
Turbo Server, SSD speed boost, and optimized caching
A2-optimized WP plugins for performance and security
SSL certificates, PayPal integration, and 24/7 support
FREE HackScan and KernelCare
A2 Hosting: Our Expert's Review
Setup time: 4 minutes
Go to full review

»
As experts in performance optimization, A2 Hosting is a top choice for powering resource-heavy WordPress websites. The company offers shared or managed plans for the ultra-popular content management system, with the benefits extending to Joomla, Drupal, and...
If you've chosen one of the providers above, congratulations. You've completed the migration in one easy step. These hosts take the headaches out of the process and give users the tools necessary to quickly move sites.
However, if you'd rather do the migration yourself, that's still not too difficult.
2. Save Your Site's Files, Transfer Databases, and Setup Applications
If your hosting provider doesn't offer a free migration, you can accomplish the migration yourself without much difficulty.
To move your WordPress-powered website you will need to do the following:
Transfer the WordPress engine files. This is optional if your host has a WordPress installer
Transfer site files (i.e. uploads, themes, and plugins)
Migrate the database containing your blog posts, pages, comments, and WordPress settings
Update the WordPress configuration
The easiest way to accomplish the migration, short of having your hosting provider do it for you, is to use a plugin like All-in-One WP Migration. You install it on your existing site. It then exports all your files and even your database to a portable package.
Install a clean, new version of WordPress on your new server and add the All-in-One WP Migration plugin to that installation. Then, within the plugin's configuration page, choose Import Site. You then drag the site package you previously exported right into the plugin, whereupon it will restore your old site right over the new installation.
If you're the DIY-type, you can do everything by hand.
Both the WordPress engine and all the other files that make up your website can be transferred via FTP from your old server and then to your new server. You will need an FTP application like my favorite, the cross-platform and free FileZilla. Both of your hosting providers will provide instructions for accessing your site via FTP, including how to configure an FTP program like FileZilla. If you can't find that information in your host's tech support documentation or in your welcome letters, simply open an online chat or call your provider. Usually, technicians will gladly walk you through setting up your FTP program.
Once it's set up, just download your entire site from your old host — everything in the directory or folder that is above or contains the wp-admin folder — including all the files and subfolders to your computer. It may take a while.
When the download is finished, disconnect from your old server, connect to your new server, and upload all those files. This, too, may take some time.
Migrating your database — all the actual content of your blog or website — is trickier and can't be done through FTP. Fortunately, it's nowhere near as tricky as it used to be. Follow these directions from the official WordPress Codex to export your database from MySQL and download it to your computer. Then, follow the directions within that document to update the paths between the servers and update the WordPress configuration and variables for the new server's environment.
3. Change Your Nameservers to Point to Your New Hosting Provider
The final step in moving your website is to file a change of address. You don't file this one with the Post Office. Instead, you need to update your domain name servers to point to those of the new host's. (Learn more about name servers and DNS here.)
When you sign up for a new hosting account you'll usually receive a welcome letter email, and within that email is often the new nameservers you should use. If you didn't receive that information, a quick phone call or online chat to your hosting provider's tech support department will gladly give you the proper nameservers. They often look something like the below:
ns1.servername.com
ns2.servername.com
Go to your domain name registrar and update your domain's nameservers. This process is different for every registrar — GoDaddy's process is very different from that of Dotster's and from the process at Google Domains and so on.
Typically, you log into your domain registrar's account, click on the domain name in your list of owned domain names, and look for an option to mentioning "Name Servers," "Nameservers," or "Host Address." Replace whatever nameservers are listed with the ones you obtained from your new host. You will always have at least two nameservers to enter, but you may be given third and fourth options, too. Save the changes, and then, within 12 to 72 hours, all requests for your domain name will begin forwarding to your new hosting provider. Until then, your old host account may be served to some visitors, which is why it's important to ensure both your old and new servers run concurrently for three days.
If Your Site is Scaling, Now's the Time to Upgrade to VPS
While you're thinking about a move, consider moving up. If your website receives 100,000 or more visitors per month, you should seriously consider Virtual Private Servers (VPS) over the typical shared servers. VPS hosting provides extra security, cordoning off customers from one another to prevent the penetration of a single website from becoming a full server hack. They also offer greater resources for each site to use and protect each site from overages by others on the server — something shared hosting does not.
If you decide a VPS might be the best move for you, check out the following VPS hosting providers we like:
Managed or unmanaged virtual servers available in Windows or Linux
Cloud hosting instances with hourly or monthly billing
Instant upgrades without downtime
FREE around-the-clock monitoring
Automatic nightly backups available
Hostwinds: Our Expert's Review
Setup time: 6 minutes
Go to full review

»
Does any hosting provider have more virtual private server packages than Hostwinds? The company offers 10 configurations — and that's just for managed Linux server partitions. Hostwinds provides 10 additional plans each for managed Windows VPS and unmanaged...
| Money Back Guarantee | Disk Space | Domain Name | VPS Hosting Plans |
| --- | --- | --- | --- |
| N/A | 30 GB - 750 GB SSD | New or Transfer | www.hostwinds.com/vps |
$0.01 for the first month using code HOSTINGADV
Then $6 monthly with no contracts, no price changes
Latest versions of PHP, MySQL, Perl, Python, and Ruby
7 operating system options for Linux or Windows users
Full root access and choice of datacenter included
InterServer: Our Expert's Review
Setup time: 6 minutes
Go to full review

»
InterServer's on-site datacenter and hands-on involvement with configuring and provisioning virtual private servers give customers a level of flexibility not seen with many other hosting providers. InterServer rations VPS and cloud resources through slices....
| Money Back Guarantee | Disk Space | Domain Name | VPS Hosting Plans |
| --- | --- | --- | --- |
| N/A | 30 GB SSD - 480 GB SSD | New or Transfer | www.interserver.net/vps |
High-speed hosting that's faster than AWS, Rackspace, and Digital Ocean
FREE backups, CDN, root access, and DDoS protection
Up to 16 processors with all-SSD storage
Choice between cPanel or Plesk Onyx control panel
Real-time monitoring and 100% uptime guarantee
Liquid Web: Our Expert's Review
Setup time: 7 minutes
Go to full review

»
It's no secret by now that Liquid Web is known for best-in-class technology and reliability that exceeds expectations. The company's cloud VPS environments embody that reputation to its fullest — including managed WordPress and WooCommerce products.Liquid...
| Money Back Guarantee | Disk Space | Domain Name | VPS Hosting Plans |
| --- | --- | --- | --- |
| N/A | 30 GB SSD - 150 GB SSD | New or Transfer | www.liquidweb.com/vps |
See more top-rated VPS hosting packages »
Make the Move Today and Get Up and Running With Our Top-Rated Hosts
Moving websites between hosts is a fact of running websites. Sooner or later, many site owners decide to migrate to a new provider. If you're thinking of getting up and running with a different host, check out our picks for the year's top providers and packages to make sure you're always getting the best value for your dollar.
With all the WordPress-powered sites I own and manage, most with different web hosts, I've gotten good at moving around. If you follow the three steps above, you'll be able to move your WordPress site with no downtime and very little hassle. It should take you less than an hour. In fact, the only thing that should take more than an hour is waiting for the nameserver change to take place. Expect as much as 24 hours for the changes to propagate around the world, informing all the other servers about your site's new location.