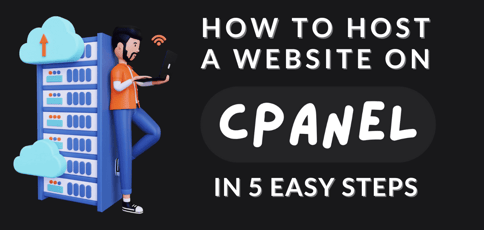 A single-domain website with a cPanel hosting plan allows anyone to publish a blog, wiki, or eCommerce store for the price of a cup of coffee every month. Web developers depend on cPanel, and many will pay a monthly license to install it on VPS plans, which is more than the cost of a shared hosting plan that will support unlimited domains. cPanel simplifies web server and domain name administration. As part of WHMCS, cPanel is also key to reseller hosting.
The licensing price you pay for access to cPanel administration of servers is critical, and this fluctuates greatly between web hosts across the industry. Managed VPS plans are more likely to include a free cPanel account for web server administration, whereas other licensed alternatives offered on plans are Plesk and Webuzo. Some shared hosting companies have developed their own AMP options and don't offer cPanel administration of servers as an alternative option.
In this guide, we'll walk you through five simple steps for how to host a website on cPanel.
Step 1: Choose a cPanel Host
Our experts recommend searching for cPanel plans with a free domain for the best value. Choose unlimited domain hosting plans for the lowest costs, and rely on Softaculous to install more than 300 open-source web development solutions to build new sites.
Make sure your web host offers a free cPanel license for web server configuration, email, FTP, and domain name management. This is common on shared hosting but optional on VPS plans.
If your websites need more resources than a shared hosting account will support, transition up to a VPS plan. It is important to screen managed VPS plans, shared web hosting accounts, and dedicated servers to ensure they offer a free cPanel license bundled with the contract. If not, it will cost at least $15 per month to license cPanel for a web server independently.
The web hosts listed below are our top recommendations for cPanel web servers:
Hostinger: Cheap and Reliable cPanel Hosting Plans
Hostinger plans support 100 to 300 domains with SSD storage, unlimited bandwidth, free SSL certificates for every site, and a free domain name. You get the full suite of value with email, FTP, MySQL databases, and managed PHP servers. The plans are great for WordPress sites.
Intuitive cPanel hosting for personal sites
FREE SSL and Cloudflare DDoS protection
1-click installer for popular apps like WordPress
Automated, daily backups and integrated caching
Launch a site in minutes, backed by 24/7 support
CPANEL
RATING 4.7 ★★★★★ Our Review
Hostinger: Our Expert's Review
Laura Bernheim (HostingAdvice.com): Hostinger has always impressed us with the intuitiveness of its control panel and easy user experience. If you're in the market for classic cPanel hosting, Hostinger offers it at a price that's tough to beat. Go to full review »
| Money Back Guarantee | Disk Space | Domain Name | Setup Time |
| --- | --- | --- | --- |
| 30 days | 50 GB SSD – 200 GB SSD | FREE (1 year) | 3 minutes |
Hostinger has Managed WordPress and low-code sitebuilder options included with every plan. This includes WP-CLI, LiteSpeed servers, WAF, backups, automatic updates, and staging environments. Hostinger has a network of worldwide datacenters with optional CDN upgrades.
A2 Hosting: cPanel Servers for Small Businesses
A2 Hosting is one of the oldest and most respected cPanel hosts in the marketplace. You can use cPanel for web server administration across shared, VPS, dedicated, and reseller hosting plans. Turbo Server upgrades offer higher performance for script runtime optimization.
Cheap, secure, and powerful hosting with cPanel
1-click installs for dozens of popular apps
Host up to unlimited website on a single account
Advanced security features and FREE HackScan
FREE SSL certificates and 24/7 expert support
CPANEL
RATING 4.5 ★★★★★ Our Review
A2 Hosting: Our Expert's Review
Alexandra Anderson (HostingAdvice.com): There are plenty of excellent cPanel shared hosting providers out there, so what sets A2 Hosting apart from the rest. Not only does the company offer a ton of features, but it has custom-built its packages for enhanced performance, speed, and security — putting your priorities above pricing. Go to full review »
| Money Back Guarantee | Disk Space | Domain Name | Setup Time |
| --- | --- | --- | --- |
| 30 days | 100 GB SSD – Unlimited SSD | New or Transfer | 4 minutes |
A2 Hosting has two levels of SSD storage with upgrade options available on plans for NVMe SSD hardware. Web publishers receive a free website transfer on all accounts and free backups on unlimited domain accounts. Managed VPS hosting includes cPanel running on CloudLinux.
Bluehost: Best cPanel Hosting for Managed WordPress
Bluehost, along with HostGator, provides the most canonical cPanel configuration for shared hosting in the industry. Both companies run rock-solid implementations of cPanel for millions of simultaneous users. Bluehost is known as a leading supporter of the open-source community.
Secure logins for cPanel and WebMail
1-click WordPress installation and ad credits
FREE domain and FREE site-building tools
Expert support available 24/7
Easy access to email tools and site statistics
CPANEL
RATING 4.4 ★★★★★ Our Review
Bluehost: Our Expert's Review
Ryan Frankel (HostingAdvice.com): Powering more than two million websites, Bluehost has trusted experts and simple-to-use features to help get your website running and thriving. From a free domain name to 1-click WordPress installation, the company offers everything you want from a cPanel host…. Go to full review »
| Money Back Guarantee | Disk Space | Domain Name | Setup Time |
| --- | --- | --- | --- |
| 30 days | 10 GB SSD – 100 GB SSD | FREE (1 year) | 5 minutes |
Managed WordPress hosting at Bluehost has been engineered over the last 20 years by some of the world's leading experts. WordPress developers can access managed hardware with cPanel administration across shared, VPS, dedicated, and reseller accounts at Bluehost.
InMotion Hosting: Optimize Your Server Performance for cPanel
InMotion Hosting has a good reputation for technical quality, being one of the first hosts to introduce NVMe SSD storage to the retail hosting market. Their implementation of cPanel is currently based on the Jupiter theme and includes Softaculous with WordPress tools.
Manage your site via cPanel
FREE domain and 1-click installer with 300+ apps
Business-class hardware and email spam filtering
Gain exposure with up to $250 of FREE ad credits
FREE data backups and 24/7 US-based support
CPANEL
RATING 4.3 ★★★★★ Our Review
InMotion: Our Expert's Review
PJ Fancher (HostingAdvice.com): If you're in need of a cPanel host for business, try InMotion. They feature real-time email spam filtering and free SSDs for ultra-fast speeds. Go to full review »
| Money Back Guarantee | Disk Space | Domain Name | Setup Time |
| --- | --- | --- | --- |
| 90 days | 100 GB SSD – Unlimited | FREE (1 year) | 5 minutes |
The customer support at InMotion Hosting is fast and efficient for solving any start-up problems with a new account. It provides limited WordPress tools compared to other web hosts, but the BoldGrid site-builder extension is included for free with plans along with free SSL certificates.
HostGator: Budget cPanel Plans for Web Development
HostGator is currently dividing its services into those designed for ease of use for beginners and platforms with advanced features for expert developers. All of the platforms include a free, bundled cPanel license, and the company has a long history of reliable service management.
Includes cPanel control panel and 1-click-installs
4,500 FREE templates to build a site without code
$100 toward Google marketing, plus FREE paid ads
Unlimited emails with spam prevention and support
Award-winning hosting with 24/7/365 customer support
CPANEL
RATING 4.1 ★★★★★ Our Review
HostGator: Our Expert's Review
Ryan Frankel (HostingAdvice.com): With premium support, auto-installs, and the latest version of cPanel control panel, HostGator is easily one of the most user-friendly and cheap cPanel hosting providers. They include a free domain, as well as mobile-friendly emails with spam protection. Go to full review »
| Money Back Guarantee | Disk Space | Domain Name | Setup Time |
| --- | --- | --- | --- |
| 30 days | Unlimited | FREE (1 year) | 4 minutes |
HostGator is a good choice for reseller hosting based on cPanel and WHMCS. You can white-label services to your company and offer the same hosting plans at any price. This is efficient for freelance and independent web developers with many domains to manage.
Step 2: Register the Domain Name in cPanel
When you sign up for a cPanel account, the web host will assign one domain name as the root domain for the server instance, which will route all domain requests to the /public_html folder. cPanel web hosting is made for multi-domain support, and this method will support any HTML.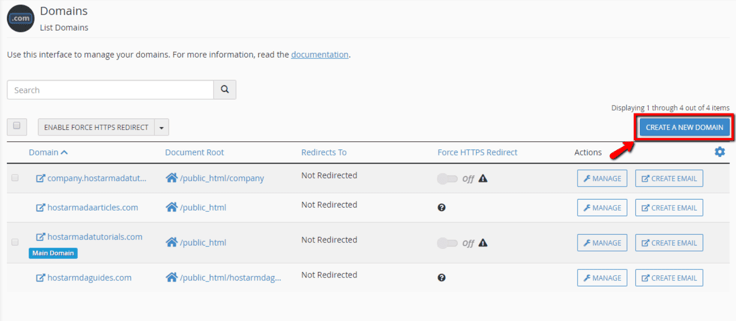 Use cPanel to add domain names that you have registered with third-party companies like Namecheap, Enom, or GoDaddy. You can add more folders to host site files on the web server to function as a multisite publisher for WordPress hosting, managing the root site separately.
Step 3: Create Email Addresses
Before you install your scripts and database for a domain, it makes sense to register the email account addresses for administrators, employees, and other users in cPanel with the GUI.
Click on the icon and choose the domain name, then create the email address and storage quota.


Using a GUI to create email addresses, manage inbox storage, establish passwords, and access email is easy with cPanel.
Create an admin@yoursite.com account and use it to install WordPress. This will also work with VPS hosting or a dedicated server using Horde or Roundcube for access. You can connect accounts to Google Workspace or Microsoft Outlook.
Step 4: Install Scripts and Databases
Most web hosts have an icon in the cPanel administration section to access Softaculous. This provides developers with an archive of more than 300 open-source scripts that are free to use.
Softaculous is easier for developers than cloud hosting tools in general, and great for installing a new WordPress website with one click. The database and admin user are created automatically.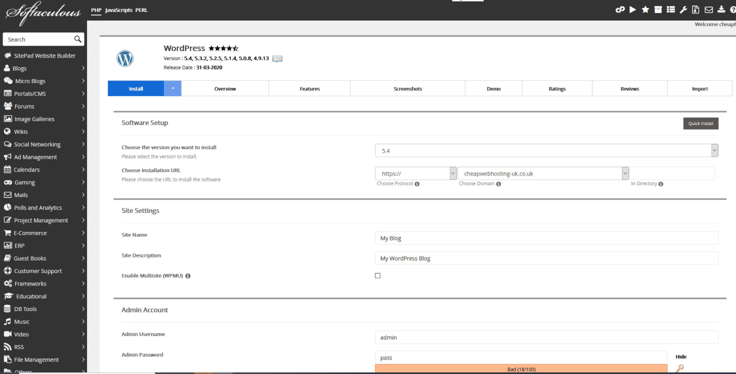 Web developers and reseller hosts can make the most of Softaculous resources on a shared hosting account that supports unlimited domains. You don't need MySQL database experience to use it. Each addon domain can host scripts, storage files, email inboxes, and databases.
Managing your site after script installation is easy. For example, once you use Softaculous to install WordPress, you can manage your site and users under the WordPress Management area.
Step 5: Log In to Build the Website Design and Post Content
It is easy to use Softaculous to create the MySQL database installations for your web scripts, or alternatively, you can use the MySQL Database Wizard function in cPanel. Access phpMyAdmin to manually install tables and use cPanel File Manager for uploads of files to folders in the CMS. Rely on cPanel to configure the web server settings, manage domain names, and email.
After installing the script files on your web server with Softaculous, they can be accessed with FTP or the File Manager utility in cPanel at the domain name assigned to your IP address. Log into your new site to publish content on the web or create a new website design. Softaculous is the easiest way to launch a new WordPress website for beginners and supports auto-updates.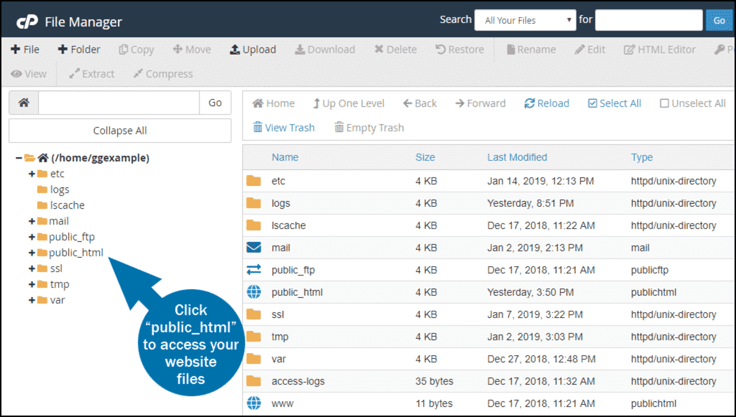 cPanel contains settings for running different PHP versions for scripts or turning off/on features like Memcached, Node.js, and FFMPEG. Use these resources to finetune your site to run in production. You can save on managed WordPress services by relying on datacenter experts for admin. Hosting plans with Cloudflare CDN integration add an extra level of value and savings.
Developers will need to work with the CMS, Blog, eCommerce, Wiki, or Forum script that they installed with Softaculous to change the frontend design and display with CSS or JavaScript. Run multisite installations using the /public.html folder to conserve resources.
What Is cPanel?
cPanel is a script that runs on Linux web servers, allowing users to host multiple websites and domain names on shared hardware with security. A hosting provider receives bulk licensing on cPanel as low as $0.30 per user, passing savings onto customers. An independent cPanel license costs more than $15 a month per user.
A web host manager such as WHMCS allows each user to have a cPanel dashboard with a hosting package for security and isolation on shared hardware.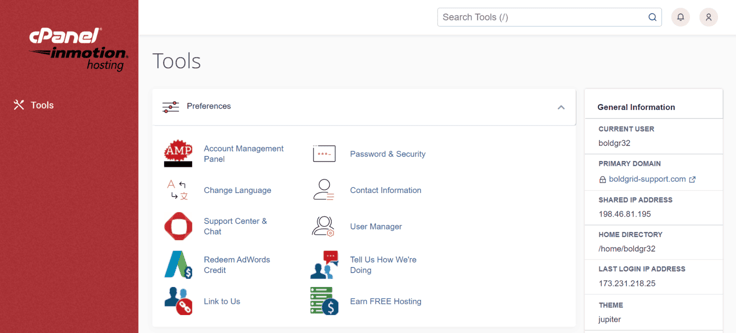 The cPanel interface is GUI-based so users can configure the settings on a web server without using the command line. cPanel allows admins to manage email addresses, FTP accounts, sub-domains, and other hosting services on a server through a web browser window.
Some companies, including InMotion Hosting, have added Python, Ruby, and Node.js configuration options to their shared hosting platform where the server settings can be managed in cPanel. Similarly, cPanel is emerging with greater support for PostgreSQL. The introduction of Git version control is reflective of modern software development best practices versus FTP.
Web hosting companies can buy add-ons like Softaculous from third-party vendors, so some variance occurs in the services available through cPanel across different platforms. Cloudflare CDN integration is a free bonus that can also be configured through cPanel. Users can also find tools for anti-SPAM, WAFs, automated backups, and SSL/TLS certificates available.
How Much Does it Cost to Host on cPanel?
The cost of single domain hosting for one website with cPanel administration can be as low as $1.00 to $5.24 per month with a budget hosting company. A free domain name registration can save $10 to $12 or more off of the total bill. Look for savings in the total package of add-ons.
A web hosting service with multiple domains usually sells from $5.00 to $15.00 per month. It is more for plans with a dedicated IP address. cPanel does not run on a Windows server, so the cost for the hosting provider is often less with Linux OS distribution licensing on web servers.
Do I Need cPanel to Host a Website?
cPanel is not the only way to host websites in a shared environment. As cPanel has increased its pricing in recent years, web hosting companies have developed more proprietary control panels to combat rising costs. These include Hostinger's hPanel and ScalaHosting's SPanel.

There are other licensed options like Plesk and Webuzo that are viable alternatives for Linux server administration or you could use a Windows server to build sites with Azure resources.
You can upload a website file in plain HTML to host a website if you can install the web server stack (Apache, NGINX, etc.) with an operating system and IP address. cPanel simplifies the tasks for the server administrator to configure settings in a remote datacenter environment.
Can I Get cPanel Hosting for Free?
If you're wondering how to host a website on cPanel for free, the first thing you should know is it's not easy. You will have to take advantage of free trial offers like Kamatera provides. Otherwise, a few budget hosts exist, including x10, GigaRocket, and GoogieHost, for free hosting long term – but not all will include a cPanel license.
It may be better to use the resources of a social media account if you need free hosting. A budget cPanel host will offer single and multiple domain plans for $0.99 to $4.95 per month on average. You are better off paying for shared hosting where the cPanel license is bundled.
Save Money with Bundled cPanel Licensing
cPanel web hosts offer a bundled license with a shared, VPS, or dedicated server that saves the user a minimum of $15 per month. cPanel simplifies web server administration to make it more accessible to people who are not familiar with the use of command line tools for configurations.
The combination of Softaculous with cPanel gives web developers a massive number of script options with one-click installation. Most cPanel hosts include phpMyAdmin for database administration, as well as tools for domain, email, FTP, and file storage management.
Options like Plesk and Webuzo may be cheaper alternatives to cPanel if you are paying for single-server licensing. The use of cPanel and WHMCS is the foundation of most of the budget hosting in the industry with shared Linux web servers, providing a great bargain to publishers.
Further Reading: "5 Steps: How to Host a Website on cPanel (Oct. 2023)"
Hopefully, our recommendation of Hostinger fulfills all your web hosting needs. Starting at just $2.59 per month and rated 4.7 overall, Hostinger gives users plenty of bang for the buck. Among our favorite features:
Intuitive cPanel hosting for personal sites
FREE SSL and Cloudflare DDoS protection
1-click installer for popular apps like WordPress
Automated, daily backups and integrated caching
Launch a site in minutes, backed by 24/7 support
If you'd like recommendations similar to Hostinger and others in 5 Steps: How to Host a Website on cPanel (Oct. 2023), check out these popular guides. You'll find comparisons of Hostinger to other hosts on pricing, features, support and more:
And of course, if Hostinger is your top choice, you can get started now at just $2.59/month. Hostinger is easy to set up and scale, no matter the size of your next project.
Advertiser Disclosure
HostingAdvice.com is a free online resource that offers valuable content and comparison services to users. To keep this resource 100% free, we receive compensation from many of the offers listed on the site. Along with key review factors, this compensation may impact how and where products appear across the site (including, for example, the order in which they appear). HostingAdvice.com does not include the entire universe of available offers. Editorial opinions expressed on the site are strictly our own and are not provided, endorsed, or approved by advertisers.
Our Editorial Review Policy
Our site is committed to publishing independent, accurate content guided by strict editorial guidelines. Before articles and reviews are published on our site, they undergo a thorough review process performed by a team of independent editors and subject-matter experts to ensure the content's accuracy, timeliness, and impartiality. Our editorial team is separate and independent of our site's advertisers, and the opinions they express on our site are their own. To read more about our team members and their editorial backgrounds, please visit our site's About page.